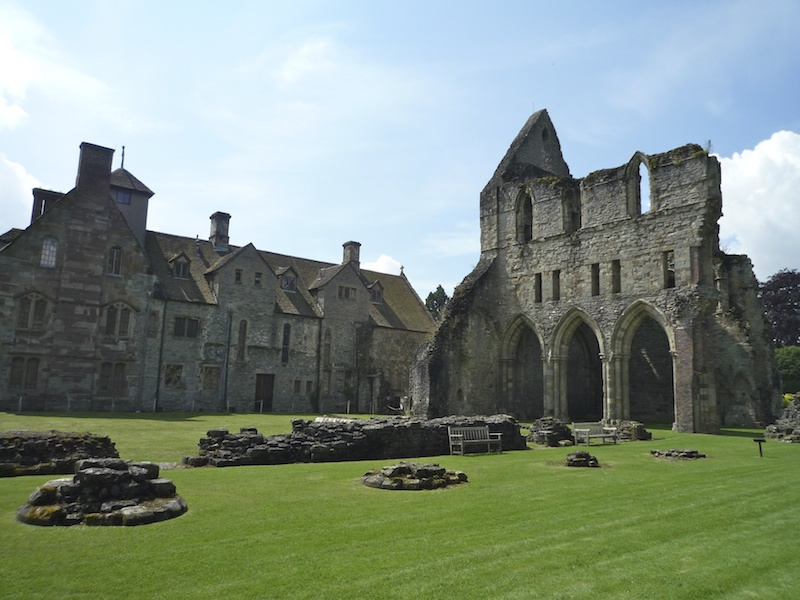 Wenlock Priory: hauntingly beautiful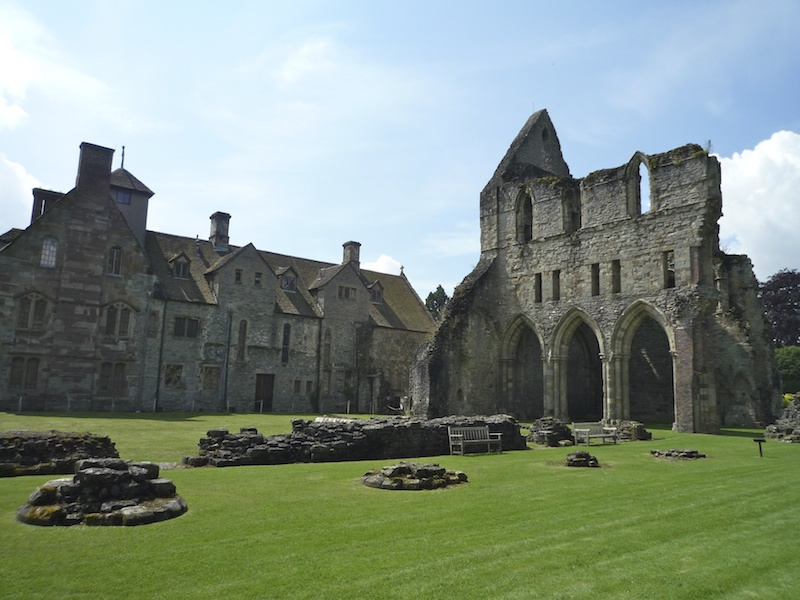 Wandering around the ruins of Wenlock Priory on a drowsy summer afternoon, you can easily convince yourself that you can hear a faint echo of pious chanting, and voices uplifted in song.
But that's just wishful thinking.  The only choristers to be found amid the crumbling arches are blackbirds and song thrushes, who use the foundations of courtyard pillars as a handy bashing post for snails.
Situated in rural Shropshire, Much Wenlock isn't on the tourist map – at least for most people – and when we visited the Priory it definitely wasn't teeming with visitors.  The place is tucked away on the outskirts of the town, overlooked by tall trees, an oasis of serenity.  If you're lucky, you might even have the place to yourself.
Many of Britain's monasteries are steeped in time, but Wenlock Priory has some very long roots even by their standards.  It was founded by King Merewalh of Magonsaete, a district of Mercia that included much of North Herefordshire and South Shropshire, around 680 AD.  Let's get this in perspective:  this was the 7th century… only 200 years after the Anglo-Saxons first arrived, following the abandonment of Britain by Roman forces in the early 5th century.  England was still being shaped by Christianity, and Merewalh's father, the powerful and acquisitive King Penda, was a pagan. Much of the area covered by the growing kingdom of Mercia was Welsh-speaking.
Merewalh had been converted to Christianity, and his inspiration in establishing the Priory may have been the visit of a French monk, St Owen, in the 6th century.  In the town of Much Wenlock you can still find a natural well named after St Owen, which is said to have healing properties;  a nearby timber-framed house bears the name St Owen's Well House, and is one of Much Wenlock's oldest inhabited buildings.
Having installed a French Abbess at the Priory, Merewalh proceeded to enrol his own daughter, Milburga, as a nun within its confines.  History is silent about whether Milburga had much say in the matter.   I guess becoming a nun was either the pinnacle of spiritual ambition, or the ultimate in parental grounding.   I can't imagine what her pagan grandad would have said!  The outcome was good, however, because Milburga was later acknowledged as a saint.
Stories relating to St Milburga accredit her with exceptional powers.  When confronted by a grieving mother whose baby son had just died, she prayed over the boy's body and brought him back to life.  On another occasion, pursued by a would-be suitor from a neighbouring kingdom, she fled across a river and then caused the waters to rise and prevent him from following her.  Somewhat ironically, Milburga's holy well, which is also in Much Wenlock, is said to assist a woman to find her future husband.
Milburga died in 727 AD and, according to one source, her Priory was later destroyed by invading Danes.  After the Norman conquest it was re-established by Roger de Montgomery, and by 1080 a community of Cluniac monks had taken up residence.  During alteration work in 1101, St Milburga's remains were re-discovered – an occurrence which was greeted as a miracle – and the Priory was given a new lease of life as a destination for pilgrims.
Named after the abbey of Cluny in Burgundy, the Cluniacs' lifestyle and pattern of worship stemmed from the Benedictine order.  Preferring not to indulge in manual labour, they loved splendour and embellishment in both their religious ceremony and their architecture;  examples of intricately-linked 'blind arcades' can still be seen in the Chapter House.  Dating from about 1140, this is the oldest part of the Priory that is still visible today.
In the cloister garth (garden) adjoining the great 13th century church is a lavabo, or washing fountain, embellished with carvings.  Built around 1180, this three-tiered stone basin incorporated a siphon system, which supplied water through spouts set into carved heads.  Up to 16 monks at a time could wash here before eating in the refectory.  The lavabo was not, as it is today, open to the sky and to the view of interested passers-by;  instead, it was enclosed in an octagonal building, which thankfully preserved the monks' modesty.
Some of the Priory's occupants were not quite as pious as they would have liked to make out, however;  in 1540, just before the Dissolution of the Monasteries by Henry VIII, a report which is patently the Tudor equivalent of the Daily Mail declares that the monks "must not indulge in late drinking… must not hunt, and their dogs must be expelled from the cloister."
Today, the cloister garden is filled with examples of topiary, some in the shapes of enormous chickens and squirrels.  The mellow walls are covered with creeping plants, and wagtails nest in the crevices.  Adjoining the Chapter House is the infirmary wing, which was converted into a mansion after 1540, and is still a private residence.
Quoted as being the oldest of all the monasteries in Shropshire, Wenlock Priory was also the wealthiest, which is why its remains are so spectacularly ornate and beautiful.  Successive generations made alterations and additions from the 12th century through to the 15th, and in its heyday it must have been a truly awe-inspiring sight.
Wenlock Priory is owned by English Heritage and is open to the public throughout the year.  You do have to pay to get in!  It's about £4 per person – but well worth it.
Oh yes, and is it haunted?  Somewhere that is so beautiful by day has got to be haunted at night.  The Staffordshire Paranormal Investigation Team – SPIT for short – has the answer:
"At 6:45 pm on a winter's night members of the Investighost team were at the priory doing some filming… One of the team filmed a person standing on the third floor of the abbey. The third floor which has no floor?! Monks can be heard to chant, and if you are lucky enough to stay after dark, you're in for a real treat near the north tower."
But what?  I've searched their website for further information, but I'm left in horrible suspense!  How can they do this?!
Does anyone have any idea what lurks by the north tower at night?   Are you a member of the intrepid Investighost team?  Please tell me!
Sources: