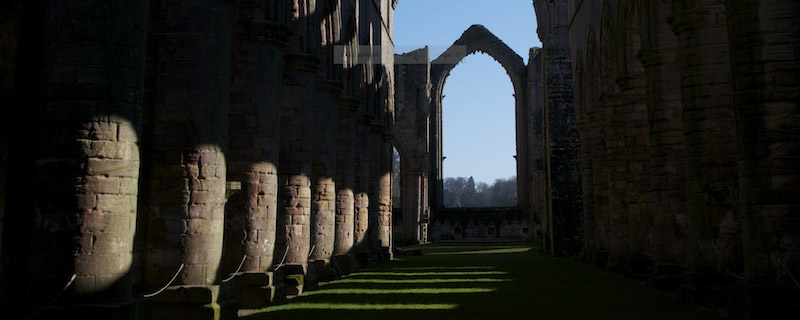 Fountains Abbey: from simplicity to splendour
As you gaze up at the spectacular remains of Fountains Abbey, in its heyday one of the richest monasteries in medieval Britain, it strikes you as somewhat ironic that its founders had abandoned a comfortable lifestyle in favour of simplicity, servitude… and a considerable degree of suffering.
In December 1132, the atmosphere in the nearby Benedictine Abbey of St Mary's in York was somewhat less than peaceful.  Far from following the discipline prescribed by St Benedict in the sixth century, the monks at St Mary's were indulging themselves a little too freely for the liking of some of their brethren.
According to reputable sources, a riot broke out and the rebels – 13 monks who craved a more spartan existence – fled to the Archbishop of York for protection.  The Archbishop was not too badly off himself, owning extensive lands around Ripon, and he granted them permission to establish a new monastery in the valley of the River Skell.
Great news for the monks… they could build a new life for themselves!   The bad news was that it was winter, and they had nowhere to stay.  The valley, far from being the rural idyll that it appears today, was considered at that time to be "more fit for wild beasts than men to inhabit."  It did, however, offer a degree of shelter as well as a plentiful source of building materials and a good supply of drinking water.  The National Trust guidebook says that the monks lived under an elm tree and covered themselves with straw;  if this was indeed the case, they were hardy and committed individuals.
Although the Archbishop of York sent regular supplies of bread, the monks needed support of a different kind.  They wrote to Bernard, the Abbot of Clairvaux Abbey in France, who despatched a monk to instruct them in the observance of Canonical Hours;  he would also teach them how to build an abbey in accordance with Cistercian principles.
The first church was made of wood, but soon afterwards a much more impressive edifice was rising from the valley floor:  the present Abbey church, with its magnificent west front, was finished around 1160.  Stonemasons used locally-hewn sandstone, and massive oak beams supported the roof.  Inside, the white-painted walls reflected the sunlight that streamed in through the many windows, and the effect must have been both stunning and uplifting.  What must it have been like to hear a choir singing in there?
The Cistercian order, which the monks had adopted, called for a life of self-imposed hardship;  they wore coarse wool habits and followed a strict routine of prayer and meditation, which involved long night vigils as well as daytime worship.  They must have been freezing for most of the time… although there is a crumb of comfort in the survival of a 'warming room', where huge log fires allowed them a precious few minutes of warmth before embarking on their next duty.   In the south end of the transept there is still a doorway, through which the monks would have emerged at two o'clock in the morning as they made their way from their dormitory and down some stairs towards the church, their steps lit only by candlelight.
In 1170, around 60 monks were living at Fountains Abbey, along with 200 lay brothers.  The lay brothers were essential to the survival of the Abbey, because they were skilled craftsmen such as stonemasons, shoemakers, smiths and tanners.  Many more were farm labourers and shepherds, managing the monastery's ever-expanding estates.  Some of them slept in the large dormitory at Fountains Abbey, while others lived on neighbouring farms.  The system worked so efficiently that, by the mid-1400s, the monastery was one of the richest in England, and fleeces from the sheep were being sold as far afield as Italy.  Hardly the spartan establishment to which its founders had aspired.
With guest houses, abbots' quarters, dormitories, a refectory, kitchens, a cellarium for food storage, an infirmary, and a muniment room for the safe keeping of important books and papers, this large complex required precise and careful management.  The monks were pretty much self-sufficient:  there was a mill just across the river, grinding wheat, rye, barley and oats for bread;  in the wool house, fleeces from the Abbey's sheep were made into clothes and blankets;  a tannery ensured an ongoing supply of leather and skins, and fishponds offered a healthy source of food.  Hillside springs provided fresh water, while the toilets or 'reredorter' were contained in a two-storey extension over the River Skell.  Not a bad idea!   Although chilly, I should imagine.
Passing travellers were always welcome, and beggars were given food left over from the monks' table.  While ordinary visitors were shown into modest accommodation, the more prestigious guests were entertained in style;   there are records of minstrels, travelling players and a 'strange fabulist' in the Abbey's expense sheets.  The elderly and the sick were cared for in the infirmary, which was a sizeable building in itself.  But no women were admitted within the sacred walls:  they had to remain in the Outer Court.
Blood-letting was one of the monks' less attractive pastimes, as if they didn't already subject themselves to enough rigours.  The practice, which was carried out three or four times a year, was intended to purify the body.  (If I was ever in any doubt of my absolute unsuitability for a cloistered life, this seals the matter).  The extracted blood was later buried in reverence.
It sounds as if they all did pretty well – blood-letting notwithstanding – but that's not to say that the Abbey and its inhabitants never suffered hard times.  There were years of poor harvests and famine, and these in turn led to skirmishes by desperate raiders from Scotland.  In the mid-1300s the Black Death reared its ugly face, carrying away at least a third of the Abbey's inhabitants and leaving a shortage of labourers to till the fields.
The Abbey's most noticeable feature, the 167-foot tower known as Huby's Tower, was a comparatively late addition;   prior to this, there would have been a smaller 'lantern tower' placed centrally over the church.  Built in 1500, Huby's Tower was the inspiration of Abbot Marmaduke Huby, and it bears a Latin inscription on each face, as well as carvings and statues.  Today its broken crenellations are home to a flock of jackdaws;  when they all take flight, they look like bees around an enormous beehive.
Things went very badly pear-shaped in 1539, as they did for monasteries up and down the kingdom.  Henry VIII, furious with the Pope for denying him a divorce from Catherine of Aragon, hit on an ingenious but ruthless solution.  He turned his back on the Roman Catholic Church and declared himself head of the new Church of England.  No more Pope-worship for him – he preferred the seductive delights of Anne Boleyn.
England's abbeys and nunneries, which had been rising to a state of comfortable wealth over the centuries, were now in the firing line.  To Henry, they represented an establishment that he hated with a vengeance – but their assets would come in very handy.  He lost no time in destroying the buildings, evicting their occupants and seizing their estates.
A deed of surrender was signed at Fountains Abbey in 1539.   In keeping with Henry's orders, the place had to be made unfit for worship.  The roof was pulled off, the lead and glass were stripped from the windows and any remaining religious relics were removed.   Stone was plundered for new buildings elsewhere, and nature began to reclaim the broken bones of former glory.
The story of Fountains Abbey didn't end at that point, though it was over 200 years before it entered a surprising new chapter.   In 1767 the estate was acquired by William Aislabie, who soon set to work designing an elegant pleasure park.   He planted trees, dug lakes and created paths that led past Gothic-style temples and summerhouses to a point on the opposite side of the valley, where guests could enjoy a 'surprise view' of the Abbey in its picturesque state of decay.  Poets and artists came to explore and be inspired:  J M W Turner painted the Abbey on several occasions.
Today, the ruins of Fountains Abbey are carefully tended, so they don't have quite the same romantic abandon which they must have presented in Turner's time.  On the other hand, they are in much less danger of imminent collapse!   As you walk down the nave towards the Chapel of Nine Altars the great east window gapes in front of you, bereft of its beautiful tracery and glasswork, but breathtaking all the same.   Anyone who entered the church in its heyday would have been almost struck dumb with awe.
Columns and arches soar to dizzying heights, and as your gaze follows them upwards, your attention is drawn to isolated wooden doors, once clasped by cold, pious hands, now leading into nothing but thin air.  Deep shadows lurk in the aisles and transept, intriguing but not unkindly.   Sacrilegious though it might appear, I searched for 'Fountains Abbey hauntings' and found that the voices of a ghostly choir sometimes echo through the Chapel of Nine Altars.  That's something I'd quite like to hear.
With a sudden flapping of wings, a pigeon launches itself from a window ledge.  The songs of blackbirds and thrushes float across from the woodland.  Otherwise, silence reigns – and it's a peaceful silence.
The Fountains Abbey estate, including Studley Royal Park, is owned by the National Trust.  English Heritage maintains the Abbey ruins and St Mary's Church.
You can find a plan of the Abbey at Sacred Destinations.
Sources:
Photos copyright © Colin & Jo Woolf and Verity Sansom