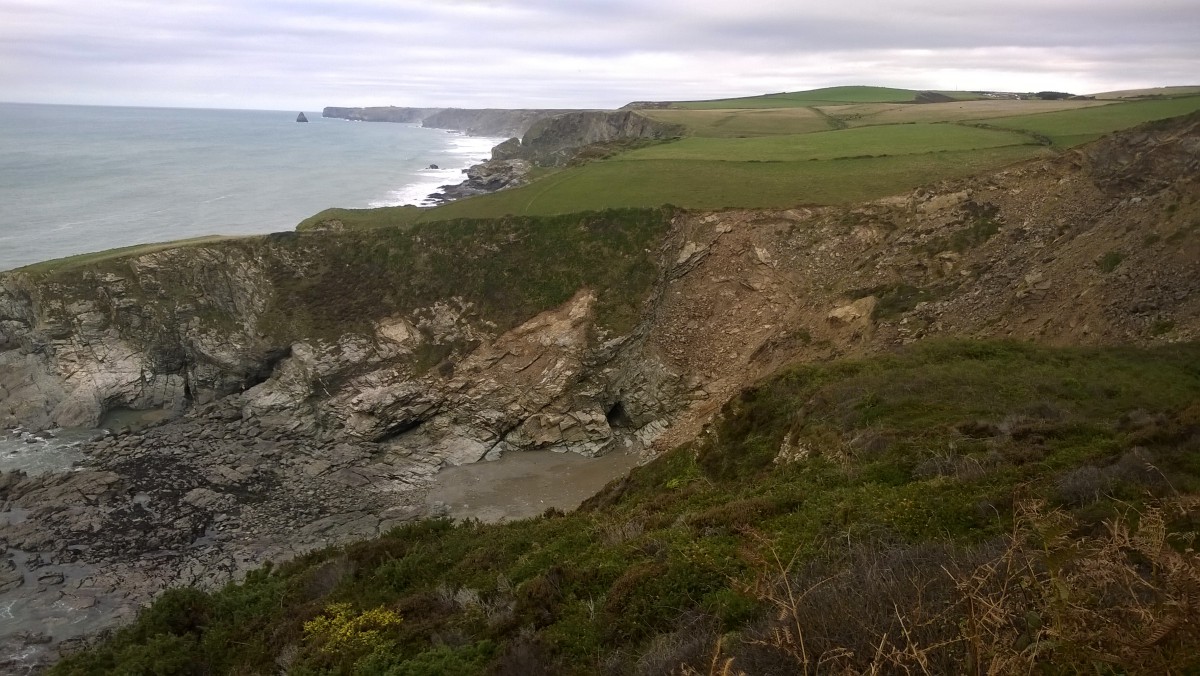 Echoes of smugglers on Cornwall's north coast – a guest post by Rachel Bates
A new dramatisation of 'Poldark' starts on BBC One this Sunday (8th March) and I'm unbelievably excited!   Set in Cornwall in the late 18th century, the Poldark novels by Winston Graham are some of my very favourite books, and I cannot recommend them highly enough.

This guest post is by Rachel Bates, who visited Cornwall last year and shares an amazing discovery which she made on the wild and rugged north coast…
Cornwall.
For me that word conjures images of a craggy and dramatic coastline, quiet country lanes, and clotted cream teas. And when I think of the coastline, I think of smugglers and shipwrecks.
Cornwall is quite famous for its smuggling past, although in reality fewer goods were smuggled here than other areas of the country. Much of the contraband being smuggled was exported tin, and rather than an organised gang, a range of people from the villages were involved and took a share in the profits, from magistrates and farmers to merchants and townsfolk. A likely exaggerated description of smuggling comments that:
'When smuggling was in full swing, money became so plentiful that neighbours lent guineas to each other by the handful, not stopping to count, or being so particular as to reckon by ones and twos'.
I managed to spend a long weekend in Cornwall last autumn and we stayed close to the coast at the Poldark Inn, which is named after the Poldark novels.
A trip to Cornwall would be incomplete without a walk along the coast, so on our last day we packed lunch, dressed up warmly, and headed down to the south-west coast path. It was only about four miles as the crow flies to Port Isaac; easily walked there and back in an afternoon, right?
Wrong.
With the many coves and streams running down valleys it took us almost four hours to get to Port Isaac, traversing frequent steep climbs and equally steep descents, scrambling over styles and streams, until our leg muscles were aching and wobbling every time we took a step.
On one particularly steep ascent we saw a dark hole in the hillside surrounded by dense vegetation, with a small path leading to it from the coast path. Naturally, our curiosity led us along this small path and we found an opening into a cave. Or what we thought was a cave.
After a quick glance at each other, we opened the LED torch app on our phones and scrambled down into the darkness. And down, and further still down. It wasn't a cave, but a tunnel! But where did it go? After about five minutes of slipping and sliding down smooth rock and squeezing through narrow rocky openings, we saw a distant pinprick of light.
A minute later we found ourselves in a secluded cove with the cliffs rising above us. There were no other footprints in the sand, so I guess not many people had either the equipment or the inclination to make the journey through the darkness; it was if we were the only two people in the world down there!
We couldn't help thinking, down there with the waves crashing against the rocks and sea birds wheeling and diving overhead, once upon a time smugglers would probably have used this beach as a landing, with a secret man-made tunnel allowing access onto the mainland in an otherwise inaccessible landscape.
Where I stayed…
The Poldark Inn has both bed & breakfast and self-catering options and serves lunches and dinners.  It sits just two miles off the North Cornwall coastal path at the highest point of the Treligga Downs, between Port Isaac and Tintagel (the legendary seat of King Arthur!) with scenic walks to the quiet Tregardock Beach which is less than a mile away.  It is set in a very peaceful location, but is easily accessible via the A30 from Exeter and about an hour's drive from Dartmoor National Park.
Rachel Bates is a freelance ecologist based in the south of the UK.  In between travelling around to carry out protected species and habitat surveys, she takes any opportunity she can to explore the local area and venture abroad.  More of Rachel's work can be found at www.hithernyonder.com

To find out more about the new BBC dramatisation of 'Poldark', take a look at the special page on the BBC website.
All photos copyright © Rachel Bates