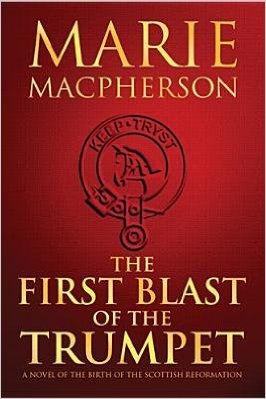 Book review: 'The First Blast of the Trumpet' by Marie Macpherson
'Bring my niece,' Prior Hepburn thundered.  'At once.'

Sister Maryoth pressed her hands together.  It grieves me greatly to tell you,' she said, trying to suppress a smile cracking her face.  'But the novice Elisabeth has eloped.'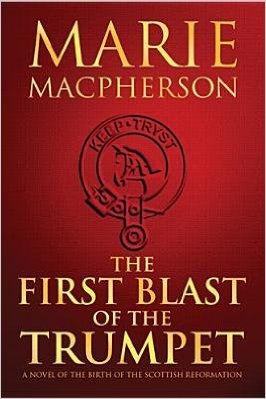 Scotland, 1513.  For many people, especially those of the court of James IV, life was about to change forever.   As soldiers began massing in the Borders, ready to depart for the ill-fated Field of Flodden, a young woman by the name of Elisabeth Hepburn was fighting for the heart of the man she loved, before it was all too late.
Marie Macpherson is the author of 'The First Blast of the Trumpet', an absorbing book which I've been reading over the last few weeks.   With the skill of a born writer and the detailed knowledge of a historian, she weaves together fact, fiction and magic to conjure a story that draws you in on first contact.
This is a story of love and war, destiny and divided loyalties.  The main characters are carried like flotsam on a rip tide, crashing together momentarily before being torn apart with a force stronger than their own will.  Women were governed by men, suppressed by men, and often manipulated by men;   childbearing was their first duty, even if it also proved to be their last.   When they ceased to be useful, there was always the convent.
Rebellious and dangerously outspoken, Marie's heroine, Elisabeth Hepburn, has to fight for her dreams.  And at the heart of her stormy relationship with poet Davie Lindsay is a bud that will open into a strange and distorted flower.  The young John Knox, orphan and godson of Elisabeth, is swayed by impulses that he knows he must fiercely suppress.   Riveted with the hindsight of history, we watch Elisabeth persuading, pondering, pleading and hoping, and we wonder if we would have done the same.
'John, please don't consider us as monstrous creatures.  It is my wish that, one day, you will be our herald and trumpet to the world the worth of women.'
(Nice thought, Elisabeth, but don't bank on it!)
Most of the characters are based on fact, and only a handful are entirely fictional.   James IV, Margaret Tudor, James V, Marie de Guise, David Beaton, George Wishart, Patrick Hamilton… all are here, tied together in a web of fate.  Although little is known about Elisabeth Hepburn, sister of the 2nd Earl of Bothwell, Marie has instinctively portrayed her as a woman of compassion, independence and courage.  Life deals her some harsh blows, but she's never scared to speak her mind:
'Why, then, do they closet themselves in a university with only other men and young lads?  I'll tell you why.  Because these impotent men are afeart of women…'
The sweeping stage on which this drama takes place is the restless landscape of early 16th century Scotland, where religion holds the key to power and the iron fist of the Reformation is taking hold.  We see the castles of Tantallon, Edinburgh and Hailes vibrant with candlelight, lavishly decorated and thronging with people, and we're taken on a heart-pounding flight down dark corridors where there's no real escape.  Dreadful poverty jars against rich decadence, illuminated by sudden flashes of humour.
Marie draws on the vocabulary of the Scots language, weaving a rich texture into her dialogue and descriptions.  At first I wondered if I might struggle with some of the Scots words, but I found that I understood them instinctively most of the time.  The colour, the sounds and even the smells of the Stewart court are all here;   some of the scenes are difficult to read, and if you're at all familiar with Knox's story you'll be expecting them.  But equally vivid is the life, hope and passion running through the characters.   You want the best for them, even though you know that, for some at least, the end won't be pretty.  'Keep Tryst' is the Hepburn motto:  belief is everything.
'The First Blast of the Trumpet' is published by Knox Robinson Publishing, and is also available at Amazon.co.uk and Amazon.com.   
Read on for my in-depth interview with Marie Macpherson…
Why John Knox?   What was it about him that made you curious enough to dig deeper?
Why John Knox – the founding father of the Scottish Reformation?  I must admit I never set out to write about him.  The so-called pulpit-thumping misogynist is not exactly the obvious choice for the hero of a novel and so I've the spooky feeling he chose me.  With his 500th birthday in 2014 or 2015, perhaps he needed someone to sound the fanfare.
I was researching St Mary's Abbey where the Treaty of Haddington was signed (betrothing Mary Queen of Scots to the Dauphin in 1548), and became fascinated by the Prioress, Elisabeth Hepburn.  Knox snuck into the the scene when I realised he'd been a notary apostolic and Catholic priest in Haddington before being 'reformed' by George Wishart.  After the siege of St Andrews he was imprisoned by the French in the galleys.  I became curious to know how he'd ended up there.  Knox was tantalisingly silent about his early life and so I had to make a lot of conjectures.
There seems to be so much knowledge required in order to draw a realistic picture of any era in history.   What was the most time-consuming aspect of the research?
Finding out about the minutiae of daily life!  Historians dwell on events and the broad sweep of history but don't tell you what people ate, drank, wore, how they travelled, etc.  Thankfully there are more and more social historians delving into this such as Everyday Life in Medieval London or Everyday Life in Medieval Scotland.  In order to paint a realistic picture I have to imagine in my mind's eye every detail of a scene – as if I were writing a screenplay with stage directions.  What are they drinking, and in what kind of vessels?  No tea or coffee in Knox's time!  There's always some beady eye out there ready to jump on anachronisms ('scuse the mixed metaphor!) 
How did you choose Elisabeth Hepburn?   What was it about her that first attracted you?
I
came across her when I found out that the Treaty of Haddington (1548) was not signed at the large collegiate church of St Mary's in Haddington – as many historians mistakenly state – but the Cistercian Abbey further along the River Tyne.  Sadly nothing much remains of the abbey although the site is being excavated. Prioress Elisabeth – a member of the powerful Hepburn family – would have been in her mid-forties in 1548 and a powerful woman in her own right.
You can imagine my delight when I found out that this feisty dame had an interesting past – she's mentioned in record as riding to the hunt with the court of James IV and later accused of 'carnal dalliance'.  Not a pious prioress, then!
Research threw up more interesting info – that she was appointed prioress at the very young age of 24 by her 'uncle' John Hepburn, Prior of St Andrews – no doubt to secure the Hepburn family's financial interests at the abbey.  The character of the reluctant nun forced into the convent appealed to me – but rather than pine away under a veil she forged a successful career, dealing with many of the major political figures of the time including Cardinal Beaton, King James IV and Marie de Guise.   She may even have been the inspiration for Sir David Lindsay's immoral prioress who justifies her behaviour in his 'Satire of the 3 Estates' by moaning that she had no wish to be a nun but her family forced her into the nunnery.
You've probably guessed that she's my favourite character.  In fact, the first title of the novel was 'The Abbess of Unreason' but the publisher didn't think that would sell!
I loved the colour added by all the Scots words and phrases.  How many of these did you know, and how much did you have to learn?   Are there some still in use today?   (Can I go around saying 'Haud yer wheesht?')
Though speaking Scots was frowned upon in school we spoke it in the playground. Besides there are some things that can only be expressed in Scots – e.g. "today's weather is dreich"  I did a course on Scottish literature at Strathclyde and I loved the Scots makars, David Lindsay, William Dunbar, Robert Henryson, etc. I mined Lindsay's work for many of the less well-known, 16th century expressions.  Only a few readers have commented on the difficulty, but I did try to ensure the words were understandable in the context.
A secret – when the American editor asked me to take out all the Scots words, I did so reluctantly. The ms was returned, asking me to put them all back in – saying it had lost its unique magic.
PS  Have you told anyone to haud their wheesht yet?   (No.  I'm saving it up!)
How did the plot evolve?   Did you find that you were making adjustments as the characters developed?
I felt like an investigative journalist following clues, Jo – picking up leads, filling in the gaps, asking and answering myself questions.  For example, there were rumours at the time about the death of Archie Douglas' first wife, Margaret Hepburn, who died in mysterious circumstances, leaving him free to marry the widow queen, Margaret Tudor.  Coincidence or what!  Poor Meg has been airbrushed out of history.  How did she meet her untimely end?
And who were Knox's parents?  How did a poor orphan lad – the son of a tenant farmer whose father died at Flodden and whose mother (a Sinclair) died shortly afterwards – afford to get a university education?  Some rich patron must have financed him at St Andrews – but who?  I speculate that it might have been his liege lords, the Hepburns, especially since John Hepburn, Prior of St Andrews, founded St Leonard's College.   It was exciting to come across coincidences and tie them all up!
Did you find yourself becoming almost too absorbed into some of the characters – feeling their emotions?  If so, did you need to disconnect?   (This is something I've always wondered about writing fiction).
It's probably obvious that I have the most affinity with Elisabeth Hepburn, whose life at the abbey was clearly not one of quiet contemplation.  She overcomes personal disappointments to carve out a life in a male dominated world.  I didn't find it difficult to empathise with her.  (What I found – and many writers say the same – is that if you try to make your characters do something for the sake of the plot and it doesn't ring true, they rebel and you have to rewrite.)
More tricky is Knox – a love-him-or-loathe-him character.  For some he's a pulpit-thumping bigoted misogynist – a cross between Ian Paisley and the ayatollah – for others he's the great iconoclast, the 'saint' of the Reformation who challenged the power of the corrupt Roman Catholic church.  Though maligned as a misogynist, he was no worse than most men of his time in his low opinion of women.  And women loved him!  Not Mary Queen of Scots, of course – but all that will be revealed in 'The Second Blast of the Trumpet'!
How many times did you go to places like Hailes Castle, Tantallon and St Andrews – was it essential for you to stand there and imagine the scenes?   Did you get any particular feelings coming to you, that you weren't expecting?
I'm lucky to live in East Lothian within striking distance of so many castles.  Hailes Castle is one of my favourites, and because it's out of the way and up a quiet country road it gets few visitors – unlike Tantallon, perched on a cliff overlooking the Firth of Forth.   Tantallon is a scary place.  I always get a dizzy feeling of vertigo there, which I used to describe Meg Hepburn's fearful premonition in the novel.  I'm convinced the ghost that haunts Tantallon is that of tragic Meg.  St Andrews to me is an ill-fated place, smeared with the blood of the murdered Beaton and the air riven by the screams of martyrs burnt at the stake – never mind hapless golfers!
I wish I had a Time Machine to go back in history and see how my characters lived.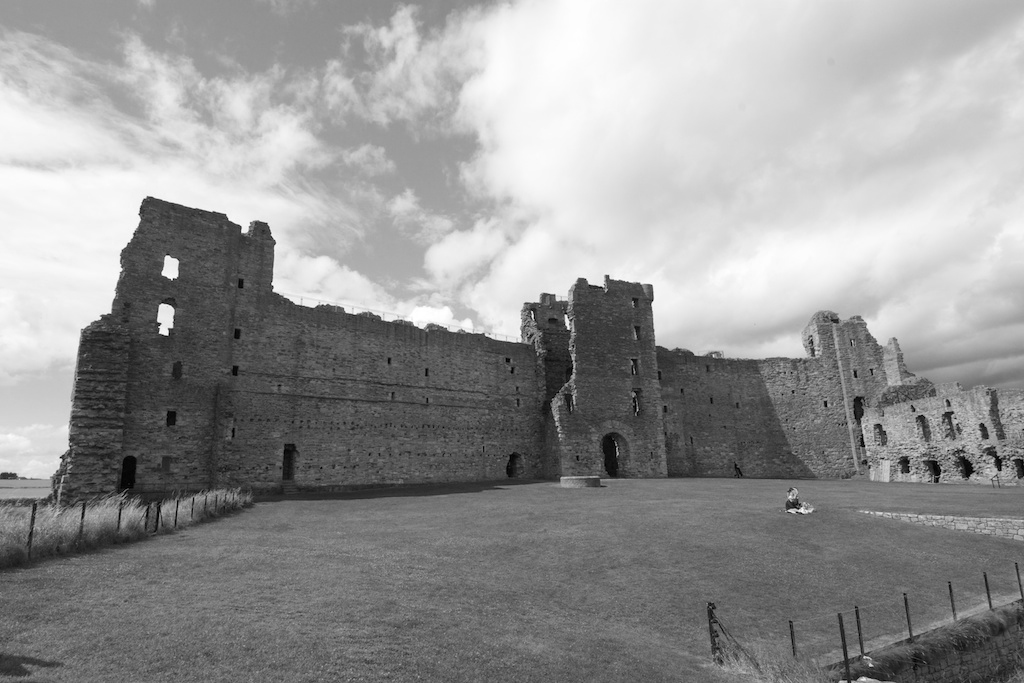 Tantallon Castle
With this book (and its sequels) do you hope that people will gain a better understanding of Knox and the motives that drove him?
Whether or not readers sympathise with Knox will no doubt depend on their point of view and preconceptions.  I was brought up to regard him as a bogey man but he wasn't a monster like Stalin.  I've always been drawn to characters who are driven by conviction and prepared to give their lives for their ideals.  I'm curious to know what makes them tick.  Knox certainly believed he had a mission to accomplish in bringing down the corrupt RC church.  His life turned out to be much more fascinating and interesting than I was given to believe – especially his relationships with various women which I explore in 'The Second Blast of the Trumpet'. John Knox in love!  Knox the husband, father and hen-pecked son-in-law!
My thanks to Marie for sharing this insight into what drives and inspires her as an author.    I'm looking forward to her next book!
'THE FIRST BLAST OF THE TRUMPET'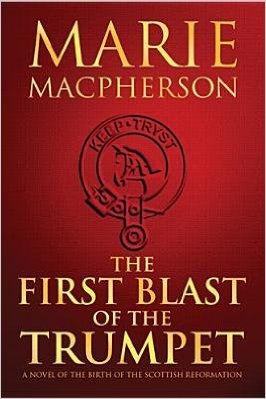 'The First Blast of the Trumpet' is the first in the 'Knox Trilogy', and was published in 2013 by Knox Robinson Publishing.
Marie is now working on 'The Second Blast of the Trumpet', due out on 6th October.  Follow her on Facebook and Twitter for regular updates.