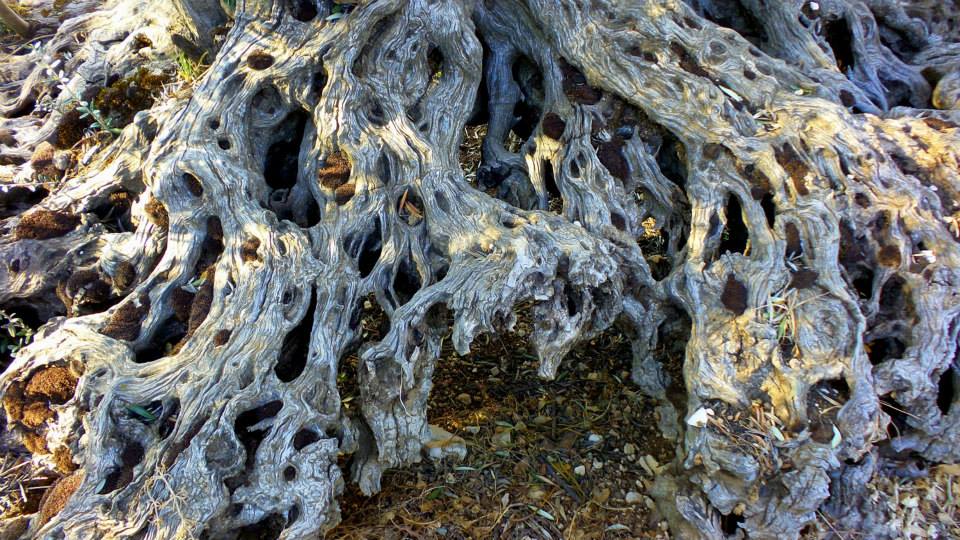 'The Sisters – Olive trees of Noah': poem by Sudeep Adhikari
Just recently I was contacted by a poet named Sudeep Adhikari, who wondered if I would like to publish a couple of his poems on The Hazel Tree.  Sudeep lives in Kathmandu, Nepal.
The first poem he has offered me was inspired by a grove of 16 ancient olive trees in Bechealeh, Lebanon, known as 'the Sisters' or 'Olive Trees of Noah'.  I had never even heard of these trees before, and was fascinated to see some photographs of them.  Sudeep's words seem to offer a glimpse of their divine essence, evoking their mystery and their almost unfathomable age.
The Sisters – Olive Trees of Noah??

All I have is love and mad reverence, sisters.
The grove of deathless presence
olived ambrosia, drinking life-sap running through
the fractal veins. The rings of time are just numbers,
life, an uncountable sacred integer.
The flower power Abides.
or are you a bucket of wild roses,
Gaia's lovelorn submission to the infinite blue?  There is

a bridge, between the celestial and the terrestrial
a portal that connects stars with the underworld
and in-between we stand,
breathing each other in recursion.  All I ever wanted,

is to be you, a silent celebration of paradoxes,
Anomalies and relations.
There is an infinity in every fraction
a rapture in every ordinary experience.  Buddhas are abundant.

Sudeep Adhikari
About Sudeep:  Sudeep considers poetry to be an impersonal act, largely deriving its content from unconscious psychic undergrounds.  He has a PhD in Structural Engineering and is currently working in Nepal as a structural consultant/part-time lecturer.
His works have been featured in Verse-Virtual, Arlington Literary Journal, Zombie Logic Review, DEAD SNAKES, UFO Gigolo, Literary Yard, The Peregrine Muse, Soul-Lit Magazine, Misfit, Oddball, Novelmasters, Kyoto, Tuck Magazine, Dissident Voice, Duane's PoeTree, Scarlet Leaf Review and RedFez. He is awaiting some more publications with Open Mouse, After the Pause, Manhattan Linear, Snakeskin, Poetry-Pacific, Your One Phone Call and Pinyon Review in 2016.
His poetry generally revolves around the theme of seamless continuity between human-psyche and nature, and shows an overarching affinity for the non-philosophy of unity, multiplicity, indivisibility and nothingness. The governing aesthetics draws its inspiration from science, mathematics, religion, philosophy, psychology, sound-art, fractals, trees, noise and everything beyond and beneath.
Sudeep says that there is "nothing more poetic, rapturous, philosophic, sacred and mystical than the trees.  We need more than the ears to hear these super-souls."
About 'The Sisters':  Growing at an altitude of 4,260 feet (1,300 metres) in the Lebanese village of Bechealeh, these trees are believed to be at least 5,000 years old.  In folklore, they are said to have taken root from the olive branch borne by the dove that was sent out from Noah's Ark.  Amazingly, they still produce olives which are harvested for fine quality olive oil.

My thanks to Lebanon Untravelled for allowing me to use these photos of the trees from their website.