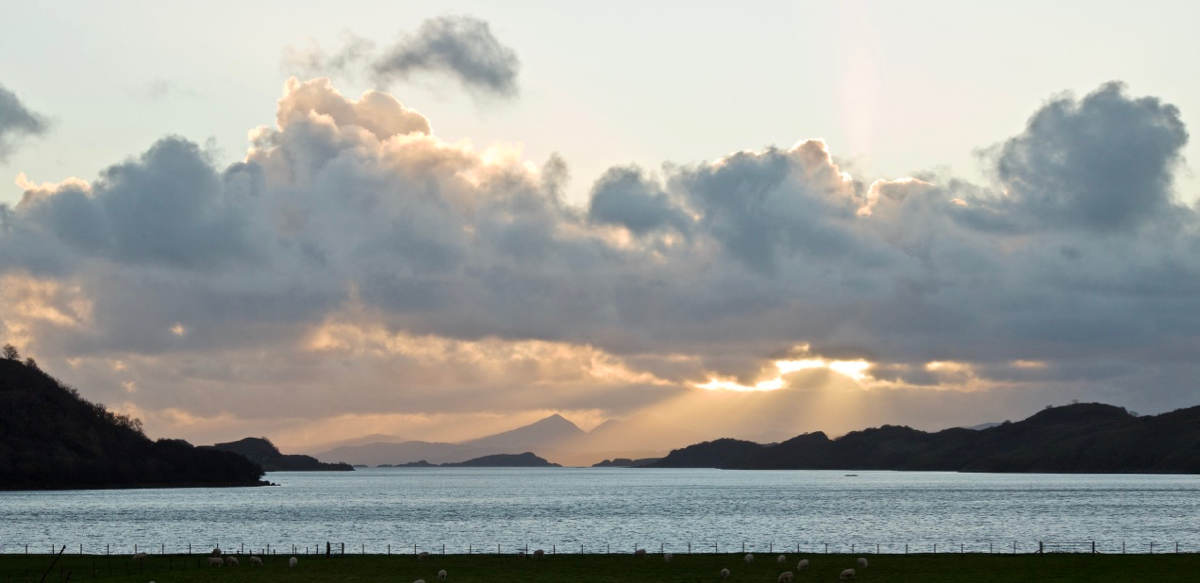 If someone had told me I'd be glad to see two or three days of fog, I wouldn't have believed them. But after what feels like months (certainly weeks) of rain and wind, this stillness is blissful. The air is drenched and cold, the moisture clinging to your face and hands. The tops of trees recede spectre-like into cloud, and droplets are falling from the branches with a soft, regular patter. From far below comes the rhythmic sound of waves washing the shore. It's lovely to stand and listen.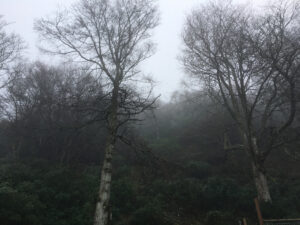 Yesterday morning, as I was putting out food for the birds, I was convinced I could hear a long-eared owl. A short, low 'hoo!' like someone blowing over a bottle-top, repeated several times at short intervals. What else could it be? Colin and I stood there for a few minutes, willing it to call again. But a different sound, higher-pitched, came instead: sea-eagle, Colin said. We gazed upwards into the fog, unseeing, wondering just how far away it was. I love how nature can transport you into another world.
And then this morning everything was sparkling with frost.  The full moon was gleaming pale silver against a pink sky, casting tree-shadows across the road.   As we drove into Oban, the surface of Loch Feochan had a skim of ice, and in the deep wooded hollows every branch was powdered white with hoar frost.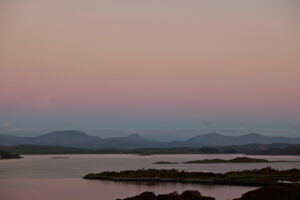 Tomorrow is the winter solstice, and I'll be very glad to see it. The lengthening days will be very welcome, even if the difference is mostly in my mind for the first couple of weeks! We don't really see much increase in the daylight until the end of January. But the hazel catkins are sitting green and tight on the trees, waiting for the January sunshine to bring them out, and snowdrops everywhere are stirring in the ground.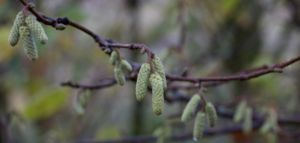 These last few months have been busy for me in terms of writing. If you're interested in exploration and adventure, you might like to look at a couple of blog posts over at the Royal Scottish Geographical Society, about Sir Fitzroy Maclean and Captain Fred Burnaby. I'm also writing a series of blog posts for a hotel that's due to open in Edinburgh next year – 100 Princes Street – with a theme of Scotland's explorers.
And I have other news too… I've received an advance copy of 'Britain's Birds – a Treasury of Fact, Fiction and Folklore', which will be published in March next year. I'm absolutely thrilled. It was such a joy to write, and it's wonderful to hold a physical copy (it has a very tactile cover, too!) Joanna Lisowiec is the illustrator, and her work is brilliant.  'Britain's Birds' is available to pre-order via bookshops.
This year I've also written a children's book, 'James Croll and his Adventures in Climate and Time'. James Croll was a little-known Scottish scientist who worked out the cause of the Earth's ice ages. His life story is exciting and inspirational, and the book was published by RSGS to coincide with the bicentenary of his birth. I had a great time working with the book's illustrator, Dylan Gibson, who has really grasped the essence and energy of James Croll in his images.
I'm planning lots more blog posts here on The Hazel Tree.  Meanwhile, thank you so much for your comments and emails over the past year. It's always lovely to hear from you, and to know how much heartfelt interest there is in this lovely part of the world. As Christmas approaches and the year draws to a close, I (along with Colin, and Purdey and Clyde) would like to send you the very warmest wishes for wellbeing and happiness.