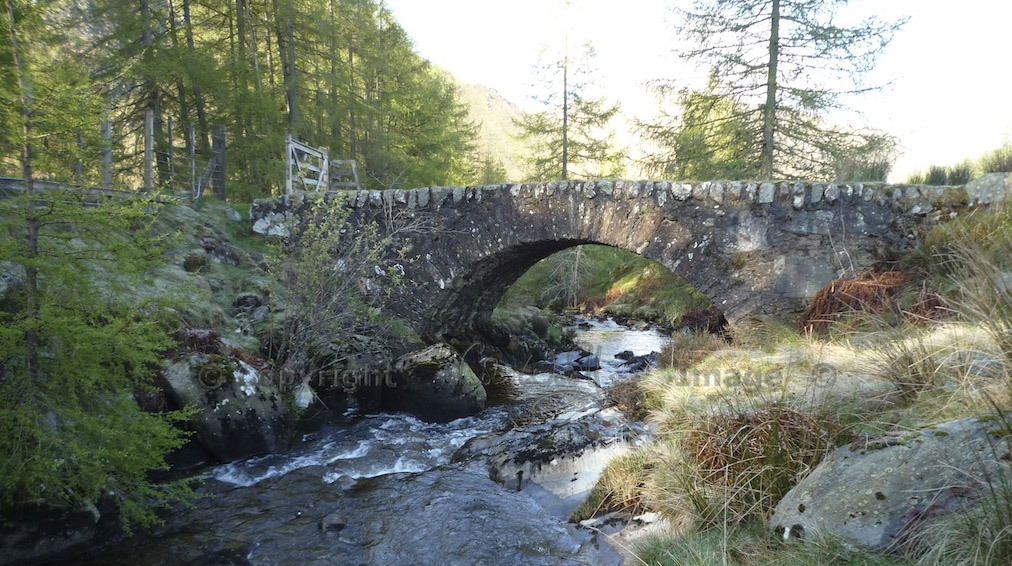 A bridge to the past in the Sma' Glen
The Lurg Burn tumbles under a stone bridge as it makes its way down to the Sma' Glen just north of Gilmerton in Perthshire.  Larches extend their branches almost to the water, while emerald green mosses and ferns cling to the rocks, relishing the coolness and the moisture.  Red grouse call lazily from the moors;  otherwise there is no sound except that of cascading water.
Simple yet elegant, the bridge blends into the landscape so well that it seems to have grown out of the banks, and its top surface is thick with grass;  if you wonder about it at all, you might imagine that it was constructed by a wealthy landowner or a farmer who needed to drive cattle to market.
But the history of this charming little bridge has nothing to do with agriculture:  in fact, its origins lie south of the border.
Before we get to that, I think a small amount of potted history is called for, so bear with me…
Portrait of James II (and VII of Scotland) by Sir Godfrey Kneller

In 1688, James II was finally forced to flee abroad after his zealously pro-Catholic behaviour had alienated most of the country.  James steadfastly believed in the Divine Right of Kings, and he had mercilessly crushed two rebellions already;  the British people, who still remembered the horrors of life under Mary I (the staunchly Catholic daughter of Henry VIII) were, on the whole, glad to see him gone.

James' daughter, also called Mary, was married to her first cousin, William of Orange, who was a Protestant.  Parliament declared that James had abdicated the throne, and acknowledged Mary as his heir.  She and William were invited to become the new King and Queen, and they were crowned together in 1689.  When Mary died, William continued as King in his own right;  they had no children, so it was Mary's sister, Anne, who succeeded William.

But Anne was also childless.  Who would inherit the throne?  Britain was facing a tricky situation – and Parliament wasn't taking any chances.

In 1701, during the reign of Queen Anne, the Act of Settlement was passed.  Quite simply, it altered the course of British history.  The Act decreed that no Catholic king or queen would ever again sit on the throne;  to ensure this, all future monarchs must be descendants of Sophia, Electress of Hanover, a Protestant granddaughter of James I.

On hearing the news, Sophia was apparently quite keen to move to London, even though Queen Anne was still alive.  (I'm sure I would have been:  I mean, wouldn't you have wanted to try on the Crown Jewels?)

But fate decided otherwise.  Sophia died in 1714, aged 83, just a few weeks before Queen Anne;  and it was Sophia's son, George, who was to receive an offer he couldn't refuse.

Meanwhile, in Scotland, there remained a considerable amount of support for James II; the Catholic faith was firmly rooted among many Highland clans.  A failed uprising in 1689 was followed by one in 1715, in support of James Francis Edward Stuart, son of James II;  by his opponents, he was known as 'The Old Pretender'.  There would be another, more famous, uprising in 1745, spearheaded by the charismatic Prince Charles Edward Stuart (Bonnie Prince Charlie, or 'The Young Pretender');  and we all know where that led.
This is where we meet George Wade.  George was born in 1673, in Westmeath, Ireland.  Commissioned into the army at the age of 17, he saw action in Flanders, Spain and Portugal, and he rose quickly through the ranks, eventually being promoted to Major General in 1710.  On returning home, he didn't put his feet up:  he helped to quell the 1715 uprising before taking his place in the Parliament of George I.
Conscious of the simmering dissent north of the Border, the government sent Wade to Scotland in 1724, with orders to have a poke around.  Since the 1715 rebellion, an Act of Parliament had been issued, banning all Highlanders from bearing arms.  Wade confiscated large numbers of illegally-held weapons, but the clansmen were able to conceal many more.  The vast majority of them believed heart and soul in the destiny of James' son as the true heir to the throne, and they would follow him into battle if necessary.  For Wade, this was not good news.
More to the point, any fighting that took place in these inhospitable regions gave an overwhelming advantage to the Scots:  they knew the narrow mountain passes and moorland tracks like the palms of their hands, and they weren't about to share their mental maps with anyone whose name was George.
Obviously, this troublesome country had to be controlled, but so far the troops had made little impression.  On the orders of the King, new barracks had already been set up in Fort Augustus and Fort George, and those at Fort William dated back to the Civil War;  but travelling between them was difficult and hazardous, leaving the soldiers vulnerable to attack.
Roads, Wade decided, were what was needed.  He wrote as much to his namesake back in London, and the King immediately told him to get on with it.  Just for good measure, he appointed Wade Commander in Chief of His Majesty's Forces, Castles, Forts and Barracks in North Britain.
With such a grand-sounding title at the head of his notepaper, Wade didn't hang about.  He planned a major campaign of road construction, and drafted in teams of labourers who were overseen by Army officers;  according to some sources, the workmen were accompanied by a drummer.  Road-building was carried out mainly between spring and autumn, because of the harshness of the winter weather.   New barracks were put up, and old ones were re-fortified.
Between 1725 and 1737, a total of 250 miles of road were built, linking Crieff and Dunkeld in the south with key points such as Dalwhinnie, Ruthven, Fort William and and Inverness.   It was a monumental achievement.  Wade is said to have had a pleasant, affable character, which perhaps helped to soften the unyielding attitude of the Highlanders to a certain extent;  and not all of them were opposed to the Hanoverian king.
The success of the campaign was celebrated in a witty rhyme, whose author is unknown:
"If you had seen this road before it was made,


You would lift up your hands and bless General Wade."
One source suggests that it was inscribed in a wayside stone, but I can't discover for sure.
And this, finally, brings us to the bridges.  Wade's men constructed about 40 of them, though some have subsequently been lost.  This one, spanning the burn at right angles to the present road, is remarkably intact for its age.  It is, in fact, considered to be one of the best preserved of Wade's bridges in Scotland.
On a misty April morning you can stand there and imagine the busy construction teams, maybe toiling to the beat of a drum, and the mix of Gaelic and English voices as they worked;  and later the footfall of Hanoverian soldiers as they marched to the garrisons further north.  Then, in September 1745, it might – just might – have carried the Jacobite clans, filled with transient hopes of glory, who were marching on Perth before continuing south to Edinburgh;  and, less than a year later, it would undoubtedly have witnessed some of the unhappy warriors, wounded and broken in spirit but lucky to be still alive, returning home after Culloden.
All this, a great long story, just for one small and unassuming bridge that now leads to nowhere.  The modern road travels up the east side of the burn, leaving the bridge in perfect peace;   and if it occasionally helps a few roe deer cross the water on their way up to the hill, I think that's only proof that nature has a way of turning things full circle.
Sources:
I am indebted to Mr Ian Hamilton for first drawing my attention to the story behind this lovely little bridge.  Ian was involved in a project to record and conserve some of the 18th century military roads and bridges in Perthshire, and he helped to clear it of vegetation before measuring and drawing it.
Photos copyright © Colin Woolf, except portraits which are courtesy of Wikimedia Commons.