Britain's Landmarks and Legends



Published by HarperCollins for The National Trust – 14th September 2023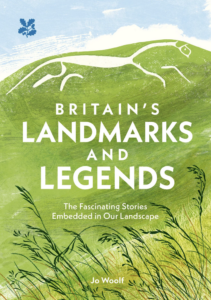 It has struck me so often how almost every hilltop and valley, every woodland and lake, has its own unique story which has been handed down from one generation to the next over hundreds, maybe thousands of years.  Britain's countryside is rich in these legends, and in some places they are still so tangible that you feel as if you're stepping into another realm.
For this new book, I've chosen 50 places throughout Britain and looked at their legends in more detail.  Some are natural features, such as Sherwood Forest, Wistman's Wood, the mountains of Cadair Idris and Schiehallion, and the deep waters of Loch Etive and Windermere.  Others are man-made, but have been with us longer than anyone can remember:   the megalithic monuments of Avebury, Stonehenge and Calanais, and the mounds at Sutton Hoo that recall the presence of a Saxon king.
I've been fascinated to unearth some extraordinary figures:  the Physicians of Myddfai, for example, who claimed that their healing skills came directly from a water-nymph living in Llyn y Fan Fach;  the phantom riders who gallop across the Stiperstones, led by Wild Edric and his beautiful fairy-wife, Godda;  and the elusive blacksmith who (so it was said) would shoe horses that were left overnight near the megalithic tomb called Wayland's Smithy.
The gorgeous illustrations are by Claire Harrup, who has captured the ancient magic that lies soft as a veil over these precious landscapes.
More information from HarperCollins, including where to order.   Available from Amazon (UK), Waterstones, Foyles and other bookshops.  Signed copies can be ordered via Colin's website.
---
Britain's Birds:  A Treasury of Fact, Fiction and Folklore



Published by HarperCollins for The National Trust

In this follow-up to 'Britain's Trees', I'm looking at around 70 of Britain's best-loved bird species and finding out more about their natural history;  I'm also unearthing some curious tales of superstition and folklore which have been associated with particular species over the centuries.  Which birds, for example, are the fire-fetchers, daring to fly up to the Sun to bring back fire to the Earth?  Who is the 'king of birds', and how did he acquire that title?  What secret knowledge does the woodpecker possess, and why was it such bad news if you heard the Seven Whistlers?  This book was fascinating to research, and a joy to write.  I really didn't want it to end!
Woven into the text are some lovely quotes from literature, both ancient and modern.   'Britain's Birds' is illustrated with 40 beautiful images by Joanna Lisowiec.
"A hugely engrossing book, as easy to dip in and out of as it would be to read cover to cover – and one that would appeal to almost all ages."  Ettie Neil-Gallacher, The Field
Available from Amazon and other bookshops.  Signed copies can be ordered via Colin's website
Update, Nov '23:  Currently being re-printed – new stock is expected at the end of February 2024.  You might find copies still available in bookshops such as Waterstones.
---
Britain's Trees:  A Treasury of Traditions, Superstitions, Remedies and Literature
Published by HarperCollins for The National Trust

Featuring 40 of Britain's best-loved tree species, this book examines the vast wealth of folklore, traditions and superstitions that have grown up around trees over the millennia.  It contains information about their natural history and interesting quotations from literature;   there are also cameos about individual ancient trees that represent a significant part of our heritage.  With illustrations by Louise Morgan.
"This book is a brilliant record of old remedies, folklore and history of wooded places in the UK."  Zakiya Mckenzie, BBC Wildlife

Featured in Countryfile Magazine's 'Best Nature and Wildlife Books' in 2021
Available from Amazon and other bookshops.   Signed copies can be ordered via Colin's website
---
James Croll and his Adventures in Climate and Time
Published for the Royal Scottish Geographical Society

Born in 1821, James Croll was a brilliant-minded Scotsman who defied poverty and ill health to become one of the greatest scientists of his day.  Despite a lack of formal education, he managed to teach himself about physics and astronomy and predict the pattern of the Earth's ice ages.  He is now acknowledged as one of the world's first climate scientists.  Published to mark the bicentenary of Croll's birth, this children's book tells his astonishing story in words and pictures.
Fully illustrated with the fabulous artwork of Dylan Gibson.
Available from Royal Scottish Geographical Society.
---

The Great Horizon:  50 Tales of Exploration
Published by Sandstone Press

The Royal Scottish Geographical Society has links with some of the most iconic and inspiring figures in the history of exploration.  This book celebrates some of these amazing people and tells their stories.  It's not simply historical, although it includes 'greats' such as Scott, Shackleton, Hillary and Heyerdahl.  There are contemporary explorers too, whose wide-ranging work has earned them well-deserved recognition and awards.  As Writer in Residence at RSGS, I'm privileged to be able to meet some of them in person, and talk to them about their challenges and their vision.
"An inherently fascinating and impressively informative read from first page to last."   James A Cox, Library Bookwatch
With a foreword by Professor Iain Stewart, President of RSGS.  Available from Royal Scottish Geographical Society.