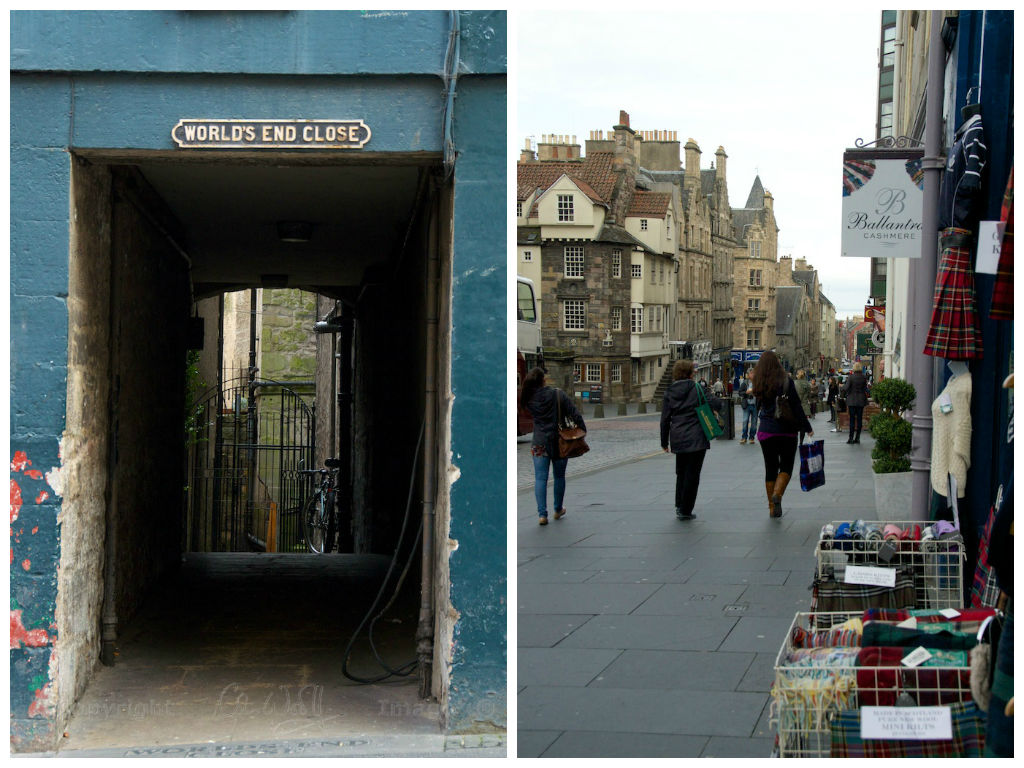 World's End Close, Edinburgh
'World's End' – an interesting name for one of the many 'closes' or narrow passageways that lead off the Royal Mile in Edinburgh.
Looking into the database of the Royal Commission on the Ancient and Historical Monuments of Scotland, I thought I might find a simple reason for the name.  But no:   I should have learned by now!  Stories seem to unravel in all directions, all of them rather sinister – which, it has got to be said, is in keeping with most of the properties that line the Royal Mile.
To be fair, the most logical suggestion is that the name reflects the close's location at the foot of the High Street;  but then there's a connection with a rather mysterious-sounding 'Endmyleis Well', the precise location of which has now been lost, but which is believed to be in this vicinity.  How fascinating to discover that this is mentioned in the evidence given in 1567 by the Earl of Bothwell's accomplices, after the murder of Lord Darnley, the husband of Mary, Queen of Scots:
Looking down the Royal Mile

"In the evidence of the Earl of Bothwell's accomplices, already referred to, it is stated by William Powrie, that after "thai hard the crack, thai past away togidder out at the Frier Yet, and sinderit quhen thai came to the Cowgate, pairt up the Blackfrier Wynd, and pairt up the cloiss which is under the Endmyleis Well."

From 'Memorials of Edinburgh in the Olden Time', by Daniel Wilson (1875)

Notes: a 'yet' or 'yett' is a fortified door, similar to a portcullis but on hinges;  'hard' – 'heard';  'sinderit' means they split up;   'quhen' – 'when'.   I suspect the 'crack' was the explosion caused by the gunpowder that Darnley's murderers had placed in rooms beneath his chamber (he was staying in lodgings nearby, at Kirk o'Field.)
But there's more…
The RCAHMS reveals that the close was also known as 'Sir James Stansfield's Close':
"…for Sir James Stansfield of Newmills, who had a house in it prior to his death in 1687 and whose son Philip… was convicted of his supposed murder, chiefly on the ground that the corpse bled when he touched it – according to superstition, a sure sign of guilt of secret murder."
Crikey.  It might be lined with boutiques, kilt-makers' shops and hotels, but when you walk down the Royal Mile you're still treading in the rather bloody footsteps of history!
The World's End Pub
Sources:
World's End Close is marked on this map of Old Edinburgh from 1742, which shows all the street names at the time of the Jacobite Rebellion.
Photos copyright © Jo Woolf
---
Further reading…
Just a short walk away is the beautiful St Giles' Cathedral – take a look!