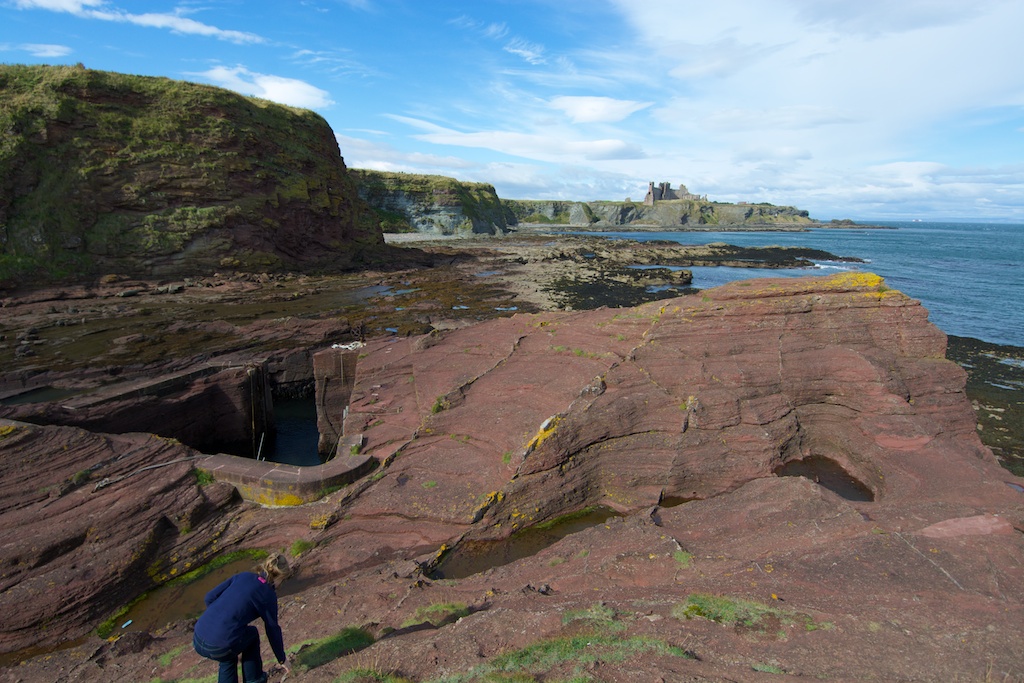 Seacliff beach and the UK's smallest harbour
When we were pottering around Seacliff beach, which lies beneath Tantallon Castle in East Lothian, we came across a fascinating and delightful feature.  Few people know about it, because it's hidden from view – in fact, you can almost tumble into it before you know it's there.
At the western end of the beach is an outcrop of red sandstone called the Ghegan, which means 'churchman's haven' (an interesting name in itself);  and if you clamber up there at low tide, you can look down into the UK's smallest harbour.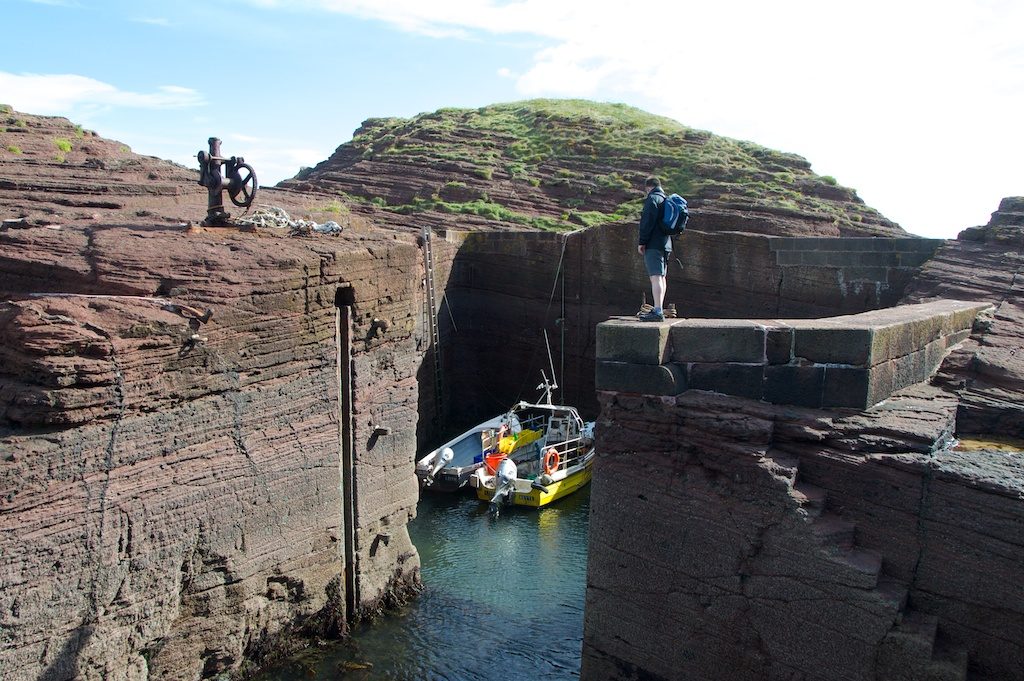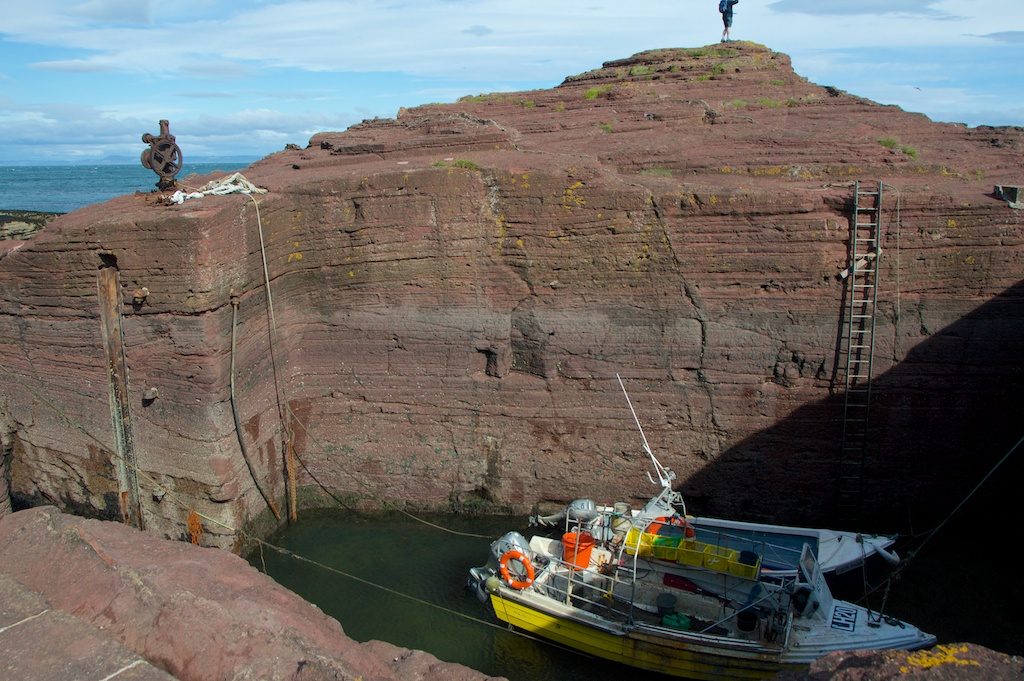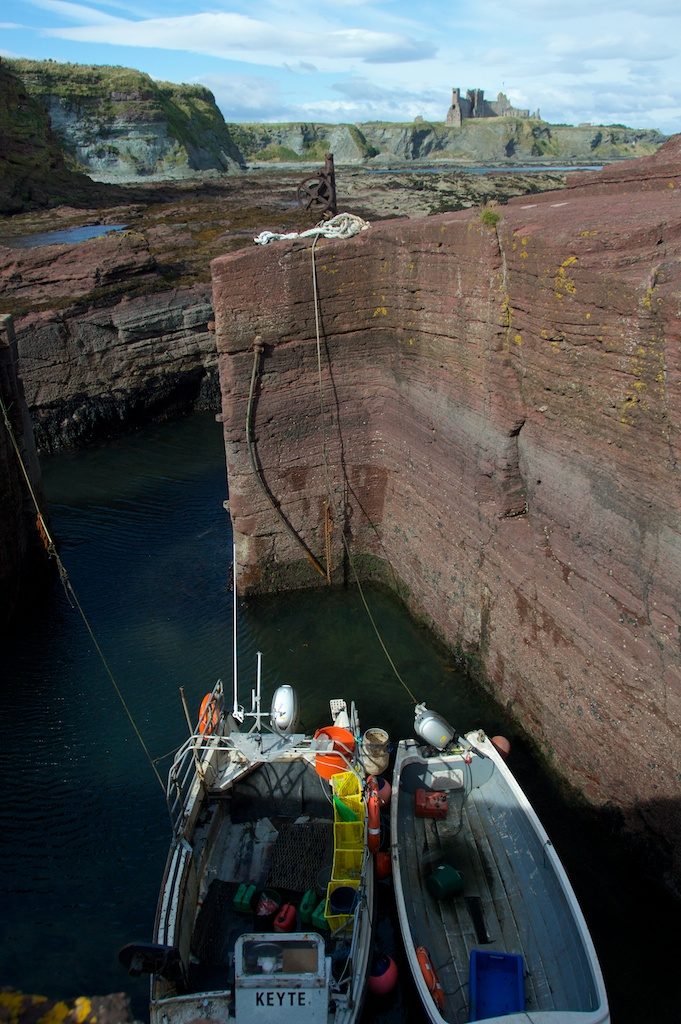 In 1890, the local landowner, Andrew Laidlay, used a steam engine and compressed air to slice a rectangular bite out of this lump of rock.  Even today, this would be a remarkable achievement.   The harbour is only 40 feet long, and the entrance is barely 10 feet across, with a sharp corner to navigate as you come in.  You certainly couldn't get a yacht in here!
The water level rises to six feet at high tide, and (as you can see from the photos) at low tide it never dries out.  Years ago, it was apparently used by small 'cobles' – traditional flat-bottomed fishing boats – but I wouldn't have thought it was a very big fleet.  Either that, or it was a real free-for-all when they came back in!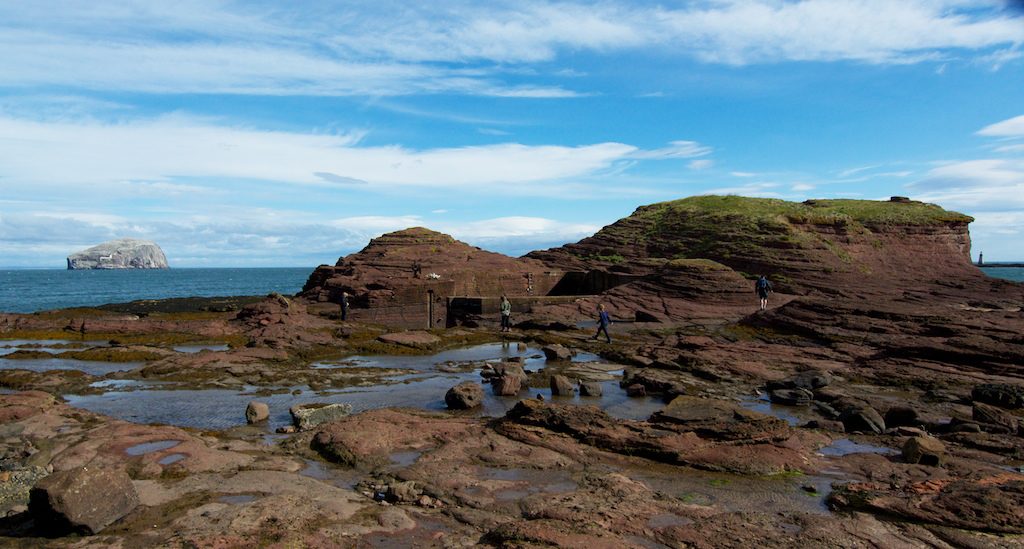 Seacliff is a fantastic place!  Quite apart from this cute little harbour, the beach is crammed full of the most wonderful pebbles and rock formations;  there are stunning views out to Bass Rock, with thousands of gannets wheeling above it throughout the summer;  and if you look to the west, you can see the spectacular ruins of Tantallon Castle, almost crumbling into the water.
Getting there…
If you want to see this lovely little harbour for yourself, you need to go there at low tide.  Just south of Tantallon, off the main A198, is a lane that leads to the car parks above Seacliff Beach.  A coin-operated barrier allows access.  Remember to look for St Baldred's Cave, in a cliff by the car park!  You can read more about him here on The Hazel Tree.
Tantallon Castle, with the Ghegan rock visible in the foreground
Sources:
Photos copyright © Jo Woolf