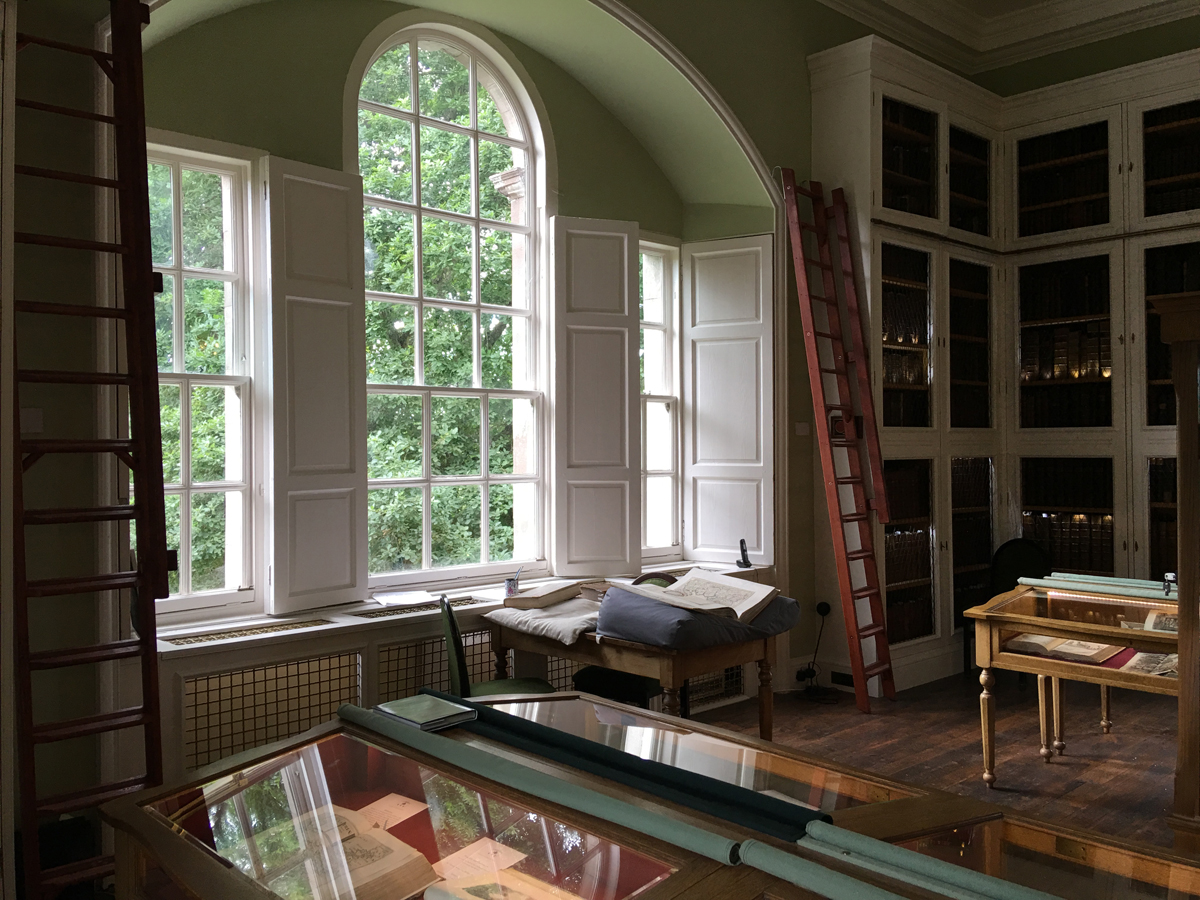 Innerpeffray: Scotland's oldest free lending library

"I have erected a Library… which I appoint and ordain to be preserved entire… for the benefit and encouragement of young students…"   
David Drummond

If somebody asked me where was the oldest free lending library in Scotland, I would have hazarded a guess at one of the institutions in Edinburgh – the National Library of Scotland, for example.   I would never in a month of Sundays have thought of a pretty little house by the River Earn in the heart of rural Perthshire.


Innerpeffray Library has been lending books to the public since 1680, thanks to the generosity and foresight of David Drummond, 3rd Lord Madertie.   Drummond was a wealthy landowner and brother-in-law of the 1st Marquis of Montrose.  A renowned scholar, he had amassed a valuable collection of books in English, Latin and several other languages, and he wanted to make them available to everybody, as a gift of learning.   His vision was both generous and unprecedented;   on his death, he left a legacy of 5,000 Scottish merks with instructions to his successors to perpetuate his library for the benefit of future generations.
To honour his wishes, Drummond's heirs set up a Trust Fund which went by the delightful name of the Innerpeffray Mortification.  Today, the Library is a registered charity and it relies on fundraising and visitors' donations to remain open.
Drummond's collection was initially housed in the chapel of Innerpeffray – a remarkable building in itself – but the library soon outgrew its home.   In 1739 it was inherited by Robert Hay Drummond, later Archbishop of York, and he commissioned a new building adjacent to the chapel which would accommodate the expanding collection.
The 'new' building was completed in 1762.  In the gable wall of the adjacent chapel you can see a small top floor window;  this is the room where Drummond's collection was first kept.  Image courtesy Innerpeffray Library
The Scottish Enlightenment

In the 18th century, a movement known as the Scottish Enlightenment inspired a starburst of learning in all academic fields, from philosophy to science and literature.  Edinburgh was described as a 'hotbed of genius', and in 1762 Voltaire wrote that "it is from Scotland that we receive rules of taste in all the arts…"   Literacy in Scotland rose to new levels, and men of social standing collected books for their own education as well as that of their family.   As a freely accessible resource, Innerpeffray would have been loved by aspiring scholars just as much as it was prized by academics.
The nucleus of Drummond's original library consisted of around 400 volumes on topics as diverse as history, religion and gardening.  One of the treasures of the collection is the French pocket bible that the 1st Marquis of Montrose carried into battle.  Others include:
'Poisson' by Pierre Belon (Paris, 1555)
'Cosmographie' by Sebastian Munster (1575)
'Chronicles' by Raphael Holinshed (London, 1577)
Henry VIII's Great Bible (1539)
Knox's 'Historie of the Reformation' (1644)
Through additions made by Drummond's heirs, and donations from benefactors, the library now has about 5,000 books.  Most were published before 1800, although there is a small anteroom on the first floor containing more 'recent' volumes.
In one of the cabinets on the ground floor are the borrowers' ledgers, in which every single book loan from 1747 onwards has been faithfully recorded by generations of librarians.  These tell their own unique stories:  regular borrowers included local people and craftsmen such as stonemasons, as well as theology students.  The ledgers are a fertile source of reference for people researching their ancestry, and it is even possible to trace a borrower's tastes and interests through his or her choice of reading matter.

From its earliest days, the library was available for use by the local school, which stood next to the graveyard.  By the 19th century the original school buildings had fallen into disrepair, and in 1846 a new schoolhouse and school master's house were put up nearby.  These continued in use for another 100 years.
For practical reasons, the library no longer permits books to be taken off the premises, but it is still possible to browse the vast collection for the purpose of research or personal interest.
The lower floor is dedicated to the 'Scottish collection', recently inherited from an American bibliophile and spanning five centuries of history.   This includes work by writers of the Scottish Enlightenment such as David Hume, Adam Smith and Joseph Black.  A first edition of 'Treasure Island' lies open in a case, along with an early book of music and some precious letters written by Robert Burns.
Displays on the ground floor
On the top floor is the heart of Innerpeffray's wonderful collection – the original books bestowed by David Drummond and curated by his descendants.  A stone staircase leads up to an elegant room with glass-fronted bookshelves from floor to ceiling and rows of display cabinets containing a diverse selection of treasures for you to marvel at.
Lara Haggerty, Innerpeffray's Keeper of Books, was extremely helpful in answering my questions.  She pointed out some of the highlights of the collection, and readily allowed me to turn the pages of the most beautiful atlas that was lying open, temptingly, on a cushion.

Top floor
Atlas Novus (1638, Amsterdam) featuring maps by Mercator and Hondius
I watched in absolute amazement as Lara got out a collection of miniature books for me to see:  and when I say miniature, I really do mean miniature.   These are all bibles, dating from the late 1800s, and they were made as printers' showcase pieces, all beautifully bound, like dolls' toys.   The tiniest was about half the size of my thumbnail.  They are not just curios, however – you can read them with a magnifying glass, but it would need to be a pretty strong one!
Other displays focused on travel – I noticed some first editions of David Livingstone and Mungo Park;  one book cabinet had the theme of 'coffee', and another focused on the delights (or temptations) of alcohol.   The theme of these displays is changed regularly, so that there's always something new on show.  Books were propped open to show drawings of fabulous animals and birds;  a recipe for rum punch;  a map of Milan;  and loads more besides.  Everything was extraordinary and fascinating.   Even the binding of these books is exquisite, and some of them contain handwritten notes or inscriptions by the library's founder.
Map of Milan from 'La cosmographie universelle de tout le monde' by Sebastian Munster, 1575
Lara told me that every single book is taken off the shelves every year, and carefully dusted.  "It's a bit like painting the Forth Bridge," she said, and I can see why!   Tall ladders stand ready to give access to the topmost shelves, while portraits of Drummond family members adorn the walls above the fireplace.  There's a lovely stillness about the place, a kind of hushed reverence.
(Left:) The oldest book in the Library is 'Questiones in quattuor libros Sententiarum', by John Duns Scotus, dated 1476.  This is an 'incunable'*, still bound in the original oak boards, and annotated in the margins.

John Duns Scotus (c.1265-1308), was a Franciscan friar.  Born in Duns in the Scottish Borders, he studied and taught in Oxford, Cambridge and Paris.  He was famed for his lectures on Peter Lombard's 'Sentences' – discussions on theological doctrine – which survive in medieval manuscripts and were reproduced in the late 1400s, in some of the very first printed books.
(Right:) Machiavelli's 'The Prince' is included in this book entitled 'Les Discours de l'Estat de Paix et de Guerre' (1571) with a frontispiece showing a phoenix rising from the ashes.  It's bound in vellum, with handwriting by Drummond's grandfather – you can just make out the word 'Innerpeffray'.
*An incunable is a book printed in Europe before 1501, and therefore pre-dating the advent of printing presses and mass production.
Innerpeffray is a delightful place, nestling by the River Earn with woods and farmland all around, and the ghosts of Roman encampments and signal stations dotted all over the landscape.   It's a jaunt to get there, taking you along single-track roads with high hedges, but that makes the sense of discovery even more special.   What a precious thing, to have survived for over 300 years, and still be available for our enjoyment today – just as David Drummond would have wished.
Innerpeffray's Keeper of Books:  This ancient title is currently held by Lara Haggerty, whose role is to look after the Library and its visitors.  I also met Jill Dye, who is working on an applied research PhD jointly with Innerpeffray and the Universities of Stirling and Dundee.  Jill's field of research is Innerpeffray's Library Books and Borrowers from 1747 to 1857.   The Library is supported by a team of volunteers.
Visiting Innerpeffray Library

Library leaflet and admission ticket, which doubles as a bookmark


Innerpeffray Library lies about four miles from Crieff, and is open from March to October.  It's closed on some weekdays – please see their website for full details:   www.innerpeffraylibrary.co.uk
Admission is by donation, or for a small fee you can enjoy a guided tour of the lower and upper floors.   I would recommend this, as it is impossible to see at first glance what books are the most remarkable or precious.  You can also ask the multitude of questions that come to mind, and feel more reassured about handling some of these wonderful books for yourself.
Many thanks to Lara and Jill for showing me around.