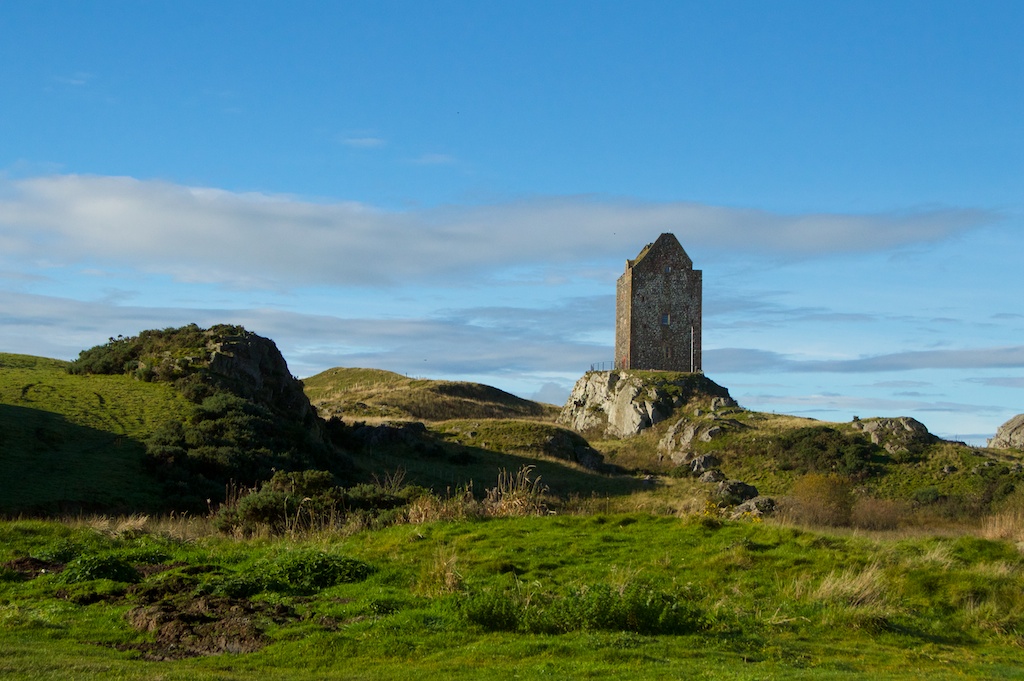 Smailholm Tower rises above the rolling landscape of the Scottish Borders like a silent sentinel.  We've glimpsed it on many occasions but just recently, on a lovely day in late October, we drove right up to take a proper look.
The road ends in a track that leads through the farmyard of Sandyknowe Farm.   A couple of hundred yards later, you reach the base of a rocky outcrop and you realise just why the tower was situated here.  There are far-reaching views on almost all sides:  the inhabitants of Smailholm must have been able to see their visitors from miles away, and had time to pop some scones in the oven had they been so inclined.  But most of the parties bound for Smailholm in the 15th century were not the kind to be offered tea and cakes.
Smailholm is a peel tower, built by the Pringle family around 1450 for defence against cattle raiders or 'reivers'.   Reiving was an illegal but highly profitable activity, indulged in by generations of Scots and English families on either side of a hotly disputed border.  Cattle were valuable possessions, representing a source of food as well as breeding stock, and their loss spelt years of hardship for the landlords and their tenants.  Their unfortunate owners, having lost their livelihood, were lucky if their house or castle wasn't razed to the ground as well.
Preparation was the best form of defence, and strongholds had to be designed to protect not only the laird's family but also as many of his livestock as could be rounded up and got inside a thick enclosing wall.   In the Scottish Borders, a number of tall 'peel' towers were built (the word deriving from the Latin word 'palus', meaning 'stake' – literally, a fenced-in area or palisade).
The Pringles of Smailholm weren't taking any chances.  The enclosing wall or barmkin was nearly seven feet thick, and weapons placed in the castle's gun loops would have been trained on unwelcome guests.  Even this doesn't seem to have been enough of a deterrent:   on just two nights in 1544, raiders from Northumberland made off with 723 cattle, 108 horses and 104 prisoners from Smailholm village.   An amnesty was agreed when John Pringle agreed not to go on any raiding parties into England.  It makes you wonder what he did with his Saturday nights from then onwards.
In 1645 the tower passed to the Scotts of Harden, from whom the writer Sir Walter Scott is descended.   As an infant, Scott stayed in Sandyknowe Farmhouse which by then had replaced the tower as a family home, and listened to his grandmother telling him stories about Border reivers. Smailholm proved to be an inspiration for some of his later writing.
On the upper three floors of Smailholm Tower is an exhibition of costumed figures and tapestries that evoke the area's turbulent history.   Its roof, which has recently been restored, is a fine example of 'soft capping' – a living colony of sedum, grasses and plantains which help to reduce the volume of rainwater that runs onto the walls.
We were too late in the season to catch the tower while it was open, but it was magnificent just to walk around the outside and glimpse the view that the people here would have gazed out on, 500 years ago.  It's an imposing presence from all angles, much bigger than it appears from a distance;  I loved the shadow that it cast on the ground, like a huge sundial.  This place has seen a lot of drama, romantic perhaps only in hindsight.   I'm sure its beleaguered residents would have chosen peace, given half a chance.  They might have liked to hear the moorhens on the old millpond beneath the walls, and robins singing autumn songs in the sunshine.

Smailholm is about five miles west of Kelso.  For directions and opening times, visit the Historic Environment Scotland website (below).
Sources and further reading:
Photos copyright © Jo & Colin Woolf
You may also like…

Dryburgh Abbey, an ancient and tranquil haven not far from Smailholm, which is the last resting place of Sir Walter Scott