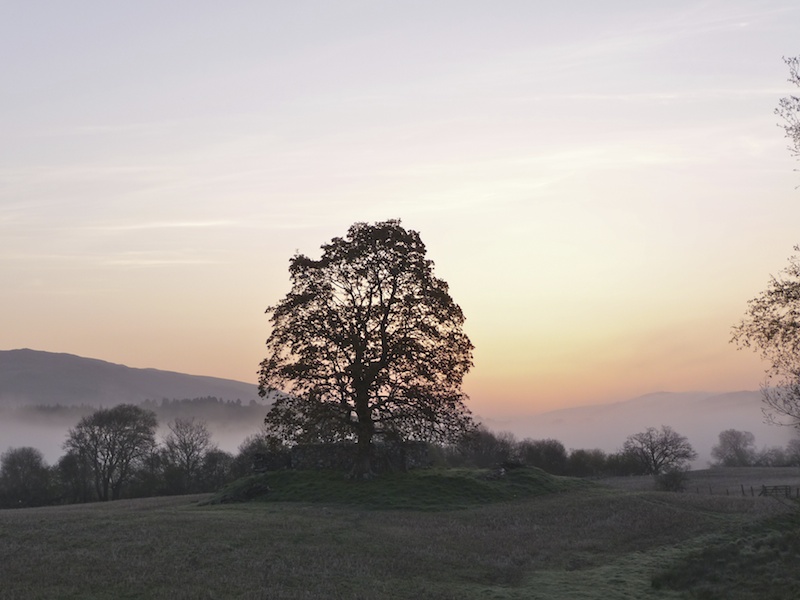 St Fillan and Glen Dochart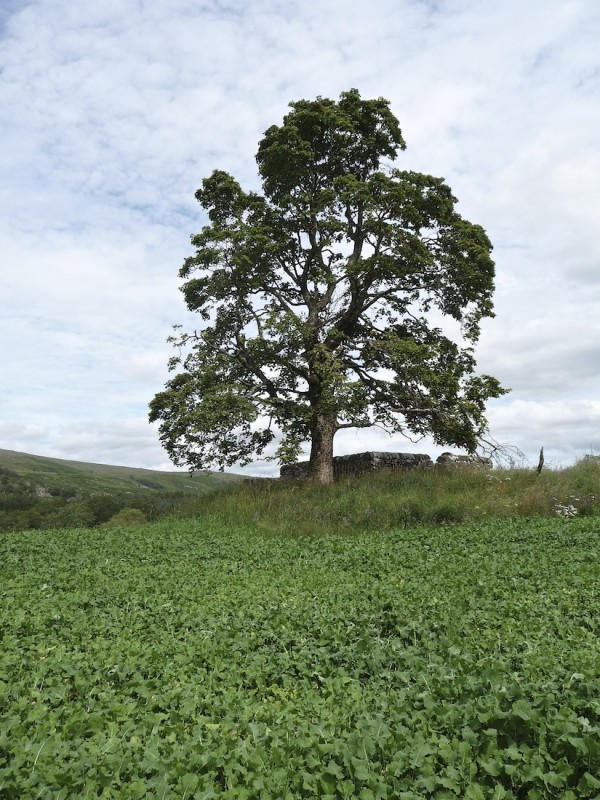 An old stone wall in the middle of a field draws my attention every time we drive through Glen Dochart.  Guarded by a big sycamore tree, this simple rectangular enclosure is a graveyard belonging to the MacNab clan.
One source says:

"(Luib in Glen Dochart): There is an ancient McNab burial ground on the south side of the road on a little grassy knoll with trees. There are several gravestones here, some of them legible, some less so, and all appear to be to members of the McNab family."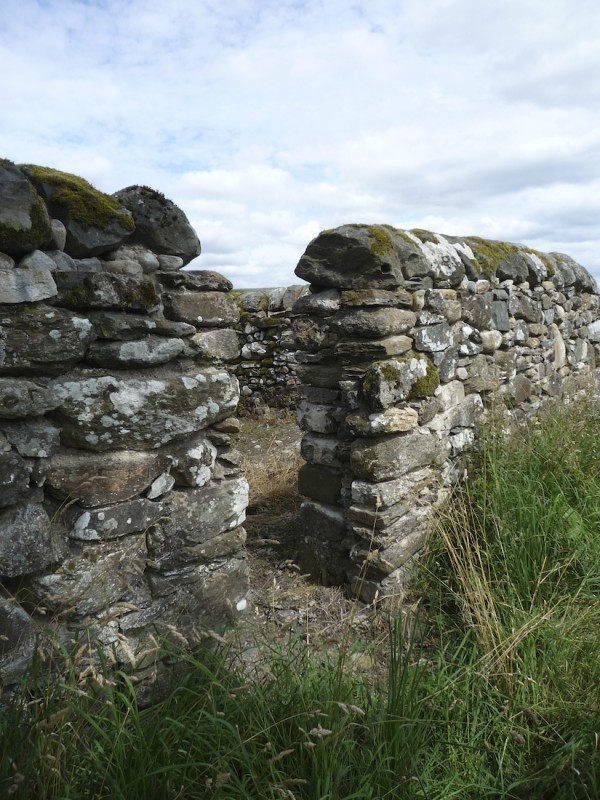 What interested me even more was the mention of a cross-incised slab at the south-east corner of the enclosure, which several experts have dated to the 6th or 7th century.  This stone is described as an 'early marker', as opposed to a memorial or grave stone, with links to the very earliest Christian worship.
According to Canmore, the database of the RCAHMS, the cross-marked stone may be "coeval with St Fillan";  it adds:   "Suie in Glen Dochart is locally connected with St Fillan, though his name is not attached to it."
We visited the MacNab burial site on a bright August day, and I was fascinated to find the cross-marked stone at an outside corner of the walled enclosure.  It stands at a slight angle, about three feet in height, with a weathered but still distinct cross carved on two of its faces. I can see why it has been called a marker stone rather than a grave slab – it is finger-like, slim and angular.  In fact, it looks more like a small version of a standing stone.
Inside the enclosure are grave slabs and memorial stones dating from the 1700s and dedicated to members of the MacNab clan.  Two of them show a severed chieftain's head, which is part of the MacNab crest. The head is that of the Chief of Clan MacNeish, who was killed in a daring attack by the MacNabs in the early 1600s, in retaliation for repeated raids on their land.
One gravestone bears the MacNab motto 'Dread Nought', and another the words 'Timor Omnis Abesto' ('Let fear be far from all').  This one also shows three crescent moons arranged above a star and what appears to be a set-square – possibly a masonic symbol.
Built into a wall of the enclosure is a stone with the inscription:
"Built by Iohn Macnab, posesser of Inishoane 1759"
I assume that the 'Inishoane' refers to Innisewen, a farm just across the river on the other side of the glen.  Just outside, beneath the tree, some old iron railings enclose another grave from the same era.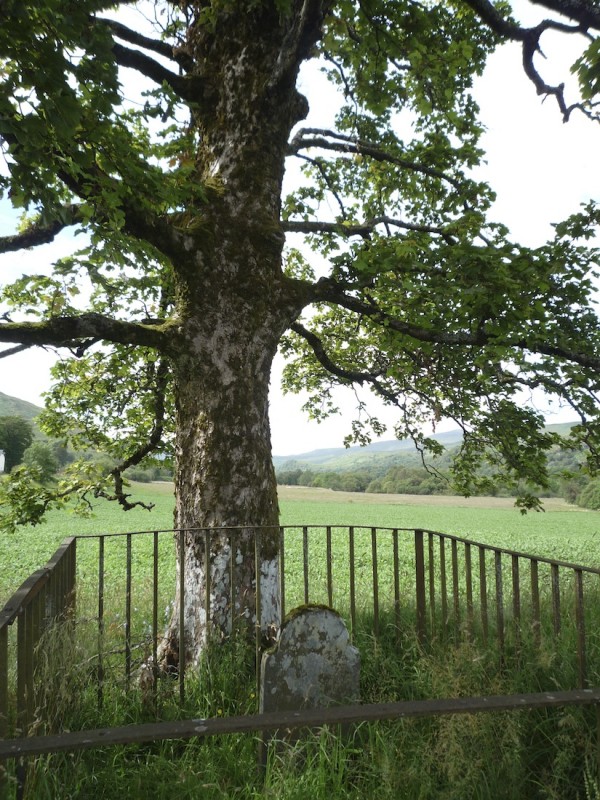 Who was St Fillan?

Veiled by the mists of time, the story of St Fillan is fascinating…

One of the earliest missionaries who travelled from Ireland to western Scotland in the 6th Century, St Fillan's aim was to establish a Christian monastery and spread the Gospel.  He may have arrived around the same time as St Columba, who founded the abbey on Iona.

Legend has endowed St Fillan with a number of superhuman powers, and he is reputed to have killed a terrifying wild boar with "horns the size of plough shares".

Apparently St Fillan would preach under an ash tree near the river at Killin, and he used healing stones to cure people of their illnesses.  These stones, together with several other holy relics, still remain;  the Clan Macnab website tells us that by tradition, the layer of river wrack, straw and twigs on which the stones are bedded is changed every Christmas Eve.

St Fillan may have been faintly amused at the way in which his 'holy relics' were transported reverently around the country after his death.  His silver-gilt quigrich (the head of a pastoral staff) made an appearance at the Battle of Bannockburn in 1314 before being taken to Canada some 500 years later.  It is now in the National Museum of Scotland in Edinburgh.
What a charming story… and a truly timeless place.
Sources:
RCAHMS (Royal Commission on the Ancient and Historical Monuments of Scotland)
Images copyright © Colin & Jo Woolf
---


Further reading
Take a look at another McNab burial ground – this one is on a lovely little island in the River Dochart at Killin.