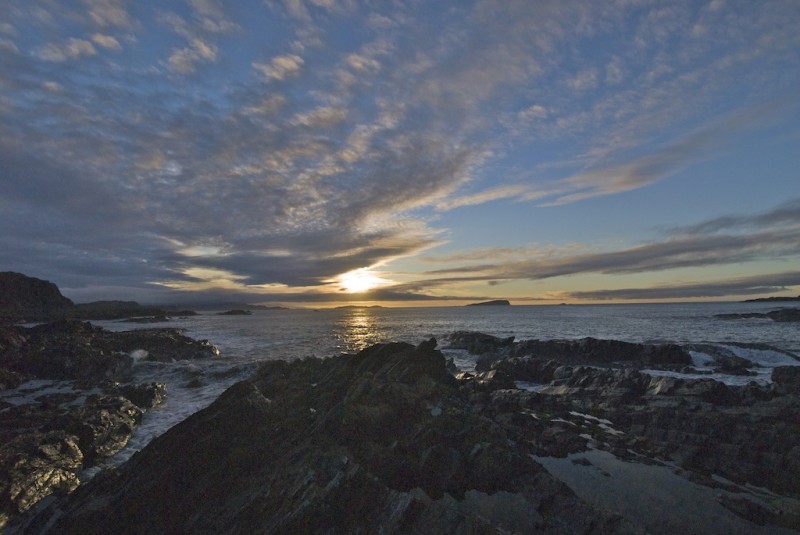 St Brendan and the Garvellachs
There must have been a very strong instinct among Irish noblemen and priests in the 6th century AD that inspired them to set sail into uncharted waters in search of divine fulfilment.
You only have to look at a map of the west coast of Scotland to see that it's dotted with the remains of religious settlements founded by these brave and earnest missionaries.  St Columba, of course, is the name that first springs to mind… he was the founder of the monastery on Iona, which became the centre from which Christianity spread throughout western Scotland.
But there were lots of other Irish saints whose daring deeds didn't get quite the same publicity.  Among them is St Brendan, who was born in County Kerry in 484 AD.  As a small boy he was educated by Saint Ita, a nun who taught 'faith in God with purity of heart, simplicity of life with religion, and generosity with love';  later, Brendan was taught by Saint Erc, who ordained him as a priest in 512.
Brendan was responsible for building monastic 'cells' at Ardfert in County Kerry, where a beautiful cathedral was later erected in the 13th century.  He established several monasteries around the River Shannon and on the west coast of Ireland, but these achievements obviously didn't satisfy his inborn wanderlust.
Having gathered a band of followers, Brendan set sail from Seana Cill at the foot of Mount Brandon (Brendan's hill) on a seven-year quest for the 'Isle of the Blessed'.  Although there's little contemporary evidence for the route that he took, his travels are described in a ninth century Irish tale, 'The Voyage of St Brendan the Navigator'.

If St Brendan was describing his experiences today, he would probably be derided as a raving lunatic.  This devout and intrepid little group in their timber-framed currach were 'raised up on the back of sea monsters' and 'passed by crystals that rose up to the sky'.  When they ventured too close to an unnamed island, they were pelted by the inhabitants with flaming, foul-smelling rocks.  Just think what St Brendan could have done with a mobile phone and a Twitter account.
In 1976, a British navigator called Tim Severin embarked on a 4,500-mile sea journey in an attempt to prove that Brendan's claims were based on fact.  He built a 36-foot, two-masted replica of Brendan's currach out of Irish ash and oak, and set sail from the Dingle Peninsula in Ireland. He had encounters with humpback whales, which were probably Brendan's 'sea monsters';  he witnessed icebergs – the 'crystals that rose up to the sky';  and he also landed in Iceland, which makes a good case for being the origin of the foul-smelling volcanic rocks.
So what has St Brendan got to do with the Garvellachs, a group of rocky, uninhabited islands in the Firth of Lorn?  His boat must have found its way to these turquoise waters, because he founded a monastic settlement on the largest island, Eileach an Naoimh ('isle of the saints'), in 542.  Amazingly, the evidence still survives in the remains of 'beehive cells', so called because of their conical shape.
We took a boat trip out to the Garvellachs (in Gaelic, Garbh Eileach, meaning 'rough isles') in August 2011.  We travelled with Seafari, a tour operator which sails regularly from Ellenabeich on Seil Island.  After a 20-minute crossing in brilliant sunshine, the boat docked in a small inlet and we clambered up the boulders to explore.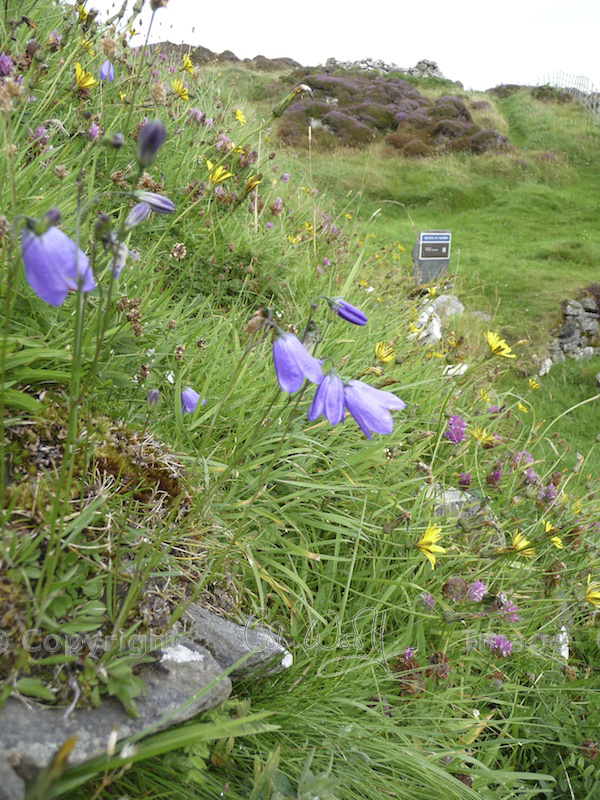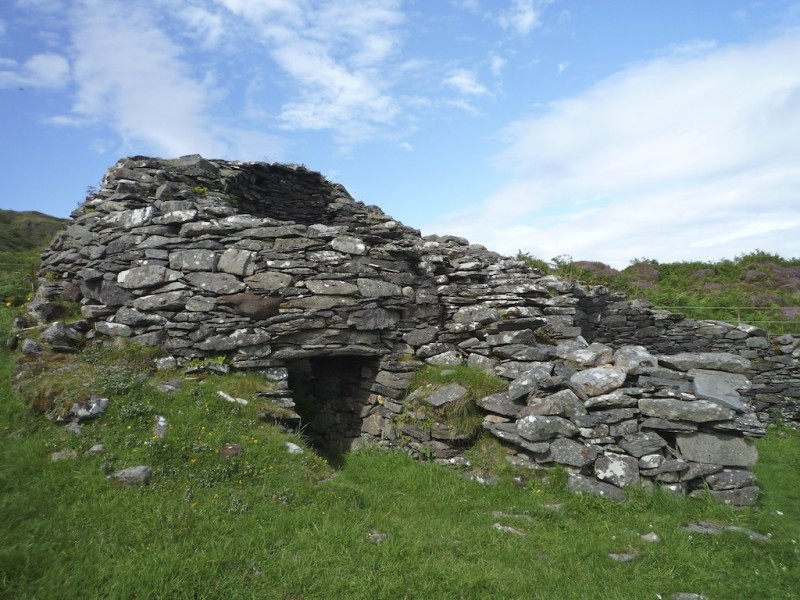 The beehive cells are amazingly well preserved – in fact, one of them at least has been sympathetically re-constructed.  They are open to the sky, but of course the domed roof would have been complete in St Brendan's day.  I found it hard to decide if they would have been snug, secure living spaces or a dark claustrophobic nightmare.  But whatever the living conditions, there's a sense of pure piety – as if the memories are there, but impossible to access.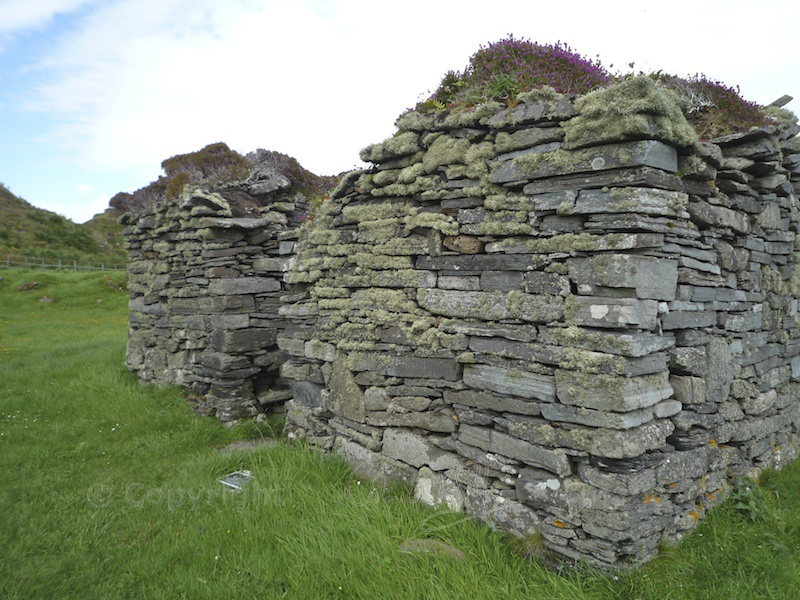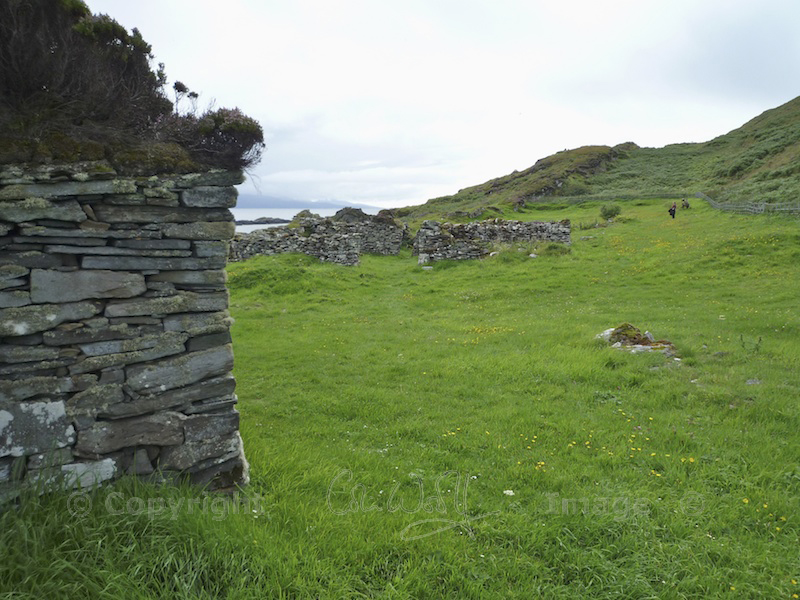 Wherever you set foot in the Garvellachs, you're treading on ancient history.  There's the roofless ruin of a 12th century chapel – stone-built, moss-covered and amazing;  the remains of a later monastery and domestic buildings, all covered with the silvery-green fronds of lichen;  and an early Christian graveyard, which at the time of our visit was a mass of wild flowers. High on a natural ridge with stunning views out to sea is a small slab, engraved with a simple cross;  this is said to mark the grave of Eithne, St Columba's mother.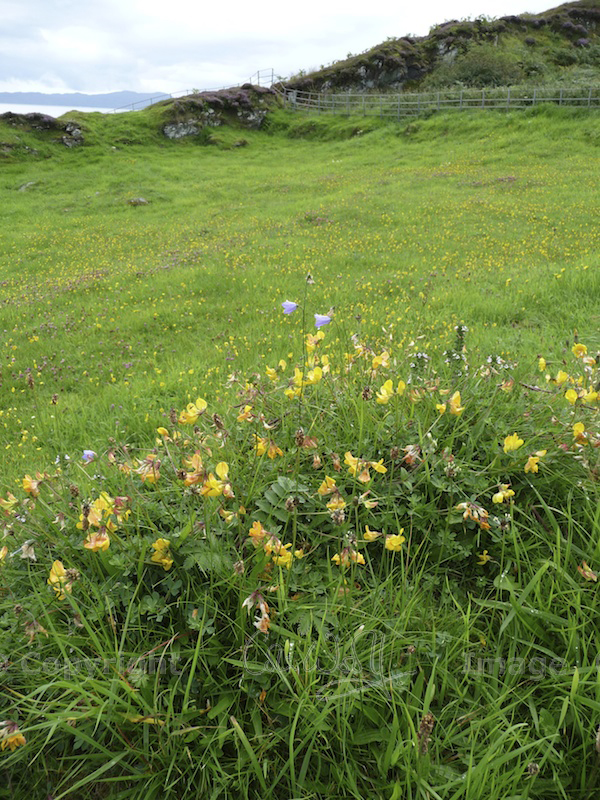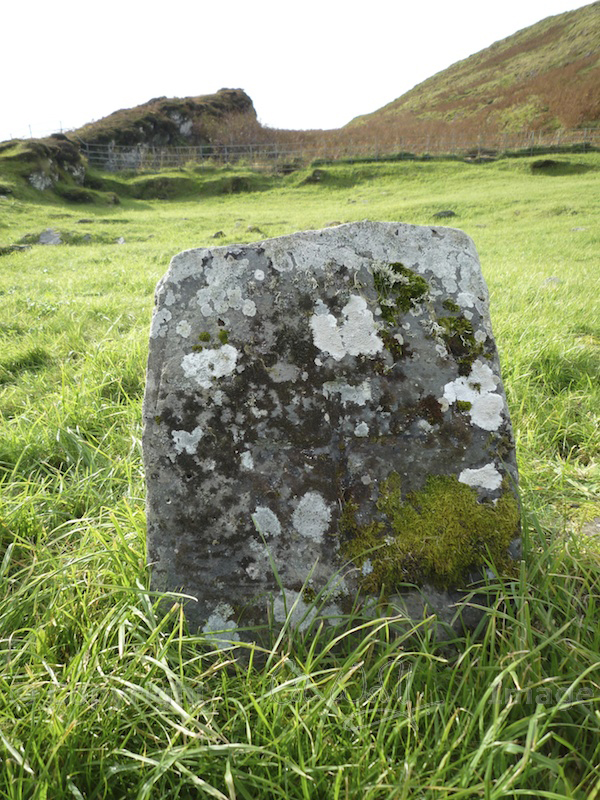 St Brendan didn't spend that long in Scotland.  Three years later, he is reported to have returned to Ireland to establish more churches in Galway and County Mayo.  He died in 577 at the venerable age of 93.  His is a remarkable story:  in those days, people with ambitions such as his didn't usually survive until middle age.  What a life Brendan had – what places he'd seen, and what memories must have died with him.  I think he would have been worth talking to.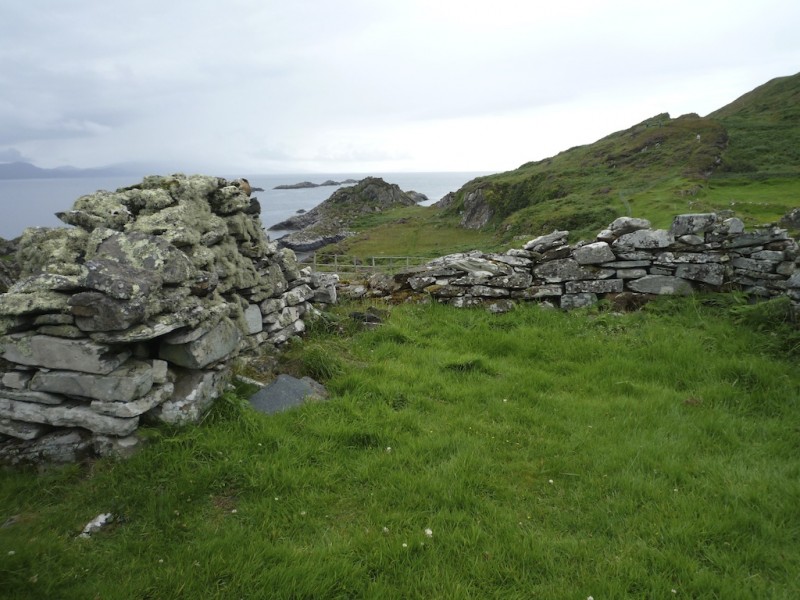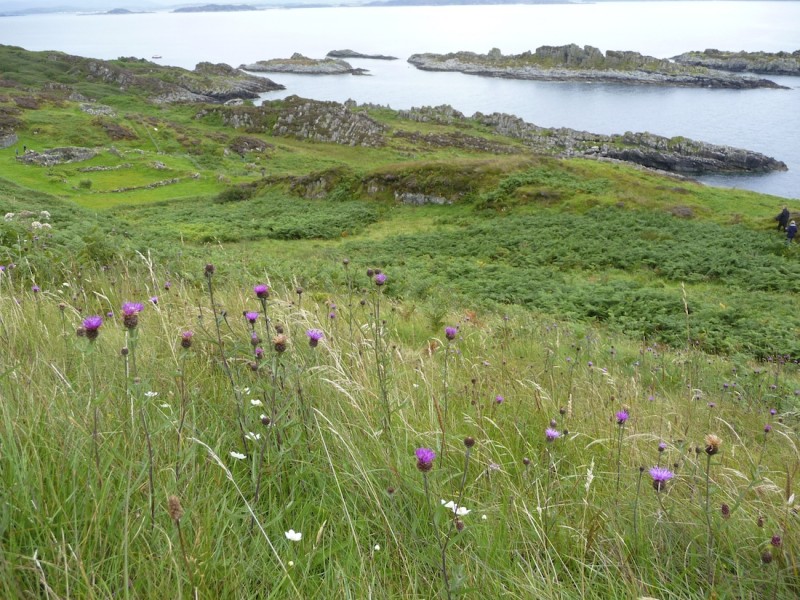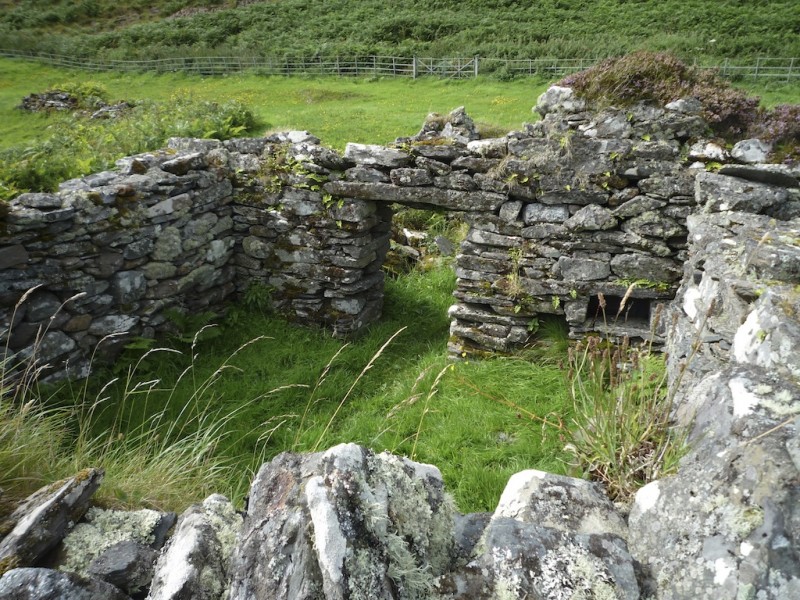 The Garvellachs were inhabited until the 19th century, when they were home to a small farming community.  Now they play host to a few sheep, thousands of sea birds and occasional overnight campers on kayaking trips (our daughter, Leonie, among them).  The Garvellachs are a Site of Special Scientific Interest and form part of the Firth of Lorn Special Area of Conservation;  the ruins are in the care of Historic Scotland.
There has been speculation that St Brendan's party crossed the Atlantic and landed in Newfoundland, but so far no real evidence has been produced.  However, stone carvings in West Virginia dating from between 500 and 1000 AD have been examined by experts who claim that they are written in Old Irish, using the Ogham alphabet.  One historian believes that they may have been carved by the first Irish missionaries in the wake of St Brendan's voyage… but there is no documentary evidence to back this up.
Getting to the Garvellachs

The Garvellachs lie to the south of Mull and to the north-west of Scarba in the Firth of Lorn.  You can book a day trip with a local tour operator such as Seafari Adventures or Craignish Cruises.   Sailings are dependent on the weather.  
Sources:
Images copyright © Colin & Jo Woolf
---
More ancient and holy sites in Argyll: