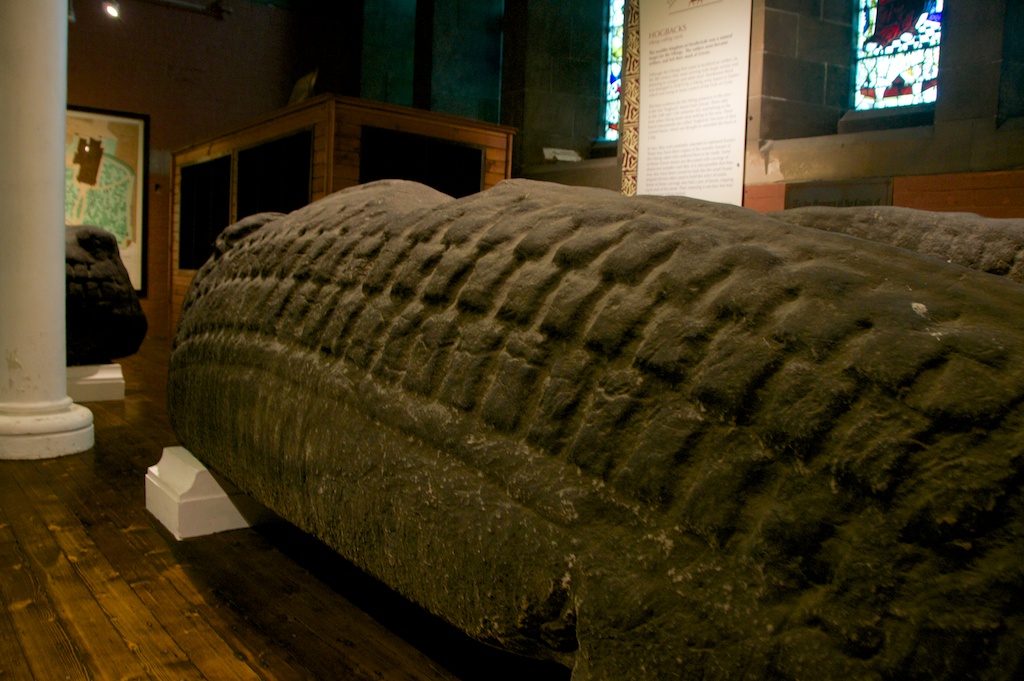 On the south bank of the River Clyde in Glasgow is a district called Govan.  Shipbuilding was once a major industry here, and now it's a busy urban area of houses, flats, businesses and shops.  Not the most obvious place to start looking for early medieval history.
But appearances can be deceptive.
Secreted within this concrete jungle is a little time-bubble in the shape of Govan Old Parish Church.  The building itself isn't really that old – it dates from 1888 – but it's surrounded by a much older graveyard;  and if you step inside, you'll come face to face with some jaw-dropping medieval treasures.
"One of the best collections of early medieval sculpture anywhere in the British Isles."   Gareth Williams, curator of the British Museum Viking exhibition
I'm not talking just about the fabulously carved Jordanhill Cross or the Sun Stone with its writhing bouquet of serpents, although in any other place they'd be the centre of attention.  Lurking darkly in one of the transepts are the strangest sculptures I've ever had the fortune to see.  They have such a presence that part of me wouldn't even be surprised to hear that they got up and prowled around at night.
When you stand next to one of Govan's enormous 'hogback' stones and run your hand over its scale-like surface, a horde of unanswered questions assail your mind like an invading army.   What on earth do they represent?  Who were they made for?   What was their purpose?
They might be a thousand years old, but there's nothing half-hearted about these extraordinary sculptures.   Looking almost like prehistoric animals, they are solid, massive, dark and brooding.  But before I can tell you any more about the hogback stones, I had better explain what on earth they are doing in Govan, in the heart of Glasgow.  And it all comes back to the ancient but little-known kingdom of Strathclyde.
GOVAN AS A CENTRE OF POWER
When we think of early Scottish people, we tend to think either of the Picts or the Gaels, who later became known as Scots.   The Vikings added a third ingredient to the melting pot of cultures.  But there was a fourth, in the shape of the Britons of Strathclyde, who occupied a wide territory across southern Scotland and shared a common ancestry with the 'Cymry' or 'Cumbri' of northern England and Wales.   Until 870 AD the ancient heart of their kingdom was 'Alt Clut', a fortress on Dumbarton Rock in the Firth of Clyde;   but after a decisive defeat at the hands of the Vikings they moved their royal seat of power upriver, to Govan.  There was a safe crossing here, close to where the River Kelvin joined the Clyde.
Sadly, little archaeological evidence is left to us.   A fortified mound known as Doomster Hill is shown on some early maps, but this was obliterated by 19th century development.    The name 'Doomster' suggests the ceremony and rituals of early medieval kingship, where laws were passed and judgements handed out, and the site may well have had prehistoric origins.   Likewise, no trace remains of a possible royal residence on the opposite bank of the river, at Partick.   All we have is the graveyard at Govan – and these remarkable stones.
The language of Govan

At the time when the Govan stones were carved, the people here would have spoken a northern Brittonic language related to Old Welsh.  One theory is that the name comes from a Cumbric equivalent of 'go' meaning 'little' and 'ban' meaning 'hill'.  The 'little hill' may refer to the low mound of Doomster Hill.  
So when was the first church built at Govan?   According to legend, the Christian missionary St Constantine came here around 500 AD and chose to build a church next to a sacred well.  His church would have been a modest wooden structure and no trace of it remains, but burials dating from the fifth or sixth century have been found in the graveyard, and the curving shape of the boundary hints at an ancient past.  The discovery of a finely carved sarcophagus, obviously intended to hold some very important relics, brings us tantalisingly close to the truth.  Did this ever hold the bones of St Constantine?  It would be wonderful to know.
The Govan Sarcophagus

Unearthed in the graveyard in 1855, the Govan sarcophagus is carved with a huntsman on horseback and a number of animals that look like deer.  It is richly embellished with beautiful interlaced knot-work.
THE HOGBACK STONES
"Archaeological evidence for early Christian burials… suggests continuity of an elite presence through the second half of the first millennium AD."     Tim Clarkson, 'Strathclyde and the Anglo-Saxons in the Viking Age'
For the kings of Strathclyde, Govan was a royal burial ground, and it's quite likely that the hogback stones marked their graves.  Historians see a distinct Norse influence in their design, as they occur only where there has been a Viking presence – but strangely, there are no surviving examples in the Viking homelands of Scandinavia.  Various interpretations have been placed on their appearance, but the most popular opinion is that they represent the tiled roof of a house that has been placed over the dead for protection.
It's not that simple, however.  The hogback stones at Govan have a central spine that seems quite animal-like – hence their name – and a couple of them are clasped at one or both ends by a carved beast that could be a bear or a serpent.  They are asymmetrical, and to me their profile is reminiscent of a ship, with a prow and a stern.
The hogback stones at Govan were carved sometime between 900 and 1100 AD.   Centuries of industrial pollution have blackened them, and when they were first made they would have looked quite different.  For a start, it's quite likely that they were painted – but how, and in what colours, we can only imagine.  What we can say with more certainty is that they were intended to express the wealth, the power, and the importance of the people whose graves they marked.
What makes the hogback stones so strange?

Until now, all the medieval grave stones that I've seen have been long, rectangular and relatively flat, often carved with swords and low-relief effigies and the symbols of a person's trade.  They convey an impression of pride, but also of someone having surrendered his soul to another realm and wishing to be remembered with respect and love.  There's an openness and a feeling of trust.

Not so with the hogback stones at Govan.  Built to withstand the wrath of giants, they look as if their whole purpose is to keep something in!   You get a sense of someone being locked within the earth, safe from all kinds of unspeakable evil.  Far from trusting their dead to the tender care of angels, these people heaved a huge lump of sandstone over the grave and added some sinister-looking beasts for extra security.  The warning is clear:  mess with me at your peril.
There are more hogback stones dotted around Scotland and Northern England, but the five at Govan represent the country's largest collection.   They are also the biggest and heaviest examples yet to be found.
GOVAN'S OTHER STONES
Govan has such a rich heritage of carving that it has given rise to the term 'Govan School' to describe the craftsmanship in this particular area.  Three magnificent stones that stand just within the entrance of the church were designed to portray the beliefs and values of the Strathclyde Britons.
The Sun Stone

One of Govan's earliest carvings, the Sun Stone has a large central boss from which four serpents are emerging.  This is thought to represent the Christian concept of redemption and resurrection, and it is a symbol that is found elsewhere in Scotland and Ireland.  On the other side is a decorated cross and a mounted warrior with a spear and possibly a sword;  his hair appears to be tied in a ponytail.    Was he a king of Strathclyde?
The Cuddy Stane
The top part of the 'Cuddy Stane' is missing, but a drawing survives from 1856 which shows a horserider carrying a long weapon and mounted on an animal that looks more like an ass than a horse – hence the stone's name, 'cuddy', which is Scots for 'donkey'.   This has led to speculation that it may represent Christ's entry into Jerusalem on Palm Sunday.
The Jordanhill Cross

This stone gets its name from the place where it was found – the garden of Jordanhill House just across the river, where it had been taken in relatively recent times.  It is carved with another mounted warrior amid some superb knotwork, almost as if the stonemason was challenged to showcase his skill.

To historians, the shaping of the slab at the top suggests that it was designed to fit into another stone, possibly a cross-head.   At the entrance to the churchyard stands a modern replica of the Jordanhill Cross, showing how it may have looked when complete.
Early medieval grave slabs
A surprising number of early grave slabs are dotted around the church, having been brought indoors for protection.   Between the 17th and 19th centuries some of these stones were re-used for contemporary burials and were inscribed with initials.   It is only recently that their historical significance has been put into context and fully understood.
Until the late 1900s these cross-carved slabs, along with the hogback stones, lay outside the church and were fully exposed to the elements.  Unfortunately, that is not all they were exposed to:   the demolition of the adjacent Harland and Wolff shipyard in 1973 sent rubble tumbling over the wall, and at least 16 of the recumbent stones were lost, while several more were damaged.   Historians are painstakingly trying to recover details about the missing stones, using evidence such as old black-and-white photos.
What happened to the Britons of Strathclyde?
Around 1050, the kingdom of Strathclyde was conquered by the increasingly powerful Scots.  King David I founded a new diocese in Glasgow in 1114, and the old church at Govan was gradually abandoned.   As for the Britons themselves:  "They were no longer Cumbri but had become 'Scots' like their new political masters. Inevitably, as time wore on, the deeds of their forefathers began to fade from memory.  Soon only the sculptured stones remained, a handful of monuments scattered across the land, to bear mute witness to a forgotten people."   (Tim Clarkson)
VISITING THE GOVAN STONES

If you haven't already been to Govan, I recommend that you do so because there's nothing like seeing these amazing stones at first hand.   Over the last few years the Govan Stones Project has undertaken a major new re-display scheme which shows off the stones within the church to their best advantage, accompanied by useful interpretation boards.

Govan Old Parish Church is open to visitors from 1st April to 31st October 2015, between 1 and 4 pm.  Admission is free, although donations are welcomed.  There's lots more information on the Govan Stones website, including a map showing how to get there.

A service takes place in the church every weekday morning.  "The Old Church at Govan remains active, making it one of the most long-lived centres of Christianity in Britain."
Sources:
Photos copyright © Colin & Jo Woolf
---
Further reading…

If you enjoyed this, you might like to take a look at the magnificent Dupplin Cross which stands in St Serf's Church at Dunning in Perthshire.