On a spring day a few years ago Colin and I found ourselves in the south-west of Mull, and took a drive down the road that winds its way from Pennyghael across some lonely stretches of moorland before dipping down quite steeply towards Carsaig.
From the car park we headed eastwards along the shore – it was not the easiest of walks, being boggy in places – and found ourselves on a beach that was strewn with huge rounded boulders,  the kind that giants would use to play marbles.
Stretching away from the boulder fields, down into the sea itself, were flat beds of shale, pitted here and there with shallow pools… and, to my delight, I found that they were teeming with fossils.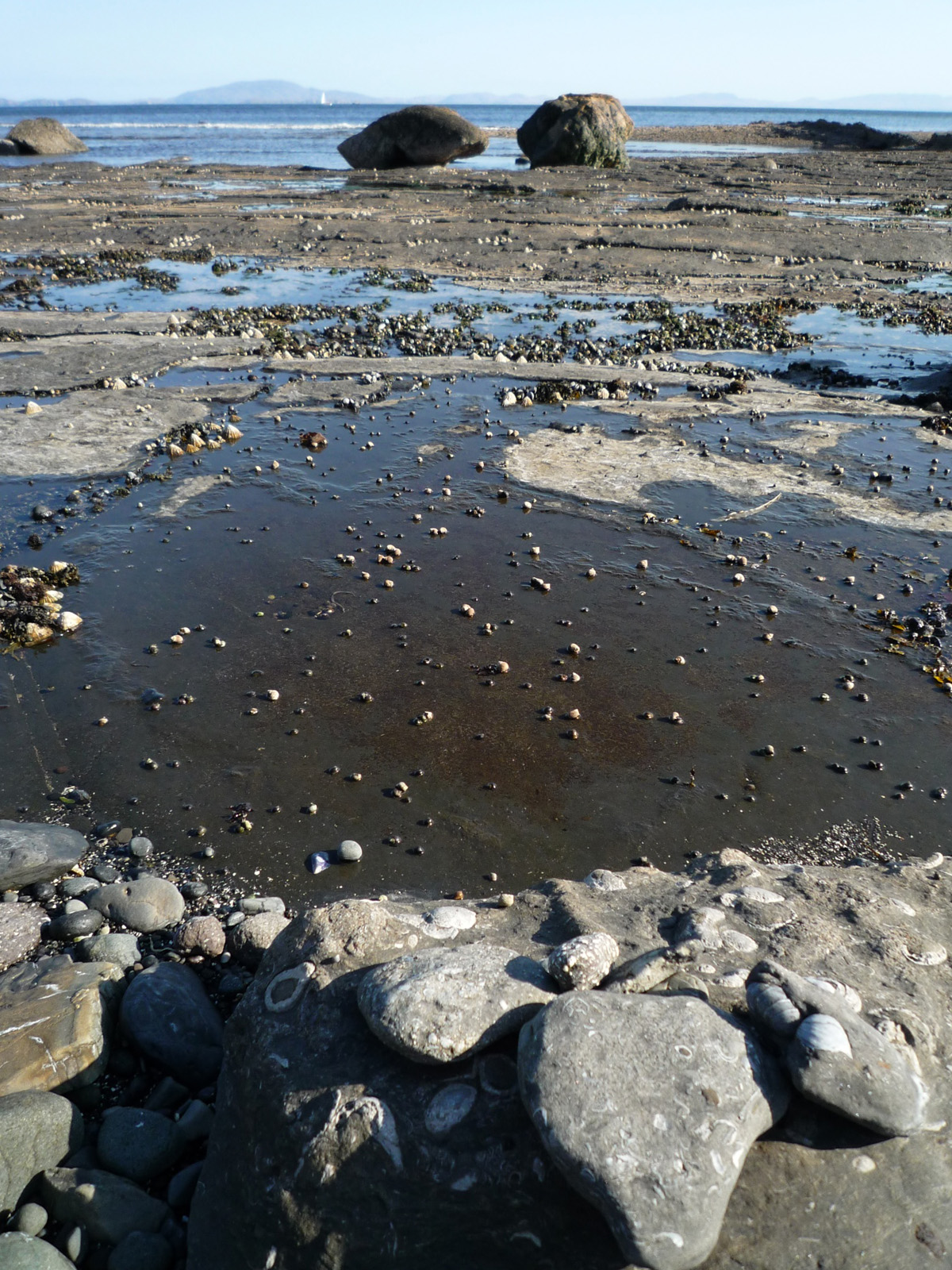 Being the kind of person that gets excited over just one fossil, you can imagine how I felt at seeing many hundreds, all jumbled together as if their Cretaceous cocktail party had come to a premature end.   To add to the delight, living molluscs – limpets, periwinkles and barnacles – had colonised the same surfaces, carrying on their daily cycles of feeding and shutting, right next to the remains of their distant ancestors.
Among the fossils that you can find at Carsaig are ammonites, belemnites, and the aptly-named devil's toenails or Gryphaea.   I managed to find several examples of ammonites and Gryphaea, but it was only when I looked again at my photos that I saw what I thought might be belemnites.   These are bullet-shaped crustaceans, believed to be the ancestors of squid, but with hard internal skeletons.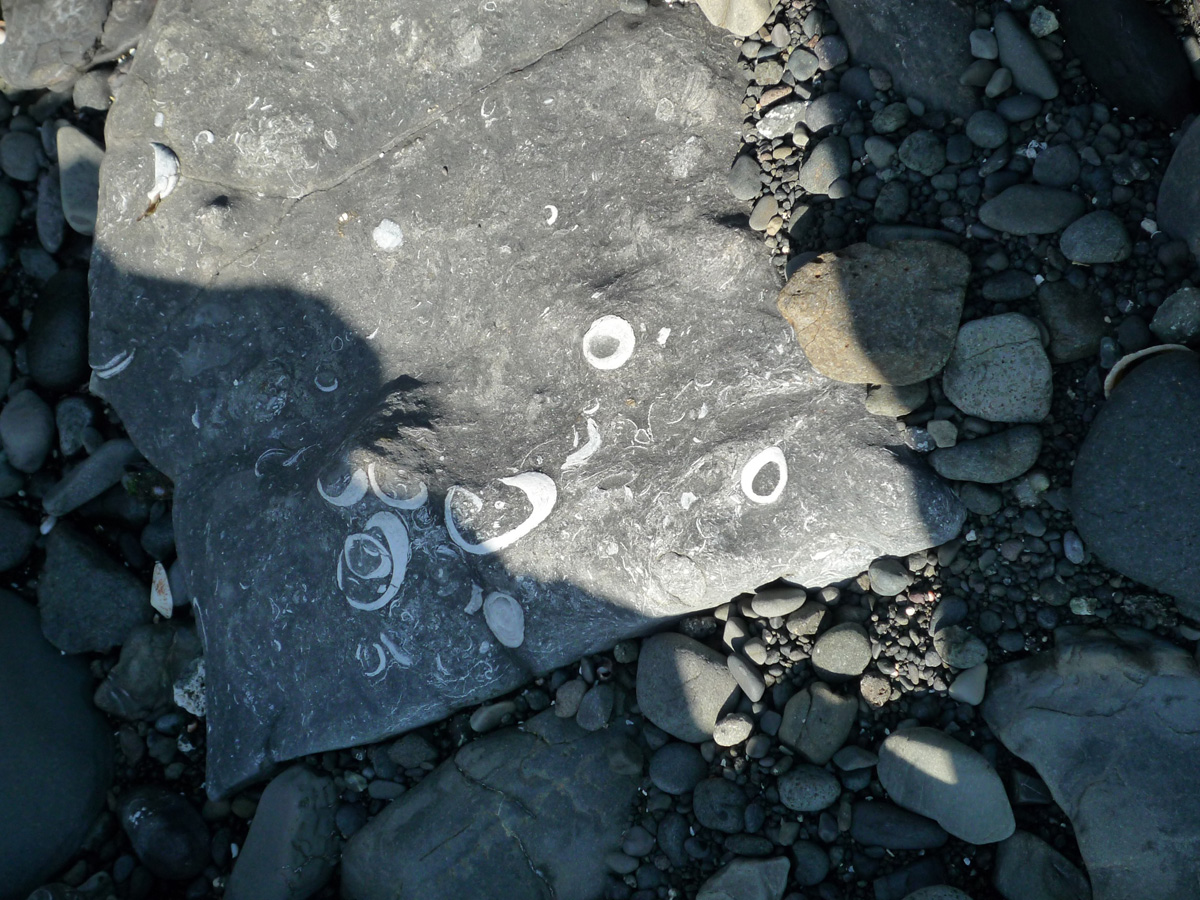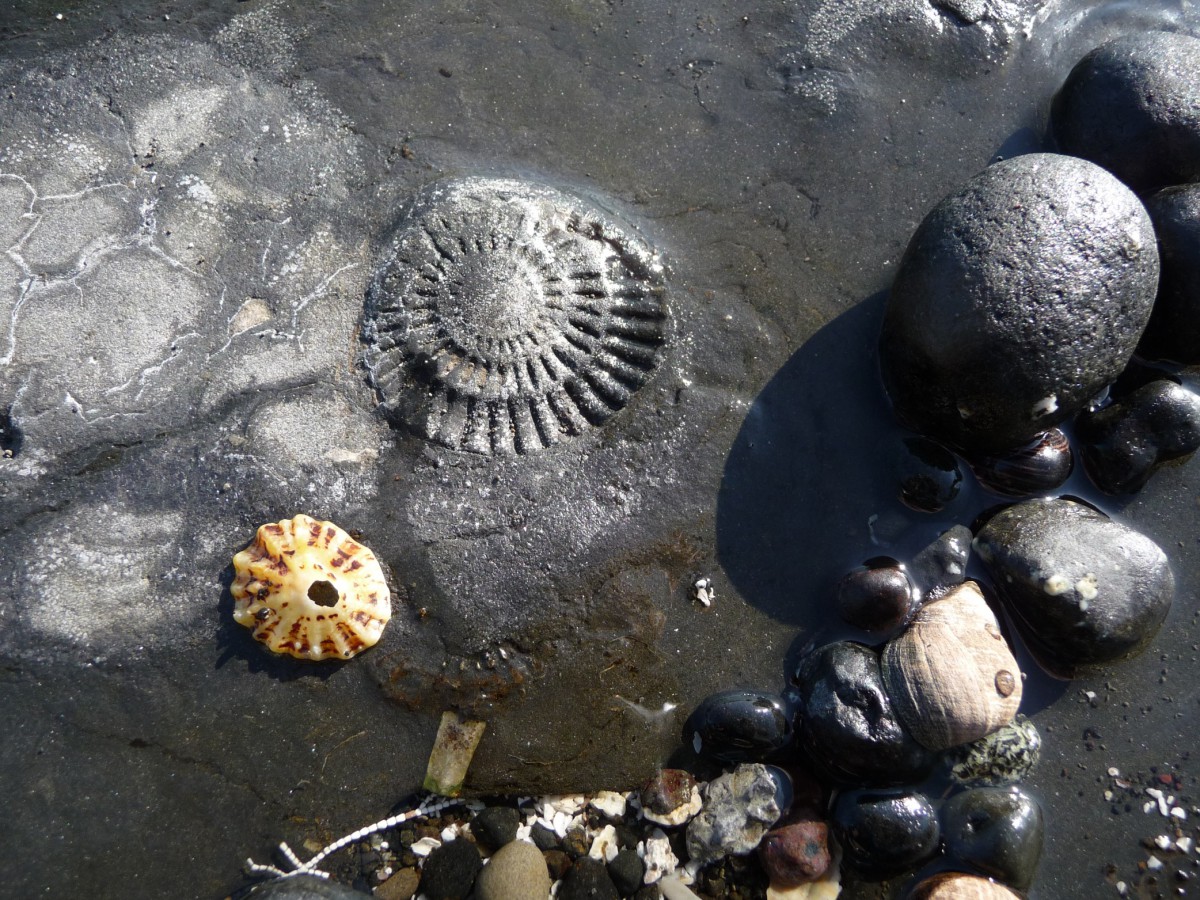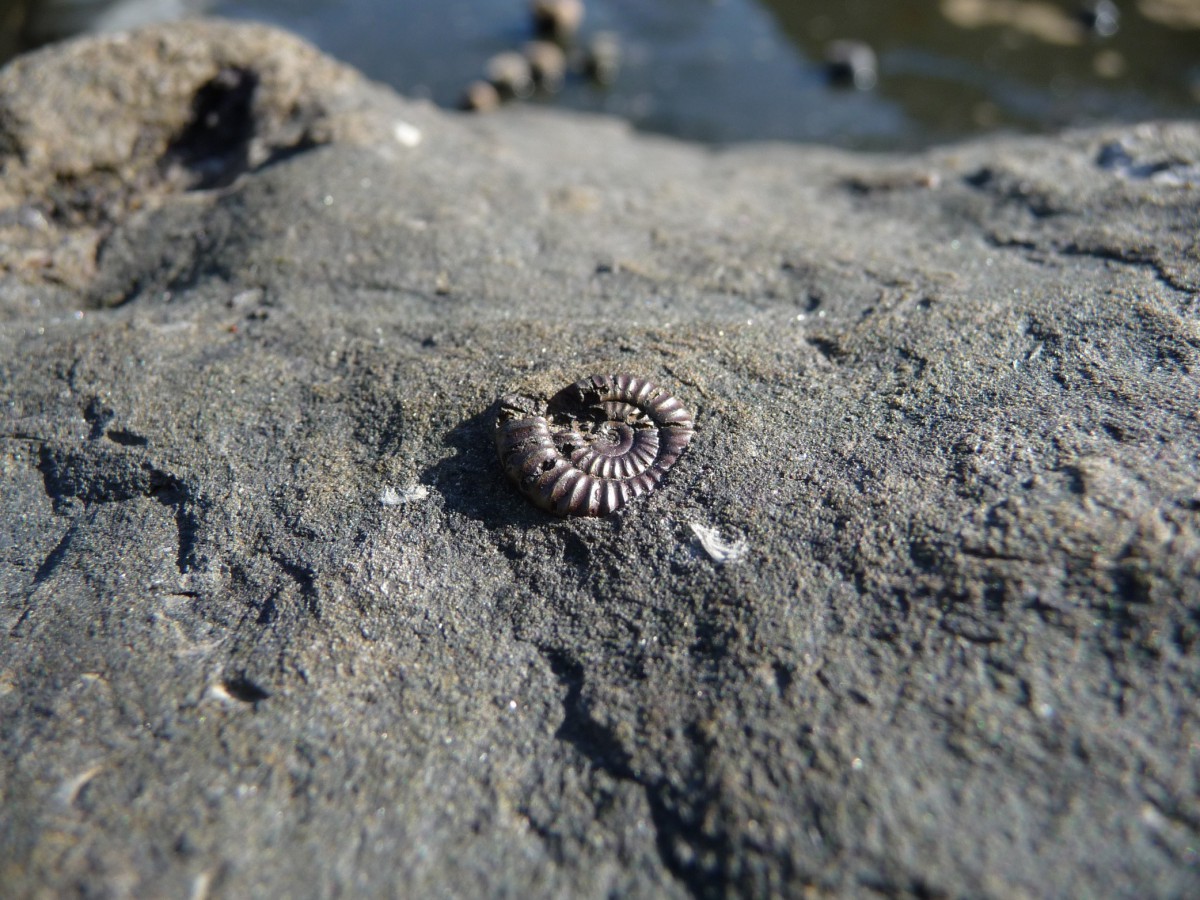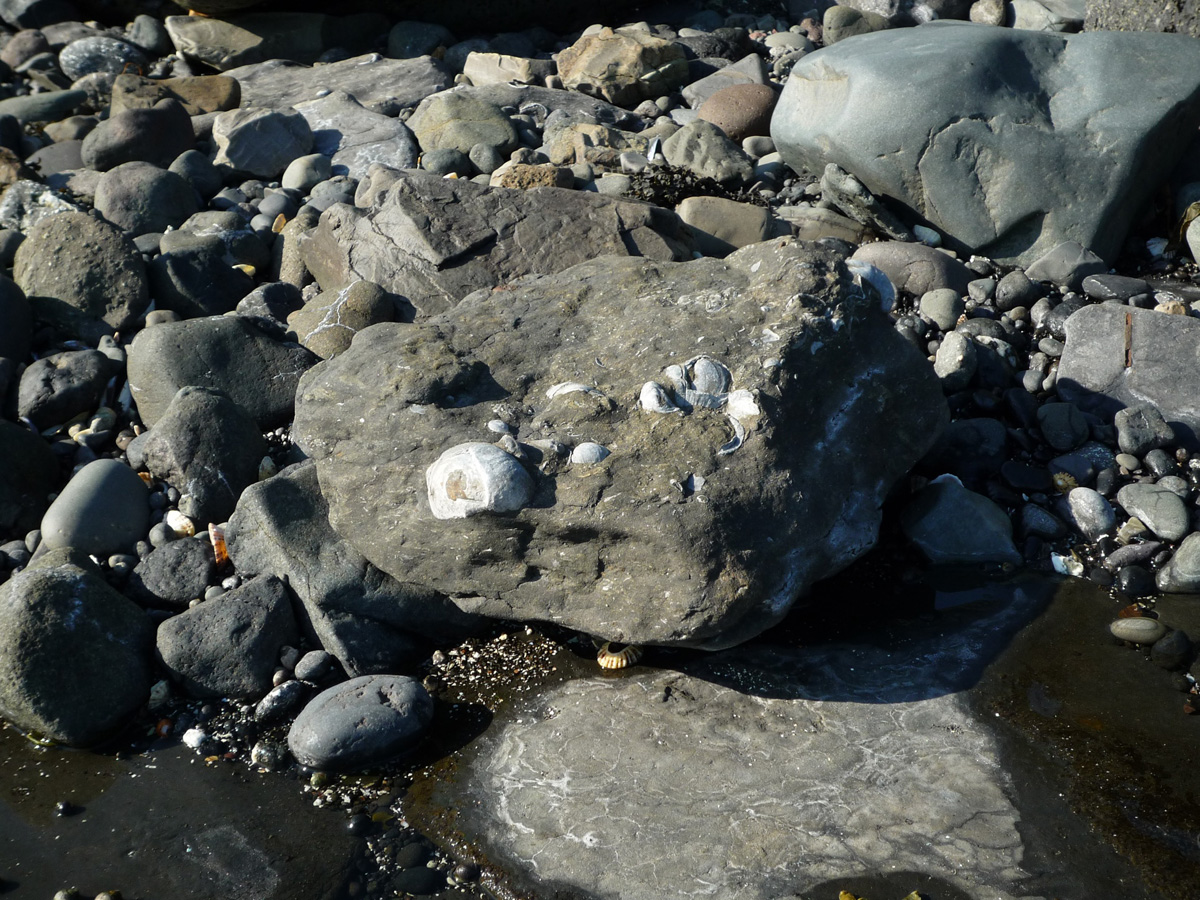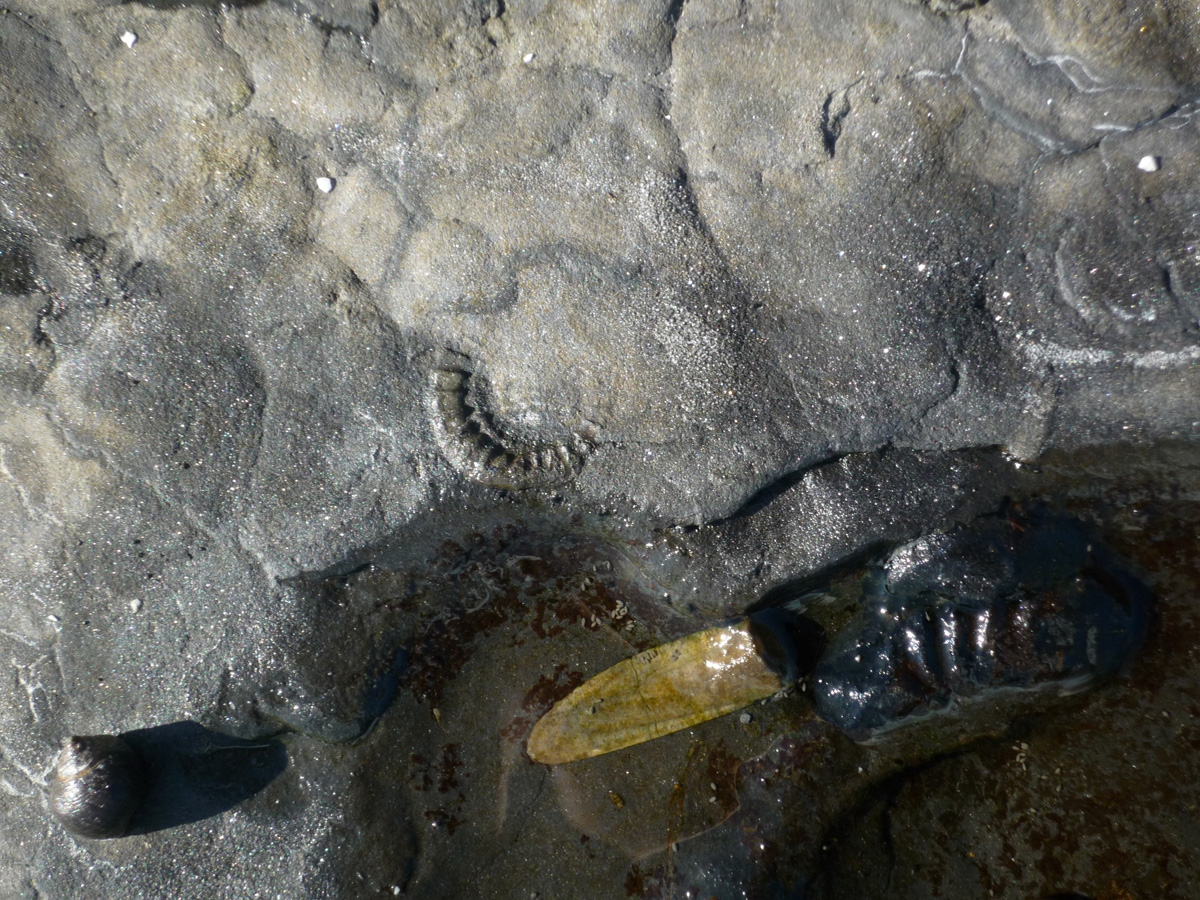 JUST FOR SCALE…

Jurassic:   200 to 145 million years ago

The Hebrides had drifted 30 to 40 degrees north of the Equator.  Plant and animal life flourished.  Sedimentation in shallow seas, and an abundance of 'shelly' fossils.

Cretaceous:   145 to 65 million years ago

Warm shallow seas widespread across most of NW Europe.  Marine sands and chalk were deposited.   Gentle folding, uplift and erosion may have created a lowland landscape around the Hebrides at about 45 degrees north.

From 'Mull and Iona – a landscape fashioned by geology' by David Stephenson (BGS)
Carsaig is backed by cliffs of basaltic lava which formed over 60 million years ago in a thick layer on top of the sedimentary rock.  The sea has simply eaten it away, exposing a fossil-rich surface beneath.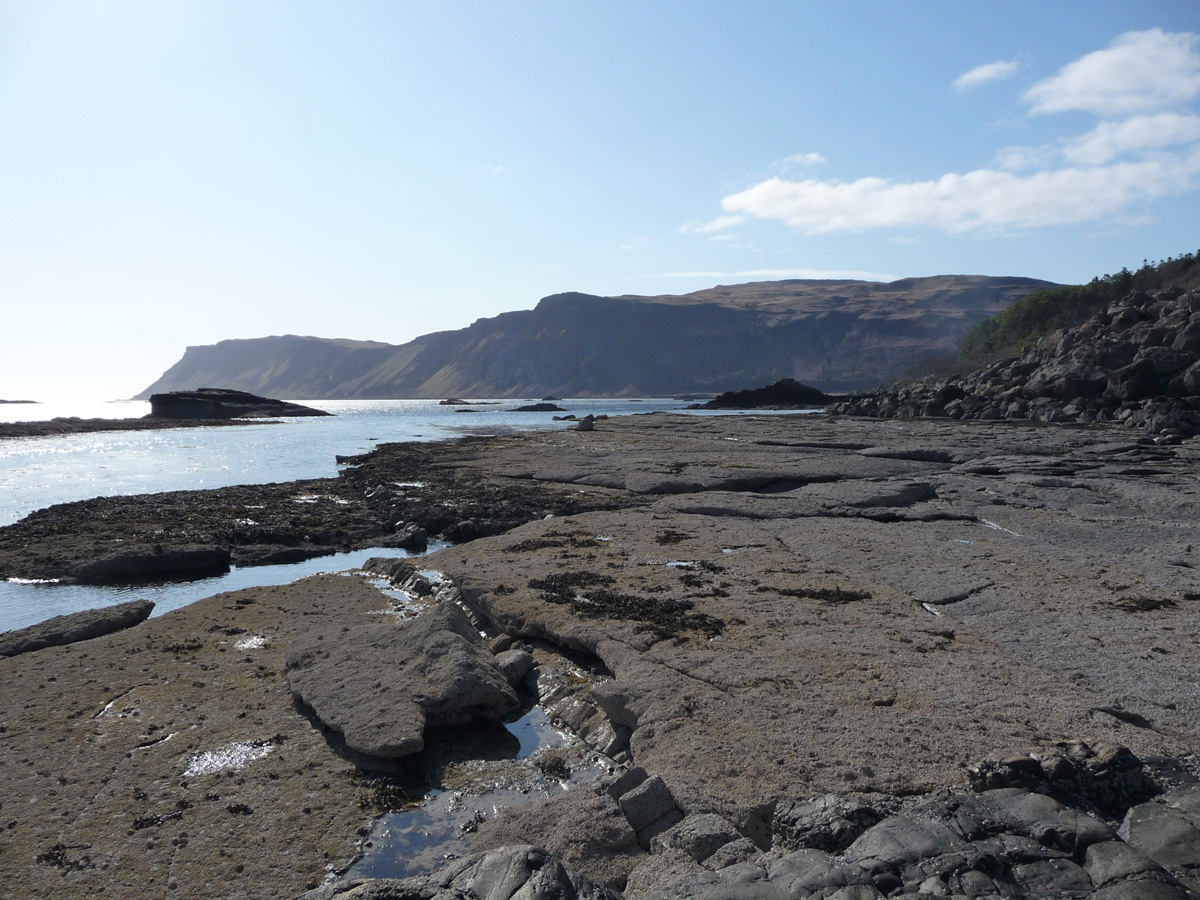 At one point the shore is bisected by a long, spine-like feature called a dyke – a vertical layer of igneous rock which formed when molten material seeped into a fissure in the earth's surface.  This is harder than the surrounding shale, and is taking longer for the sea to erode.
LIFE IN THE ROCK POOLS

Further along from Carsaig are some impressive coastal arches, while on the remote cliffs of the Burg in the west of Mull is a fossilised tree trunk known as MacCulloch's tree.  Both of these sites demand a long and strenuous walk.  Mull is also known for its stepped 'trap landscape' around west-facing coasts, created by the erosion of lava layers.
In this video by Isle of Mull Cottages, geologist James Westland talks about the landscape of Carsaig Bay and other sites on the island.
Staying on the Isle of Mull

If you're planning a holiday on Mull, take a look at the wide selection of self-catering accommodation offered by Isle of Mull Cottages.   The property shown here is called Dobhran Croft, a beautifully renovated croft cottage by Lochbuie.
Sources:
Plenty of ideas for walks around the Isle of Mull can be found at Walk Highlands
---
More on Scotland's geology…