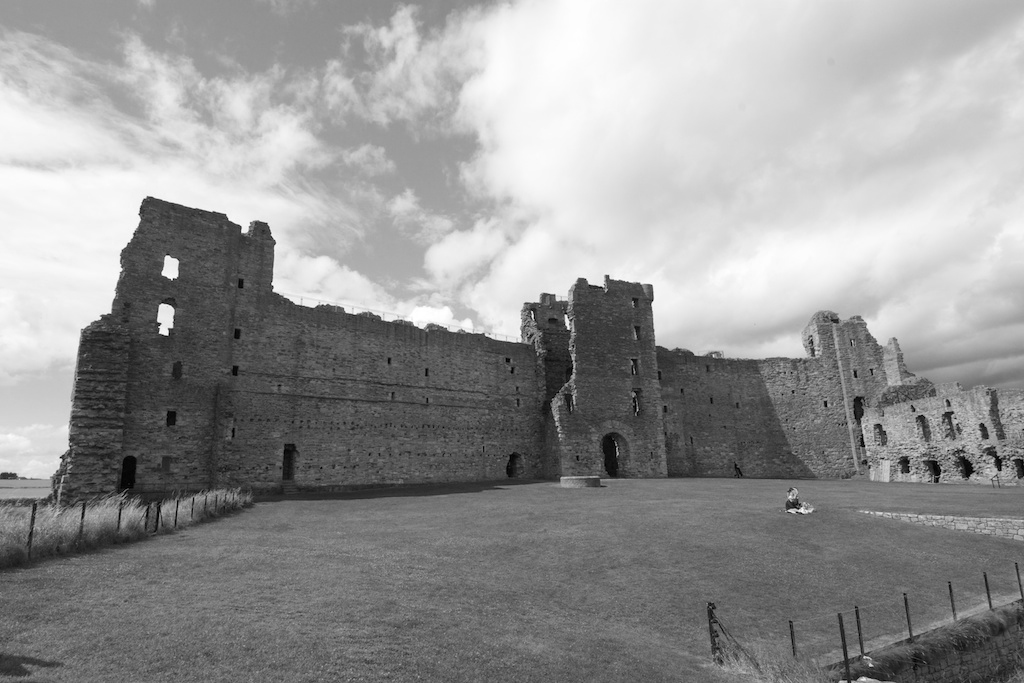 Six more of Scotland's haunted castles
There's one thing that Scotland will never run short of, and that's haunted castles.  Since Hallowe'en is approaching, I wondered if you'd like to tiptoe around a few of them with me…
TANTALLON CASTLE

One place I wouldn't like to be left alone in at night is Tantallon.  The ancestral seat of the Earls of Douglas, this is a giant maze of a place, full of shadows and dark corners, twisting stairs and tumbling parapets.

You'd think that any ghost of Tantallon might be the selective, retiring kind, appearing only now and again on a full moon or a high tide.  But no.  This one seems to like media attention, and I wouldn't even be surprised to learn that he has his own Facebook account.   The spectre first appeared in 1976, in the background of a photo taken by an unsuspecting visitor to the castle;   and in 2008 the phantom photo-bomber struck again, posing in exactly the same window in the middle tower.   He is thought to resemble a man in 16th-century costume with a ruffed collar, and he caused quite a stir in the national newspapers.

Tantallon sits high on a clifftop in East Lothian, with the waves of the North Sea crashing at its feet.  Read my full feature here on The Hazel Tree, or go to Historic Scotland's website for more information on visiting.
INVERARAY CASTLE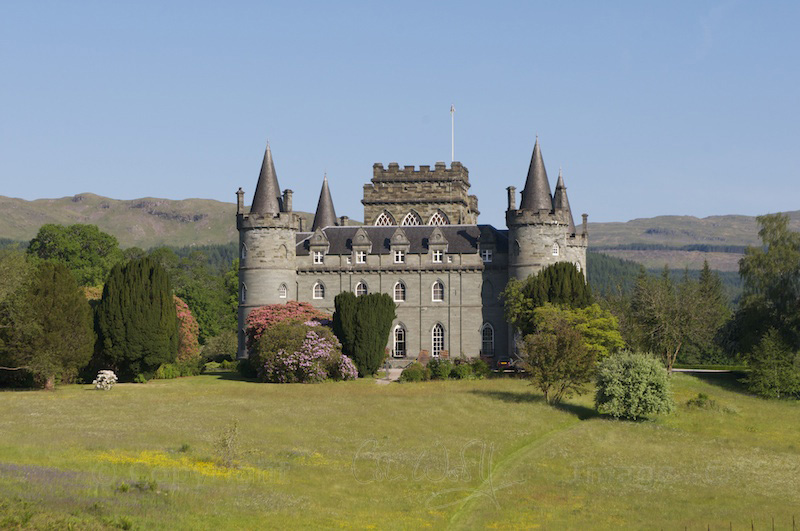 Inveraray Castle is the ancestral seat of the Dukes of Argyll, the chiefs of Clan Campbell, and is reputedly haunted by a whole clutch of ghosts.  These are two of my favourite stories…
A ghostly battle… On 10th July 1758, a physician named William Hart was walking in the castle grounds with two other men when they all witnessed a battle which appeared to take place in the sky.  They described Highland soldiers clashing with French troops that appeared to be stationed behind battlements, and they saw the Scotsmen devastated by musket fire, causing many casualties.  Several weeks later, news arrived from America:  on 10th July the Black Watch regiment, which comprised many Campbells, had attacked a French-held fort named Ticonderoga, and 300 Scottish soldiers had been killed.
And a phantom ship...  Shortly before the death of a Campbell chief, a ghostly galleon sails up Loch Fyne.  Instead of staying on the water it continues over land until it reaches the castle and claims its passenger.   It is said that one 18th century chieftain was so convinced that the ship was coming to take him that he drank poison rather than disappoint her spectral crew.
Inveraray Castle is privately owned, and open to the public from the beginning of April to the end of October.  Information on visiting can be found at www.inveraray-castle.com
HUNTINGTOWER CASTLE

Huntingtower's ghost has a name – Lady Greensleeves – which may make her more approachable, although somehow I doubt it.   For a reason which is not fully understood, Huntingtower Castle consists of two separate tower houses, built about 10 feet apart.  There is a story about Dorothea, the daughter of the 1st Earl of Gowrie, who fell in love with a servant and would visit him at night in the eastern tower, while her parents were sleeping.  One night, her mother heard her and went to the eastern tower to see what was going on;  unable to return via the stairs, Dorothea ran up to the roof and leapt across the gap to her own bedroom in the west tower.  The lovers eloped the next day, and no more was heard of them.

Is Lady Greensleeves the ghost of Dorothea?  No one really knows.  But, according to folklore, she may appear either to warn you of your impending doom, or to help cure you of an illness.  Confused?  Me, too.  I think she needs to sort out her intentions!

Huntingtower Castle is just outside Perth, and is cared for by Historic Scotland.   I went to take a look earlier this year, and I will be writing a feature soon!
CRATHES CASTLE
Oh dear, I'm not really liking this story.   Crathes Castle is a 16th century tower house in Aberdeenshire, and it has two ghosts, one of which is a young woman carrying a small child.  She appears as a green lady, and always in the same room.   Apparently, during renovation work, the skeletons of a woman and a child were discovered under a fireplace – yes, you guessed where it was.
There has been speculation that the poor woman may have become pregnant by one of the roving lords of the castle in a former century, and paid the ultimate price for it.    The sightings go back a long way, and Queen Victoria is reported to have witnessed the apparition as a 'green mist' floating above the floor.   I'd be interested to know what she thought about it.  (That reminds me of a friend's mother, elderly but invincible, who once saw a Roman soldier in her bedroom.  "You can clear off, young man," she told him.)
Crathes Castle is managed by the National Trust for Scotland.   Open daily until 31st October, and in winter at weekends only.  You'll find more information on their website.
DUNSTAFFNAGE CASTLE

I visited Dunstaffnage Castle this summer, and what a delightfully brooding place it is.  If there was a castle where I was going to spend a spooky night, I think it might be this one.  I'm saying this partly because I know it's not going to happen.

So who do we have at Dunstaffnage?  Another green lady, whose heavy footsteps frequently disturb the sleep of the Castle's keeper, when he chooses to stay there.  She is believed to be an ell-maid, a spirit similar to a hobgoblin, and her appearance is said to be linked with events in the lives of the Campbell family who are the hereditary keepers of the castle.

Dunstaffnage Castle lies just north of Oban and is managed by Historic Scotland.  You can read about my visit here on The Hazel Tree.
DRUMLANRIG CASTLE
I would say that Drumlanrig has every claim to be called 'the Downton Abbey of Dumfriesshire',  because to me it bears a strong resemblance to Highclere Castle, where Downton is filmed.
Drumlanrig is beautifully furnished, with a fabulous collection of paintings.  Bonnie Prince Charlie spent a night there in December 1745, and his bedroom has been left untouched ever since.  The bed is draped with faded tapestries and it still has the same mattress, stuffed with horsehair.
I took a tour of the castle a year or so ago, and learned about its ghostly inhabitants from the very knowledgeable guide.   He told me that there was not just one ghost, but five.  These include a phantom dog;   a headless lady;   and a yellow monkey-like creature which is sometimes seen on the stairs.   In addition, there is a blood stain somewhere – he didn't tell me where – which comes and goes, apparently at random. I think that's more than enough spookiness to be going on with.
Drumlanrig Castle is privately owned, and open for guided tours during the summer months.   Read my full feature here, or go to Drumlanrig's website to find out more.
Sources:
Photos copyright © Jo Woolf
---
Further reading
Eager for more spookiness?   Check out my earlier feature for six more haunted castles, or introduce yourself to the ghosts of St Andrews.