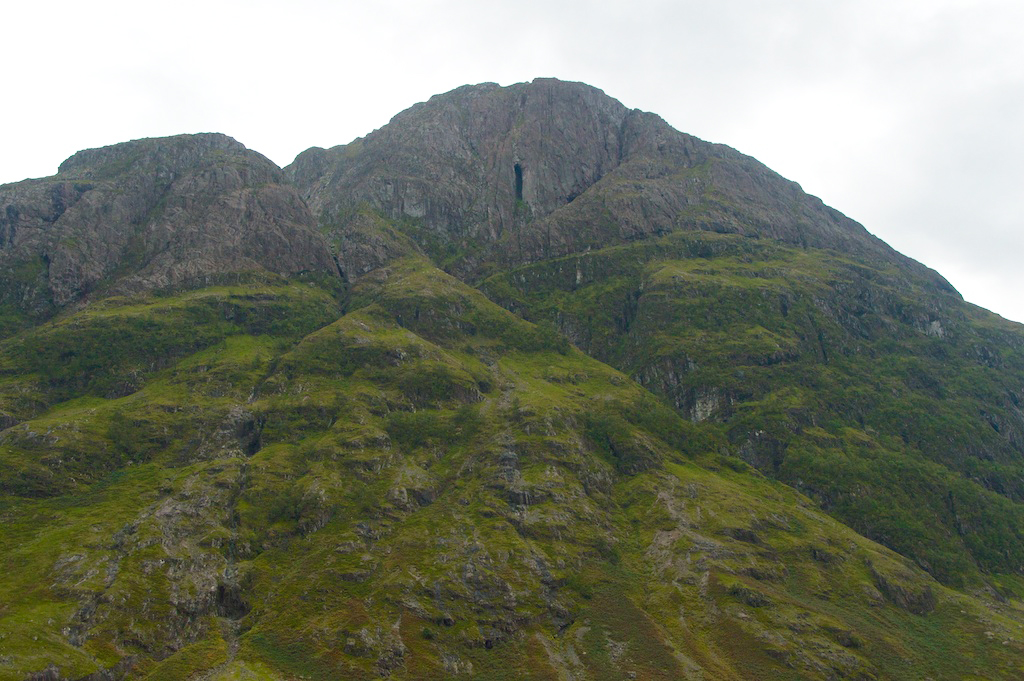 Ossian's Cave in Glen Coe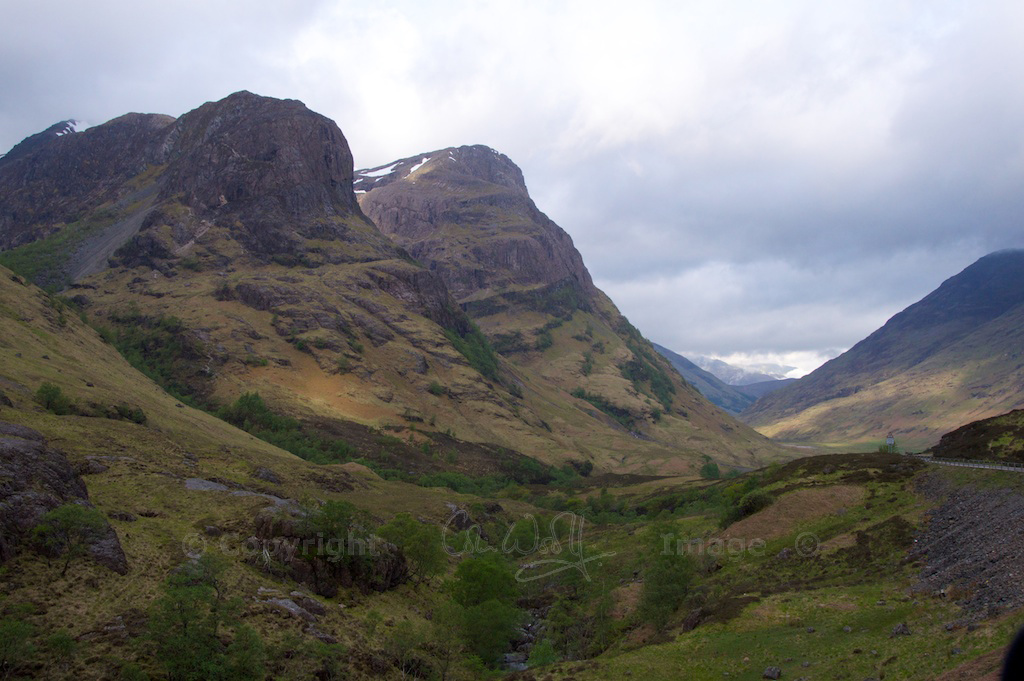 The Three Sisters of Glen Coe are some of Scotland's most iconic mountains, and certainly among the most photographed.   Glorious on a summer afternoon but formidable in winter, they loom like silent monsters above the thousands of cars, coaches and walkers that pass along the A82.   There are points when the summits feel close enough to touch, and others where they seem so remote that you can only reach them in your dreams.
One of the ridges of the Three Sisters is called Aonach Dubh, and on a vertical rock face is a narrow opening known as Ossian's Cave.   From below, it looks like a dark keyhole cut into the mountain, and it's surprisingly difficult to locate, despite being about eight feet in height.  Despite its symmetrical appearance, the cave is natural rather than man-made, having formed when a column of basalt dropped away at some time in centuries past.
Who was Ossian?

In legend, this cave was the birthplace of Ossian, son of Fionn mac Cumhaill, an Irish warrior hero, and a woman called Sadhbh or Saba.  A druid named Fer Diorich was in love with Sadhbh, but she spurned his love and so the druid struck her with his hazel wand and transformed her into a deer.  Fionn mac Cumhaill hunted the deer with his hounds, but curiously his dogs refused to close in for the kill;  when Fionn called them off, he was amazed to see a beautiful woman instead of a gentle deer hind.  The two fell in love, and soon Sadhbh was pregnant;   but Fer Diorich tricked her again and turned her back into a deer.  She returned to the wild and gave birth to a son, named Ossian or Oisín, meaning 'little fawn', in a cave high above Glen Coe.  Fionn never saw Sadhbh again, but he is said to have discovered his child on Benbulbin, a mountain in Ireland, seven years later.

When Ossian grew up he was welcomed into his father's band of supreme warriors, known as the Fianna.  With his deer-like qualities, Ossian could leap higher and run faster than any other man, and his footsteps through a woodland were 'lighter than starlight'.  He also wrote the most beautiful verses of poetry.  He was destined to be taken across the waves from Ireland to a place of timeless beauty known as Tír na nÓg, 'the land of youth', where he was married to Niamh of the Golden Hair.  But he grew to miss his family and his companions, and galloped back across the waves to Ireland.   On putting his foot onto the sandy shore, time immediately caught up with him and he became an old man in a matter of seconds;  he was just able to relate some of his experiences to Patrick, a holy man, before he died.
Finding Ossian's Cave
Unless you're a world class climber, Ossian's Cave is best viewed from the safety of the glen!   Perpetually damp, mossy conditions and a dizzying drop mean that you are dicing with death, whatever the season.  It's no coincidence that the early Himalayan climbers used to hone their skills on the treacherous rock faces of Glen Coe.
Aonach Dubh is the third of the Three Sisters if you're approaching from the east;  pull off in the car park overlooking Achtriochtan, by the National Trust for Scotland cairn, and you should be able to make out the cave on the face of the mountain.
It should be said that there are several versions of the Ossian legend, and many places are connected with him, both in Scotland and Ireland.   His story was the inspiration for 'The Wanderings of Oisin' by W B Yeats.  In the 1700s a writer called James Macpherson published a series of poems which he claimed to have translated directly from an ancient source of Ossian's poetry, but the validity of these has been disputed.
Footnote, 12th March 2016:  I am grateful to R Munro, who has left a comment to say that the climb is not impossible for anyone experienced enough to try:  "The climb into the cave is a fairly easy one, it's called 'Ossian's Ladder'.  The Ladder is a wet, vegetated route, but it's not a very technical climb. It's not much of a cave inside, the floor slopes at a 45 degree angle and this is where accidents occur."
Footnote, 2nd July 2016:   Martin Ross and two friends climbed up to Ossian's Cave on 23rd June – you can see some brilliant photos and a video of their ascent/descent in Martin's Flickr album.
Sources:
Photos copyright © Colin & Jo Woolf