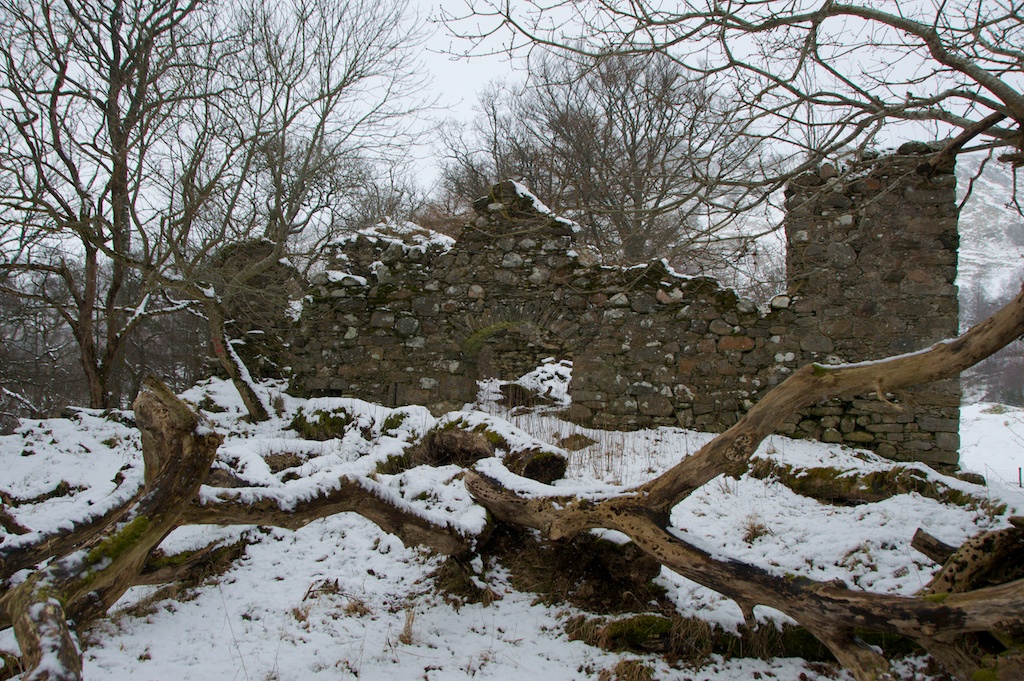 Carnbane Castle and a banquet for a bard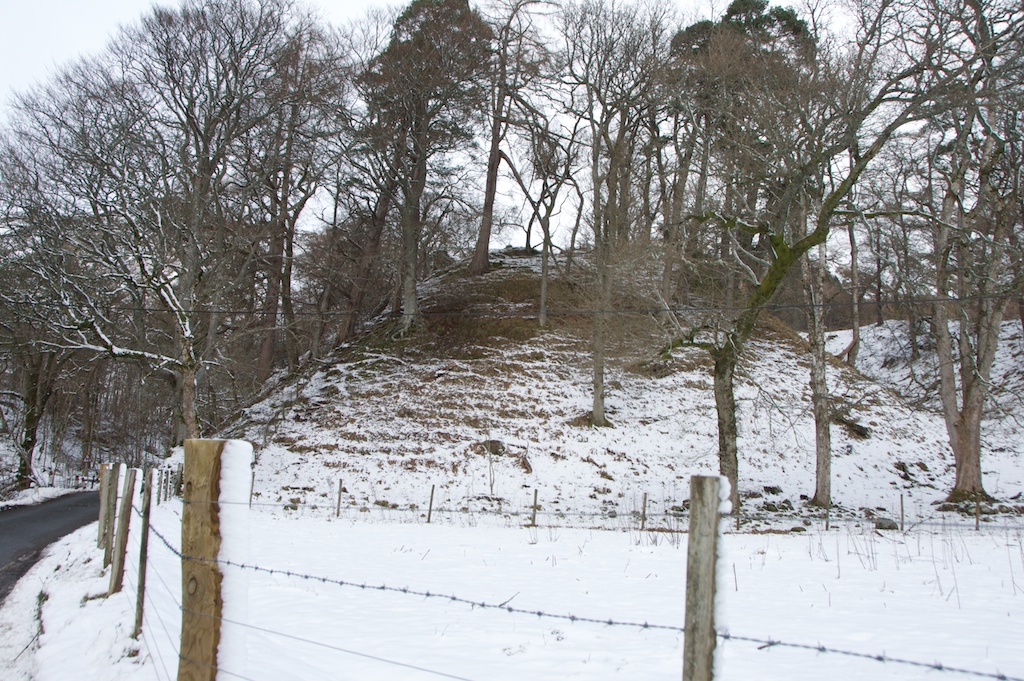 We were driving back out of Glenlyon, a long and winding valley above Loch Tay which is reputed – with some justification, I'd say – to be the most beautiful glen in Scotland.  The sky was an almost surreal shade of blue, and the snow was scattering the sunlight into a million sparkling diamonds.
Glancing up through the trees as we came around a bend, we both noticed the broken walls of a building, half-hidden on the summit of a small wooded knoll.  We pulled off the road, and I walked back to take a look, while Colin searched for beech mast – he needed reference for a new painting.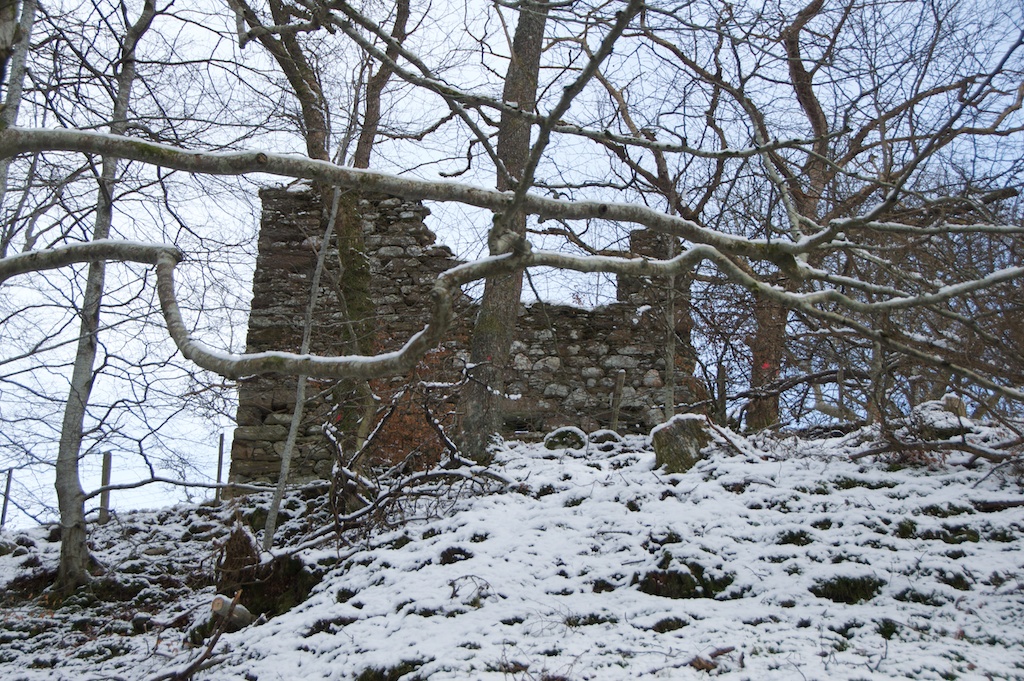 As I gazed at the ruins from below, I realised that taking pictures from that angle wouldn't be enough.   The hill looked a bit steep, but it certainly wasn't high.   I made it up there with more persistence than dignity, helped by a couple of handily-placed trees.   The ground was extremely slippery, with snow overlying a thick layer of moss, grass and dead leaves.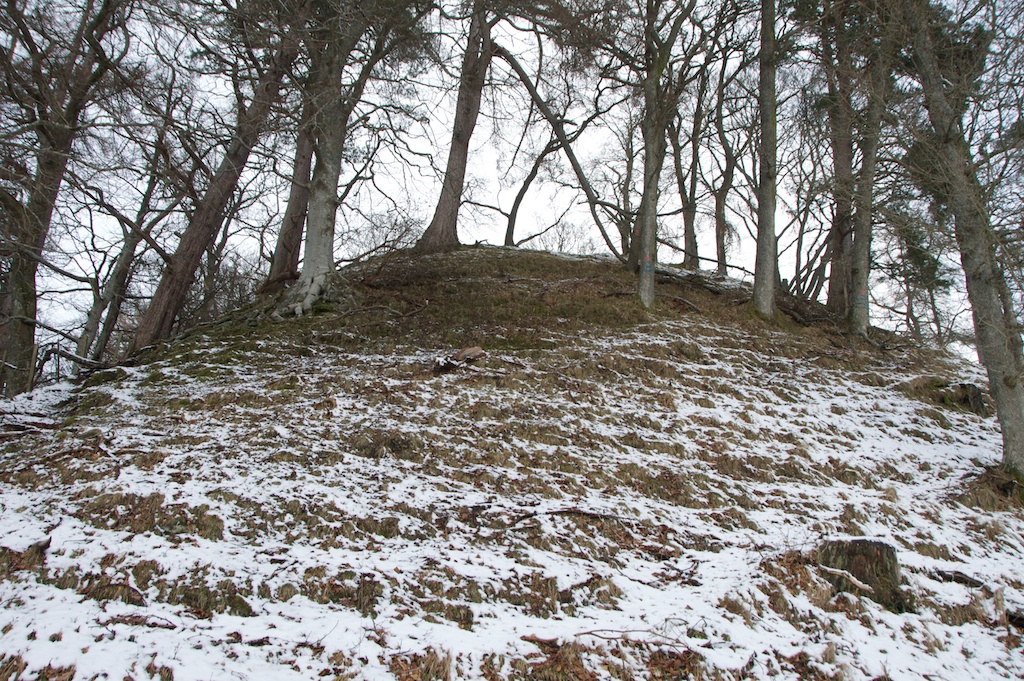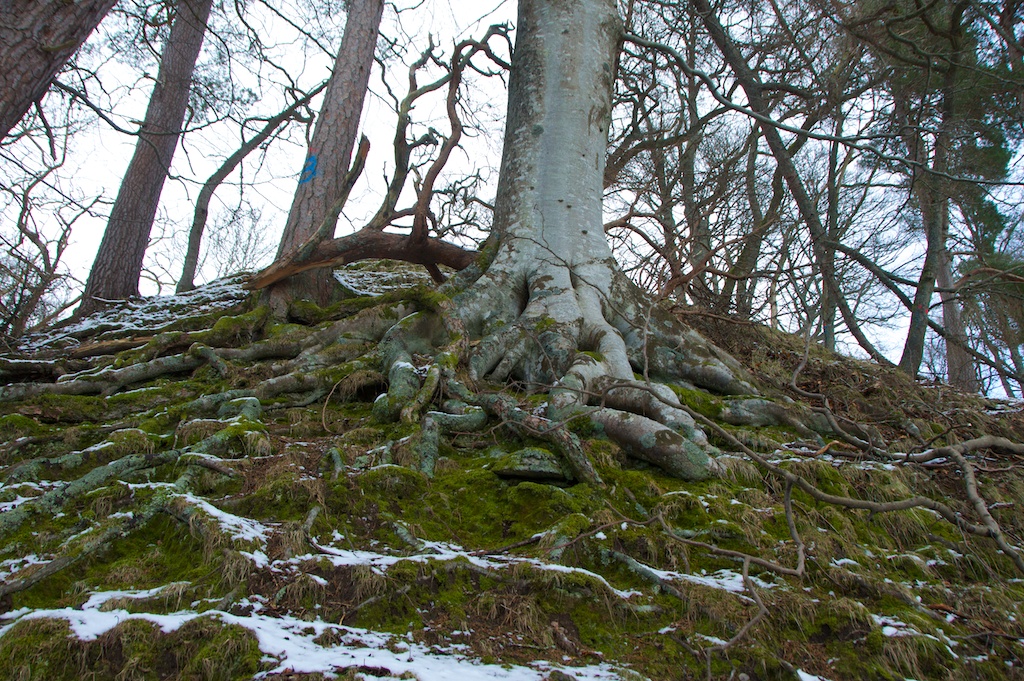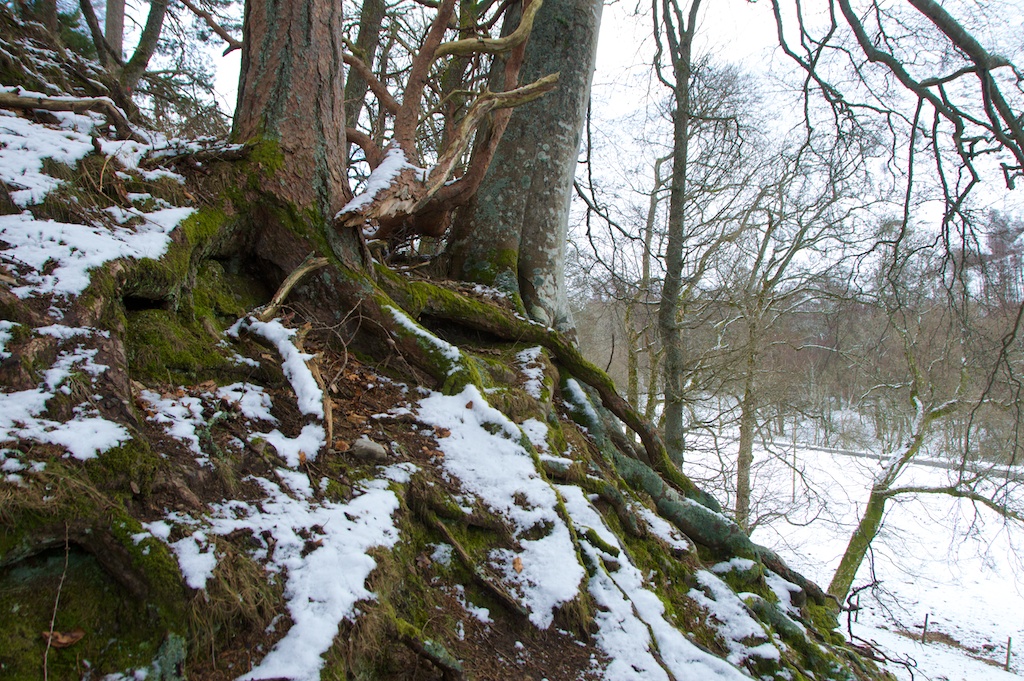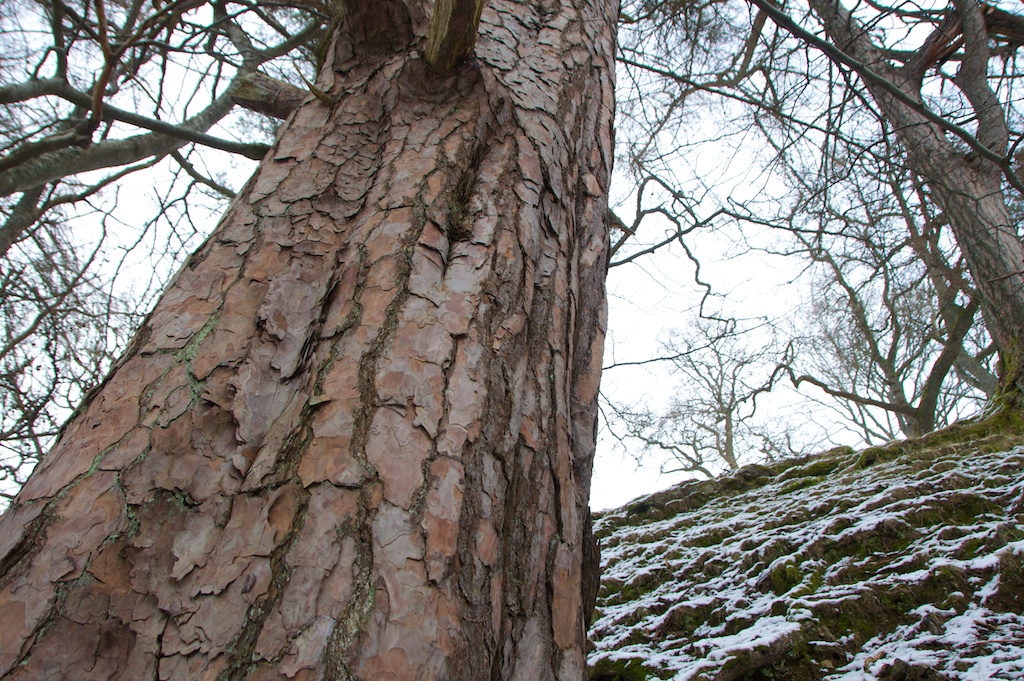 At the top, I found myself in what I assumed was the courtyard of a tower house;  I was approaching the arched doorway from the east, like a visitor of old.  Except that the lord, whoever he was, had long since departed.
What was this place called, and who lived here?   I was excited to find out.   And the story is just as enchanting as I'd hoped.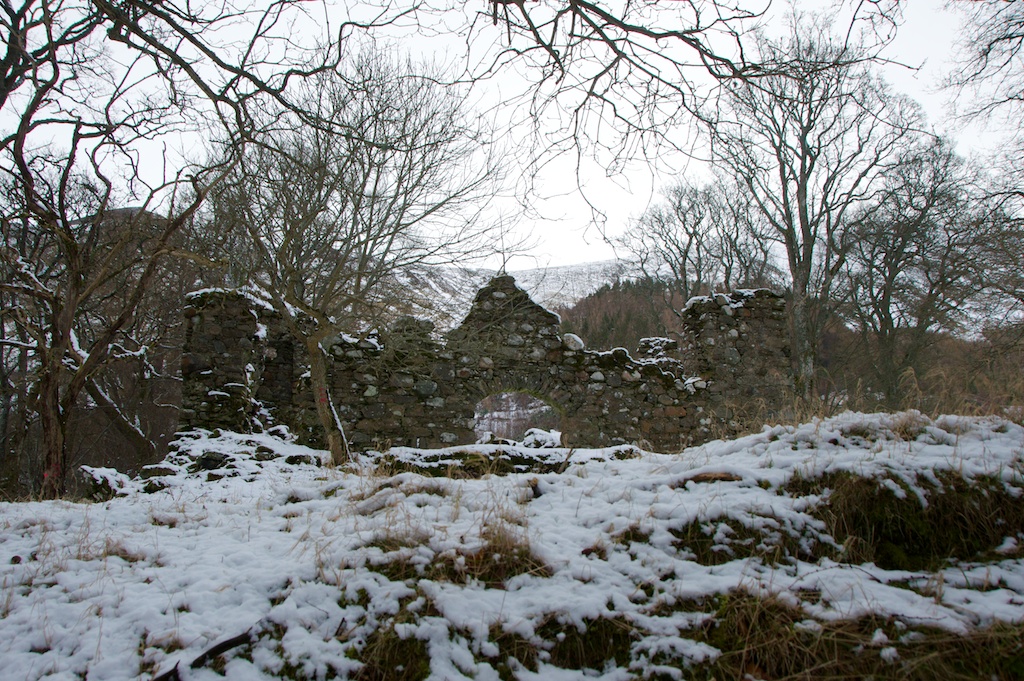 "The second laird of the Campbell family was Donnachadh Ruadh na Feileachd, 'Red Duncan of the Hospitality'.  He died in the year 1580.  His profuse hospitality gained for him a name not yet forgotten.  Bands of Irish harpers came to Scotland in his days."
'Lairds of Glenlyon: Historical sketches, relating to the districts of Appin, Glenlyon and Breadalbane' by Duncan Campbell, 1886
This is Carnbane Castle, built around 1564 by a man called Red Duncan the Hospitable, a member of the Campbell family.  Now, I've come across a couple of 'Red' and 'Black' Campbells in my travels and I wouldn't be entirely convinced by the addition of 'Hospitable', but it seems that this one really did have a kind heart.   He had a plentiful larder, as well:  in the late 1500s, an old folk story says that an Irish bard visited Carnbane, and Duncan laid on a daily feast that consisted of "a fat bullock, and six wethers, with red deer and other game".
As the story goes, when the time came for the bard to depart, it was noticed that his garments were ragged and thin.  Perhaps he had a bit of a moan about leaving a warm hearth and venturing out into the cold!   In any case, Duncan immediately took off all his own clothes and insisted that the Irishman should put them on.   Having sent his guest on his way, Duncan made his way back up to his fortress, stark naked, and quite possibly a little chilly.  The sight certainly surprised his wife, who exclaimed that he looked like a 'large white goose', from which the name 'Carn Ban' or 'Bane' is traditionally derived.*
* I know that 'ban' means 'white' in Gaelic, but I have yet to find that 'carn' means 'goose'.    If you can shed some light on this, please let me know!
Anyway, that wasn't the end of the story.
The bard was cannier than he looked, and he returned the next day just to check whether Duncan's lavish hospitality was just a pretence.   But he was wrong:  the laird of Carnbane had anticipated his return, and spread another generous feast in front of him.  The bard stayed for another few days, and on his return to Ireland he sowed the seeds of a legend:
"…when his own employer, Gorrie, inquired about Red Duncan, and put it to him if strangers fared not better with himself, the bard promptly replied :
Molar Gorrie thar a mhuir
Is gach duine na thir fein;
Ach na coimisear duine do t-sluagh
Ri Donnachadh Ruadh ach e fein.
Let Gorrie be praised over the sea,
and each man in his own country;
but let none of the race of men be compared
to Red Duncan but himself."
'Lairds of Glenlyon…' by Duncan Campbell

Red Duncan the Hospitable died in 1580, and soon afterwards the castle was destroyed by a party of Lochaber men, who were passing by and obviously nursing a long-standing grievance.   They fired arrows of burning lint into the roof, and the hall-house was razed to the ground.
Carnbane Castle was never re-built, because Duncan's successor, Colin Campbell, built a stronghold further down the glen, at Meggernie.   Colin had his own unique set of problems, but Duncan's reputation lives on:
"His laudations survive in the poetry both of Ireland and Scotland."   
'Lairds of Glenlyon…' by Duncan Campbell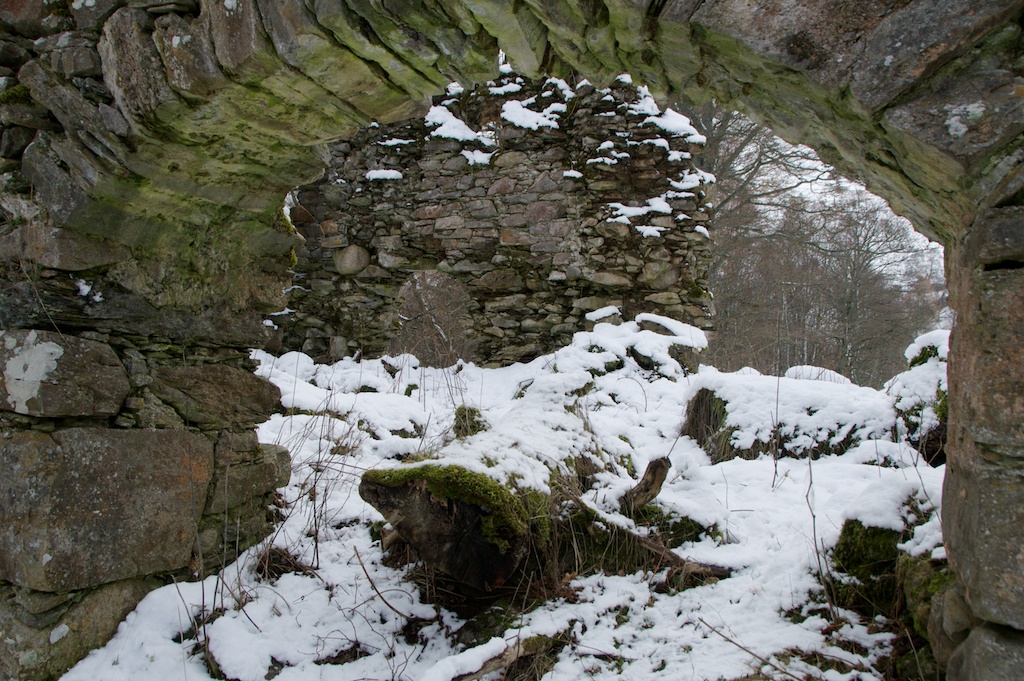 Canmore describes Carnbane Castle as a 'ruined hall-house with gun-loops', and identifies the remains of a vaulted storage cellar and kitchen.  In the south-western corner is a crumbled staircase tower, which would have led to the accommodation.
Having ducked underneath the arch, now partly blocked with vegetation and rubble, I found myself within the four walls – an unexpected guest, certainly too late for the feast.   Looking through another opening on the opposite side, I could see quite a formidable drop down to the valley floor.  The feeling was quite serene – happy, I would have said, without even knowing the history.   I leaned against the wall, and after a few minutes a fine snow started to come down.
Looking at my photos now, and remembering the place, it's a lovely to think that harp music once drifted around these walls, and that there was laughter and entertainment and a warm welcome within.
And another thing… the whole place seemed to be alive with wildlife.  A couple of cock pheasants were racketing away in the woods, and some small birds – coal tits or treecreepers – flitted among the trees.  A burst of song came from a hidden robin, and littering the ground outside the entrance were fallen branches, riddled with the holes of woodpeckers.  Colin told me that a party of roe deer leapt away silently along the ridge shortly after I got up the hill.
I still had to get down, and since the slope seemed even steeper on the descent I just gave in to gravity and skidded down on my backside, which was afterwards extremely cold and wet.  But this magical, hidden place is haunting, and in such a beautiful way.  Perhaps it was the light reflecting off the snow, or the deep sense of peace, but I found it heart-lifting, and just the memory of it makes me smile.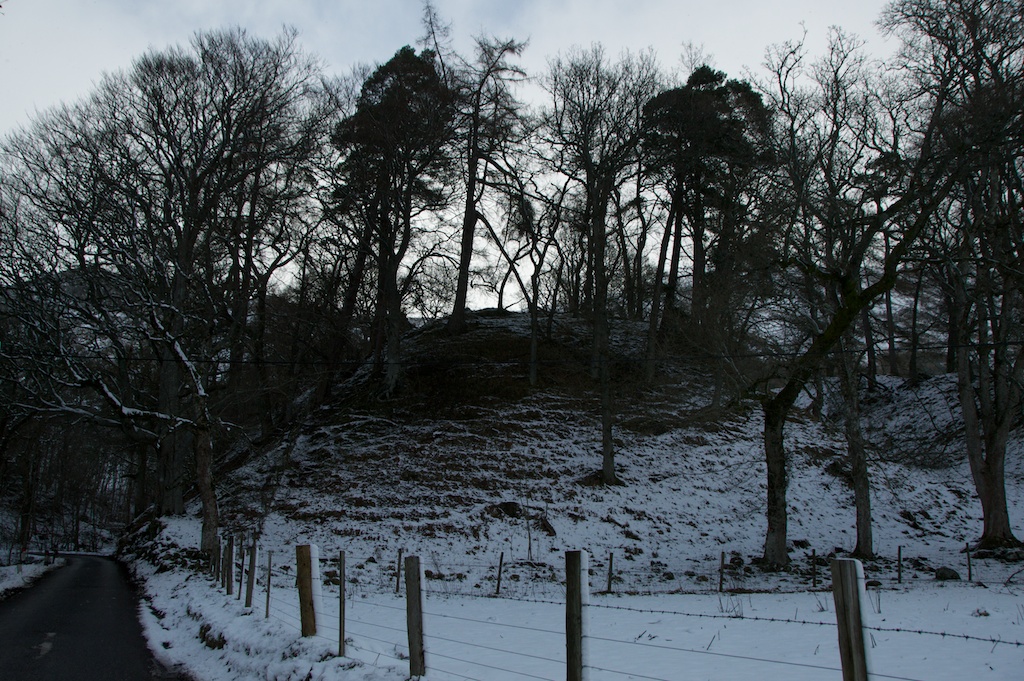 Finding Carnbane Castle
This is easier said than done, and when the leaves are on the trees it will be even harder!    If you're heading west, look for it on the right, about three miles after the turn-off from Fortingall into Glen Lyon;  if you reach Invervar, you've gone past it, so turn around.
Sources:
Photos copyright © Colin & Jo Woolf
Glen Lyon

The glen has links with Irish legend:  "A chain of round towers stretches through its whole length, which the people still call 'Caistealan nam Fiann', castles of the Fingalians."    Duncan Campbell, 1886


There's more to come… further up the glen is a standing stone with a very old story to tell!  Meanwhile, just a stone's throw away, you'll find the ancient yew tree and stone circles of Fortingall.