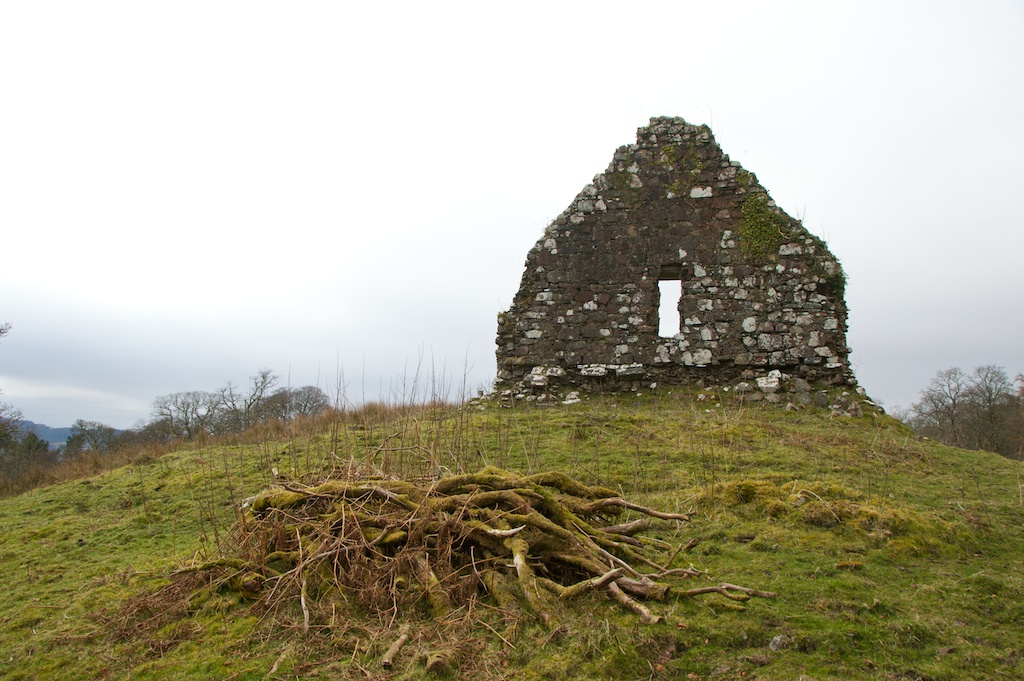 Ardchattan: in the footsteps of St Baodan

"Upon a high ridge behind the Priory are the church and burying-ground of St. Baodan, the patron saint of the parish."
'Deirdre and The Lay of the Children of Uisne' translated by Alexander Carmichael, pub. 1914, via NLS
A couple of years ago I wrote about the wonderful old Priory at Ardchattan, on the shore of Loch Etive in Argyll.
In March this year we went there again.  It was the week before Easter, and slightly earlier in the season than our last visit:  the first primroses were out, and but the daffodil buds were still tightly wrapped against the chilly breeze.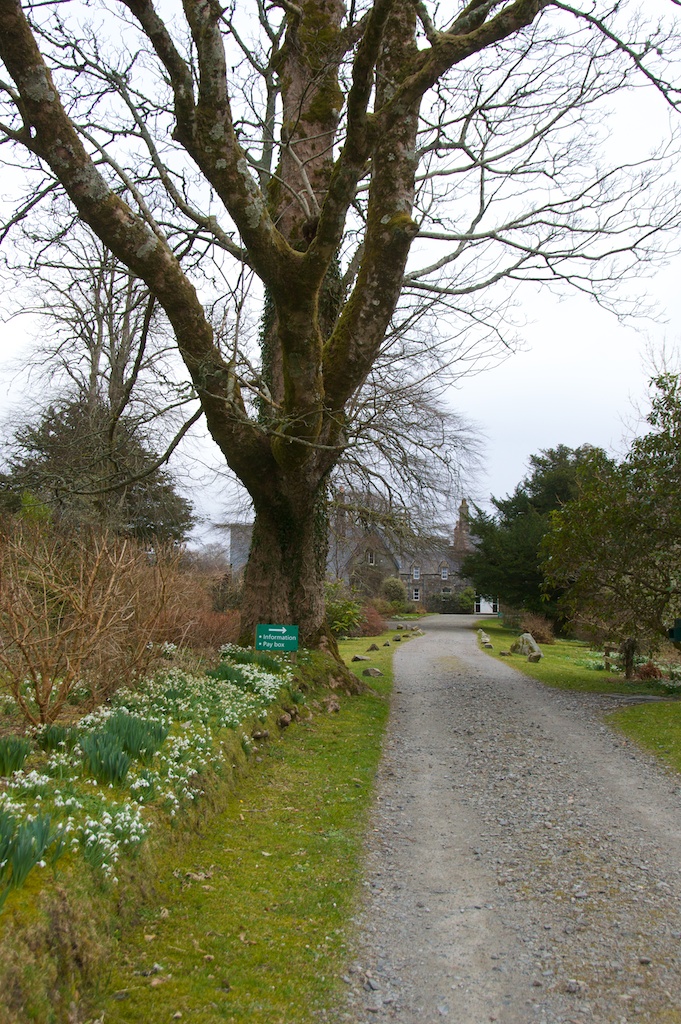 We didn't go into the Priory itself, but instead we went through a gate into a field and headed up the hillside, past some cows that were idling the afternoon away, and along the side of a burn until we came to a small ruined building.  This was once a church, dedicated to St Baodan.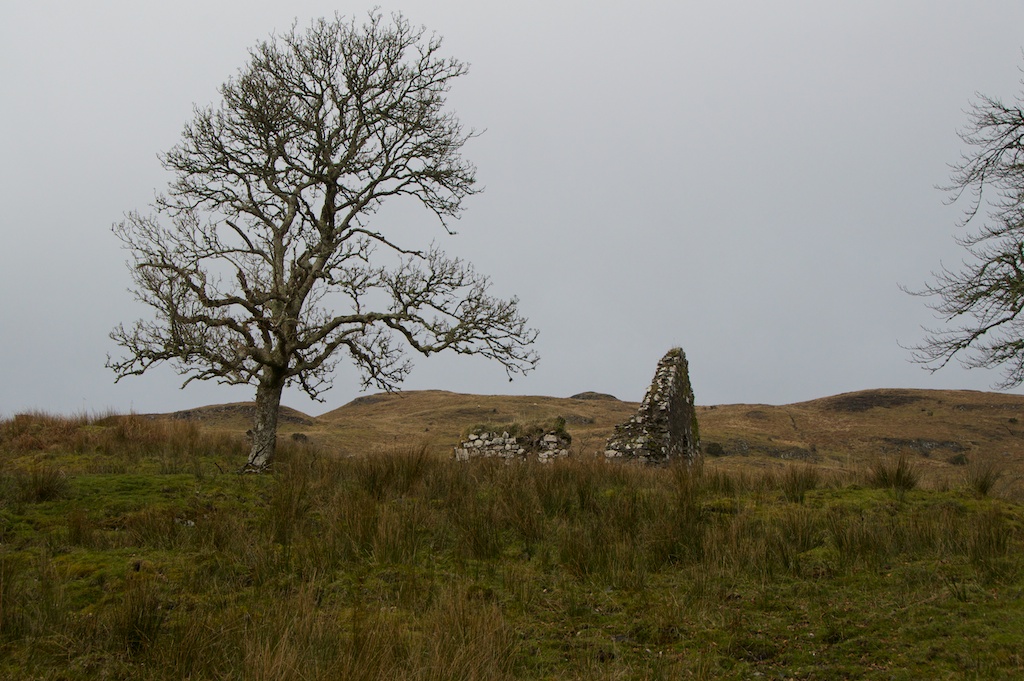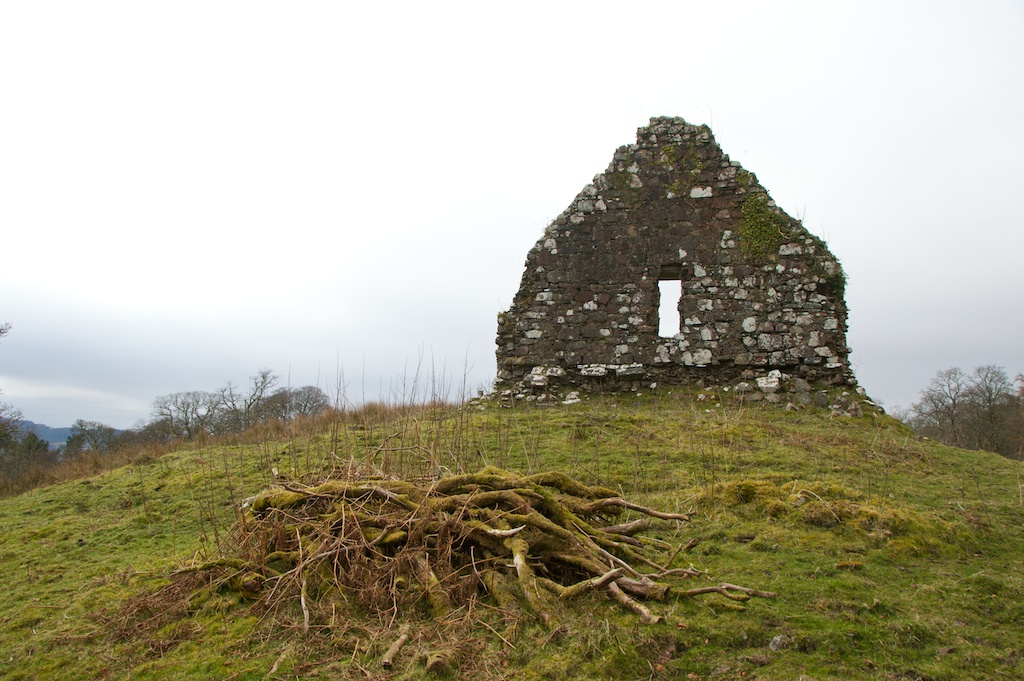 This simple little building must have a long history, but most of it remains deeply hidden.   It is thought to date from the 15th century, and may have fallen out of use sometime in the mid-1600s, but no one knows for sure.  It was reported as being ruinous in 1678, and for the next 50 years local services were held in Ardchattan Priory, before a new church was built nearby.
The RCAHMS sums it up quite neatly:
"Uncertain age.  Oblong.  Random rubble, much dilapidated.  Overgrown.  Roofless.  Window in each gable."
and then adds an interesting footnote:
"Burnt to the ground c.1800."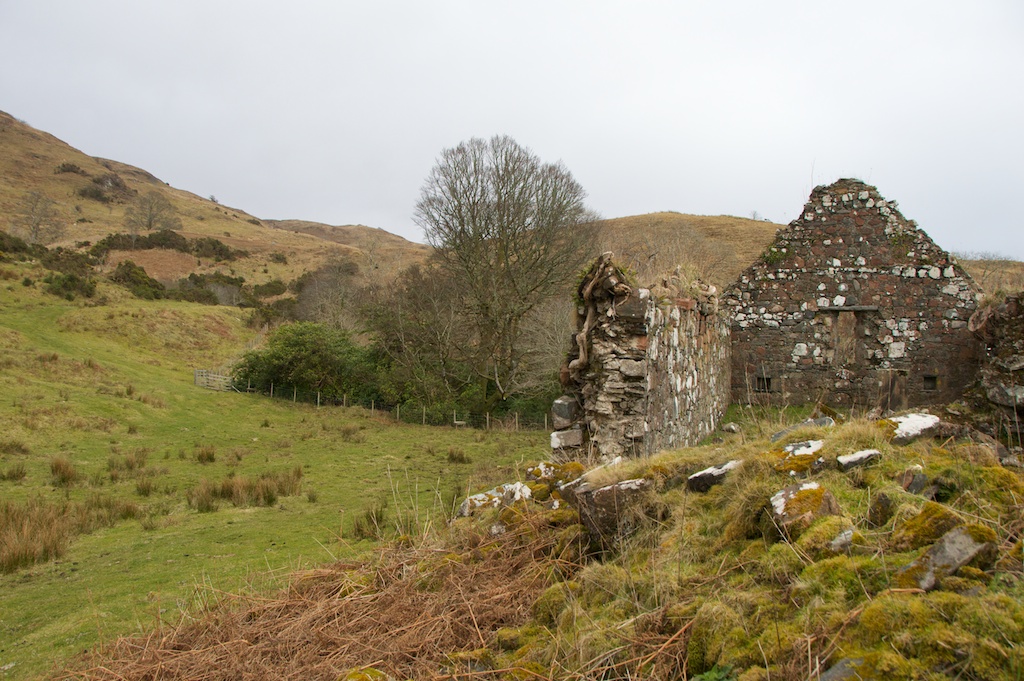 On the surface, it therefore appears that Ardchattan Priory was founded long before this little church was built, but by its name I wonder if the opposite is true.   In the 13th century, something would have drawn the Valliscaulian monks to Ardchattan, and the presence of an ancient shrine and a holy well (Tobar Baodan or Baodan's spring issues from the hillside nearby) would have held a strong appeal.  But this is purely speculation.
"There is a forest walk from the A828 just past the Sea Life Centre – it is called the Coffin Trail and it leads up to this ruin."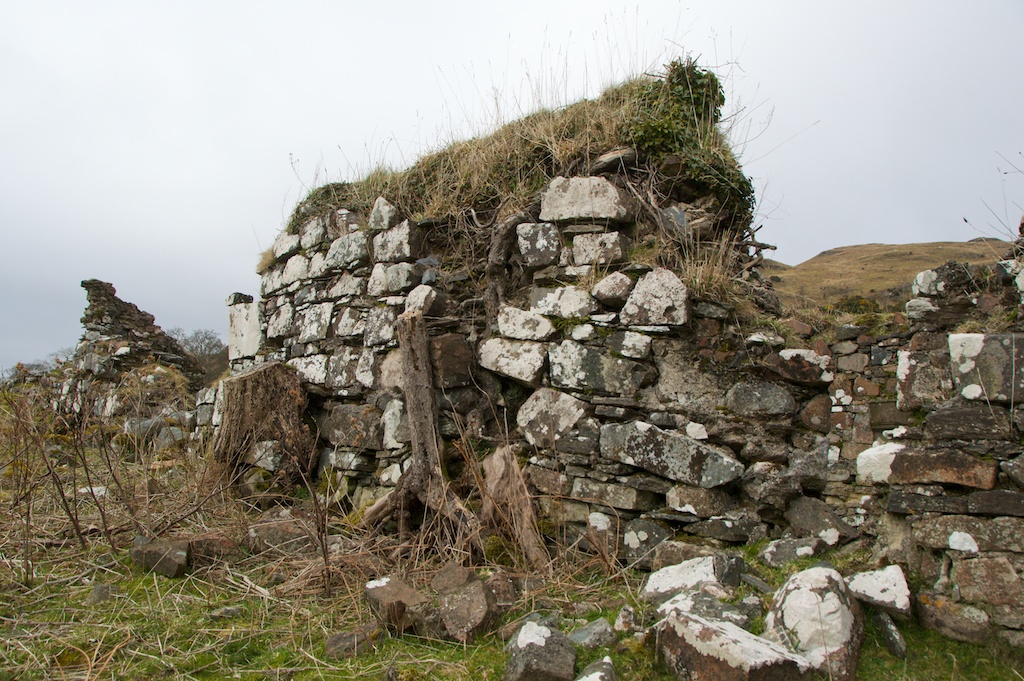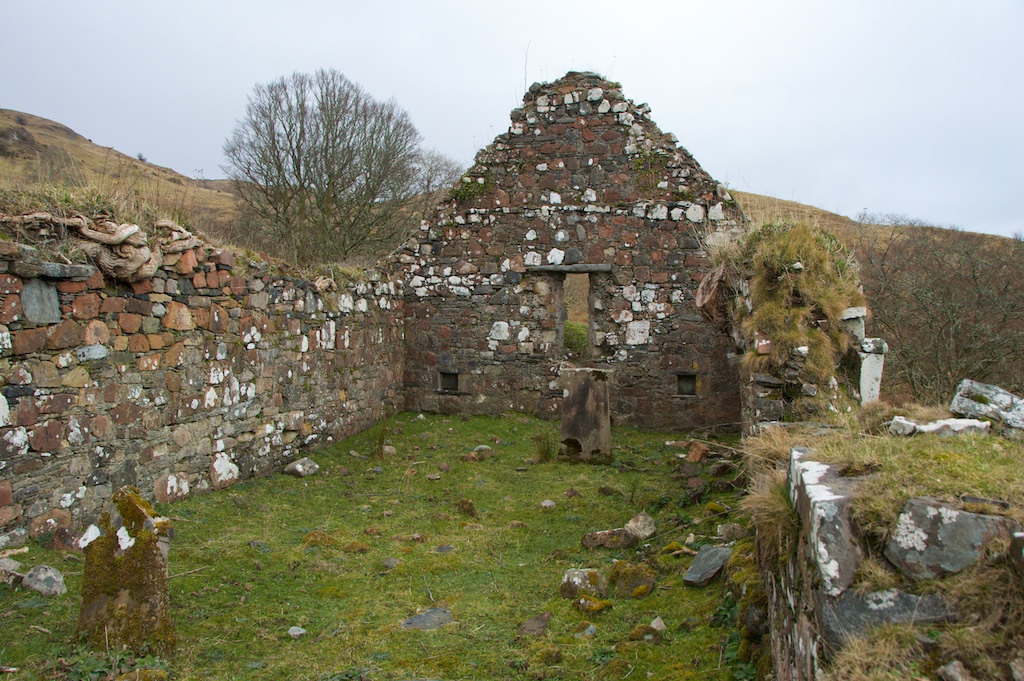 In the east gable wall, two aumbries or cubby holes can be seen, and the east window is still there, but that is pretty much it in terms of surviving features;  instead, in the walls on either side, the trunks of dead trees bulge from the stonework, showing just how overgrown this place must have become when it was abandoned.  The branches may have been felled to preserve the structure, but it would be impossible to remove their trunks as the walls would come away with them.   Most of the west gable has fallen since the date of an RCAHMS visit in 1980, as the surveyor noted "a window in each gable".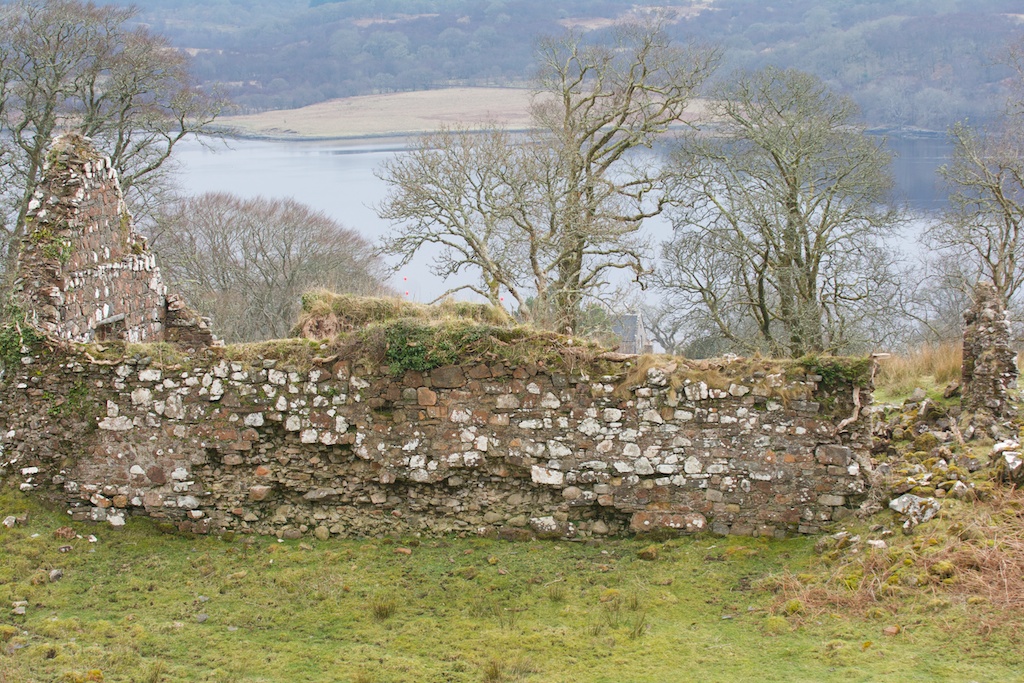 The walls are rubble-built, and I wonder if they were originally rendered both outside and inside, like the chapels at Keills and Kilmory Knap.
What's left is a crumbling shell, lonely but not lifeless:   ferns and mosses are softening the broken edges, and thrushes find the slabs very handy for tapping snails.  Like so many of these old churches – roofless or otherwise – you can stand in the nave and feel the stillness.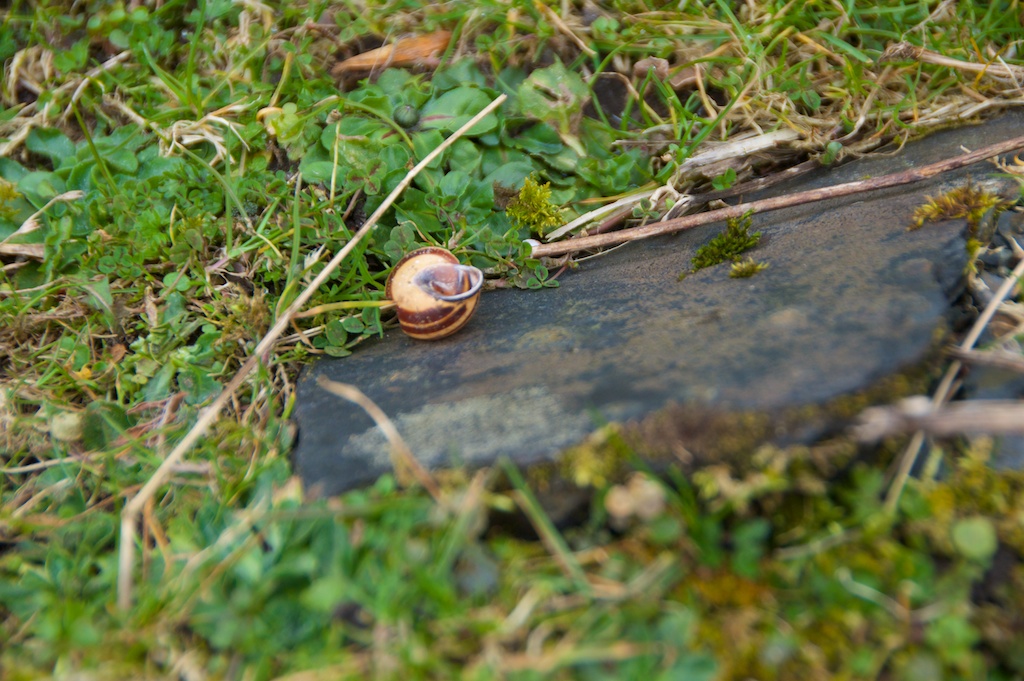 Kilmodan's gravestones
Assuming that the place was indeed burnt to the ground around 1800, this would explain why some grave stones dating from the 19th century can be found within the building itself, because this is what happened with many derelict churches over time.   Some of them tell the fragments of interesting stories:
"This is the burying ground of Dugald Thomson, late joiner, Barcaldine, and his wife, Flora McIntyre, and their heirs"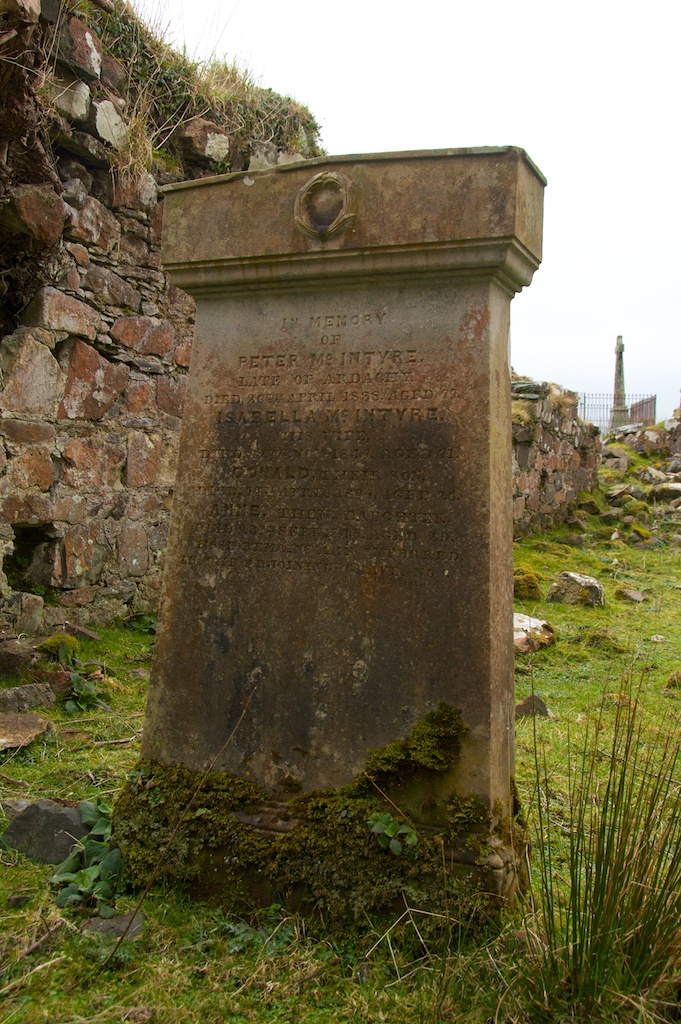 "In memory of Peter McIntyre, late of Ardachy, died 26th April 1838 aged 77
Isabella McIntyre, his wife, died 12th Nov 1847 aged 71
Donald, their son, died 5th (?) April 1824 (?) aged 26
Anne, their daughter, died 23rd Sept 1845 aged 29
whose remains are interred in the adjoining grave No.2(?)"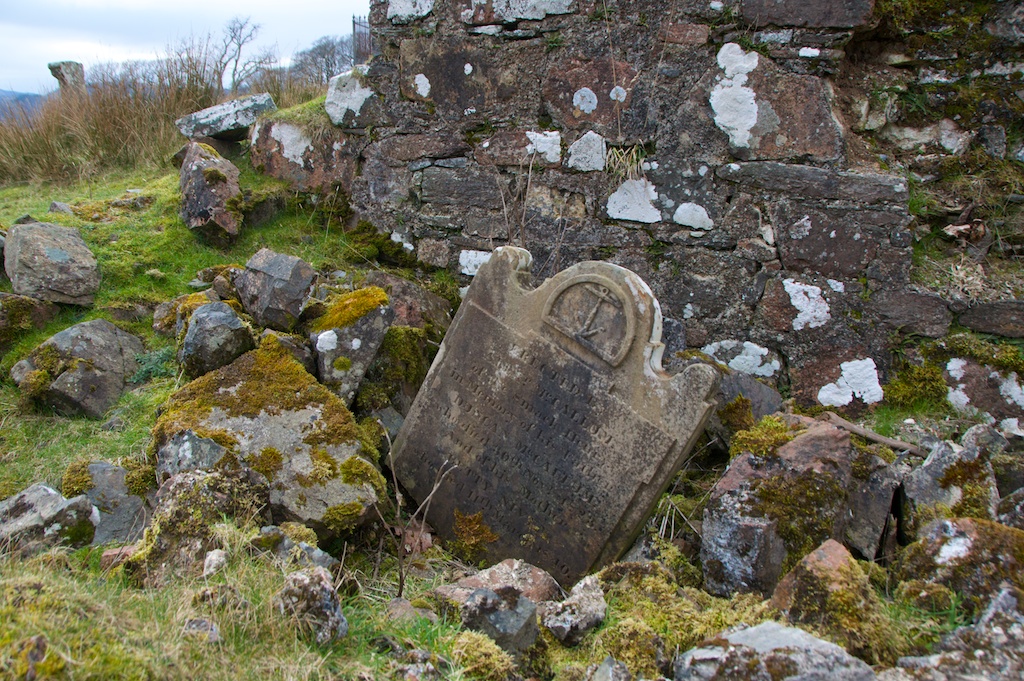 "Erected by Alexʳ McCallum of the Smack Henry
In memory of his father Duncan McCallum who died 30th Novʳ 1823
and of his Mother Betty Niven who died 11th March 1840″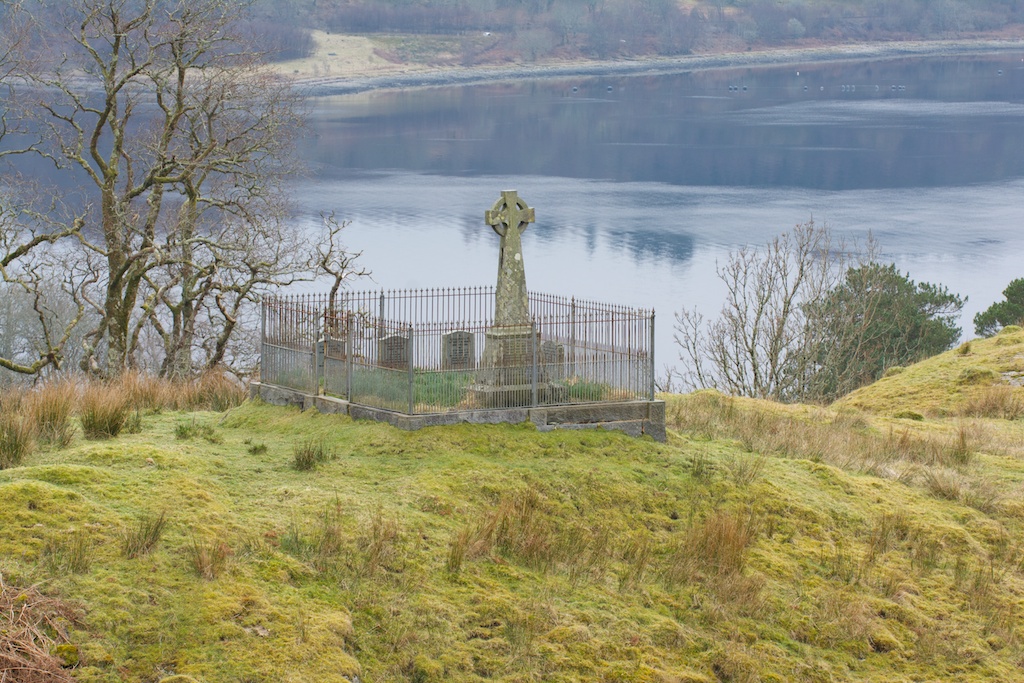 Small burial ground nearby (19th century onwards)
Looking on a large-scale map, I see the area around the church still bears the name Baile Mhaodain, which suggests that it was once the 'place' or 'home' of St Baodan.  It's possible that it still is.
Sources:
Photos copyright © Colin & Jo Woolf
Footnote:   I originally described this church as being dedicated to St Modan, assuming that the name derived from Baodan or Bhaodain, and it is indeed described as 'Kilmodan' in historical records.  However, a reader has kindly pointed out that St Baodan and St Modan were two different men, and the confusion arose in the 19th century because of the similarity of sound in genitive mutations.   My thanks to Gilbert, whose helpful comments you can read below.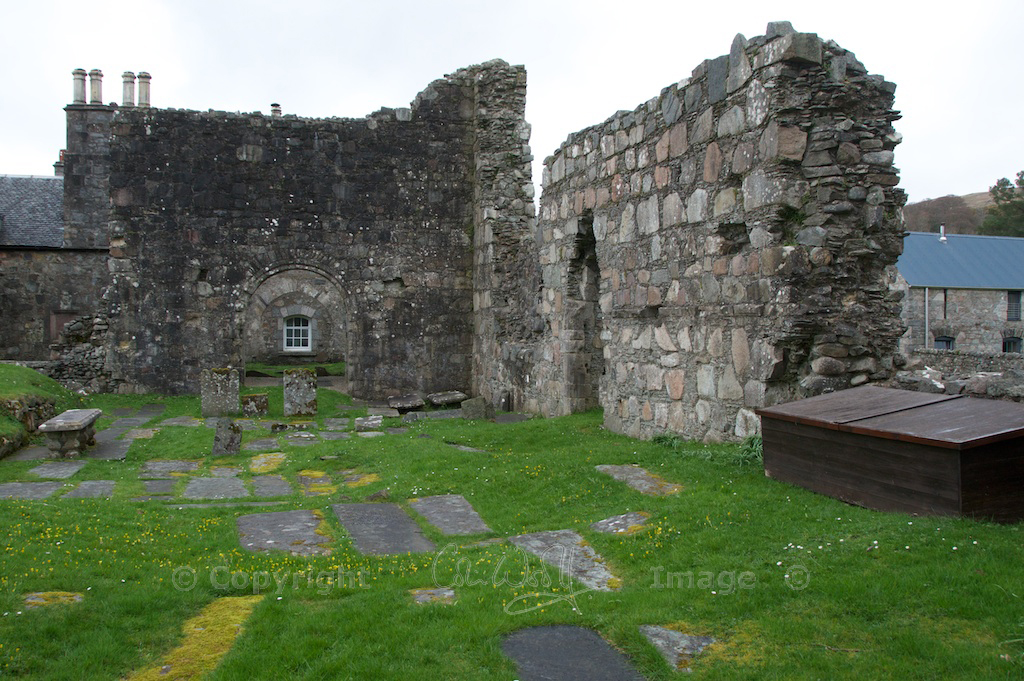 Read about Ardchattan Priory, just down the hill from here;  or explore some more lovely little churches of Argyll: