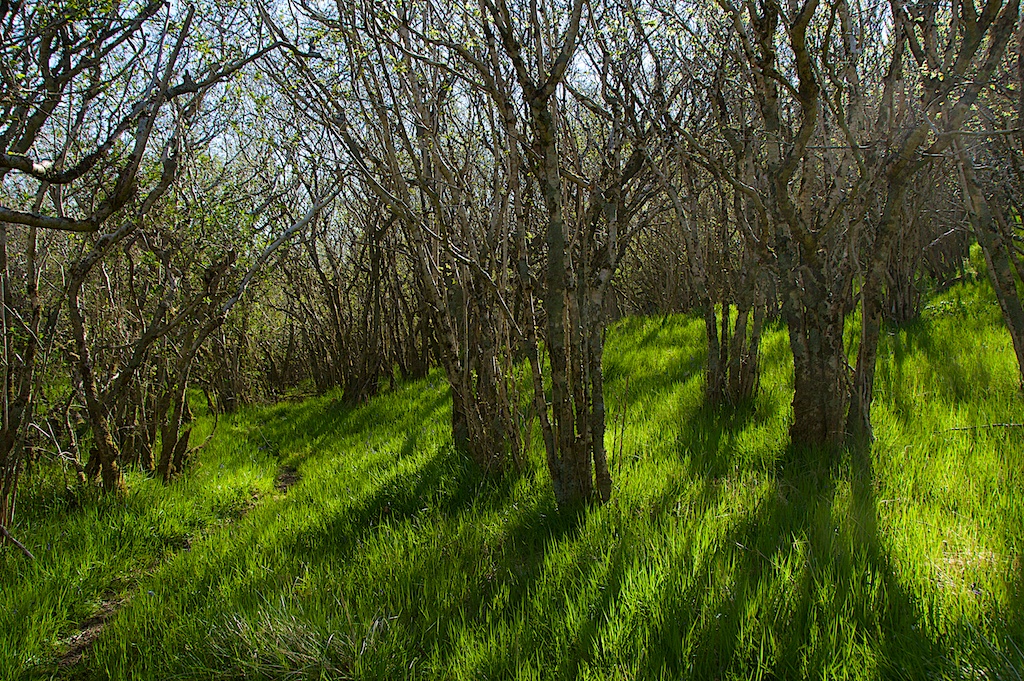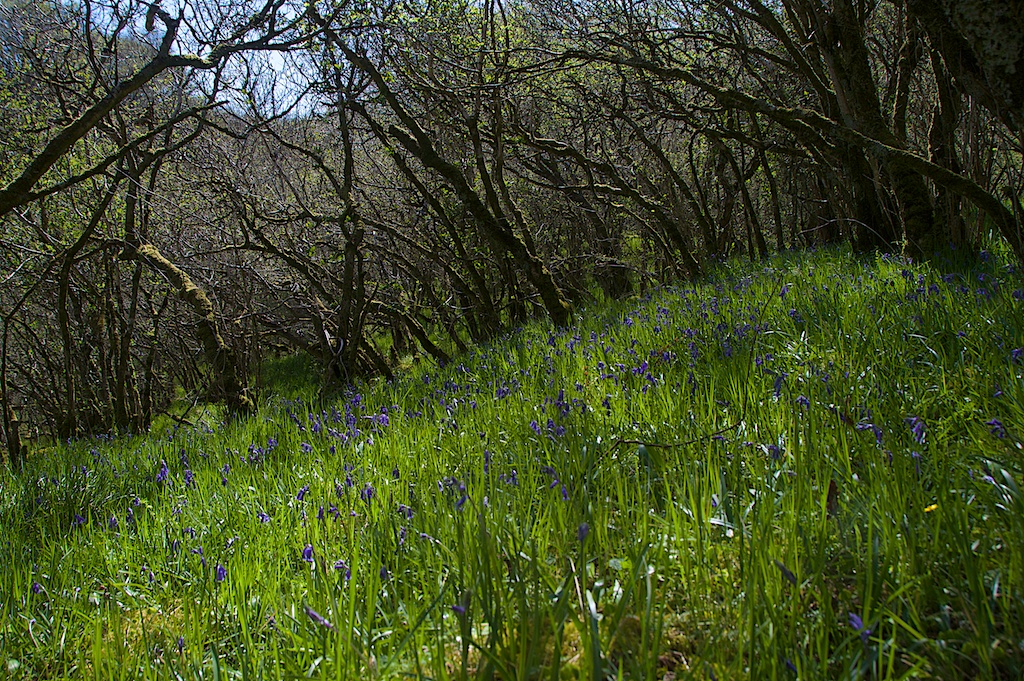 After my review of 'The Rainforests of Britain and Ireland' by Clifton Bain, I was inspired to take a look at a few more of these wonderful natural places;  and so, with warm weather finally in sight, we visited Ballachuan hazel wood in early May.
We've been to Ballachuan before, but in late summer, when the canopy of leaves casts a perpetual shadow over the woodland floor, creating a deep green shade.
How different was the effect this time, with the hazel leaves just emerging and the sunlight dancing through their branches to cast pools of light onto a carpet of lush grass and freshly-opening bluebells.  Here and there, raising their shy flowers amid a cushion of damp moss, were the stars of wood sorrel and wood anemones.
The path to Ballachuan led us over several stiles, a couple of fields, and a bridge across a fast-running burn which must connect the little freshwater lochan with the Sound of Seil;   the sea here is never more than a stone's throw away.   As the morning grew from warm to hot, we were glad of the cool breezes that rose from time to time, and it was bliss to finally head into the cool shade of the hazel woods.
The enchantment that met us was so beautiful that we stopped and gazed around us just a few yards in.  It was like stepping into a pool.  Underfoot, the long grass was speckled with flowers, and the fragrance of bluebells was in the air.  Willow warblers were singing, and from somewhere close by a cuckoo started cuckoo-ing with happy confidence, lending his voice to the first day of real summer sunshine, as if nothing else mattered in the world.
Our progress after that was pretty slow, as we spent ages taking pictures and just drinking in the pure beauty of the place.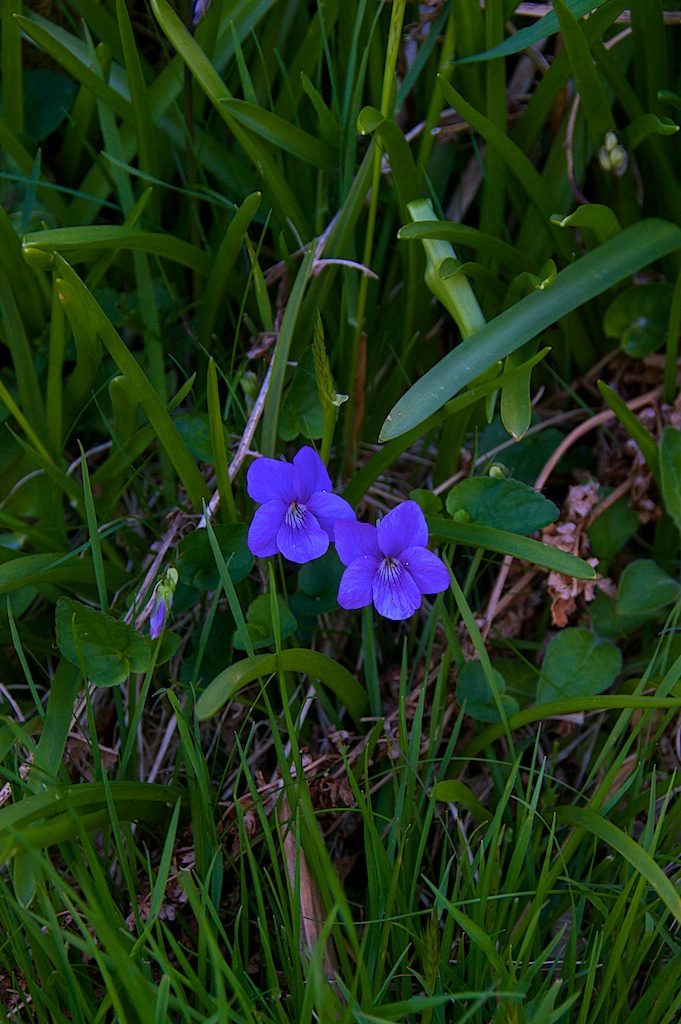 Dog violet
Ballachuan is considered to be one of Scotland's finest examples of an ancient Atlantic hazel wood.  It occupies about 56 acres on the south-east shore of Seil, a small island off the coast of Argyll, and it's thought to have been here since about 7,500 BC.  If this is the case, it must be one of Britain's very oldest woodlands.
"The rich diversity of lichens and mosses and fungi in these woods far outmatches that of the more heavily grazed coppiced hazelwoods elsewhere."   ('The Rainforests of Britain and Ireland')

The trees themselves are not that ancient, because hazel is not a long-lived tree;  but it is the continuous existence of the woodland itself that is so remarkable.  Hazel trees are naturally coppicing, meaning that they produce several stems (you can't really call them trunks) from the same root, and the canopy that they create is only a few metres high.
The sensation of walking through such a woodland is therefore quite unique, and very different from the airy sense of space that you get in a wood of oak or beech, with their cathedral-like arches and majestic size.  At Ballachuan, although you don't have to bend to walk along the paths, you feel as if you are almost brushing the canopy with your head;   and looking through the woodland in every direction, all you see are short, multi-stemmed trees, their bark crusty with lichen, every twig tipped with fresh green as the leaves unfold in perfect fans.   Some branches are bent as if labouring under an unseen burden while the younger ones reach for the sky, pale and slim and straight.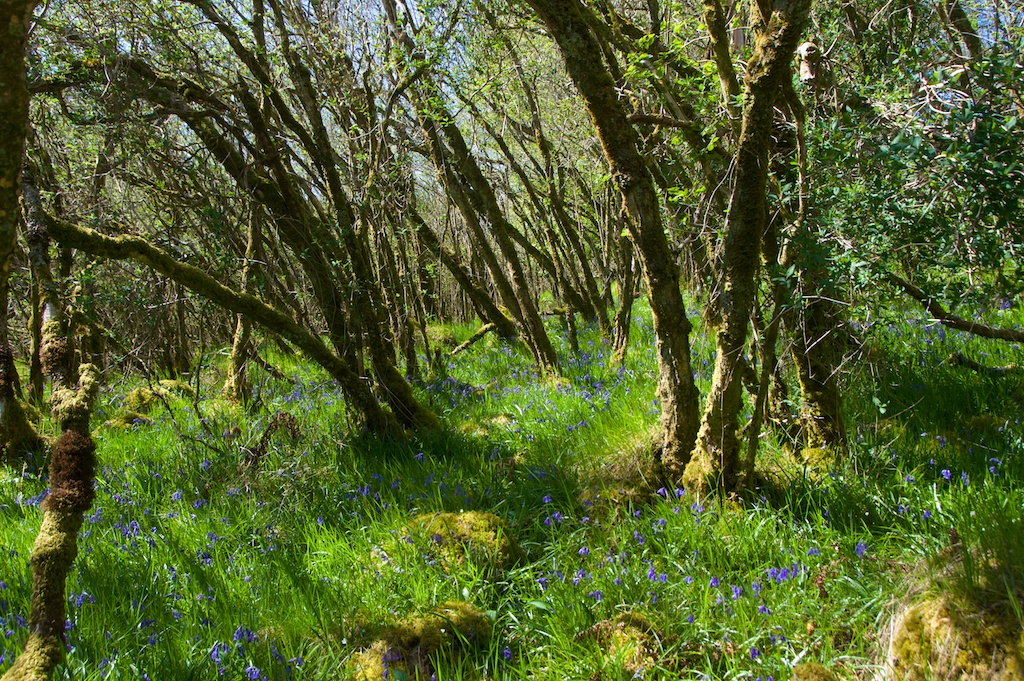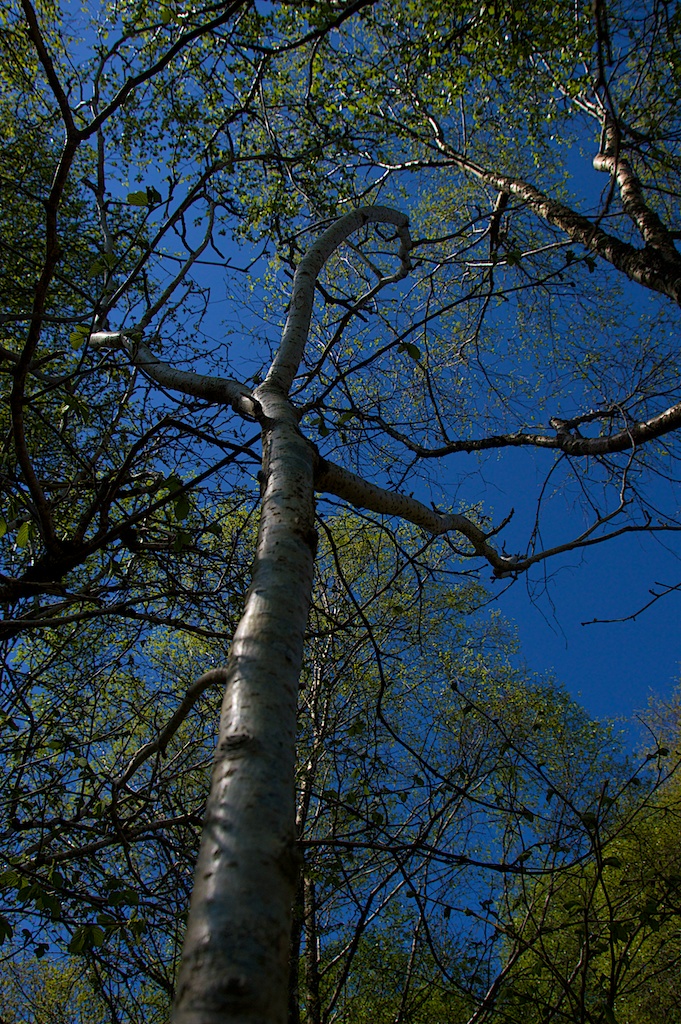 Keeping to the path, we made our way out to a clearing that was already baking in the midday sun, with primroses valiantly blooming in a heat that must have caught them unawares;   over a little rise and another wooden stile, and then back into the realm of trees, thankfully breathing in the cool air as if we hadn't been complaining about the cold wind only a few days before.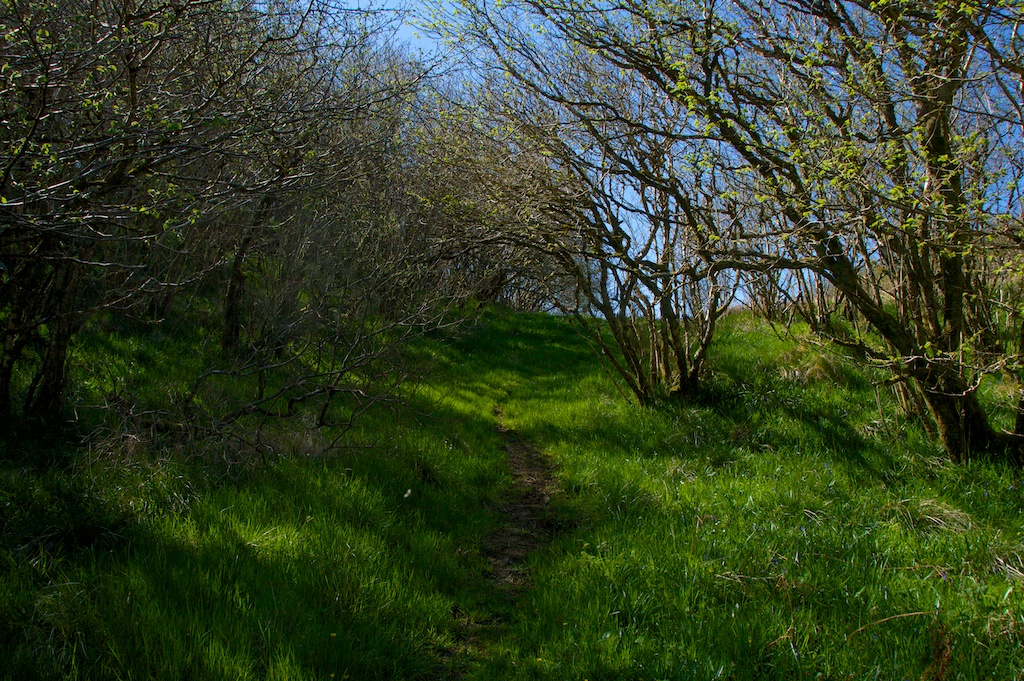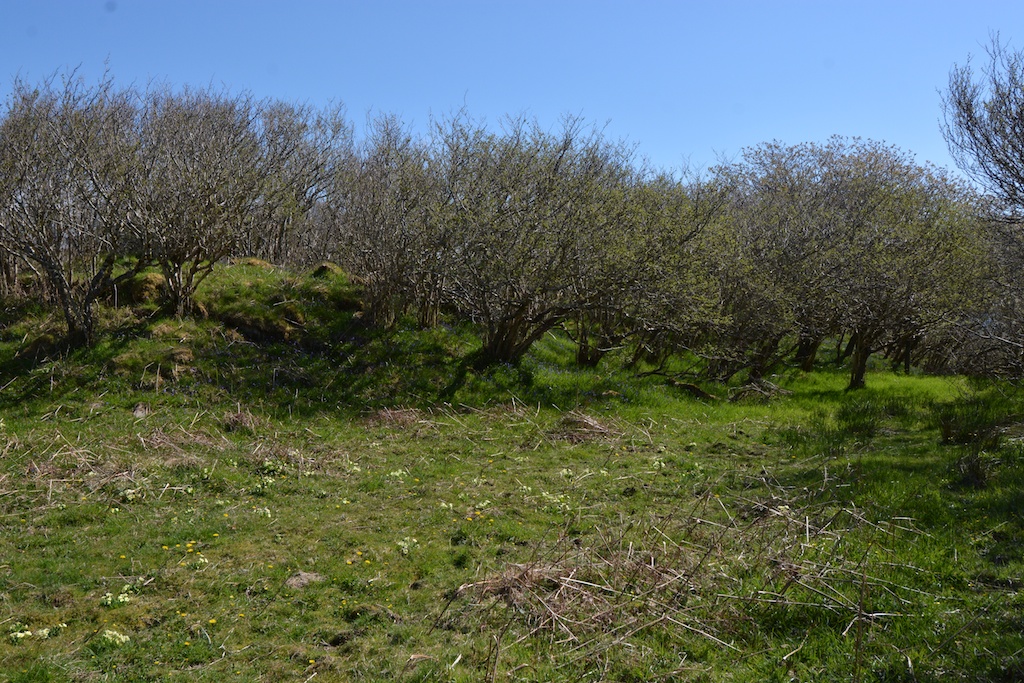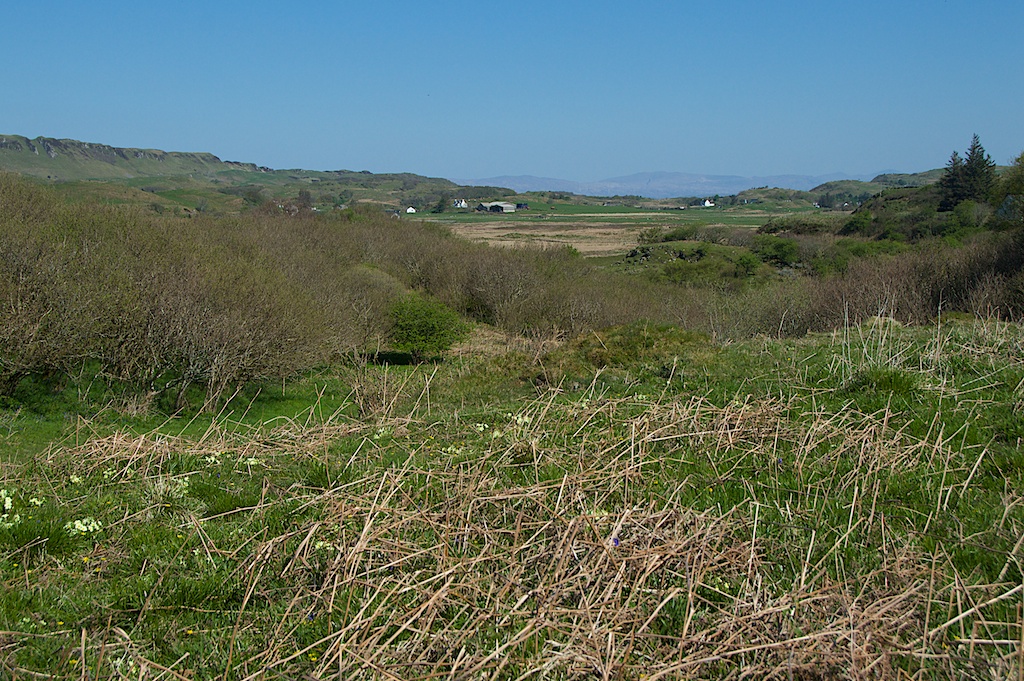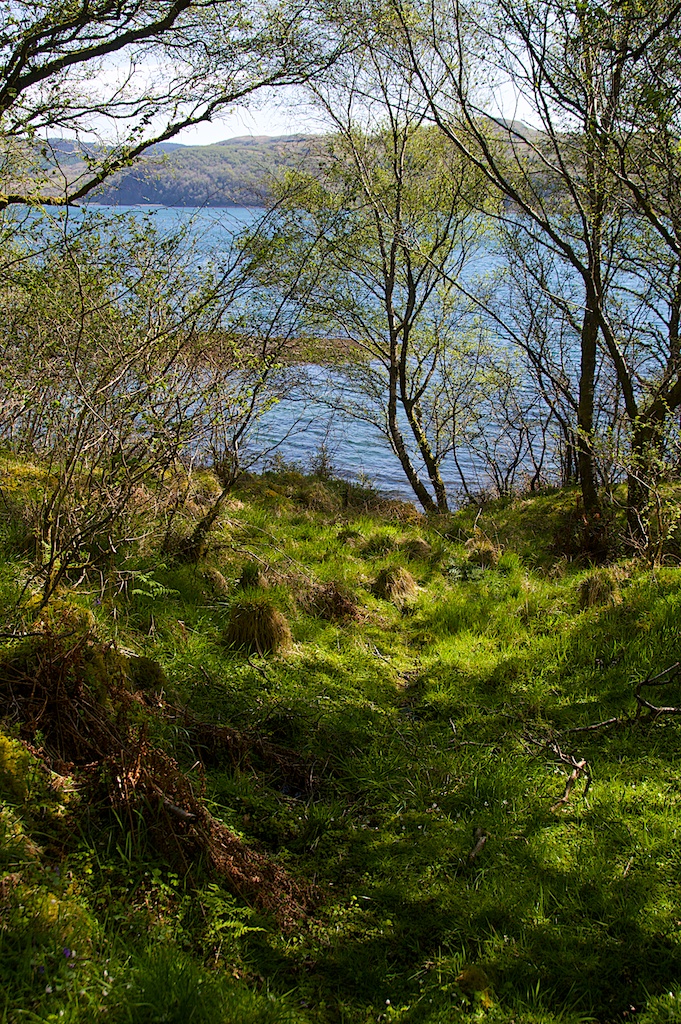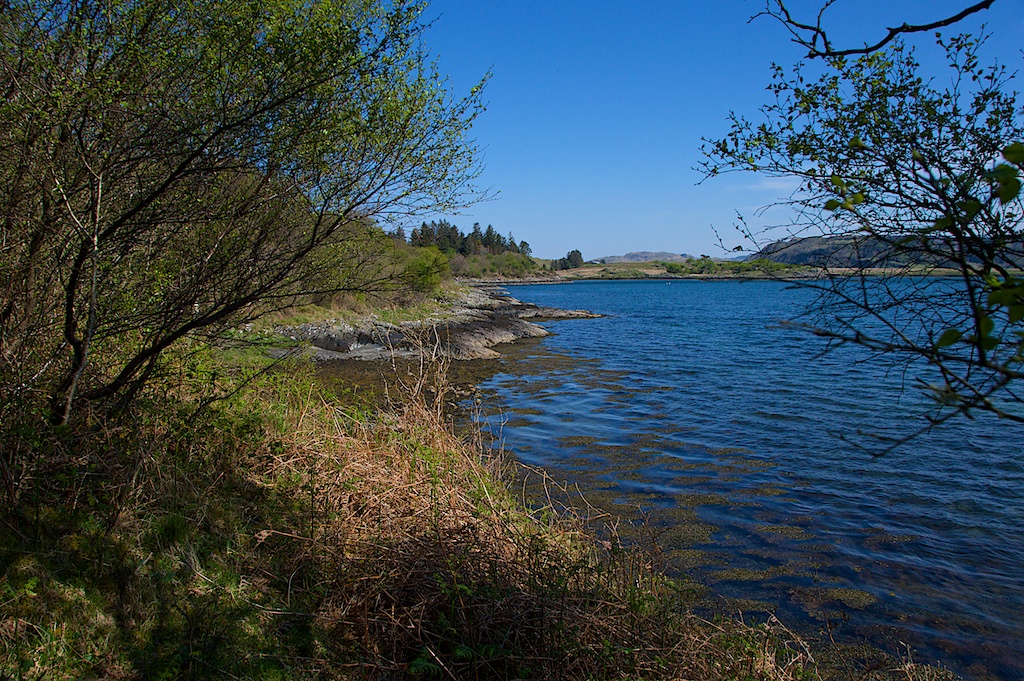 This part of the woodland inclines gently towards the sea, and as we got closer we could glimpse it through the trees.   The shore was scattered with the slate that these islands are famous for, and the bigger boulders were splashed with orange lichen and tufts of pink sea-campion.  It was about this time that we heard the strangest clacking noise, which could only be made by an animal, although we were at a loss to know what kind;  it was only when a couple of big grey birds flapped overhead that we realised we'd stumbled on a heronry.
Herons, for reasons possibly best known to themselves, like to nest in trees;  and at Ballachuan they had chosen a wonderful old beech tree for their nursery.   The noise was made by their beaks, which they were clattering to ward away the intruders.
We didn't linger, as we didn't want to disturb them.  Taking a quick route away from the beech trees – which rose like giants in a field of pygmies – we made our way back up the hill and away from the shore.   Lush beds of wild garlic added their pungent aroma to the bluebells, and as I breathed in the scents and listened to the birdsong, I felt as if I'd strayed into some real-life version of 'A Midsummer Night's Dream'.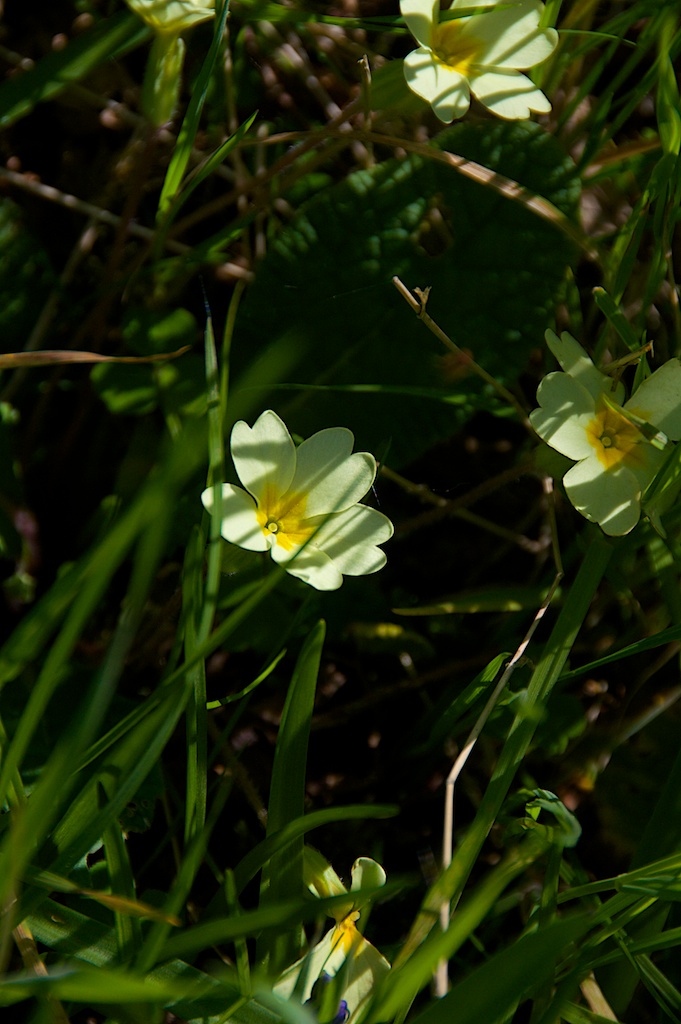 The name 'Ballachuan' comes from the Gaelic words meaning 'settlement by the sea'.   The website of Gaelic place names says that:  "It would appear the area around Cuan Sound was called Cuan, perhaps with reference to the area of sheltered sea between Torsa, Luing and Seil", and adds that the Irish sense of the word 'cuan' meant 'bay'.  I was interested to find that one of the little coves along the woodland shore is known as Port an Duine Mhairbh, 'dead man's harbour'.
Ballachuan is managed by the Scottish Wildlife Trust, who allow cattle grazing within the wood as a natural means of keeping the undergrowth under control, allowing the more light-loving plants to thrive.  The cows also make deep footprints in the soft ground, and these hollows offer cover for nesting birds.
I have seldom seen trees make such beautiful shapes as those at Ballachuan;  in a mixed wood, hazel can often look haphazard and a bit spindly, but these ones have matured into elegant shapes with symmetry and grace.   On the fringes of the wood, a few bushes stand alone in grassy clearings, and these have achieved a lovely all-round shape – a slightly flattened dome so typical of hazel;  but those that grow more closely together seem to be behaving as one, each a distinct but integral part of the whole, joining their energy so that the entire woodland seems like a living entity in itself.  I have often thought this about trees:  the flow of their shape has so much to tell.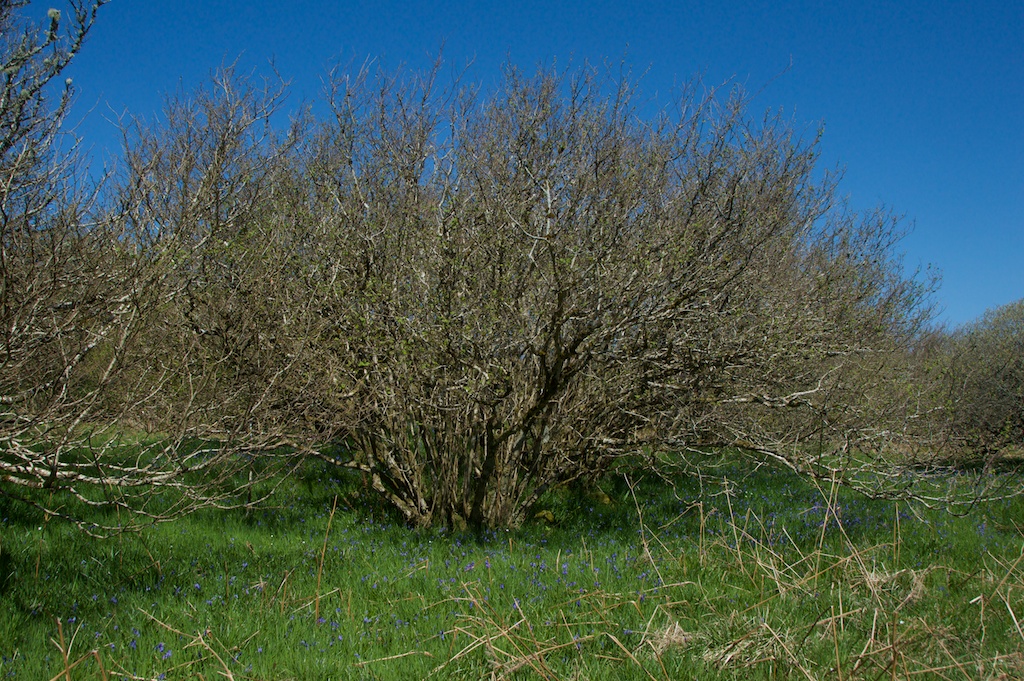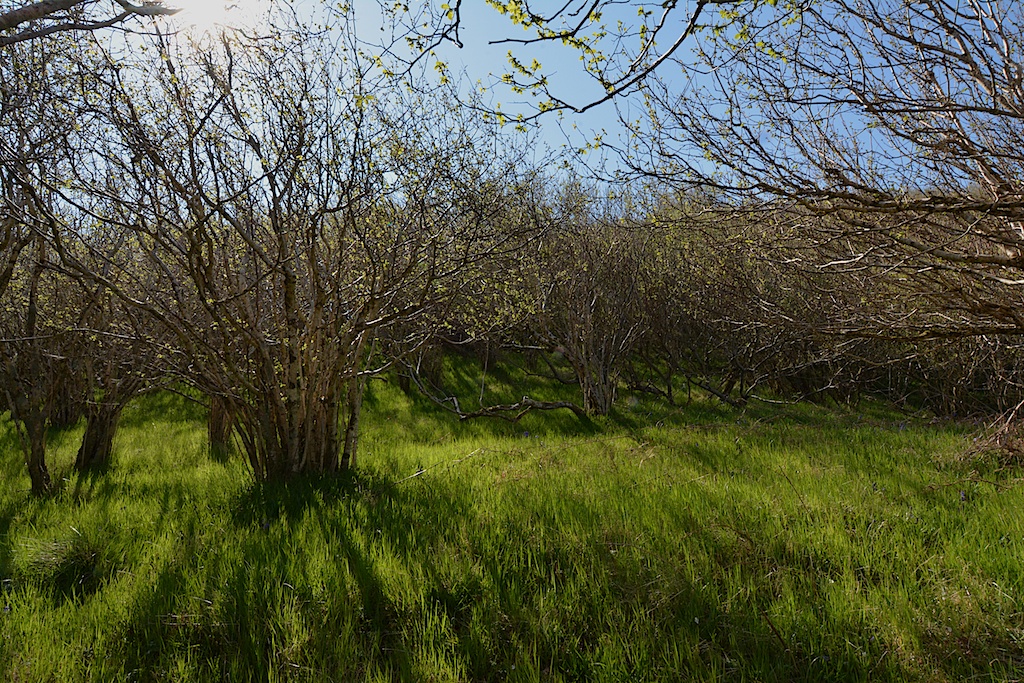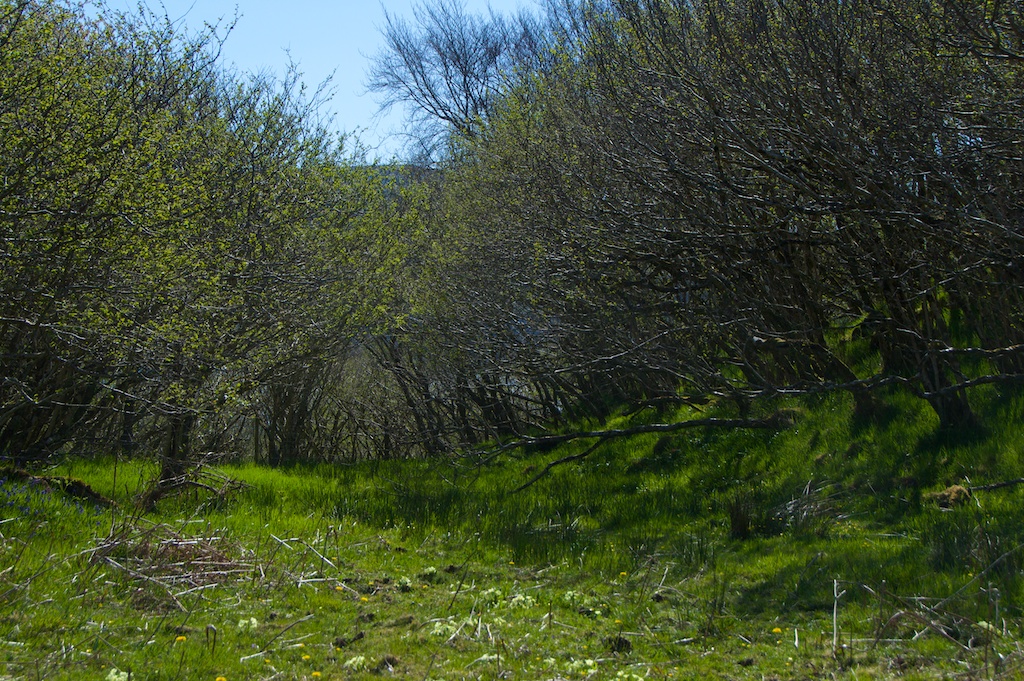 Thousands of years ago, the first people who lived here would have known and used the hazel wood throughout the seasons:  the straight stems for poles and stakes, the more slender branches for weaving into fences, and of course the nuts were an important source of food that could be stored for the winter.  Interesting to reflect that Ballachuan was here before these first settlers, and, like Taynish further south, would have seen their arrival and heard their footfall.  The whole landscape did, of course:  but as we struggle to grasp the elusive threads left by our ancestors in a world of endless information and few answers, it's the continuity that we cling to, like a path that beckons to our feet and our heart.
As we trudged back up the hill to the car under a scorching sun, I was quite glad that my five-year-old bottle of sun lotion had rediscovered its purpose in life.  But I was also glad that we'd walked under those wonderful trees, because I can remember them on rainy days in winter and wonder if they are dark and forbidding and dripping with water, or creaking wildly with the wind, and whether their ancient spirits have come back to haunt them.
Wildlife of Ballachuan
Apart from herons and cuckoos, the other birds that we noticed included willow warbler, sedge warbler, chiffchaff, bullfinch, meadow pipit, pied wagtail, wren, song thrush, robins and great tits;  tufted ducks and mallards were on the lochan.  We saw no mammals, but snapped bracken fronds hinted at browsing deer, and Colin noticed a flattened patch in the bluebells where a deer had recently been resting.  I can't find any clear evidence as to whether red squirrels are present on Seil, but I am inclined to think that they are, although in small numbers.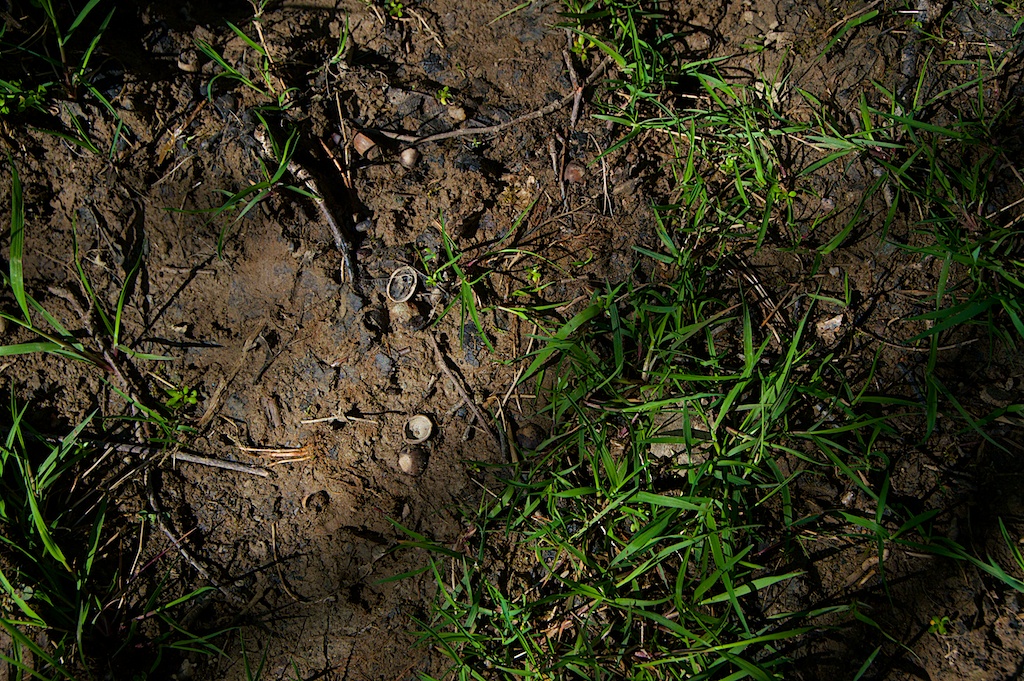 Discarded hazel shells
Among the plant species were bluebell, wood anemone, wood sorrel, yellow saxifrage, wild garlic, early purple orchid (our amateur opinion), herb Robert, and many ferns and mosses.  Butterflies are plentiful here, including common blue, small heath and occasionally marsh fritillary.  Don't ask me about lichens – I'm no expert! – but Ballachuan boasts an amazing 250 species.  The woodland also provides the right conditions for the rare hazel gloves fungus, Hypocreopsis rhododendri, to thrive in autumn.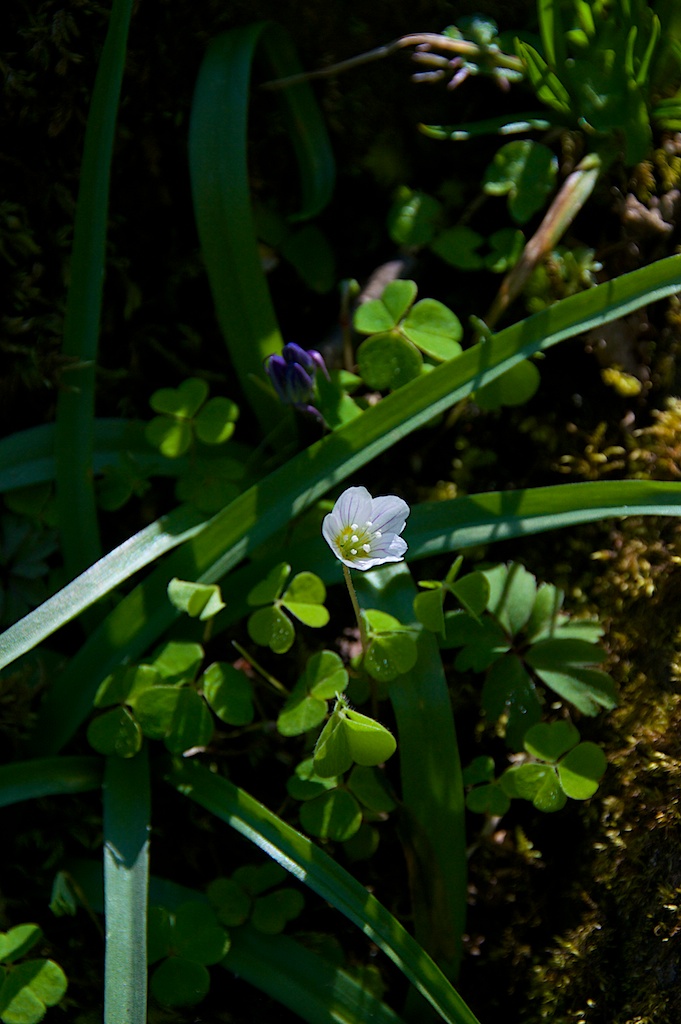 Wood sorrel
Footnote:  The website of the RCAHMS suggests that the burn that connects the lochan to the sea was artificially widened at some stage in its past (no date is suggested).  In addition, there are the foundations of an old chapel somewhere in the field, but we missed these, being unaware of their presence.
Getting to Ballachuan

There are no ferries involved in getting to Seil, because it is joined to the mainland via the 'Bridge over the Atlantic'.   A map and directions are given on the Scottish Wildlife Trust's website.  You can park on the side of the road and then walk down a farm track;  there's an information sign with a map of the woodland, and the paths are marked with occasional signposts.
References:
Photos copyright © Colin & Jo Woolf
---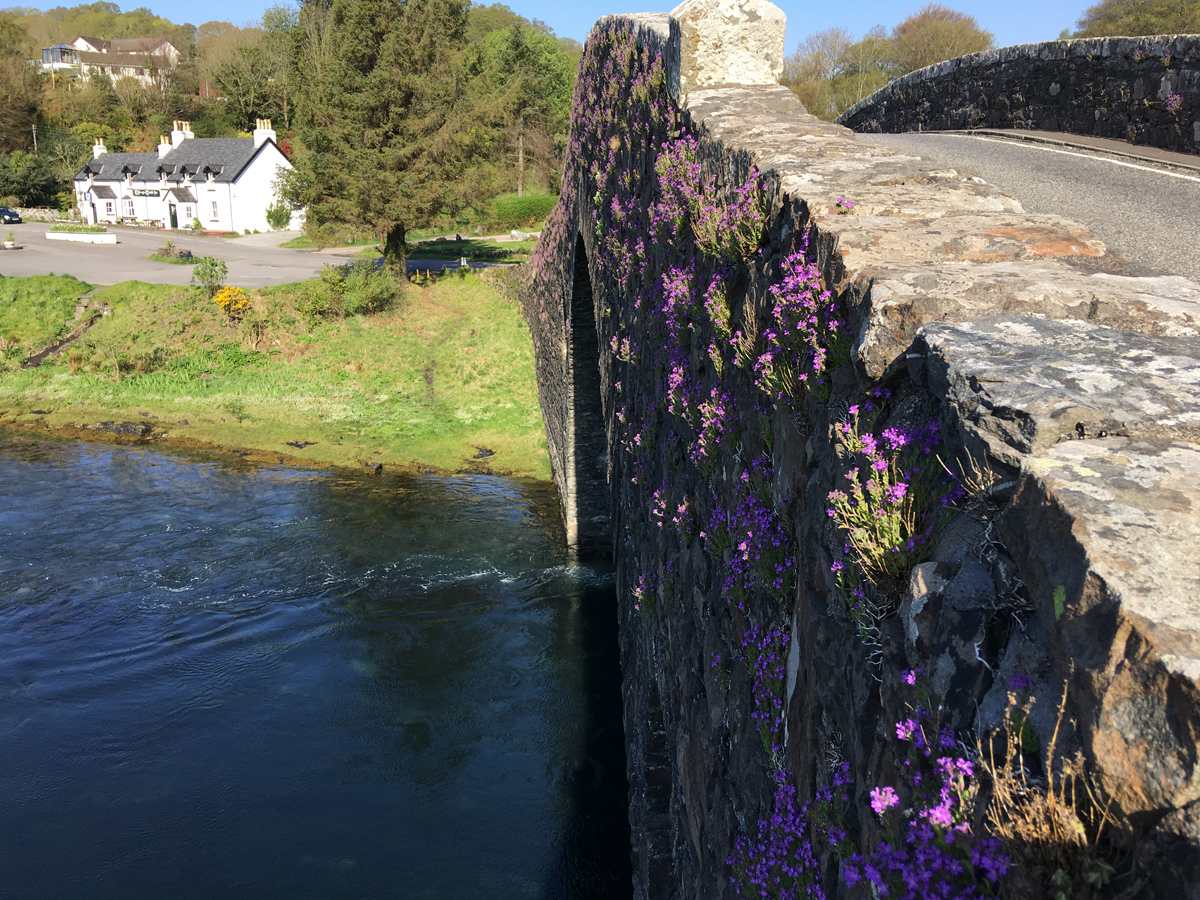 You may also like to visit…
Taynish oak woods
The Atlantic Bridge and its fairy foxgloves
The island of Easdale