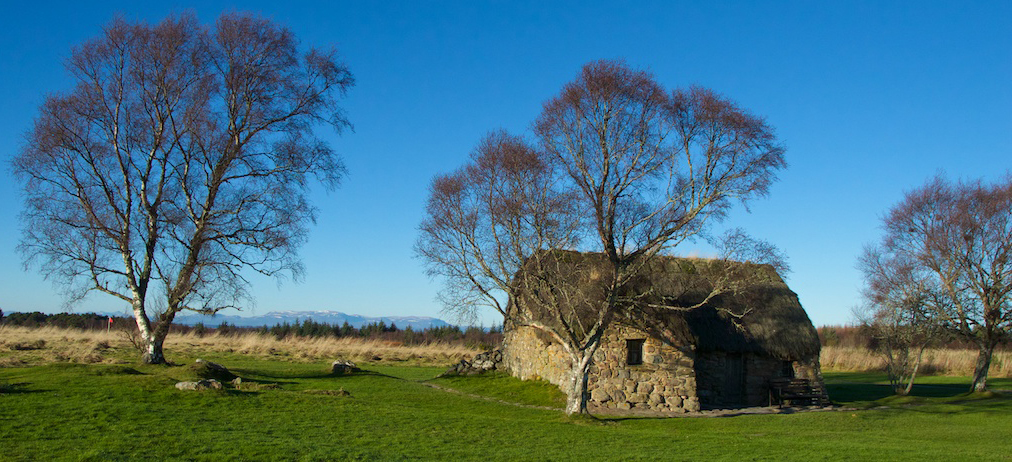 Culloden: field of sorrow
I don't think I've ever walked on a battlefield before.  That might explain why Culloden made such an impression on me when we went there the other day.
It was the perfect morning.  Frost was white in the hollows and there was not a cloud in the sky.   Yet the whole place was hushed, and I see now why they say that birds don't sing here.  It isn't, as I rather cynically thought, that they don't have many trees to sit in.  It's something else.
In 1746, this was the scene of the last hand-to-hand battle fought on British soil.   Jacobite forces loyal to Prince Charles Edward Stuart faced the British government's army on April 16th, a spring morning when they would all have been better off tending to their cattle or sowing crops or making repairs to house and farmstead.  Returning from exile, Charles had raised his banner in Glen Shiel the year before, and persuaded thousands of clansmen to stake their lives on his claim to the throne.  Since then, a handful of victories had convinced him that the prize was within his grasp.  How wrong he was.

Lined up on one side of the moor were the soldiers of George II, under the command of the Duke of Cumberland, the king's youngest son.  A few hundred yards away were the Prince's troops, led by Lord George Murray.  The division of loyalty wasn't as clear-cut as it sounds:  there were Scots who had sided with George II, and there were Englishmen who were Jacobites.
The Jacobite soldiers, already exhausted from unsuccessful manoeuvres the night before, were hungry and strained to breaking point.   Clan leaders with military experience went to the Prince and beseeched him to think again:  to fall back onto higher ground, where they would have the advantage, or to retreat to Inverness.  But Charles was unmoved, and early in the afternoon he ordered his artillery to open fire.
It was all over in less than an hour.  For the Jacobites, defeat swiftly turned to massacre.  Charles fled the battlefield and embarked on a prolonged game of cat-and-mouse which culminated in his return to France.   Most of his men were either dead, or fatally wounded, or facing execution.  The losses on the British government side were lighter.  For the few Jacobite survivors, and for the families of those who died, life would never be the same again:  if they escaped Cumberland's retribution, the Act of Proscription made sure that their traditional way of life – in particular the wearing of plaid and the carrying of weapons – was fiercely suppressed.
Leanach Cottage

This single-storey cottage is one of several farm buildings which are marked on contemporary maps, and it is thought to have been used by Cumberland's forces as their field hospital.   It later fell into ruin, but in the 1880s it was repaired and re-occupied.  The last resident of Leanach Cottage was Belle MacDonald, who died in 1912.

It's possible to talk in figures and lay out the plan of the battle and re-enact it in your mind.  This is something I'd rather not do.  What struck me yesterday is that these were good men who died, and they still lie buried beneath the heather, in mass graves which are grouped according to their clan:  Cameron, Macdonald, Maclean, Maclachlan, Macgillivray, Fraser.  By the Stewart of Appin stone someone had placed a single white rose.  Tradition says that the fallen were identified by the plant sprig which they wore in their bonnet, which was unique to each clan.  I'm not sure exactly how far this can have been true.  As for the government soldiers, their graves have never been properly identified.
Paths lead you around the moor, past the memorial cairn and the graves, and information signs offer maps and details about the soldiers' positions.   The cairn was raised by Duncan Forbes, the local landowner, in the late 1800s, and it was he who placed the engraved stones on the graves.
The Well of the Dead:  where Alexander MacGillivray of Dunmaglass fell while leading the Clan Chattan regiment

There's a feeling here which you can't dwell on for too long.  Such a sadness.   There was only a handful of visitors, and we greeted each other in passing with a quiet respect, as if we were at a funeral.  A female stonechat eyed us curiously from a fencepost.  Occasional sounds echoed from a long way away:  a flock of geese, somewhere over towards the hills, calling as they took flight.  And then silence.

The National Trust for Scotland is responsible for maintaining the battlefield at Culloden.  The Visitor Centre closes for a few weeks in winter (check the NTS website for exact dates).  The battlefield is open all year.
More information:
Images copyright © Colin & Jo Woolf