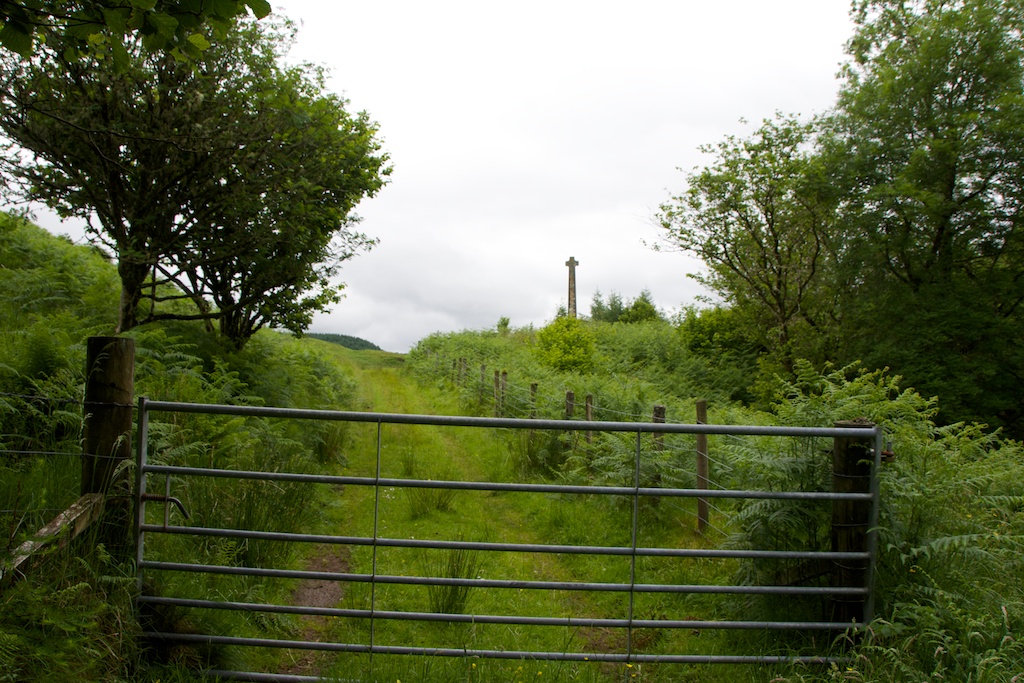 What can be more perfect than a leisurely drive down a country road in midsummer, with the verges waist-high in flowers and ferns? Argyll is criss-crossed with many such single-track roads, and a week or so ago we turned down one we hadn't explored before: the road to Lerags, just south of Oban.
The sky was overcast, giving depth and intensity to the thousand shades of green. After a few minutes, an unmistakable shape loomed up to the left, looking for a split second like a distant watchman. Silhouetted against the skyline and rising above a sea of bracken, this was undoubtedly the Lerags Cross. We clambered over the gate and went to take a look.
Scotland, especially the west side, is dotted with more 'high crosses' than I ever expected when I first came here. Iona perhaps has the finest collection but there are many more, scattered across the mainland and islands.  Some of them are gloriously remote, like Kilchoan and Kildalton;  some are preserved inside churches, while others, like the Inveraray Cross, now overlook a bustling town.
Historically, these crosses are spread over a wide time span.  The earliest examples, inspired by the 'Iona School', date from about the 8th or 9th century onwards. In later centuries, however, there was a fondness among clan chiefs to design and erect a cross in their own name, often sited near a church or monastic settlement.   The Lerags Cross, along with the MacMillan Cross at Kilmory Knap and MacDougall Cross at Ardchattan, are good examples of this.  For their creators it was an act of piety, with an eye to ensuring that their soul was blessed with daily prayers. Perhaps they also wanted to leave behind something beautiful, in memory of their family and their ties to the land.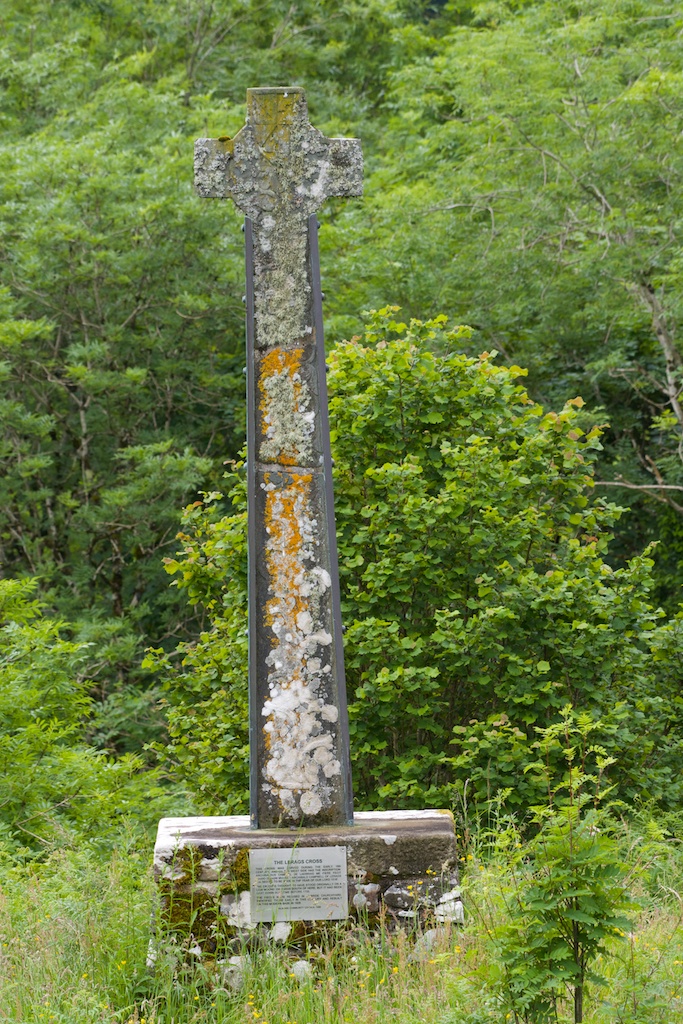 The Lerags Cross was erected by Archibald Campbell of Lerags in 1516. Carved from a single block of schist, at first glance it is tall, slender and strikingly simple. When you get closer, however, you can see that it is covered from head to toe with inscriptions and carvings. On the west-facing side is a scene of the crucifixion, and below it are eleven lines of Latin and Gothic script.  A plaque beneath the cross translates them as: "Archibald Campbell of Lerags caused me to be made in the year of Our Lord 1516."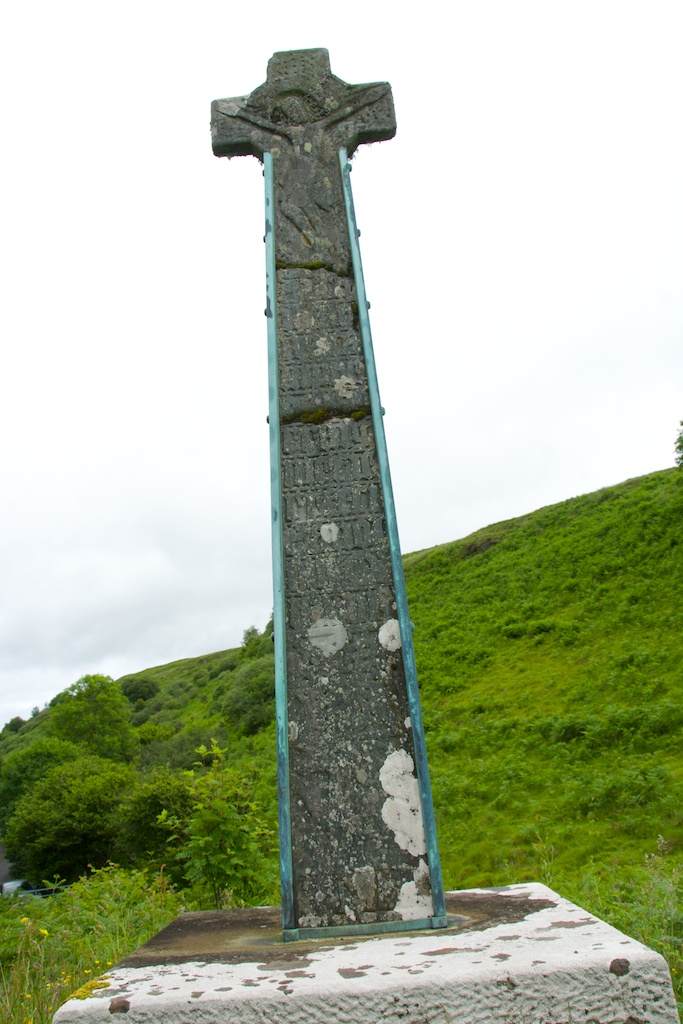 At the bottom of the west face, according to Undiscovered Scotland, is a panel depicting a unicorn. I have enlarged my photos and inspected them, but this must be totally obscured by lichen and weathering. (You can see it better in an older photo by M E M Donaldson on the Am Baile website.)  The eastern side bears Archibald Campbell's heraldic shield amongst profusely interwoven foliage, which in turn is generously embellished by lichen.
The cross is over ten feet tall, and according to a local tradition it was originally located "beside an old road running SE from the coast at Gallanach to the Lowlands…" (Canmore) which crossed the present-day road a few hundred yards further on. However, it may have been a victim of the Reformation in the late 16th century, when the carvings would have been seen as idolatrous.  By 1700 it had been broken into three pieces and the fragments lay for two hundred years in the nearby churchyard of Kilbride.
The cross was repaired and erected in its current position in 1926.  Because of its metal casing, necessary because of its fragile condition, it's impossible to tell whether the sides are also carved.  It's likely that they are.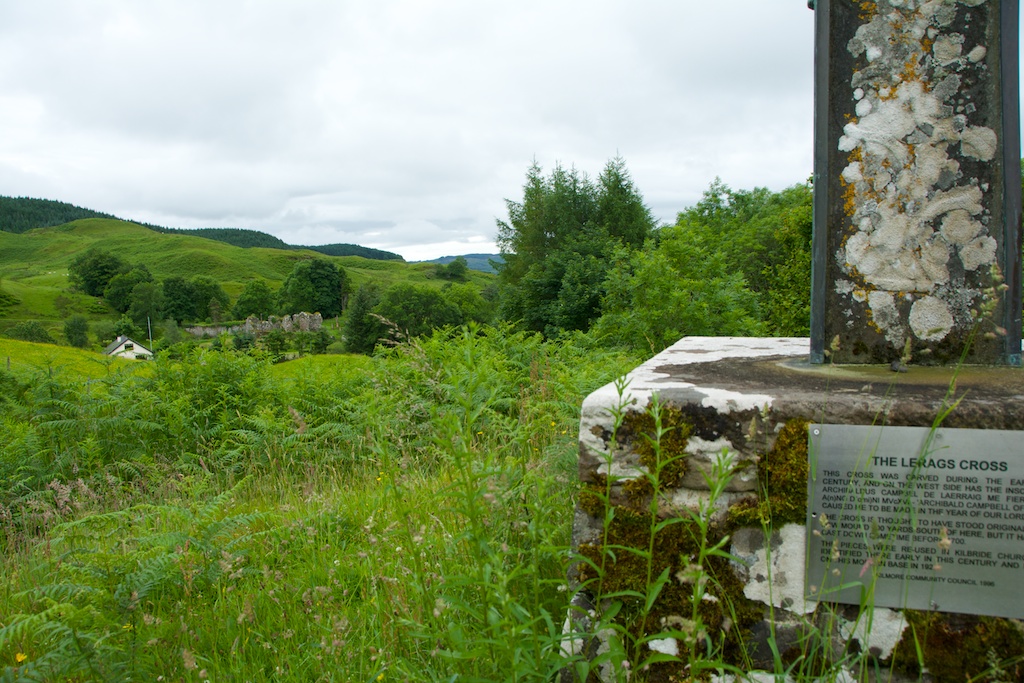 From the little mound on which the cross stands, you can gaze down into the valley to the south-west where the ruins of old Kilbride Kirk are visible among the trees. This was our next stop, and how delightful it was.  I'll tell you more in my next post!
Sources & reference:
Photos copyright © Colin & Jo Woolf