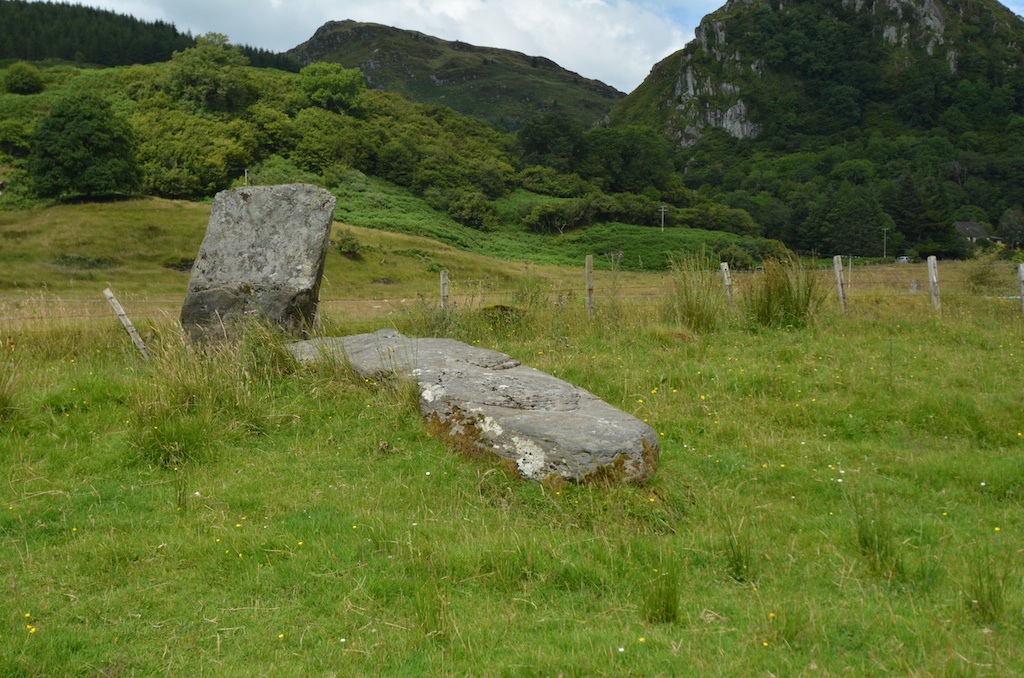 Standing stone near Loch Ederline
From the village of Kilmichael Glassary in Argyll, a minor road winds its way north-east then almost directly north alongside the Clachandubh Burn.  The road has three gates, and after Loch Leathan, which has an interesting little crannog, it looks more like a farm track, but if you persist it brings you out at the south end of Loch Ederline and joins up with a B-road.

This is a landscape peppered with ancient sites: one glance at an OS map reveals a host of cairns, cup-marked rocks and cists (small burial chambers) scattered among the low hills and farm fields. Not far away are the better-known stone circles, alignments and burial cairns of Kilmartin Glen. It's hard to put a foot down without treading on ancient history.

Shortly after turning onto the B-road we noticed a standing stone right by the roadside, on the other side of the wall. We scrambled over the fence, pushing through a cloud of meadowsweet and nettles, and were astonished to find that the stone was much bigger than it first appeared. It stands to a height of about 5'6″, but alongside it is a much longer fragment, about 11 feet in length, which (from the shape of it, and the scars on the stump) must have broken off at some stage in the past. A monolith of 16 feet in height would have been a noticeable landmark, even in a landscape of many standing stones.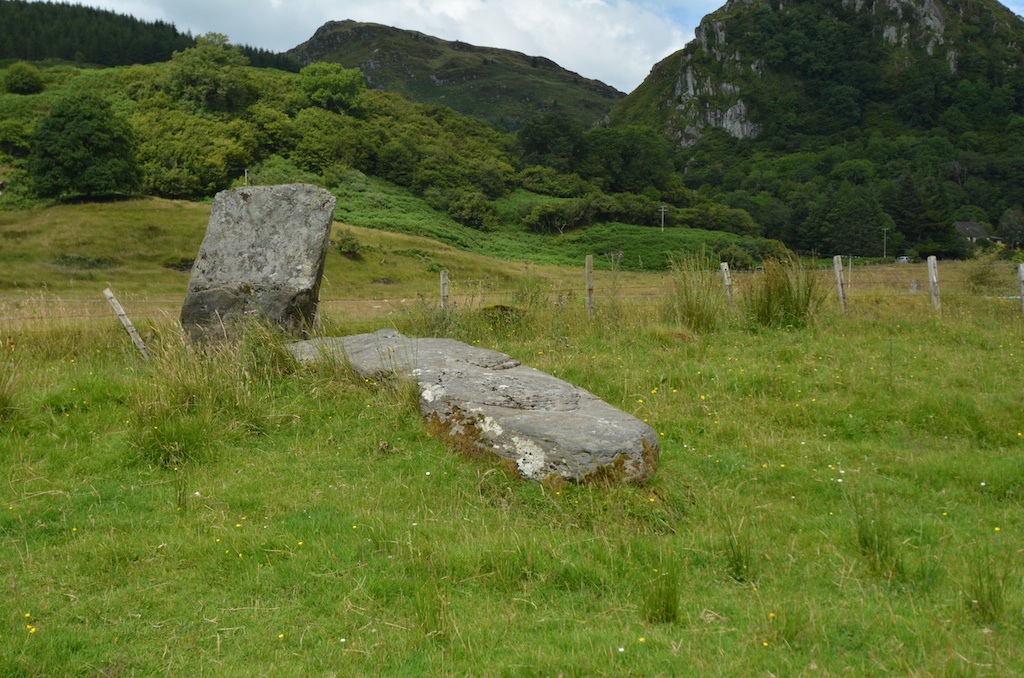 On checking websites when we got back, I read that the stone was blown over and smashed in the 'Tay Bridge Gale' of 1879 – so called because it wrecked the rail bridge over the River Tay and caused considerable loss of life. From this, I would imagine that the entire stone blew over, and the base of it was perhaps put back into place by a local farmer.  I find it hard to imagine a standing stone being felled by a gale. The Tay Bridge was exposed and vulnerable, but monoliths have been rooted in solid ground for millennia. It must have been a truly horrific storm.

A number of rounded cobble stones were showing through the grass, reminding me of the cobbles that cover the sites of Dunchraigaig and Temple Wood in Kilmartin. I wondered if these had perhaps been used to pack the stone when it was first buried, and had been uprooted when it fell. But that is just my speculation – they could be from something else entirely.
On the map, the stone itself is called Creagantairbh Beag, which is also the name of the farm close by. I don't know the full Gaelic translation*, although 'creagan' appears to mean 'alder' and I know that 'beag' is 'small'. If anyone can help, I'd be interested to know!


*Footnote:  My thanks to Margaret Donnelly (in the comments below) for offering the Gaelic translation of Creagantairbh:  'rocks or precipices of a bull'.  Very interesting!
Reference:
Images © Colin & Jo Woolf

Nearby in Kilmartin Glen: