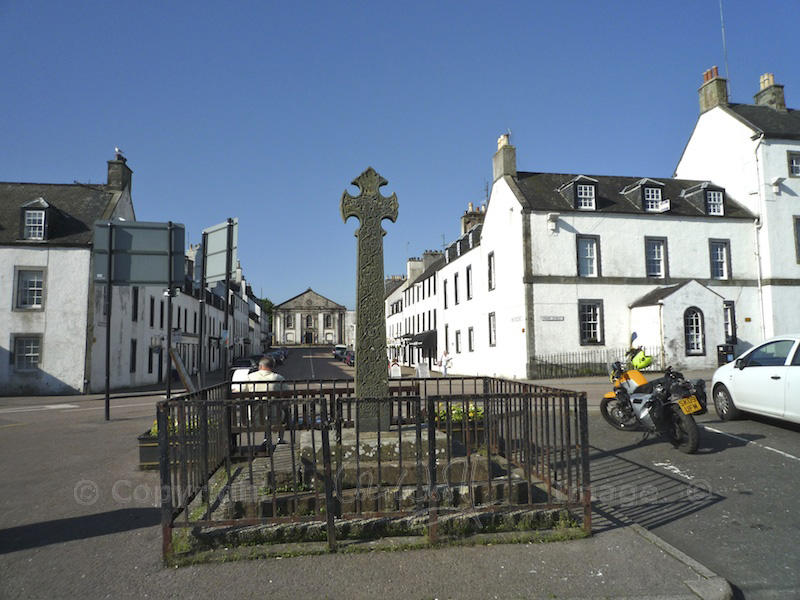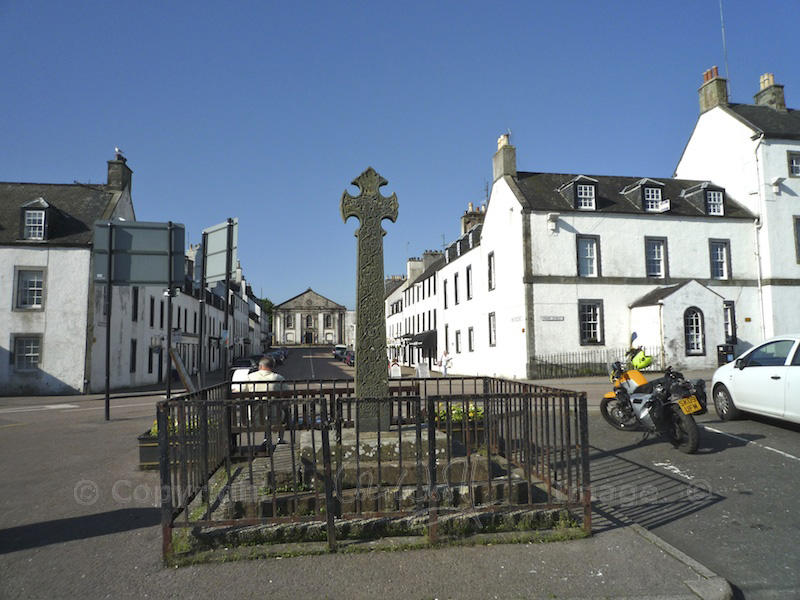 Inveraray, a little town on the shore of Loch Fyne in Argyll, is usually glimpsed as we're passing through, quite often in search of a bite to eat, on our way somewhere more distant like Oban, Tarbert and Kennacraig, or, more recently, Loch Sween and Kilmory.
But Inveraray deserves more than a passing glance, not least because of the wonderful old cross that stands on the harbour.
This is a late medieval cross, beautifully carved with interwoven vine stems in a style I haven't seen elsewhere (although I have certainly not seen them all!)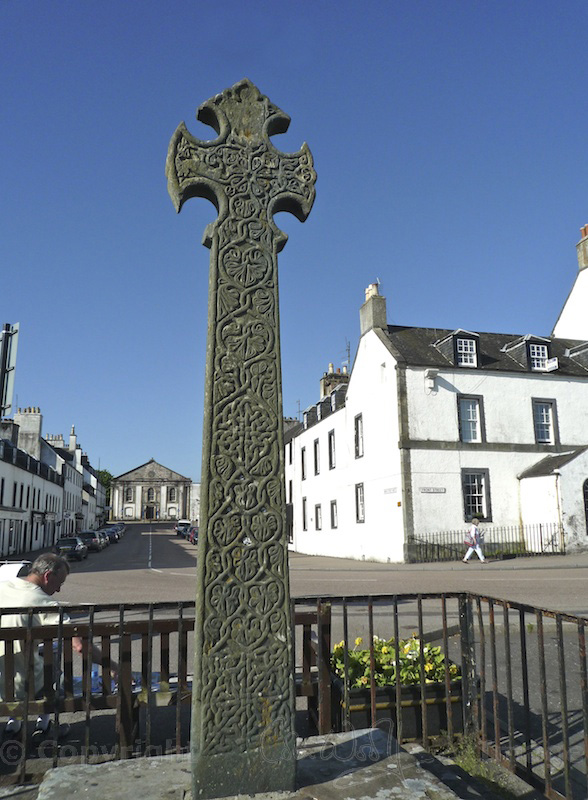 The Royal Commission on the Ancient and Historical Monuments of Scotland describes it as being a 15th century 'mercat' or market cross, and reproduces the inscription on the side of the shaft:
"Hec est crux nobilium virorum videlicet Dondcani meicgyllchomgan Patricii filii eius et Maelmore filii Patricii qui hanc crucem fiere faciebat."
Since I spent much of my sixth form years avoiding Latin, I'm grateful to the website Am Baile for this translation:
"This is the cross of noble men, namely Duncanus MacCowan, Patricius, his son, and Mael-Moire, son of Patricius, who caused this cross to be made."
That's quite a long inscription for any memorial, let alone a slim cross, and it is amazing that the words have withstood the weather for long enough to be legible.
The inscription is useful, because it leads historians to believe that the cross originally stood in a burial ground – but the exact position of this might remain a mystery.  This is because, in 1745, it occurred to the 3rd Duke of Argyll to move the entire village of Inveraray from its original site, between his castle and the sea, and re-position it half a mile or so up the shore.  As you can imagine, this didn't happen overnight – but by 1800 much of the work was complete, and (I'd like to think) the villagers had been comfortably re-housed.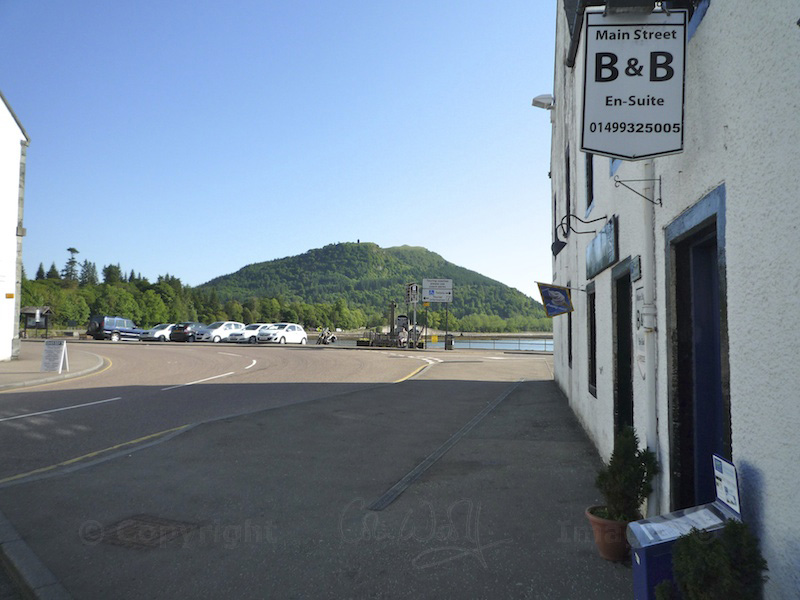 This is why the town of Inveraray, as it now stands, dates almost entirely from the late 1700s;  and it has been preserved in this form, with its right-angled layout of streets and white-harled houses and shop fronts, right up to the present day.
As for the cross, I guess it was lucky to have survived at all.  The RCAHMS notes that it was set up in the new town after "a long period of neglect", and adds that "…the crucifix has been defaced, and a figure of St Michael has been chiselled away from the back of the upper arm of the cross."
The reason for this damage isn't made clear, but I would suggest that it might have happened during the Reformation around 1560;  alternatively, it could have been done 100 years later, by troops loyal to Oliver Cromwell.
Despite its quite prominent position, the cross is easily overlooked on Inveraray's busy harbour, and it looks a little out of place there.   I can imagine it standing guard over a religious site, possibly an early Christian chapel or monastery, in a field that is now probably engulfed by bracken or overgrown with trees.
It could surely tell us some stories, particularly of the father, son and grandfather of the MacCowan clan whose names it bears.  We just need to learn to listen!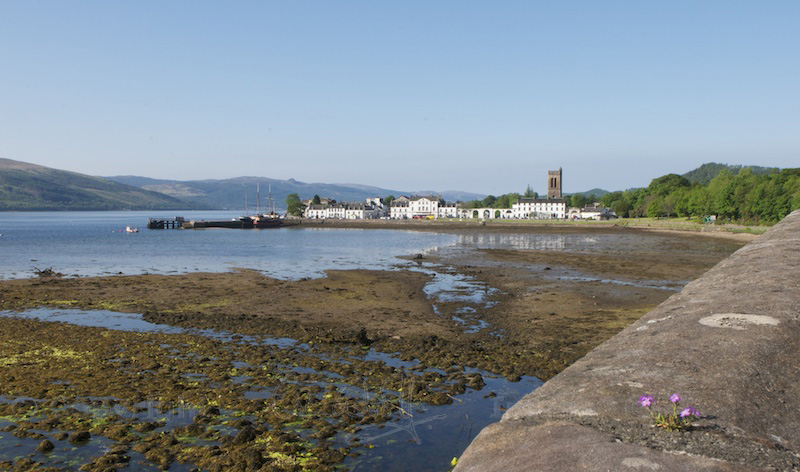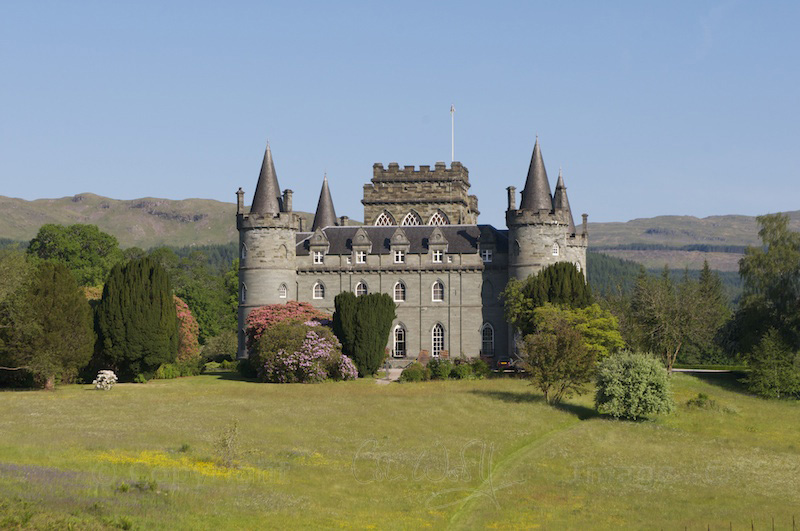 Sources:
Photos copyright © Colin & Jo Woolf
Do you love ancient crosses?   Here are four more wonderful examples…

You can also read more about Inveraray, one of the prettiest towns in Argyll.