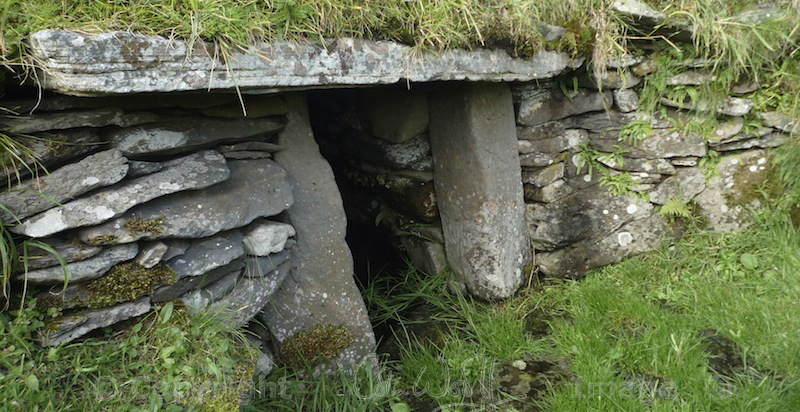 The Garvellachs: just below the surface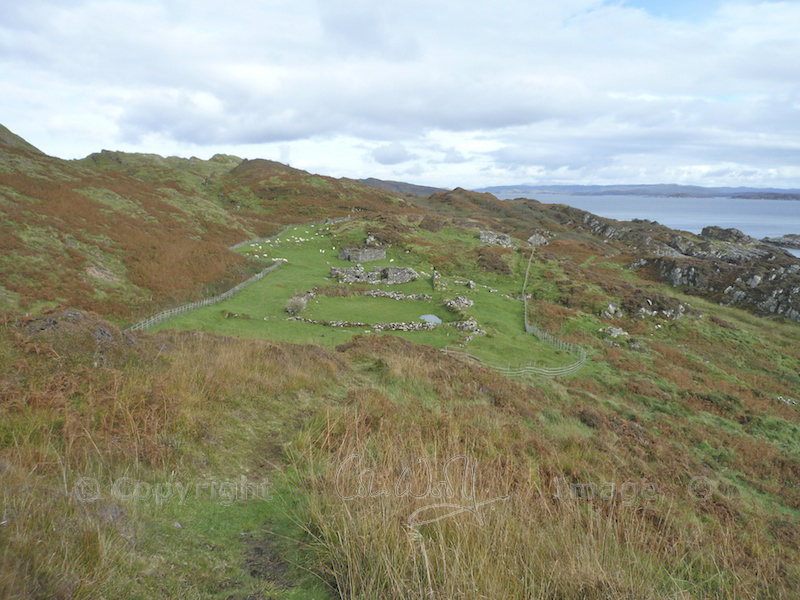 I've written about the Garvellachs before on The Hazel Tree;   quite simply, it is a place like no other.  In the 5th century these beautiful, wild islands were inhabited by Christian missionaries from Ireland who set up beehive cells there, and lived life on the edge – the edge of paradise, and the edge of civilisation.
Most of the remains on Eileach an Naoimh, 'the isle of the saints', are immediately visible, even though the landscape is trying to reclaim them, but one intriguing structure is not.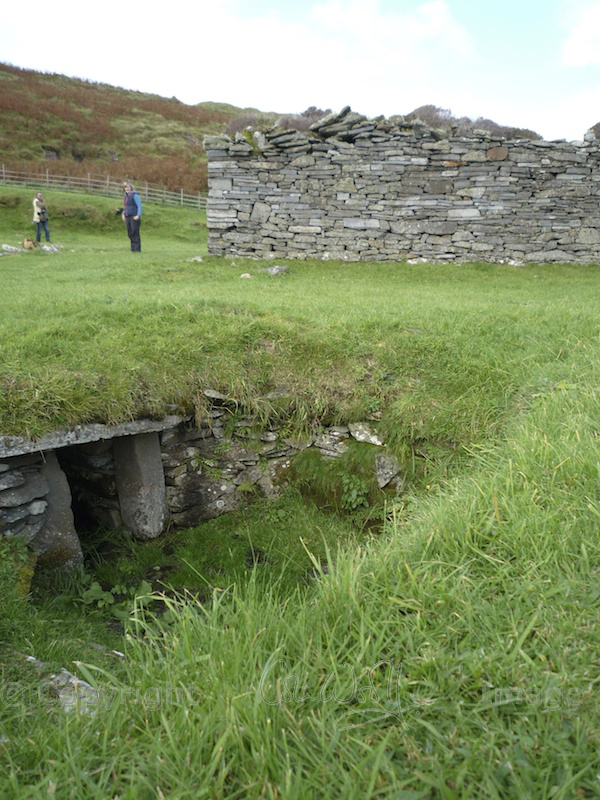 This is an underground chamber or souterrain, and it is set into a flat area of beautifully lush grass just in front of the medieval chapel.
I am quite fascinated by underground chambers, even though they give me the heeby-geebies once I'm in there.   The good thing about this one is that you don't need to crawl inside to appreciate it.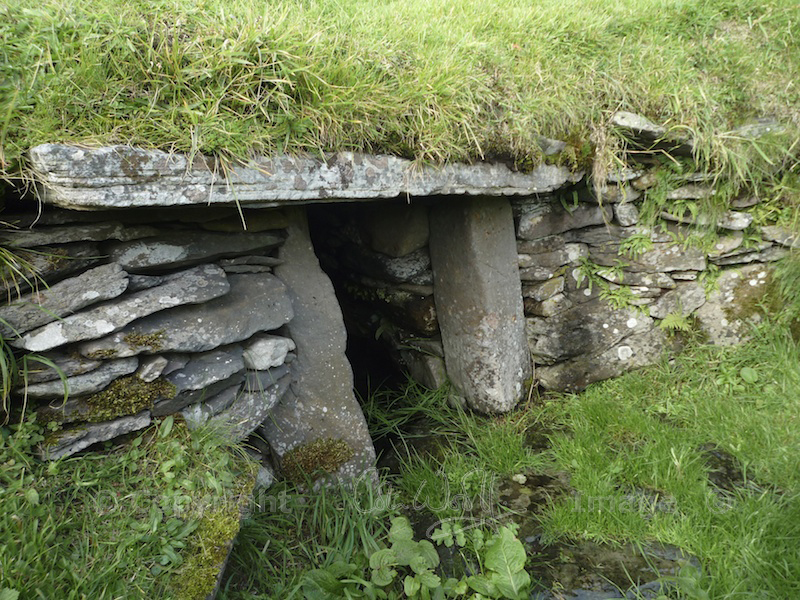 There is a roofless outer chamber – now little more than a hollow in the ground – with steps set into the side.  A large flat lintel covers the entrance to an inner chamber.   Inside, the roughly dome-shaped 'room' is just under six feet high by about four and a half feet across.  The floor and walls are roughly paved with stones, and all the surfaces are moist with water.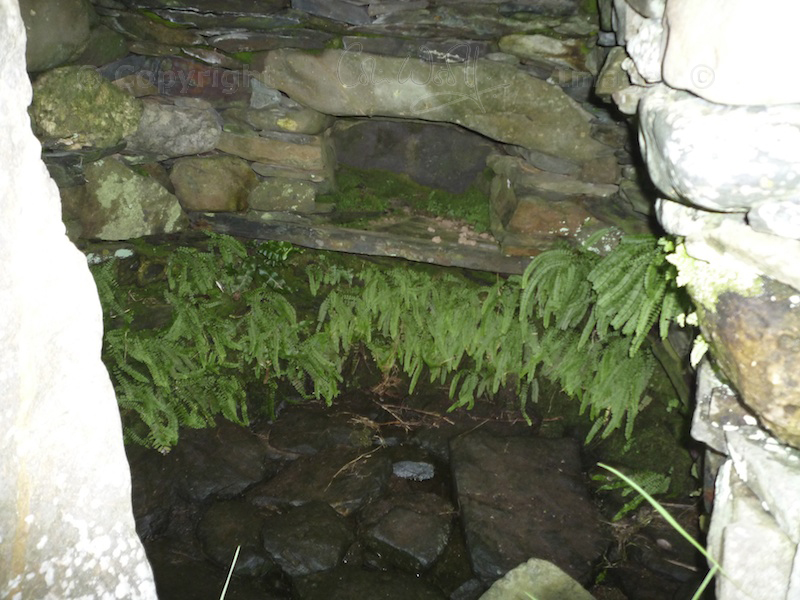 Inset into the far wall is an 'aumbry' or recess, with its own little lintel and sill.   Immediately, you wonder what this cubby hole was used for.  Keeping things cool, perhaps?  Butter, milk, meat?  Maybe it was a kind of shrine for precious relics?
The RCAHMS, Scotland's authority on ancient monuments, has a third suggestion to offer:   "It is probable that both chambers were used for storage, although… the suggestion of a penitential use cannot be discounted."
Penitential?   Don't tell me that someone was walled up here, because I'm not going to think about that.   But I know from reading elsewhere that monks of this period would take themselves off into a kind of self-imposed solitary confinement, to be alone and silent for long periods of meditation.   This reminds me that I have read somewhere about the different forms of penance undertaken by early Irish missionaries:   the voluntary abandonment of your family and homeland was known as 'white martyrdom', as opposed to red martyrdom which involved the shedding of blood.
So… was this a larder, or a sanctuary, or a cell?   I'm inclined to think it was a sanctuary for solitary prayer, although I have nothing to go on except instinct.
The RCAHMS doesn't give a definite date for the construction of the chamber, but from their general descriptions I imagine that it was built around the same time as the first monastic structures on the island, in other words in the 5th or 6th century.
Just a few steps away is the old graveyard, in spring and summer a mass of wild flowers, where a few weather-worn upright slabs mark the last resting places of unnamed people – saints, monks, seafarers, settlers.   It's intensely peaceful, and you can feel your thoughts relaxing as you tune into a gentler pulse.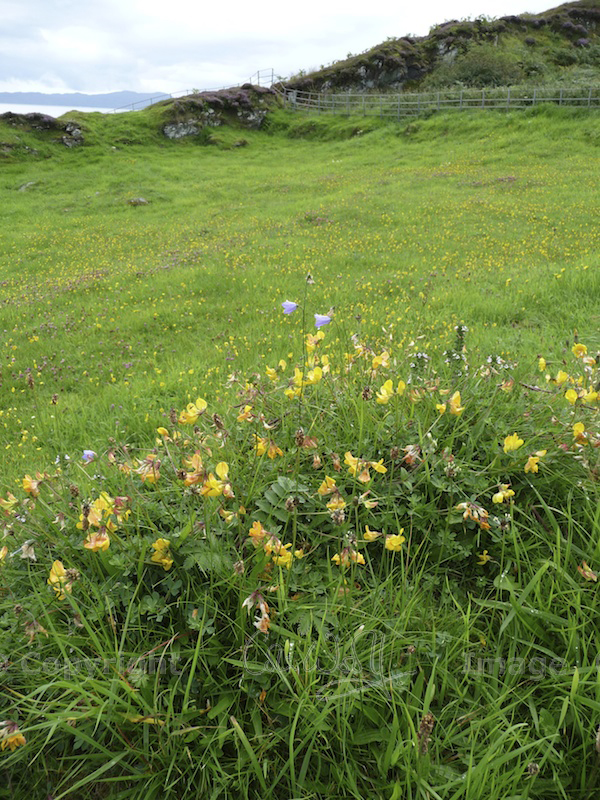 Sources:
Photos copyright © Colin & Jo Woolf
---
Further reading…