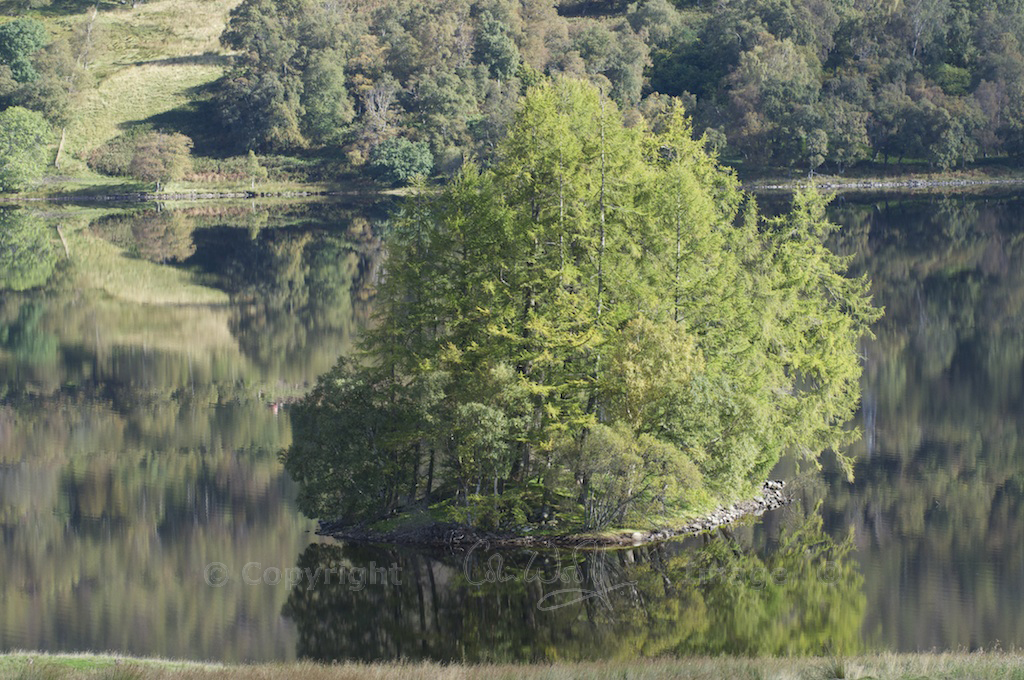 Water makes a great defensive feature, which is why so many castles are surrounded by a moat;   but the early inhabitants of Scotland had another way of looking at this idea.
Instead of digging a moat around a dwelling, they built a dwelling in a loch – either creating a man-made island or adapting a natural one that was in a convenient position.  They built a wooden house on it to protect themselves and their livestock, and connected it to the shore with a narrow causeway.
These island dwellings were called 'crannogs' and they are dotted around western Scotland and Ireland.   There is debate about where the word 'crannog' comes from, but the most likely origin is the Old Irish crannóc, meaning a wooden structure or vessel.
In Scotland, some crannogs are believed to date back to the Neolithic era (see update, below) but most were built during the Iron Age, making them about 2,600 years old.  The excavation of a crannog on Loch Tay has revealed its original structural timbers, together with remnants of food and clothing;   archaeologists even discovered a butter dish with traces of butter.
Finding crannogs
Open an OS map of anywhere in Argyll, Perthshire or the Highlands and look at the lochs:  it's highly likely that you'll find a crannog.  Scotland has about 600 recognised crannogs, but there are probably many more awaiting discovery.
The vast majority of crannogs were built in inland lochs;  well known examples include Loch Ness (Cherry Island);   Loch Sguabain and Loch Frisa on the Isle of Mull;   and Loch Awe, which has about 20.
At Finlaggan on Islay is the ancient seat of the Lords of the Isles, a stronghold that was spread over several islands in Loch Finlaggan.   One of these, Eilean Mhuireill, is believed to be a crannog.
Quite often, crannogs remained in use long after their original construction – in fact, some were occupied until the early 1700s.  In Aberdeenshire, it is recorded that the Scottish family Burnett of Leys lived on a crannog in the Loch of Leys (now drained) from the early 1300s until the mid-1500s, when they built Crathes Castle.
Loch Tay has many crannogs, as a search of the RCAHMS website will show.   The most easily visible is Priory Island, a wooded crannog at the north end near Kenmore;  this was joined to the shore by a causeway, which is now submerged.
In 1122 the island was granted by Alexander I to the monks of Scone Abbey, and it is here that a priory was built and Alexander's Queen, Sybilla, was buried.  In 1492 the island was given by James IV to Sir Duncan Campbell of Glenorchy who, according to the 17th century 'Black Book of Taymouth, '…biggit the great hall, chapel, and chalmeris [chambers] in the Isle of Lochtay' before his death in 1513.  The ruins are still on the island.
On the eastern side of Loch Tay, just south of Kenmore, is the Scottish Crannog Centre, where visitors can step back into the Iron Age inside a reconstructed crannog.
So what links crannogs with the other Iron Age structures of Scotland, the massive stone-built brochs such as Dun Carloway on Lewis and Dun Beag on Skye?   One source speculates that more brochs occur in the north-west of Scotland because stone was more abundant here than wood.   But, to me, that doesn't seem to answer it completely.   Admittedly, brochs did come later than crannogs, most dating from around 100 BC to 100 AD;  but I would still like to know if there is any link, or whether the two ideas evolved separately.   If you're an expert in this field, I'd be pleased to know your thoughts.
Meanwhile, if you're exploring the lovely lochs of western Scotland, keep your eye open for crannogs!
Update, 14th December 2016:   As shown in the BBC series 'Digging for Britain', recent underwater exploration of two lochs on the Isle of Lewis – Loch Arnish and Loch Langabhat – has yielded fragments of Neolithic pottery, convincing archaeologists that the crannogs in each loch were built in the Neolithic period, not the Iron Age.  This evidence pushes the history of these crannogs back a further 2,000 years, and it is natural to wonder if other crannogs, once believed to be Iron Age, are hiding similar origins.   Do the text books need to be re-written?  Read more on the University of Reading blog, and the Newsletter of the Prehistoric Society.
Sources:
'The Buildings of Scotland: Perth and Kinross' by John Gifford
Photos copyright © Colin & Jo Woolf
Further reading:

If, like me, you love delving into the dwellings of the distant past, take a look at these features on The Hazel Tree:

Dun Beag – an Iron Age broch on the Isle of Skye
Dun Carloway – an Iron Age broch on the Isle of Lewis
Finlaggan – ancient seat of the Lords of the Isles