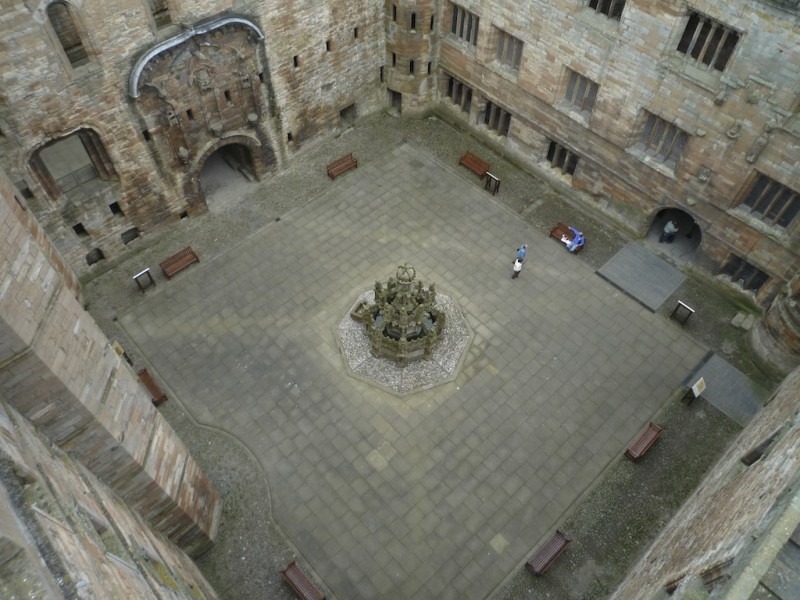 In a nutshell: the Linlithgow Palace fountain
 Where wine once flowed like water…

Built by James V in 1538, this ornate fountain graces the courtyard at Linlithgow Palace.

Standing over 16 feet high and designed to reflect the supreme power of the king, it was probably fed by an underground water supply which was piped up to the carved crown at the top.

Water fell from the crown – suggesting the king's benevolence – into tiered bowls and out through rows of spouts shaped like mythical beasts and human heads.  One of them is said to represent James V disguised as a peasant or 'gaberlunzie'.

When Bonnie Prince Charlie visited Linlithgow in 1745, the fountain was made to flow with wine. This was probably not the first time it had happened – another source suggests James V had the same idea, on his marriage to Mary of Guise.

In 2007 the fountain was restored by Historic Scotland, so that water can now flow through it again, although it is not kept running because of the risk of erosion.
Sources:
Photo copyright © Jo Woolf
---
Linlithgow Palace… birthplace of Mary, Queen of Scots
Linlithgow Palace has a long and fascinating history!  You can read more in this feature on The Hazel Tree.