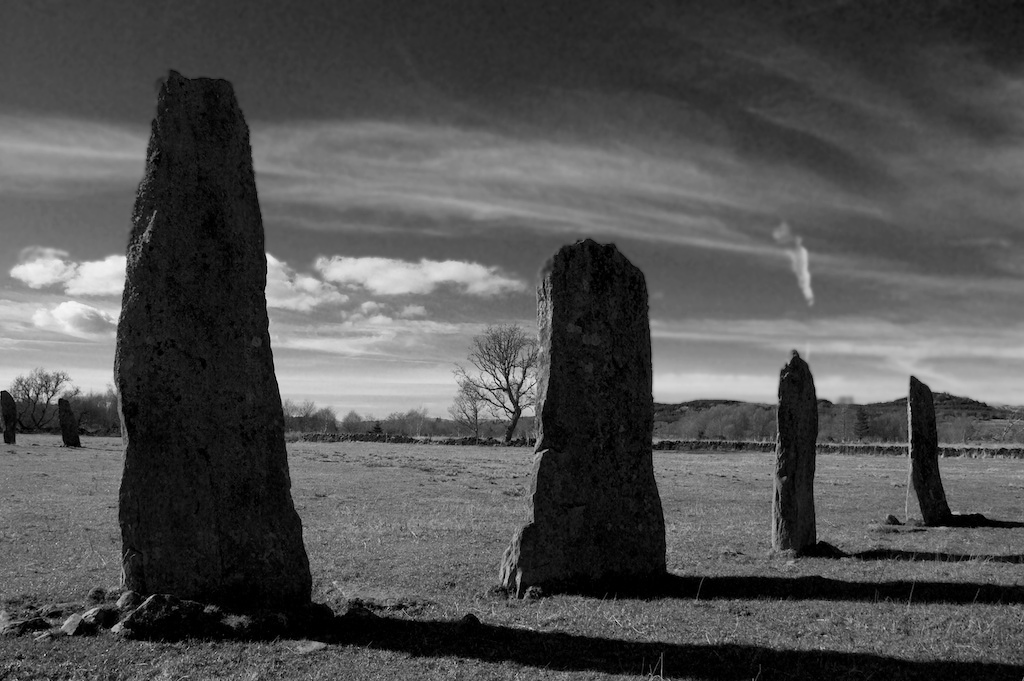 The Ballymeanoch stones, Kilmartin Glen
Kilmartin Glen is the most remarkable place, full of ancient sites such as Dunchraigaig burial chamber and the Nether Largie standing stones, guarded to the south by the hill fort of Dunadd.
I'm now going to show you a few more sites, starting with this impressive stone row at Ballymeanoch.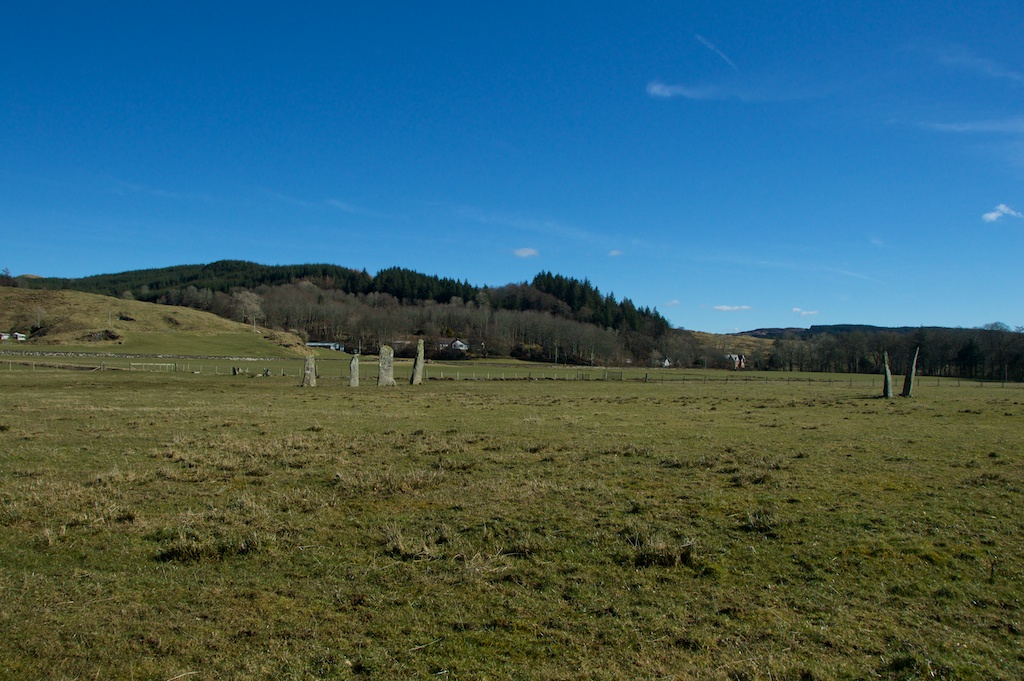 The stones appear almost out of nowhere, blending into the field from a distance and then rising up in stark profile against the sun as you get closer.   There are six stones in all, set in relatively straight lines of two and four which are aligned approximately north-west to south-east.  The tallest is 12 feet high, and some of the others must be approaching this height;   up close, they have quite a presence.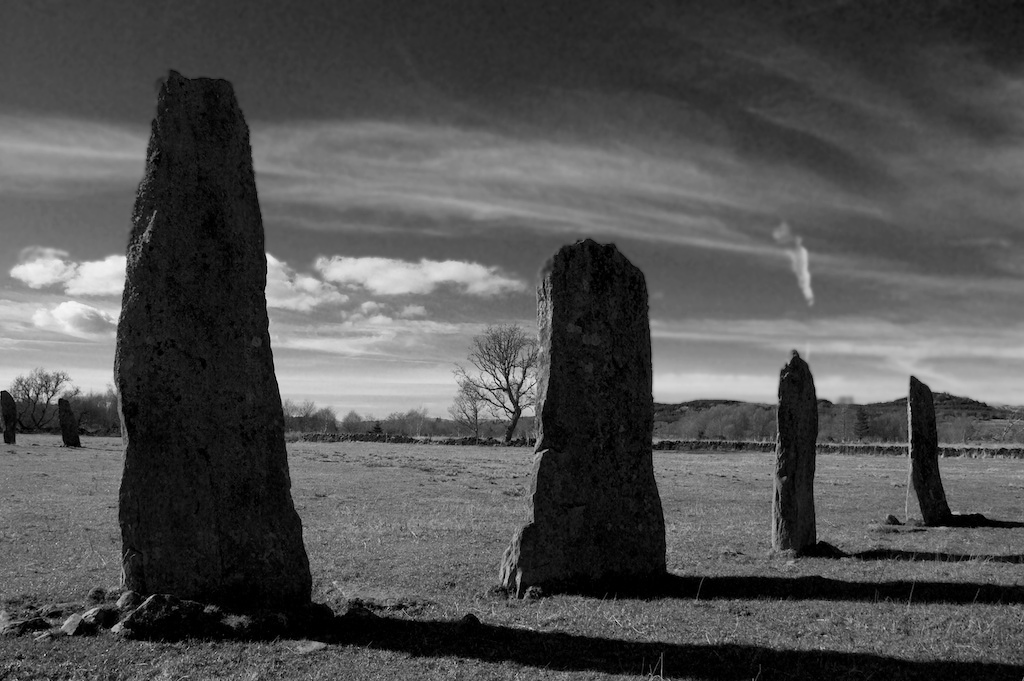 I've visited quite a few circles and rows, and sometimes they strike me as 'masculine' or 'feminine'.  Ballymeanoch seemed distinctly feminine, and to me there seemed to be quite a joyful 'fizz' in the texture of the stones.
When I went round to the south side of the four-stone row, I was thrilled to see the rich 'gardens' of lichen that each one has growing on its face.  What a profusion of feathery green and silver, thriving on a surface that has stood to welcome the sunrise for thousands of years.   The two middle stones are riddled with cup-marks, difficult to see unless you catch the shadow.   One of the others was curiously lined, although whether these lines are man-made or natural is open to interpretation.
The most southerly midsummer full moon rises in line with the two standing stones, while the midwinter sun rises in line with the four stones." 
Historic Scotland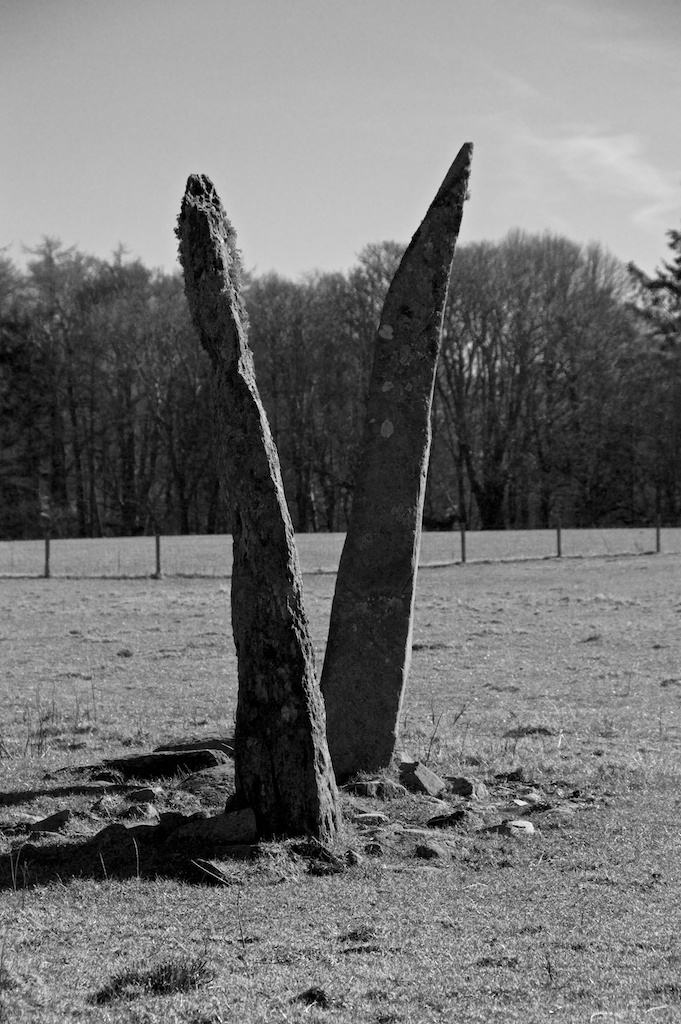 The row of two, seen edge-on
According to the information sign, there was once a seventh stone further to the north-west.  It was pierced with a hole, and, in an age-old tradition, two people would clasp hands through it to seal a betrothal.  A local archaeologist, Marion Campbell (1919-2000) remembered looking through it when she was a child.   This stone toppled over during a storm in 1943, narrowly missing a Shetland pony which had been sheltering against it.   Marion recalled that "the poor beast was nearly scared to death."
It's interesting to consider what significance this pierced stone might have had, in relation to the others;  and to wonder who might have been watching the heavens… and for what.   Historic Scotland suggests that all the stones may have been prised from outcrops that had been decorated with cup and ring markings 1,500 years earlier.  But why?  Why not decorate the stones once you'd got them out?  (If you have any ideas about this, please feel free to share them!)
Cremated human bones were found in the pit where the pierced stone had stood;  they date from between 1370 and 1050 BC, and the RCAHMS considers that they were "probably buried as a foundation deposit when the stone was erected."   After the stone fell over, the broken fragments were moved nearby, and I may have stumbled across the pierced section without knowing what it was.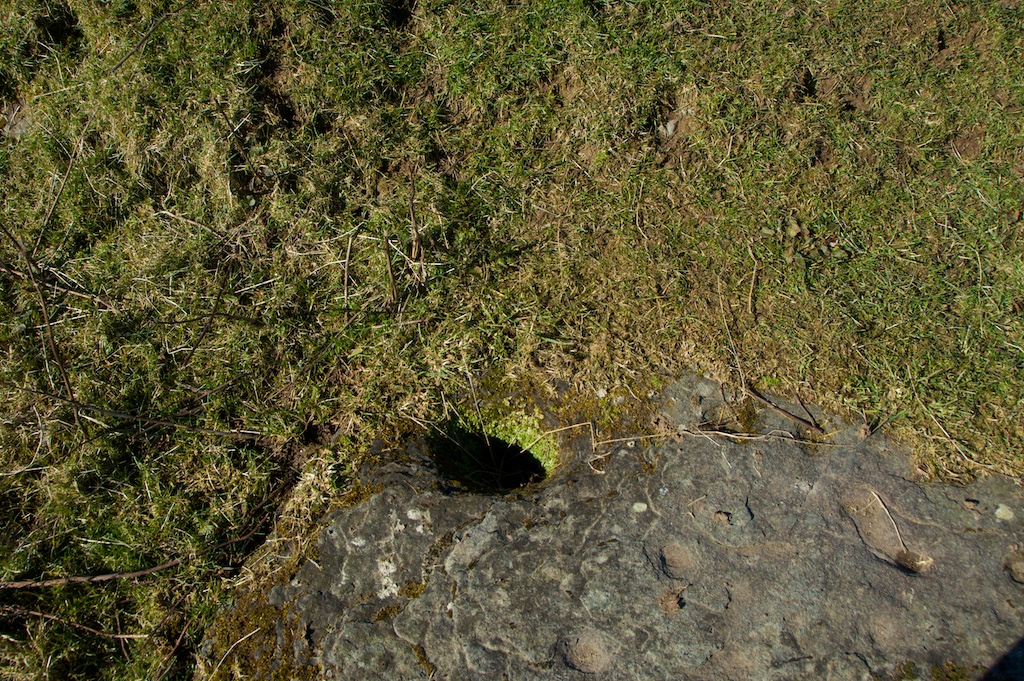 About 20 yards or so from the stone rows (and very close to the pierced fragment) is a kerb-cairn consisting of about 10 smallish slabs set upright in a rough circle, with a mound of grassed-over rubble or stones in the centre.   There's nothing to say how many stones would have stood here originally, and I can find no record of a burial.  One source suggests a date for the kerb-cairn of between 1400 and 1200 BC.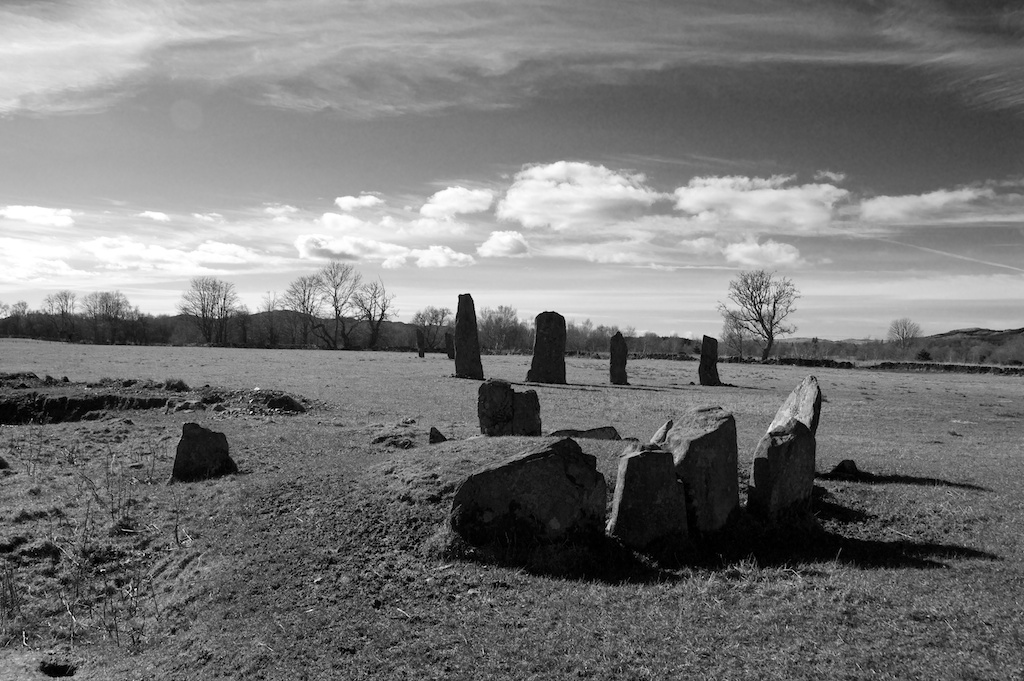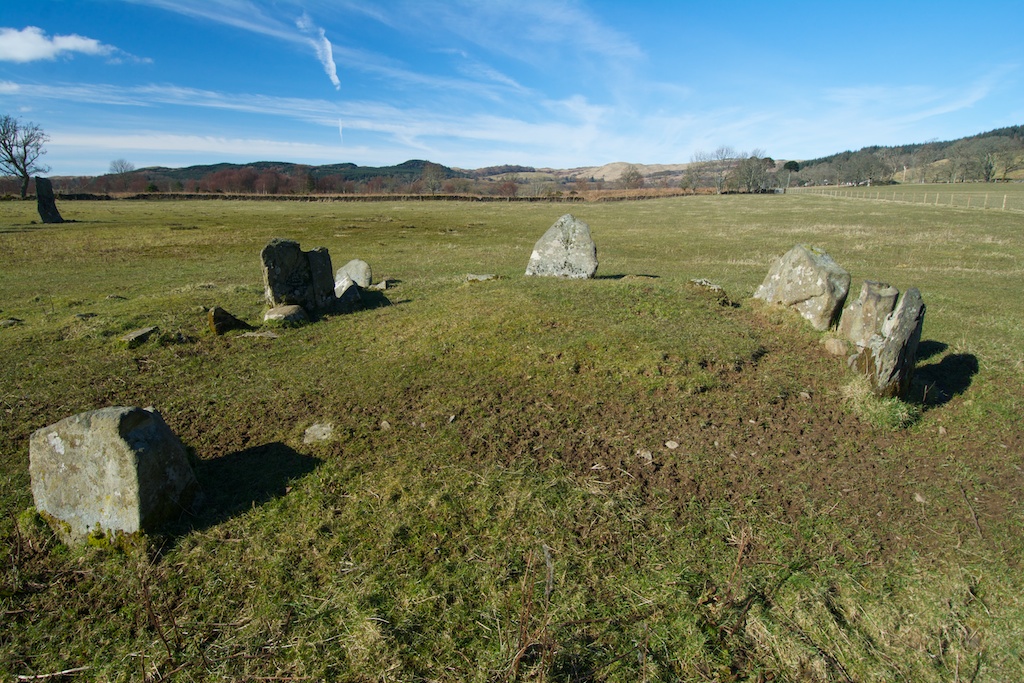 On the northern boundary is an old tree – most likely an oak – which has contorted itself into an interesting shape, as if it's reaching out towards the stones.  It still has a long way to go, but it's making a valiant effort.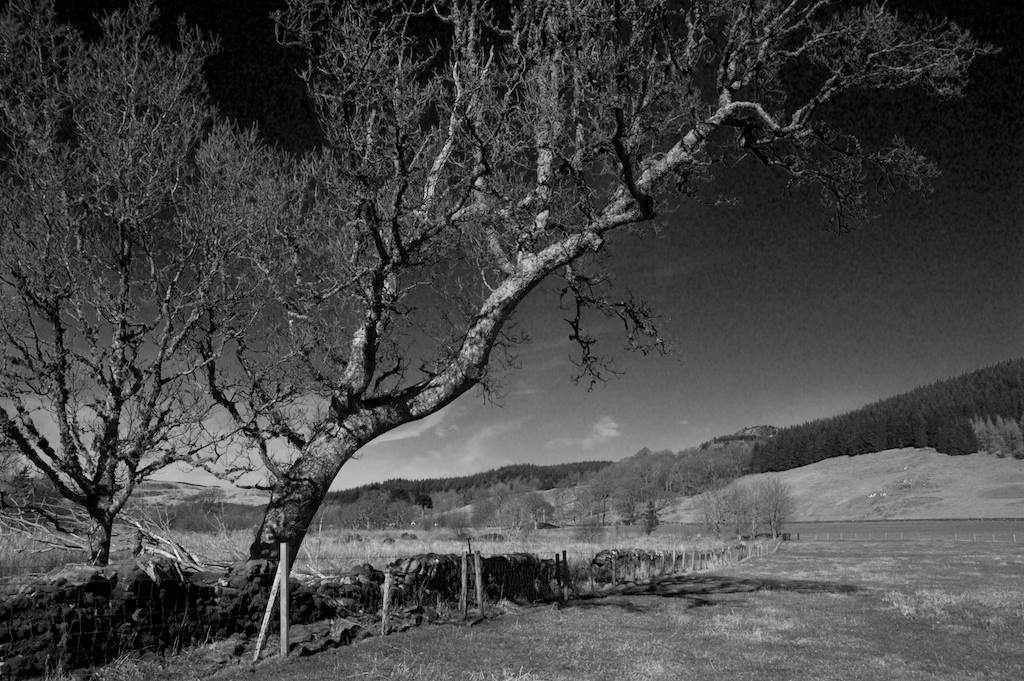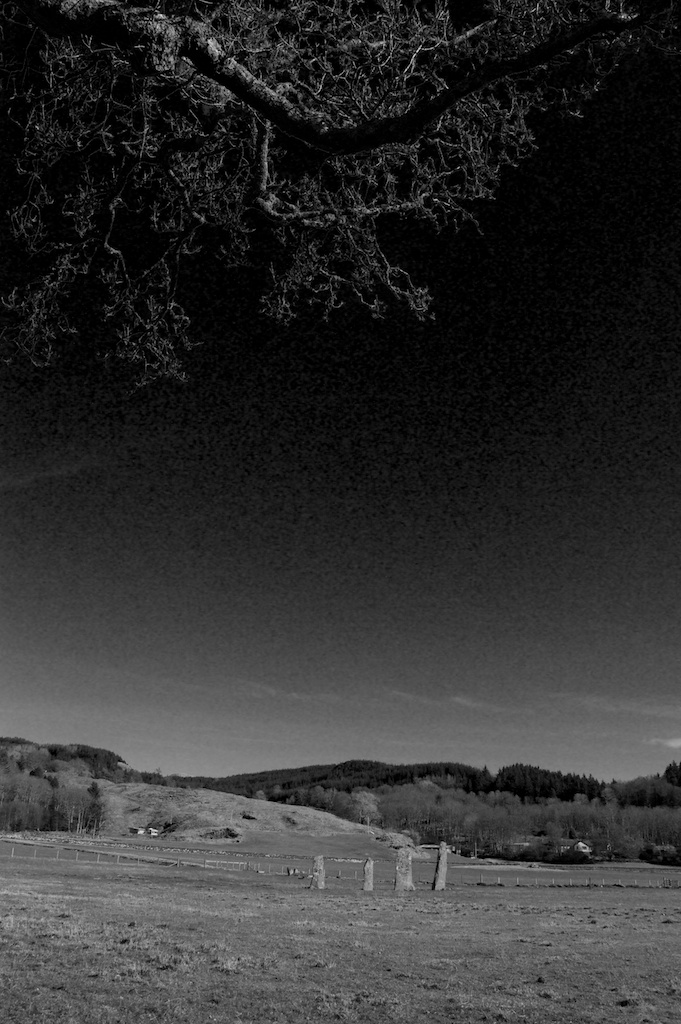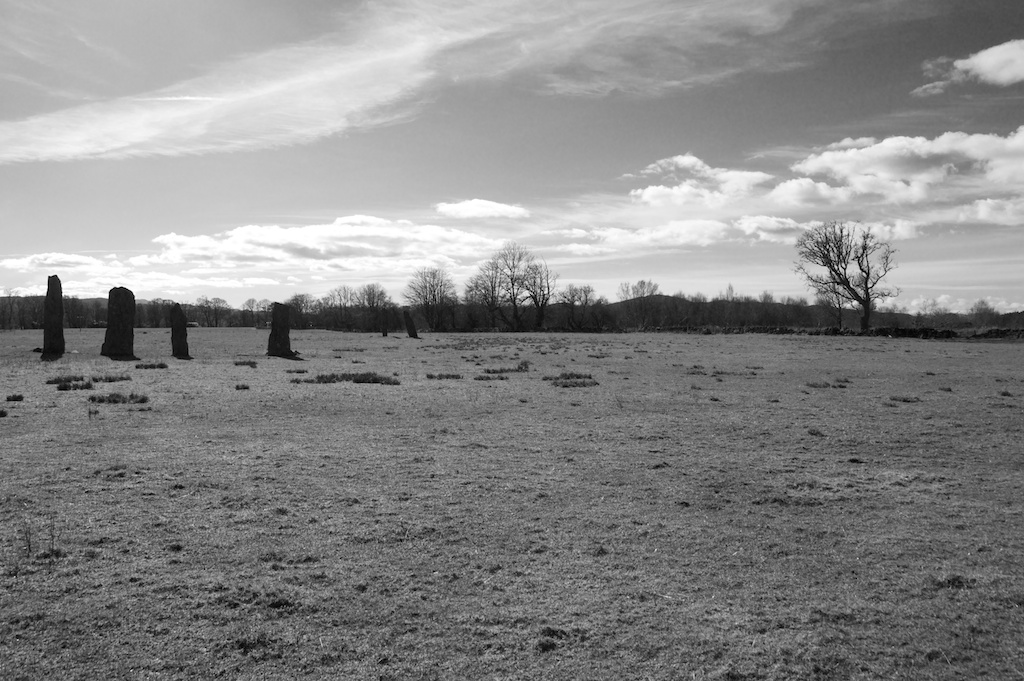 In 1993, a geophysical inspection of the field detected "linear anomalies" on the same alignment as the four-stone row and running to meet them at their south-easterly end.   The RCAHMS observes that "there is a good case to suggest that they represent the remains of a prehistoric earthwork avenue."
Kilmartin is a spectacular place, but it feels reassuringly unchanged, so that you can still feel the undisturbed ancient peace beneath your feet.   It's dream-like on a windless sunny day, but beautiful in all weather:  check out my earlier features on Dunchraigaig and Nether Largie to see for yourself!
Visiting Kilmartin Glen

Temple Wood stone circles

Deservedly called 'Scotland's Richest Prehistoric Landscape', Kilmartin lies about 30 miles south of Oban in Argyll.   Kilmartin Museum contains many artefacts and relics found in the Glen, and is well worth a visit.
Sources & more info:
Photos copyright © Colin & Jo Woolf
Also in Kilmartin Glen: