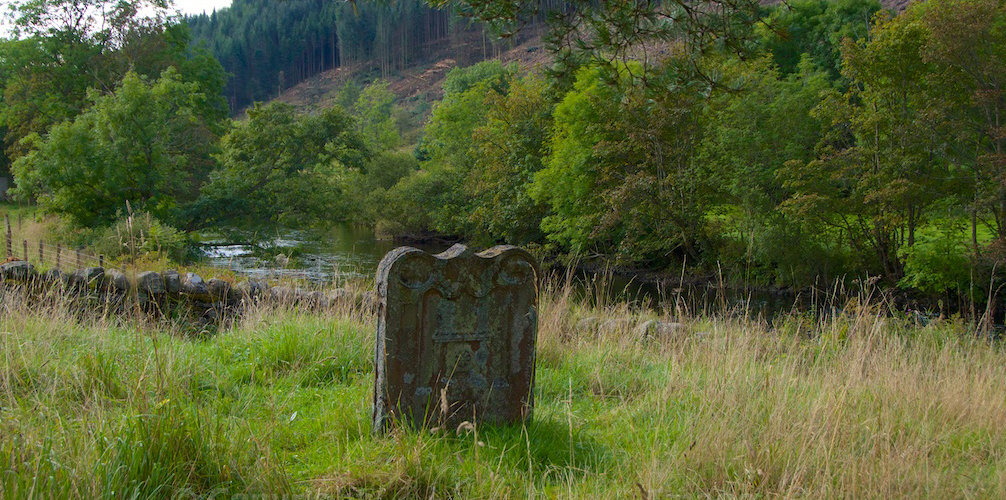 An old graveyard near Callander
As you drive along the A84 between Callander and Strathyre, you catch sight of a small walled enclosure with a rusting iron gate.  You can tell it's a graveyard, because there's one gravestone just visible in the long grass;   but that's all you see, because it's a busy stretch of road with nowhere to pull off, and there's a sharp bend coming up.
I've lost count of how many times we have whizzed past without stopping.   But just recently we managed to remember it well in advance, and we parked the car in a safe place before walking the last 100 yards or so along the verge.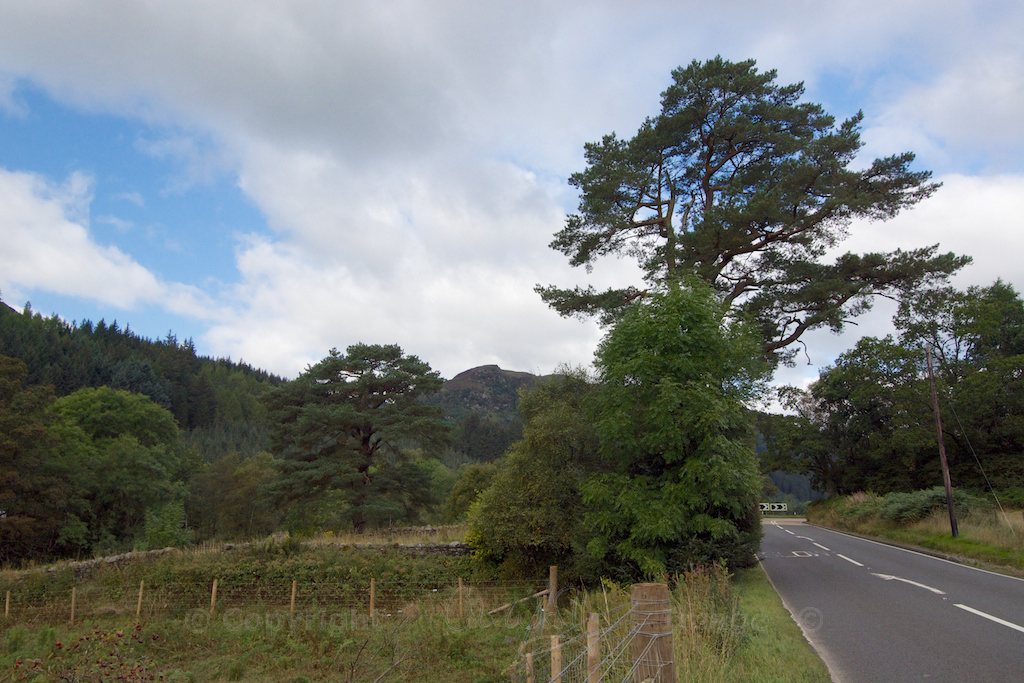 As I pushed open the gate I didn't know what to expect.   The grass in the enclosure had grown very tall, but a few paths appeared to have been been trodden through it recently – perhaps by anglers making their way down to the River Leny at the bottom of the field.
I'd hardly taken a couple of steps when something in the boundary wall caught my eye.   It was a square of dark pinkish stone, placed as if to create a memorial of some kind, with an engraving on a stone beneath.   It said:  "Fragment of cross found near this spot AD 1932".
This woke me up.  It would surely be an old cross if it merited a display like that.  I took a fresh look around, and wondered if there had ever been a chapel.
As I made my way over to the headstone, I realised that I was treading on another grave:  I couldn't see it, but the ground was uneven and hard, with a raised area and then a trough.   I bent to look and found a moss-covered grave slab concealed in the grass.  First one, then another… two, three… there must have been four or five other burials scattered around the enclosure.   They were so well hidden that it was almost impossible to work out their orientation.   I found myself apologising repeatedly to unnamed people for walking on their graves.
Having reached the standing gravestone via a very roundabout route, I studied the carvings on the back.   In the centre is a lovely, simple flower motif – perhaps a clan badge – and in the upper corners are two rams with very finely carved horns.  The scrollwork is elaborate and beautiful.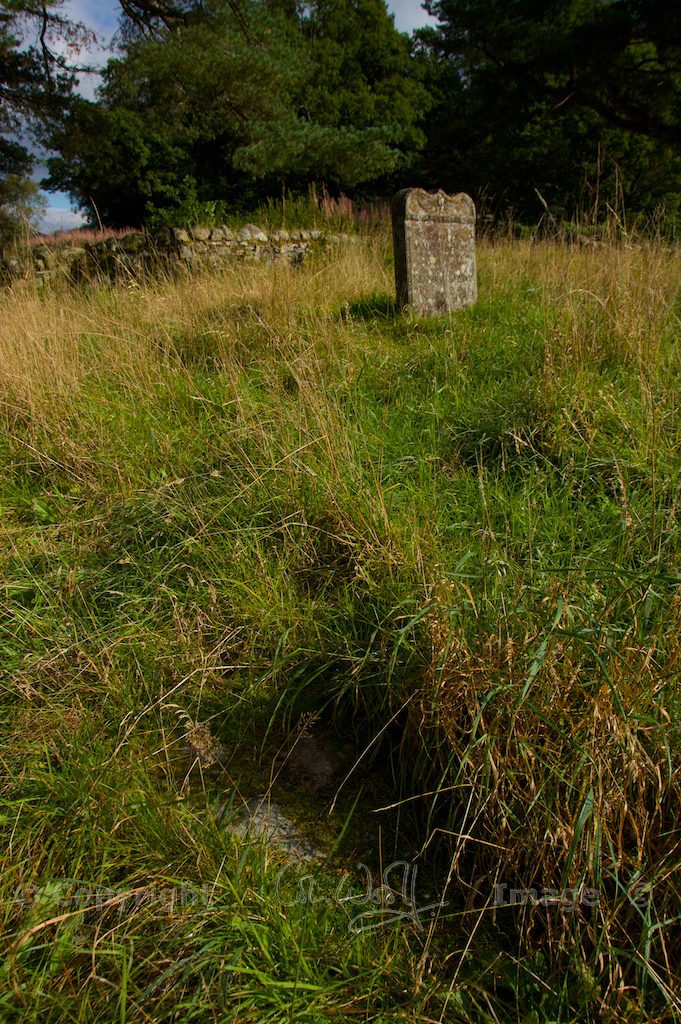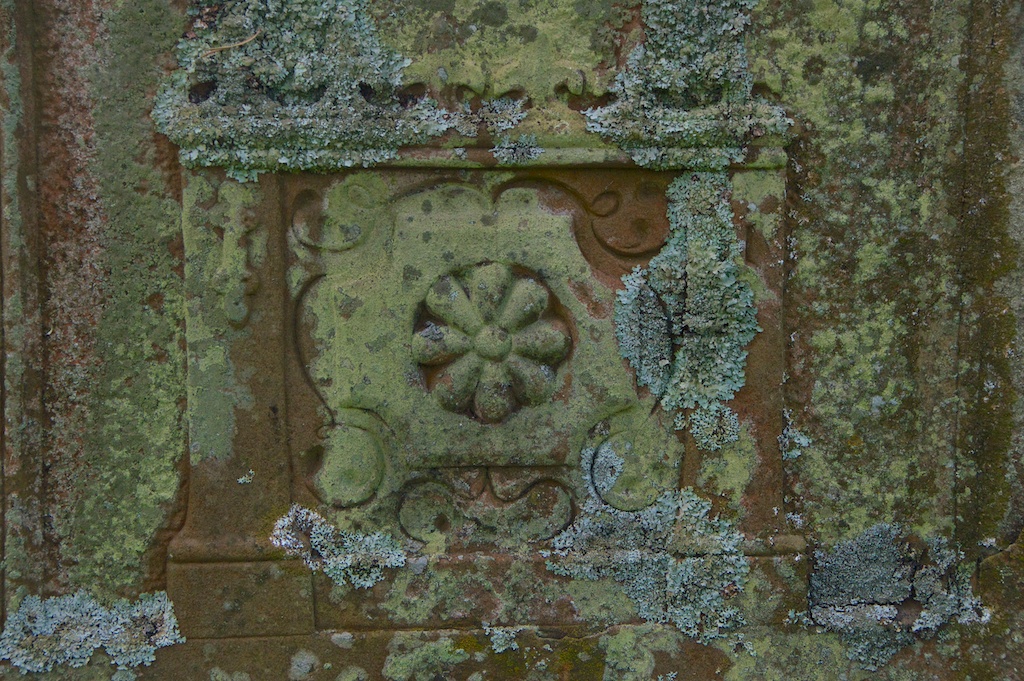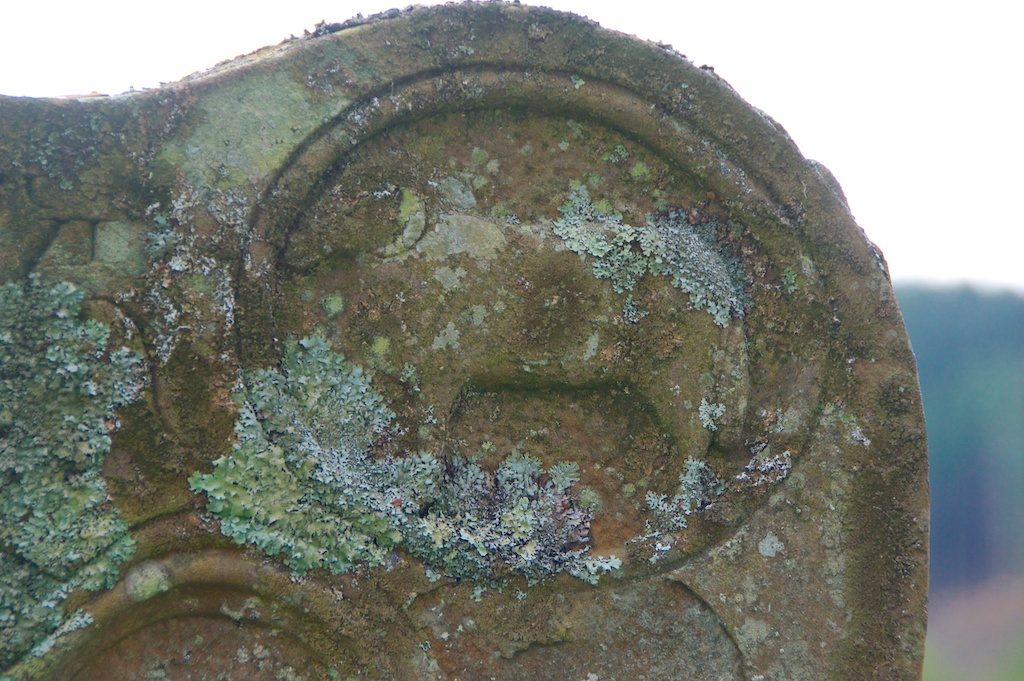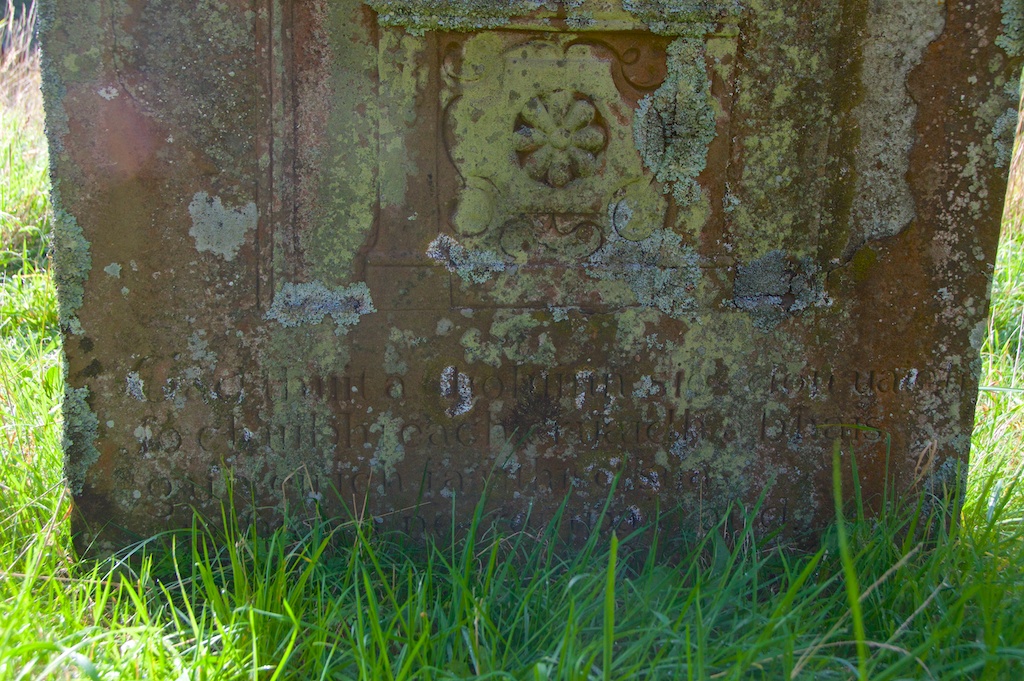 Below all this, almost at ground level, is an inscription in Gaelic.  The words are obscured by weathering and lichen, but I photographed it anyway, in the hope of being able to decipher something at home.   But I believe it's almost too far gone.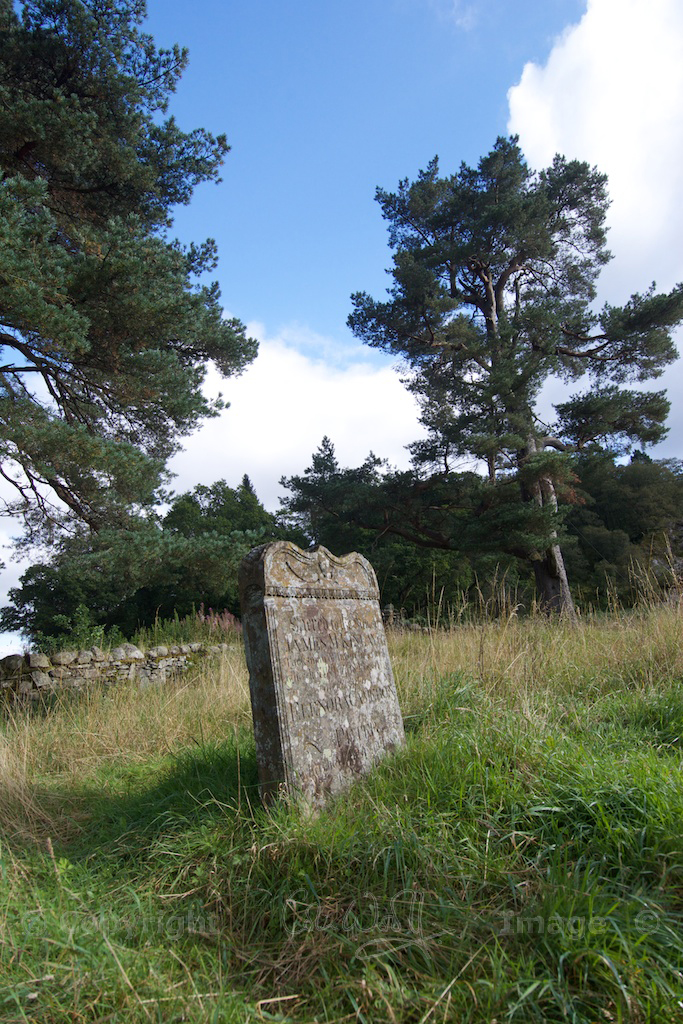 On the other side, the inscription is clearer.   It says: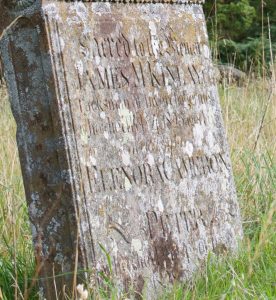 Sacred to the memory of James McKinlay
Tacksman at Inverchagernie
who died Feb 4th 1805 aged 65
[illegible line]
Elenora Cameron
[and their son]
Peter, who died on 4th of June
1828 aged 31
(A tacksman was a tenant who held his land and property from a landlord – possibly the laird – and he may have sub-let parts of it to lesser tenants.)
Although the letters are big and strongly made, once again a multitude of lichens are holding an art festival all over the surface, making the words hard to read.   But the shoulders of the stone are carved with flowing leaves and what looks like a ram's horn, and this is where the lichen really adds another dimension.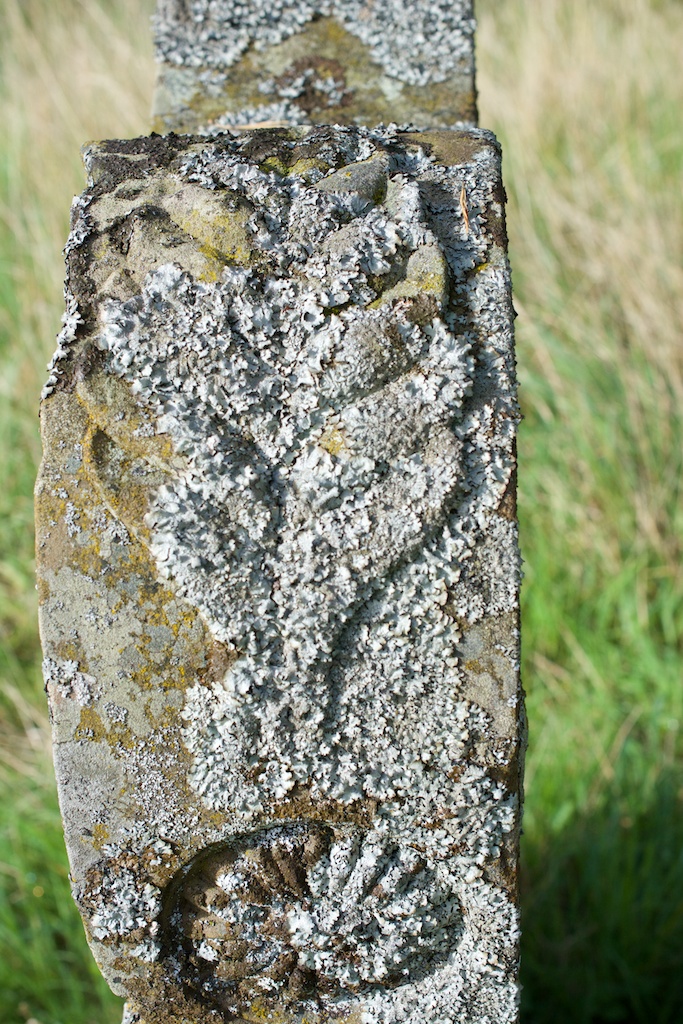 Two huge old Scots pines overlook the site, and when I went to stand under one of them I noticed another interesting stone, set into the southern wall.   This is definitely the same shape and size as other grave markers that I've seen – early ones, possibly inscribed with a cross.   But try as I might, I couldn't make out any shapes or symbols on the surface.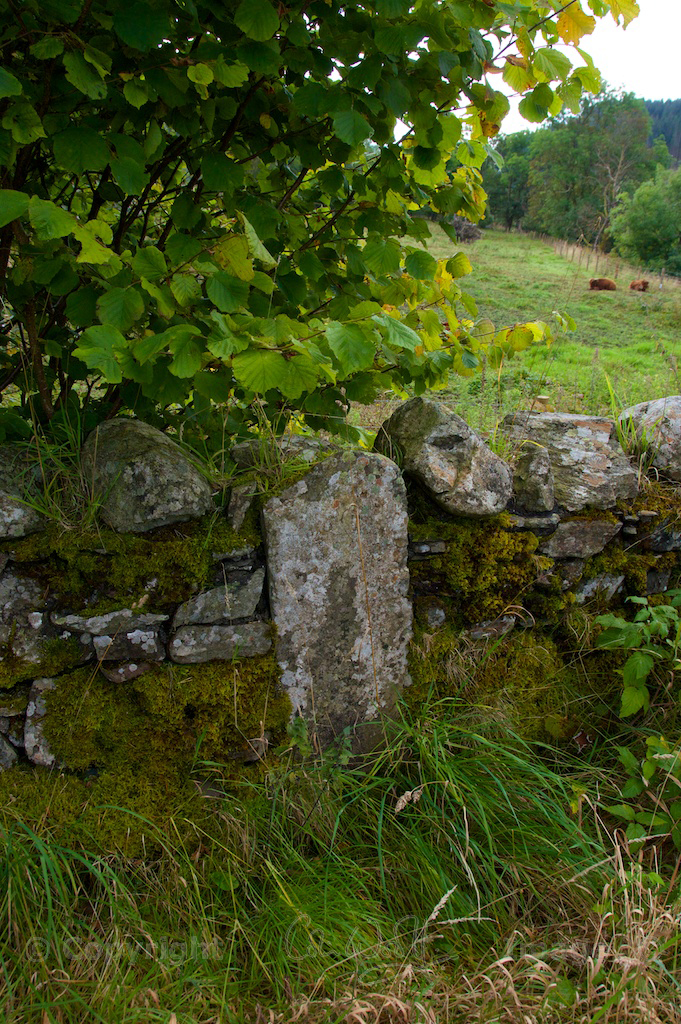 A myriad spiders had spun their webs in the grass, and dew droplets had transformed them into sparkling diadems.  As I picked my way around I was trying not to step on these, in case I tore some kind of fragile veil that time had spun over the ground.  Fanciful, I know – but I felt lumbering, clumsy, an intruder.
Aware once again of the traffic speeding past, we closed the gate behind us and made our way back to the car.  In the adjacent field two Highland cows were lying down comfortably and watching the world go by.   It was a Sunday morning, after all.
It was only when I got home and did some research (and it took quite a while to even identify the site) that I turned up some fascinating nuggets.
Firstly, there was indeed a chapel;   it was dedicated to St Bride.   Chapels of St Bride have a special interest for me, as I'm always drawn to the connection between St Brigit of Kildare, an early Irish saint, and the much earlier pagan goddess known as Brigid, 'the shining one' (the word 'bright' comes from the same root).   Suddenly, 'ancient' history becomes recent, and you're swept back thousands of years, when worship was out of doors, in a stone circle, with the full moon rising.
The second thing I discovered is quite astonishing.   For generations, this graveyard has been the traditional burying place of the McKinlays of Annie, a farm nearby;   and the people who lie in this serene little place are the forebears of William McKinley, 25th President of the United States of America.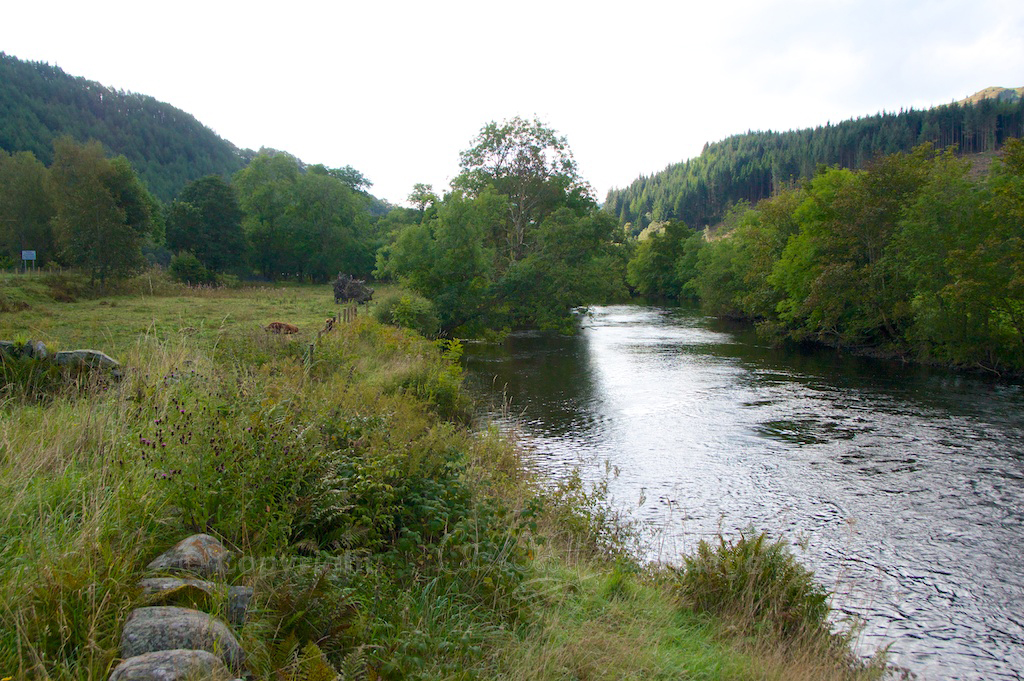 I'm going to publish some extracts from an 100-year-old document that I found online, because it sheds some amazing light on the McKinlays' connections with the New World.
These quotes are from a letter written around the turn of the 19th century by Robert McLaren, in response to a request from a third party to explain the family's links with the US President.  Mr McLaren lived at Annie and his mother was Catherine McKinlay;   it appears she was the last McKinlay to live at Annie, as all the male members of that line had either emigrated or died childless.
From 'The Stirling Antiquary', Volume III

Reprinted from 'The Stirling Sentinel' 1900 – 1903    

"For seven generations the eldest son of the 'Annie' branch [of the McKinlays] was named John, and six of them are buried in St Bride's…"

"The eldest son of Finlay Mor – William, who died in the reign of James VI – had four sons, who settled at the 'Annie' (a corruption of the Gaelic for 'Ford of the Deer');  John was William's eldest son, and his son again, Donald, who was born at 'Annie', was known to be his (William's) grandson.  Donald's son, John, born about 1645, had three sons – Donald, born 1669;  James, 'the trooper';  and John, born 1679.  This is where the President's line breaks off from the 'Annie' McKinlays.  James 'the trooper' went to Ireland, where the spelling of his name was changed to McKinley, as the Irish pronounce it.  His descendants went to America, and the President's descent has been traced… on that line."

"The old churchyard of St Bride's, situated on this farm ('Annie') beside the river Leny, has been the burying-place of all the 'Annie' McKinlays, and contains the tombstone of John, brother of James, 'the trooper'.   This is the inscription on it:  "Here lies John McKinlay and Elizabeth Ferguson*, who died the 30th day of August, 1732, in the fifty-third year of his age."

President McKinley – photo by Brady Handy

"There was originally a chapel at St Bride's.  My mother, who was born in 1794, remembered the gable of the chapel standing when she was a girl.  Sir Walter Scott introduced it in 'The Lady of the Lake'.  The marriage party is issuing from the chapel door, when the 'Fiery Cross', the signal for the clansmen to muster, is put into the bridegroom's hands…"

"The McKinlays were a quiet, intelligent and shrewd race of men.  I was told by a relative of mine, who has seen the President, that there is a strong resemblance between him and one of my uncles, who left 'Annie'.  I myself can see in the portrait of President McKinlay's father a striking likeness to the McKinlays I have known."

– Robert McLaren

[* I assume that the name of Elizabeth Ferguson was added afterwards, and they didn't die together on the same day.   The stone that bears this inscription must be lying down, and covered with grass.]
Although Mr McLaren has now been gathered up to join his ancestors, and I hope is sleeping in some quiet country churchyard, I've got to say that this is the kind of history that strikes directly at my heart.  It's a precious and unique account, spoken by someone who recalls the words of an older relative, who in turn remembers something ancient.  The thread is as fine as spider's silk, but just as strong.  Only when it catches the light can you see it, stretching away into the distance.  You grope for words, try to explain it in logical truth, and the magic is gone.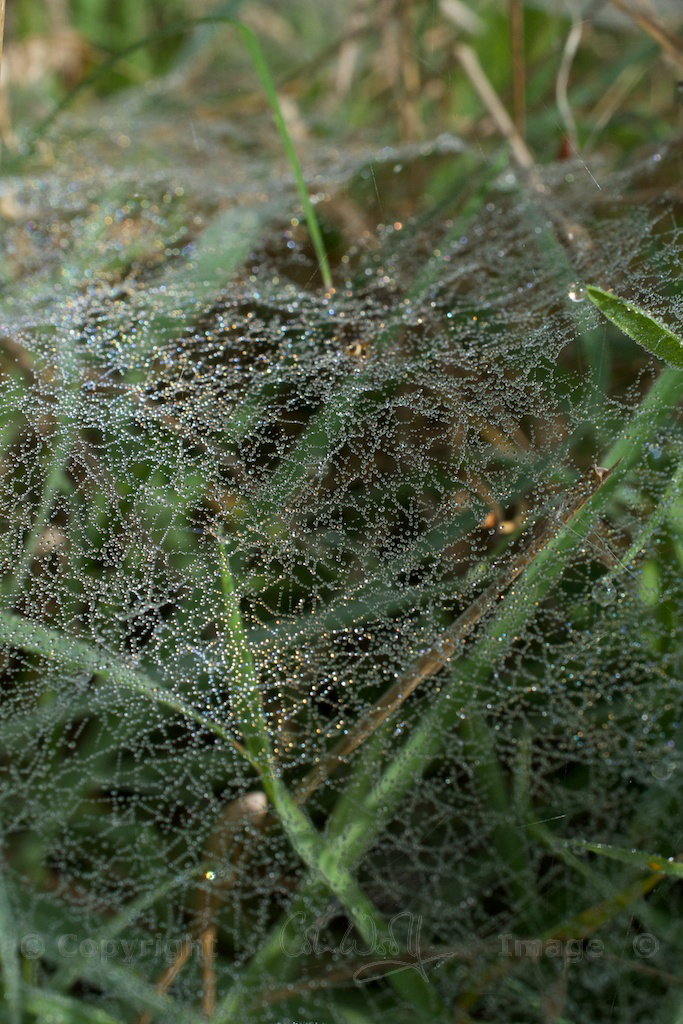 Footnote, 10th October 2014
In October 2014 I was lucky enough to be contacted by Mrs Moira Goodman, who told me that her McKinlay ancestors are buried in this cemetery.    She has a letter written by Donald McLaren, which clarifies some of the details given by his brother, Robert, in his article for The Stirling Antiquary.  She says:  "Two of the stones were of my 4 x Great Grandparents, James McKinlay and Christian Wright and my 5 x Great Grandparents, John McKinlay and Elizabeth Ferguson."  She also tells me that among the other McKinlays buried here were two little boys "who died aged 1 and 2, from bronchitis in the early 1850s."
I am publishing a photo of St Bride's graveyard which Mrs Goodman kindly sent me, dated 1910.  I'm thrilled to see this, and my grateful thanks to Mrs Goodman for sharing some of her fascinating history!
Footnote, October 2017:  I am very much indebted to Richard Ridgwell, who has translated the Gaelic words on the gravestone as follows:  "In your falling of the body into the grave under the hard chain of death that will rise up again at the sound of the high trumpet."
Footnote, 18th December 2017:   I have been contacted by Sue Mackay of the Callander Heritage Society.  She tells me that applications are currently being submitted by the Society for the restoration of St Bride's graveyard, as well as four neighbouring graveyards (Kilmahog, Kessog, Leny and Brig o'Turk).  Under the proposed scheme, the site would be excavated to a depth of six inches, to record lost graves and the chapel floor.  This proposal is still in its early days but if you have a family link with St Bride's and would like to offer your support, you are invited to contact the Callander Heritage Society on callanderheritage@gmail.com (they also have a Facebook page).
Sources:
This article has been shared with the Clan Farquharson Society of the USA, who expressed a keen interest as the McKinlay name is one of the septs of the Farquharson clan.
Photos copyright © Colin & Jo Woolf
---
FURTHER READING 
St Bride's re-visited
In September 2015 – a year after this post was first published – I returned to St Bride's with two descendants of the McKinlays who are buried there.   Click here to read more.
St Fillan and Glen Dochart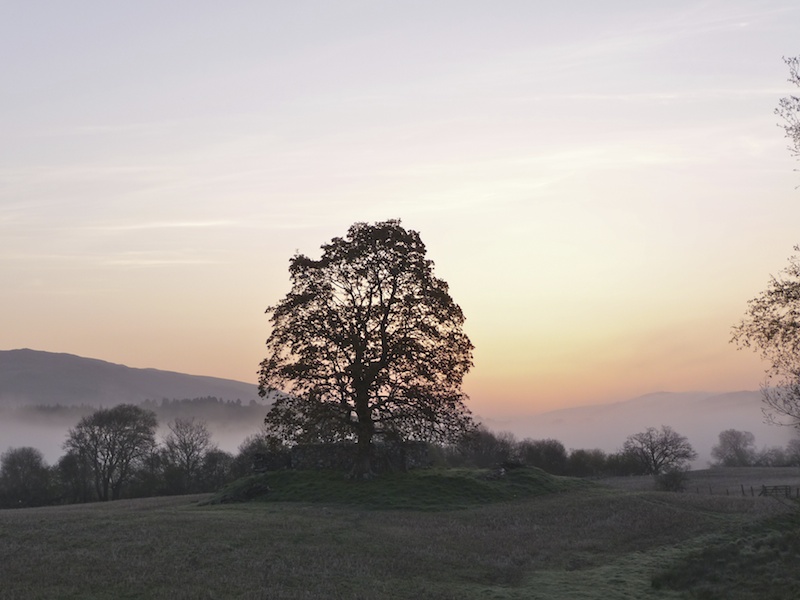 Not far away from here is the lovely Glen Dochart, with another small abandoned graveyard dreaming its days away by the river.   This time it's a McNab burial ground, but its story goes back to the time of St Fillan…