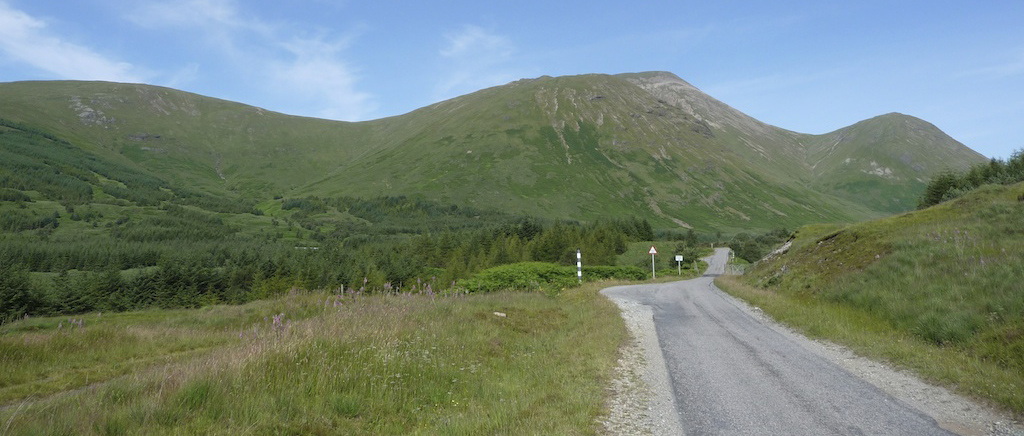 Glen More and the headless horseman
This was going to be a photo-feature, but then I made the fatal mistake of starting to read about the place!  So instead of just a photo, I have a ghost story to share…
Glen More is a beautiful valley that cuts across the Isle of Mull from east to west.  From the ferry at Craignure, you'll head down this way if you're travelling to places like Bunessan or Fionnphort where another ferry leaves for Iona.   It's a place of many moods – blissful on a summer's day, wild in winter with the wind scouring down from the slopes of Ben More.  We've seen short-eared owls here, and golden eagles;  in spring the verges are dotted with primroses, violets and orchids.
But in the 16th century all was not well in this tranquil glen, and in particular with the Maclaine clan whose seat was at Lochbuie on the east coast of Mull.  Iain Og, the 5th Clan Chief, had a son named Ewen (Eoghann a'Chinn Bhig, meaning 'Ewen of the Little Head') who lived on a crannog in Loch Sguabain.   Ewen was a fearless warrior, but his wife, a MacDougall of Lorne who was known as 'the Black Swan', wasn't content with her existence;   she was ambitious for wealth and status, and wanted more lands to add to her husband's estate.   Shades of Lady Macbeth!
Ewen petitioned his father for more property, but to no avail.   Disappointment turned into anger, and it all came to a head – quite literally – one day in 1538, when Ewen and his father arranged a mass duel in Glen More between themselves and their followers.
On the day before the battle, legend says that Ewen encountered a fairy woman who was washing blood-stained clothes in a burn.  He asked her if she could foretell his fate, and was taken aback by her reply:  she confided that, at breakfast in the morning, if Ewen's servant failed to place the butter on the table and he had to ask for it, he would be killed.
Ewen forgot about the prophecy but it all came flooding back the next morning, when his servant forgot the butter.  He must have felt a horrible creeping sense of doom.  But what else could he do?  As his kinsmen gathered in the glen, he mounted his horse and led them into the heat of the battle.   It didn't last long.  Standing on a rock, one of Iain Og's soldiers brandished his claymore in the direction of Ewen, and managed to sever his head from his shoulders.   The terrified horse galloped off with the headless rider still in the saddle and eventually came to a standstill several miles away, above the Lussa Falls.
As a temporary measure, Ewen's followers buried his body at the place where it fell from the horse, and marked the spot with a small cairn or pile of stones among the heather.  They came back later to reclaim it, and carried him to the island of Iona for an honourable burial.   It was said that when Ewen's hunting dog saw the body of its master, it suffered such a shock that all its hair fell out.
But Ewen's ghost is unable to rest in peace, and ever since that day the spectre of a headless rider on a black horse is reported to ride through Glen More between dusk and dawn.   In particular, it is believed that his appearance to one of the Maclaine clan, or the sound of his horses' hooves galloping around the clan seat at Moy by Lochbuie, is an omen that a member of that family is about to die.
Where did Ewen's body fall?   The location was known only to a few people and the secret was handed down over the centuries.   P A Macnab, writing in 'The Isle of Mull', reveals that he was told where to find it by the West Highland naturalist Seton Gordon, who died in 1977.   Macnab followed Gordon's directions and was delighted to discover a small cairn beside the Lussa burn, just as folklore remembers.
Sources:
'Mull and Iona' by P A Macnab
'The Isle of Mull' by P A Macnab
Photos copyright © Colin & Jo Woolf
---
More about crannogs…

The island dwelling of Ewen Maclaine is known as a crannog.  Occupied from the Bronze Age right up to the 1700s in some cases, crannogs doubled as secure fortresses in times of turmoil.  Click on the image to read more!