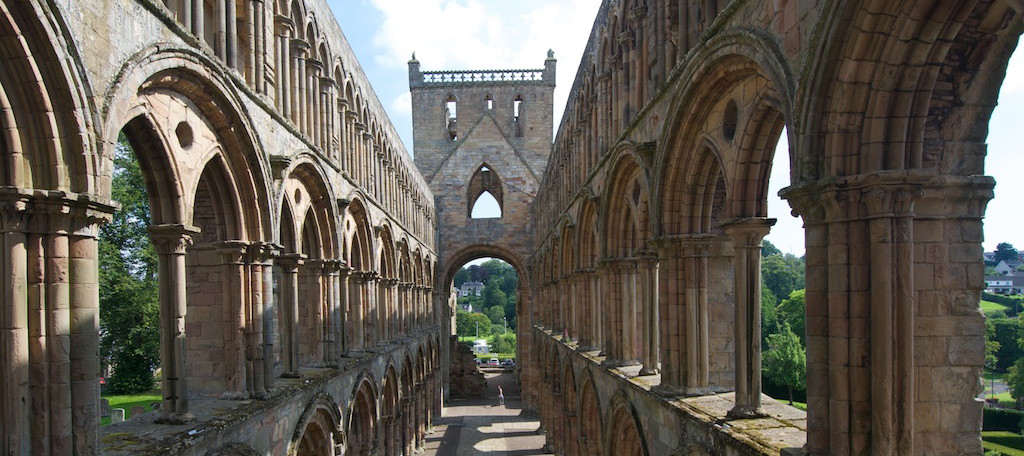 Since I've recently written about Dryburgh, I thought I would continue the journey with a look around a second Border abbey:   Jedburgh.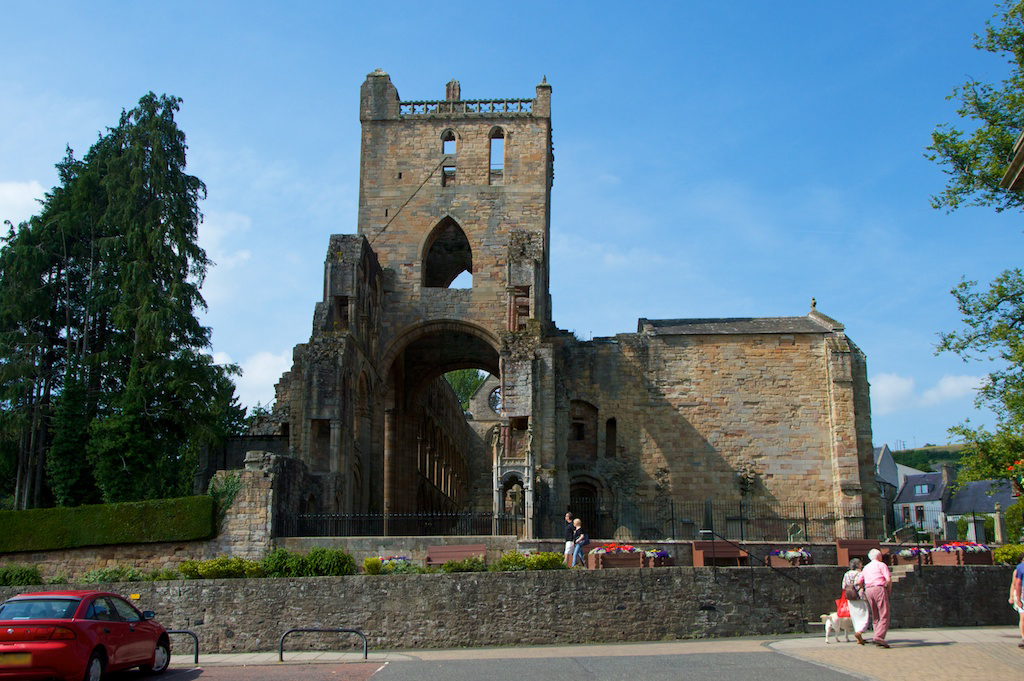 Dryburgh and Jedburgh have much in common, and so much that sets them apart.  You can see the difference immediately.   Whereas Dryburgh is all romance and poetry, softly crumbling away in a mist of solitude, Jedburgh is stark and bold and uncompromising, its roofless frame towering above the houses of Jedburgh like a gaunt old eagle mantling its prey.
There's one good reason for the contrast, and it's quite simple:   the church at Dryburgh has all but disappeared, leaving nothing but a few fragments, while the domestic buildings remain;   but at Jedburgh the church has survived, and the monastic quarters lie in ruins.
The result is that, at Jedburgh, your eyes are drawn ever upwards, towards those dizzy rows of arches upon arches;   you step in and out of light and shadow and you feel a sense of awe, as if you're walking between the ribs of a giant skeleton.
A spectre at the feast
It was at Jedburgh, on 14th October 1285, that Alexander III married his second wife, Yolande de Dreux.
Alexander was an ill-fated king, even by Scottish standards:   his first wife, Margaret, a daughter of Henry III of England, died in 1275 and within six years all of their three children were also dead.  Alexander's only heir was his infant granddaughter, also called Margaret, known as 'the Maid of Norway' through her mother's marriage to that country's king, Eric II.
So when Alexander married Yolande, a French-born noblewoman, he was probably still grief-stricken and hoping for more heirs to gladden his heart and secure his kingship.  Surely, with this wedding, his fortunes would turn.  But then something quite strange and terrifying happened.  After the ceremony, the joyful party that issued from the door of Jedburgh Abbey was graced with an unexpected and most unwelcome presence:
"Bringing up the rear was a figure regarding whom it was difficult to decide whether it was a man or an apparition.  It seemed to glide like a ghost rather than walk on feet.   When it looked as if it was disappearing from everyone's sight, the whole frenzied procession halted, the song died away, the music faded, and the dancing contingent froze suddenly and unexpectedly."
'Haunted Kirkcaldy' by Gregor Stewart, referring to the 15th century Scotichronicon by Walter Bower
In later years, some writers sought to downplay the significance of the spectral guest, while offering no real explanation for it whatsoever.  But just a few months after his marriage, as he galloped through a wild and stormy night in his eagerness to see his young bride at Kinghorn in Fife, Alexander's nemesis caught up with him.  His horse stumbled in the darkness and threw him from the saddle.  His body was found the next morning, at the foot of a cliff.
Yolande, reeling from shock and grief – and probably panic-stricken about her future – declared herself to be pregnant.  This may have been wishful thinking, or she may have miscarried, but her claim came to nothing.  The future of Scotland now rested on Alexander's granddaughter, the Maid of Norway, and more importantly on the arrangement of her marriage.  In 1290, still only six years old, Margaret was taken on a boat from Norway to Scotland, bound for a glorious and probably terrifying destiny.  But she never lived to see it:  she died of sea-sickness on the voyage, a little pawn in a greedy game of thrones.
Scotland was now without a ruler, and her fate lay in the balance.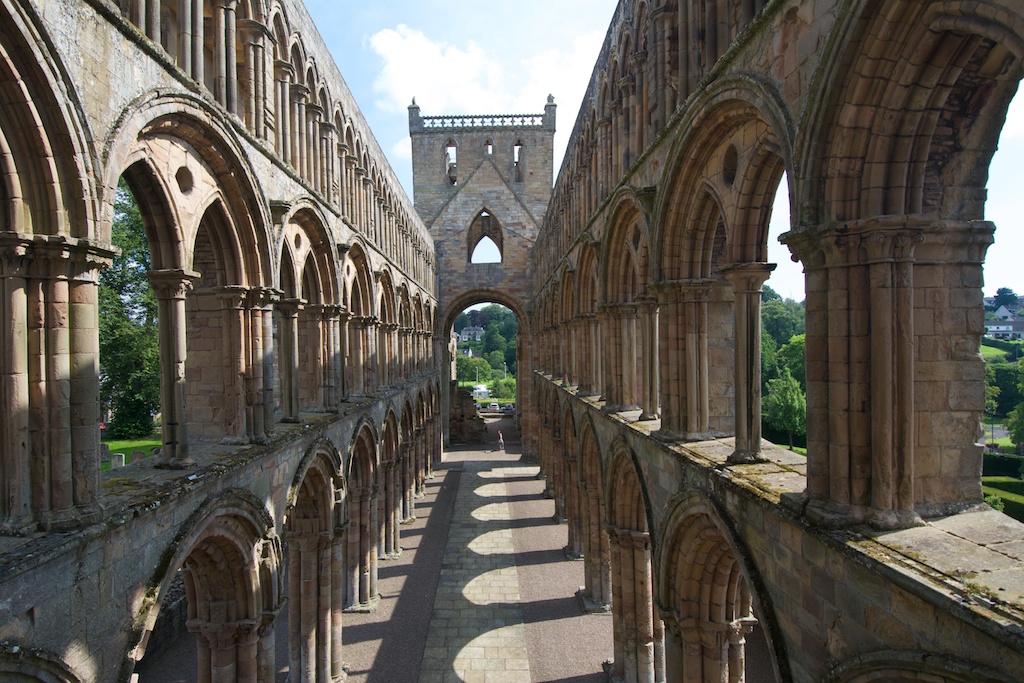 I hadn't heard of Alexander's phantom follower when I walked around Jedburgh on a hot day in August, and if I had, I might not have been quite so keen on ascending yet another dark and tightly winding stair that leads you up to the second storey and gives a breathtaking view down the nave.   It's possible to walk up there from one side, enjoy the view from the balcony, and then descend via an equally vertiginous stair on the other side.  Safely back at ground level, I stepped through the huge arch of the west door and turned to look back – an awe-inspiring sight.
David I – the godfather of Scottish abbeys
When David I of Scotland founded a priory at Jedburgh in 1138, he chose a spot where Bishop Ecgred of Lindisfarne had built a church some 300 years earlier.   The sacred site seems to have been ancient even in the time of Ecgred:
"…a beautifully carved fragment of a shrine on display in the visitor centre dates back to the 700s and suggests that even Bishop Ecgred was not breaking new ground."   Undiscovered Scotland
David's priory housed a community of Augustinian canons who may have travelled from St Quentin in France.  In 1154 the priory became an abbey, with up to 20 parish churches under its wing;  and the abbey church, dedicated to St Mary the Virgin, was a soaring medieval masterpiece:
"The eastern end has Romanesque architecture of the highest quality.  Its solid cylindrical pillars stand in contrast to the more delicate Gothic nave, with its graceful sweep of arcades and magnificent west front."   Historic Scotland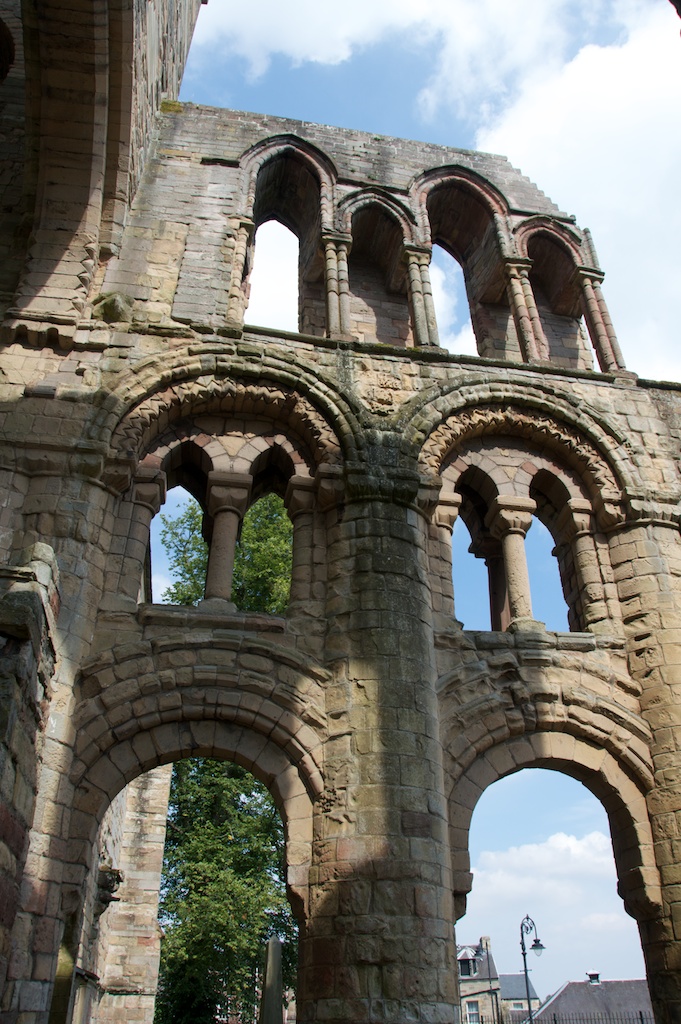 The trouble with building so many beautiful abbeys in the border country was that they offered such great targets for attack.  David I wasn't at all put off by this thought, and it is to him that we owe the grandeur of Jedburgh, Melrose and Kelso.  Sadly, as well as being centres of purity and devotion, they also attracted the unwelcome attentions of English forces.   The death of Alexander III signalled the start of the Wars of Independence, and Edward I of England stayed at Jedburgh Abbey in 1296, on his way to cause trouble further north.  Faced with little option, and aware of the fact that his abbey owned extensive lands south of the border, the Abbot of Jedburgh had sworn allegiance to Edward at Berwick upon Tweed.
From then onwards, Jedburgh seems to have been batted back and forth between England and Scotland like a shuttlecock.  In 1305, lead from the church roof was stripped off by the English and melted down to make siege engines.  The abbey was attacked at least eight times in the 15th and 16th centuries before falling victim – like so many others of its time – to the axe of the Reformation.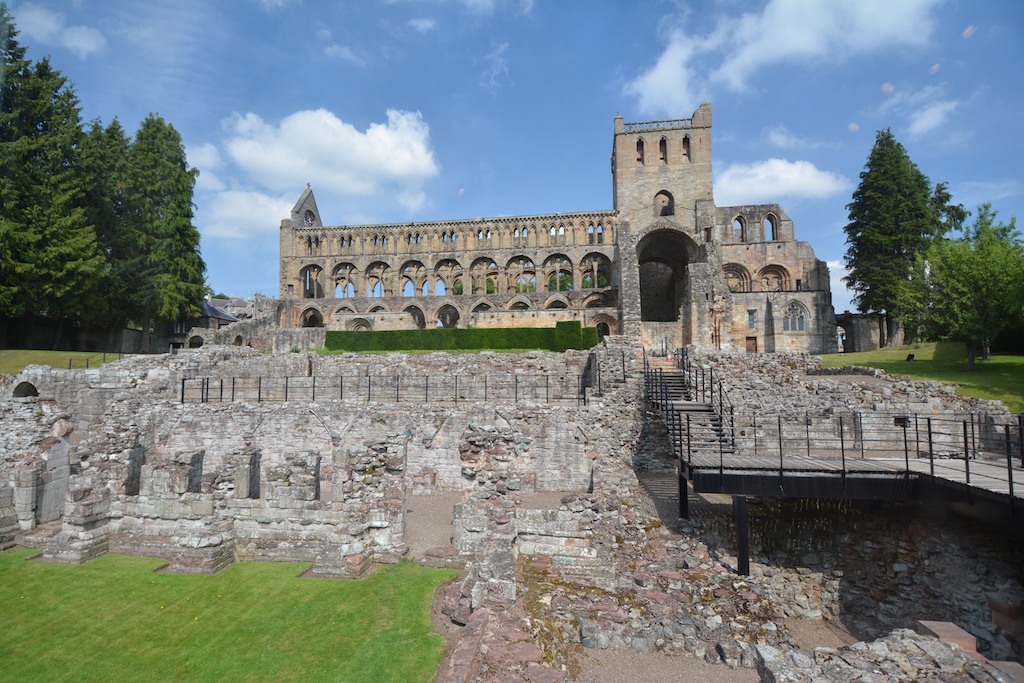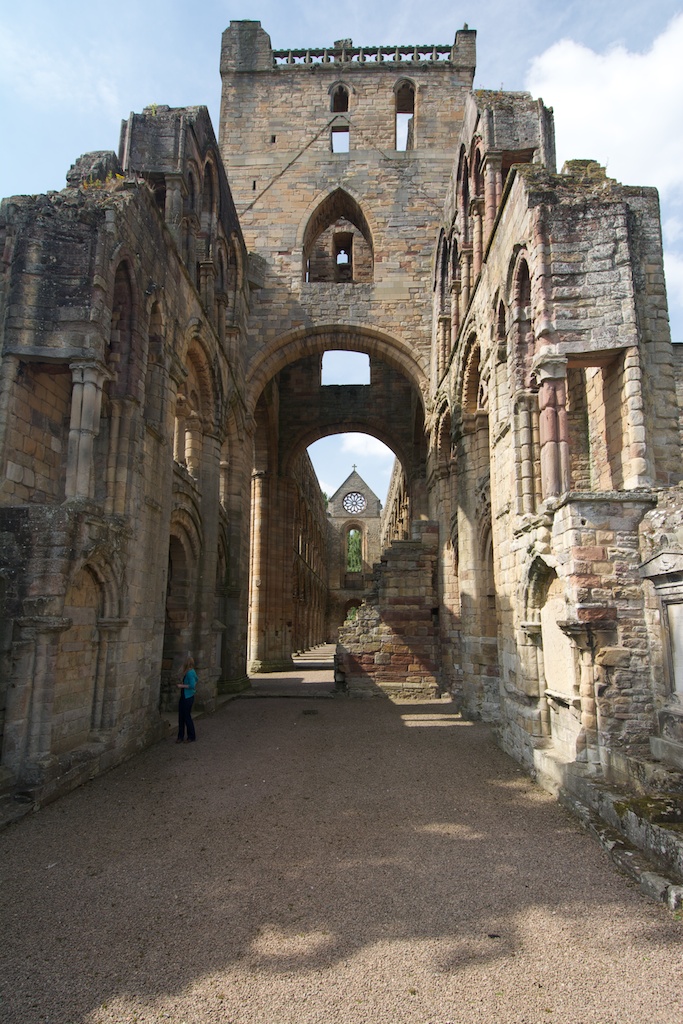 Today, the Jed Water still wends its way beneath the walls of the abbey, and from the rubble foundations of the monastic quarters you can see how cleverly terraced the site was, dropping quite steeply down to the river.   The restored cloister garden has been planted with the same kinds of herbs that would have been grown by the monks, for culinary and medicinal purposes.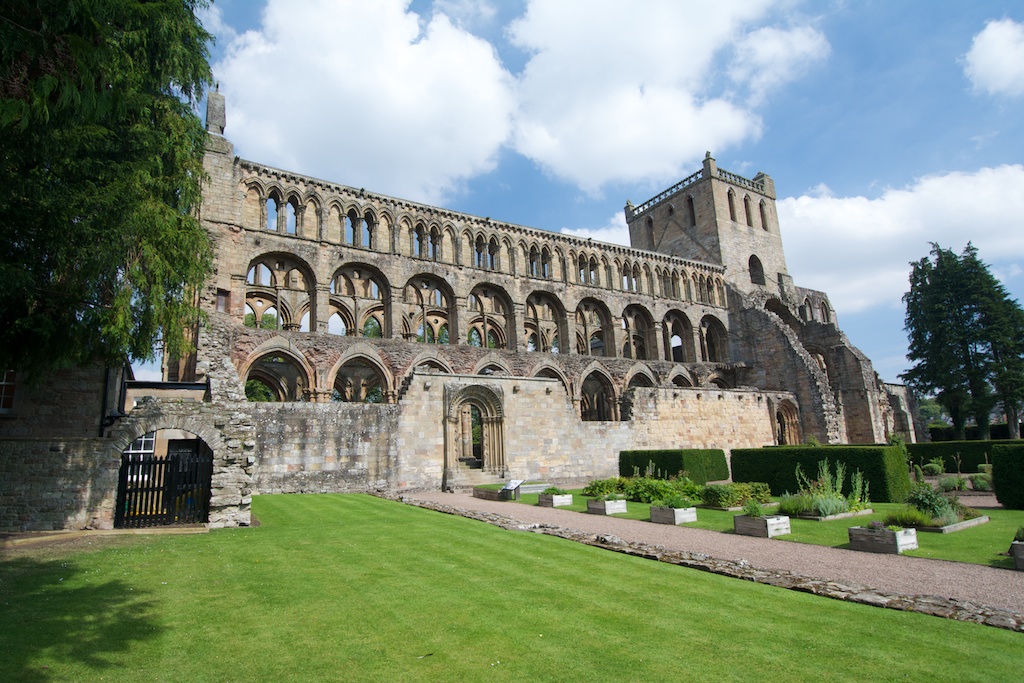 Visiting Jedburgh Abbey

Jedburgh Abbey is in the care of Historic Scotland.  There's a lovely visitor centre with exhibits of early Christian carvings, and a model of the abbey as it would have looked in medieval times.   There's also a box of period costumes for children to enjoy dressing up – I've never seen this anywhere else!

As for finding the abbey, all you need to do is find Jedburgh, which is on the A68 about nine miles south of both Kelso and Melrose.  In fact, the three abbey towns form a 'golden triangle' of Scottish history, with Dryburgh Abbey at St Boswells enclosed within it and making an unmissable fourth.
Sources:
'Jedburgh Abbey' by J Watson
'Haunted Kirkcaldy' by Gregor Stewart
Photos copyright © Jo & Colin Woolf
---
More medieval magnificence: