'Bonnie Scotland' by A R Hope Moncrieff and Harry Sutton Palmer

"The tartans are dyed by the blood of a hundred battlefields, as by memories of green braes and purple moors."
One of the presents that I was given for my birthday was a lovely old book called 'Bonnie Scotland'.
Published in 1905, it's written by A R (Ascott Robert) Hope Moncrieff, an Edinburgh-born author who wrote a number of Black's travel guides in the early part of the 20th century.  But what makes it truly special are the colour illustrations, taken from watercolour paintings by Harry Sutton Palmer.   There are 75 of them, each one an absolute joy.  They seem to have a glow of nostalgic beauty, unashamedly romantic but so skilfully done;  and it's captivating to see castles, abbeys and humble cottages through the eyes of an era that has itself now passed into history.
Little did Blacks know, when they were publishing their up-to-date guide book for Edwardian tourists to Scotland, that they would be providing this fascinating historical insight for future generations.
'Stirling Castle from the King's Knot'
Harold (Harry) Sutton Palmer (1854 – 1933)

Sutton Palmer was born in Plymouth, and studied at the Royal College of Art.  His watercolours of rural landscapes won him a reputation as a fine artist, and most sources state that he exhibited at the Royal Academy in 1870 – at the young age of 16, if the date is correct.  He illustrated several books for A & C Black, including 'The Rivers and Streams of England', and Black's guide books for Surrey, Devon, and Buckinghamshire and Berkshire.  His paintings are unusually large for watercolours, some measuring three feet by two;  they fetch good prices in auction houses today.
'Melrose, Roxburghshire'
The title is true to its name, celebrating the beauty of Scotland from the Borders right up to Caithness.  Having dipped into the text, I've found it by turns interesting, dry, cynical and completely irrelevant, which makes you feel as if you're listening to a pipe-smoking grandfather with bushy eyebrows and plenty of opinions.  There are chapters called 'The Great Glen', 'The Trossachs Round', 'The Kingdom of Fife', 'Auld Reekie', 'The Fair City' (relating to Perth), and 'Glasgow and the Clyde'.  Moncrieff skims lightly over the north-west, perhaps from lack of personal experience:  and as far as I can see, the whole chapter which should be devoted to Argyll and the Isles is called 'The Whig Country', and tells you more than you probably wanted to know about the development of religion in Scotland, including the Covenanters, the Free Church and Presbyterianism.
But the pictures make up for everything…
'A Croft near Taynuilt, Loch Etive, Argyllshire'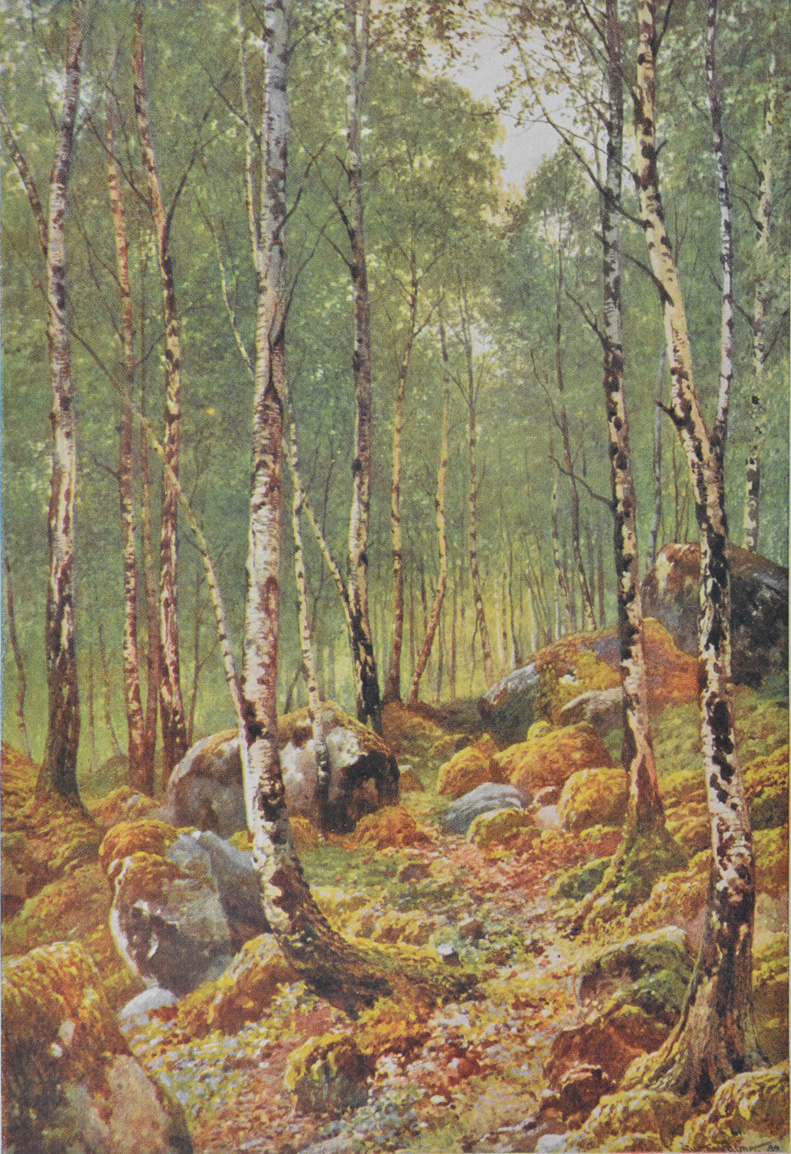 'A birch wood in spring-time by Loch Maree, Ross-shire'
Here are some quotes, chosen pretty much at random from the book…
Describing the Isle of Arran, from a position of high moral ground:
"The gem, the bouquet, the crown of all Clyde scenery is, of course, Arran…   if he can find quarters in some airy hovel with rats running about the roof, or on some shake-down of an hotel annexe, and if the rain clears up over Goatfell, the reader will not regret taking my word for the exceeding loveliness of glens and corries, which have inspired painters, poets, and even guide-book makers."
Describing Stirling Castle, with pride and vigour:
"Its ramparts look down on Scotland's dearest battlefields, that where Wallace ensnared the invader at the Old Bridge, and that of Bannockburn, when Bruce turned the flower of English chivalry to dust and to gold, for, as the latest historian says, 'it rained ransoms' in Scotland after this profitable victory."
On the law-abiding yet slightly daring lifestyle of the Highlands:
"The absence of vulgar crime is still more marked in the Highlands, where, but for whisky and religious zeal, there would be little need of magistrates.  'Ye see, if they stole anything, they couldn't get it off the island,' a Bute cynic once explained to me;  but on the mainland opposite, I have known the ladies of a family leave their bathing dress hanging over the hedge by the roadside for weeks together."
Venturing north-east, to Aberdeen…
"The Aberdonians, as is known, pride themselves on a hard-headedness answering to their native granite.  The legend goes that an Englishman once attempted to defraud these far northerners, but the charge against him was scornfully dismissed by an Aberdeen bailie:  'The man must be daft!'"
…while adding a cautionary note:
"The accent and dialect of this corner, strongly flavoured with Norse origin and sharp sea-breezes, are quite peculiar."
Offering a unique slant on the archaeological sites of the far north:
"Traces of older inhabitants are very frequent in Caithness, its moors thickly strewn with hut circles, standing stones, tumuli, and those curious underground excavations known as 'Picts' Houses,' which appear to have been dwellings rather than burial-places.  One usual feature of such burrows is the cells and passages fitting a smaller race than our noble selves, who must crawl on hands and knees in grimy explorations not likely to be undertaken by the general tourist.  Hence there is reason to suppose that Scotland and other countries have been inhabited by a stunted race of aborigines, like the dwarfish Ainos of Yesso or the pygmies who turn up in various parts of  Africa.  Mr David MacRitchie, an antiquary who has paid special attention to so-called Pictish remains, is doughty champion of a theory which connects the dimly historic Picts or Pechts and the legendary Fians with the whole fabulous family of fairies, elves, goblins, brownies, pixies, trolls, or what not, who are represented as dwarfish and subterranean, issuing forth from their retreats to hold varied relations of service or mischief with ordinary men."
Totally delightful.
If you'd like to browse through the book yourself, there's an online version here.  You could also keep an eye open for a copy in second-hand bookshops.
'Bonnie Scotland' by A R Hope Moncrieff with illustrations by Harold Sutton Palmer was first published in November 1904 by A & C Black;  my edition was 'reprinted with slight alterations' in November 1905.