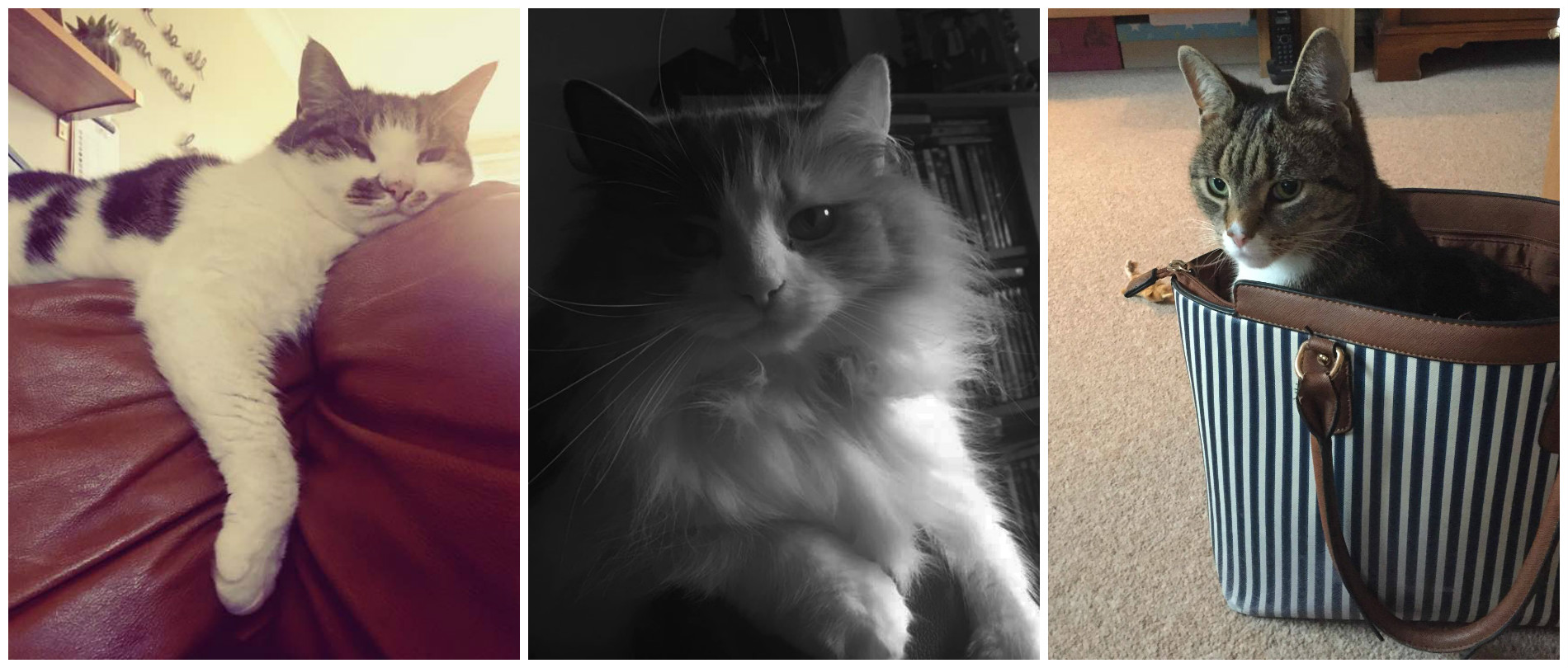 Purdey's PAWS Awards 2017
Yes, it's that time of year once again!
With a glittering array of actors all eyeing the most coveted prizes in showbusiness, it's time for my own annual movie accolades – Purdey's Awards for Worldwide Stardom.  How long have we been waiting for this star-studded event?  Forever, is the answer.  Polish your whiskers, because it's finally here!
What are the PAWS Awards?   
Every year, the talents of myself and my two fluffy friends Ponyo and Angel are placed under the discerning scrutiny of you, the readers of The Hazel Tree, and the Best Actor is chosen based on the number of votes cast.   It's all quite straightforward, and the system is so democratic that last year I did not win, which was quite distressing.   To increase my chances, this year I am offering you some smoked shrew traybake, prepared to my own special recipe.  It's not going to keep, so meet me round by the catflap into the shed later on this evening.  Miss it, and miss out.   Please note:  the shed is inconveniently full of boxes, so a queuing system will be in place.
BACKSTAGE GOSSIP:  ALL YOU NEED TO KNOW ABOUT THE STARS
Angel

Hallmarks:    Affectionate, talkative, sociable little lady.  Softest tabby-and-white fur, like cappuccino with extra cream.  Did someone mention cream?
Background:   About four years ago Angel was found homeless and begging for scraps at a pub called The Angel.  Her present housekeepers fell in love with her and brought her back to their home where she now lives happily with Ponyo.  While she has mostly forgotten her life on the streets, Angel is quite partial to leftovers and she isn't above popping round to other people's houses to see what they are cooking.
Typical roles:    Angel is known for playing sophisticated older ladies with lots of flair and a sideline in canapés.  For 2017 she has branched out into film noir, or at least that's what she says it is.
Interesting trivia:    Angel was once filmed by her agent as she helped herself to a sausage roll.  She was rather unwilling to part with it, and unfortunately, the strong language – from Angel, not her agent – was so shocking that the video could not be passed for general release.
Ponyo
Hallmarks:    Long silky fur;  luminous green eyes;  can relax anywhere.  Expects and receives adulation.
Background:   Instead of being born like a normal kitten, Ponyo floated down from the sky like a lost cloud.  Landing softly in a moonlit grove, she bewitched the first humans who saw her in the light of day.  As time passed, her magical powers grew so strong that anyone who met her wide-eyed gaze would run to do her bidding.
Typical roles:     Mysterious and ethereal, Ponyo embodies the heroines of Shakespearean romance.  When these roles are unavailable, she will accept anything that involves the wafting of floof and not much action.   Glitzy cameos are welcome, but only if she gets to keep the diamonds.
Interesting trivia:    Wardrobes are Ponyo's portals to the otherworld.
Purdey

Hallmarks:    Four white socks (two short and two long).   White-tipped tail.  No-nonsense attitude.  Laser-sharp reactions.  Uncontrollable curiosity.
Background:   Lean, sleek and elegant, Purdey comes from the Highlands of Scotland.  Her fearless nature leads her doting agents to suspect wildcat ancestry, a theory which is backed up by her fascination for David Attenborough's programmes.
Typical roles:     Named after the Avengers heroine, Purdey has the resilience of Lara Croft with the lethal weaponry to match.  She's not scared of going where other cats fear to tread, and her martial arts training adds an edge-of-your-seat thrill to her movies.  Watch your toes, and count them afterwards.
Interesting trivia:  Purdey can inflate herself to twice her normal size and drift sideways at the same time.   It's like a Pokemon skill.

It's time to vote!

So… who will be this year's winner of the Golden Fir Cone?   Will Ponyo retain her glamorous title from last year?  Will Angel finally get her little paws on an award?  Or will Purdey triumph over all?   The decision is in your hands!  
Just cast your eye down the list of nominations, choose your favourites, and vote for them in the poll at the bottom.   You have three votes, so use them wisely!
ANGEL'S NOMINATIONS
Batman Begins
Escape from Alcatraz
Scream
The Longest Day
PONYO'S NOMINATIONS
Joy
Night at the Museum
Twister
Fantastic Beasts and Where to Find Them
PURDEY'S NOMINATIONS
Catch Me If You Can
The Lion King
Mary Poppins
Raiders of the Lost Ark
Thank you for voting! 
The results will be announced in February.
Dedicated to two friends:  Purdey lost a couple of little pals in her neighbourhood in 2016 – Tilly and Bonnie – such pretty little girls, full of character.  Remembered with love.