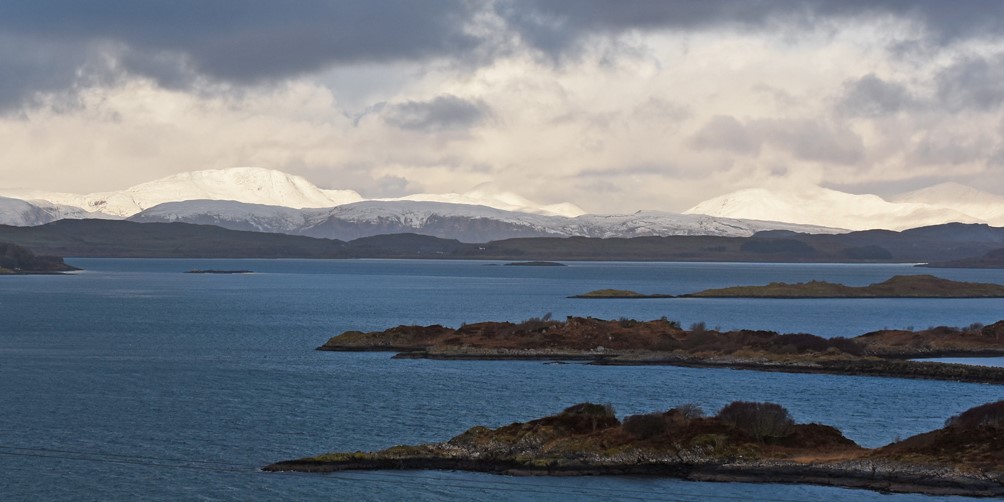 The Hazel Tree – now on the west coast!
The New Year has brought a fresh start for me, Colin and Purdey, and for The Hazel Tree. On 17th January we moved into our lovely new home on the west coast of Scotland. Removal day brought snowstorms and strong winds, but the 100-mile journey from West Lothian to Argyll went smoothly all the same.

Since then, we've been gradually trying to make sense of a mountain of boxes – seriously, we thought we'd slimmed down our possessions beforehand, but it seems we were just skimming the surface – while at the same time gazing out at the breathtaking view, stretching right out across the sea towards the Isle of Mull, with the smaller islands of Luing, Shuna and Torsa in between. The mountains on Mull have been covered with snow for most of our two weeks here; they are either visible or not, depending on the squalls that rattle in from the west, shaking and bending the tall trees around the house, sweeping through with a roar that is wild but strangely soothing.
Having spent the first 10 days or so pacing the inside of the house like a caged lion, Purdey has been let outside and allowed her freedom – not without some trepidation on my part, I have to say. Despite my fears, she's finding her way around. She stands taut with excitement, listening and smelling as well as watching, all senses heightened, drinking in the new world that's on her doorstep. To be honest, we are doing the same.
I can't believe you've been here two weeks and not cleaned the windows.  Oh, please don't put yourselves out.  I'll do it!
We're close to so many places that are dear to my heart – Kilmartin Glen with all its standing stones and burial cairns; the hilltop fort of Dunadd; little ruined chapels of Kilbride, Keills and Kilmory Knap; and of course the wonderful ancient woodlands of Taynish and Ballachuan. It really is a dream come true. It's hard to believe at present, but the climate here is mild: we've already seen carpets of snowdrops, some early daffodils, and catkins of willow and hazel. Spring can't be that far away. I'll be starting to explore further afield as the weeks go by, and I'm looking forward to sharing my days with you.  In the meantime, here are a few recent photos.

Photos copyright © Colin & Jo Woolf