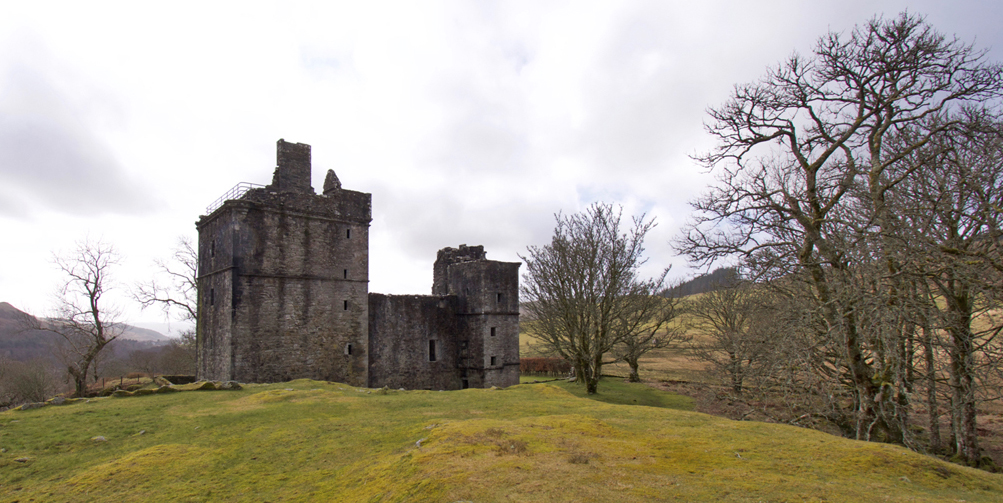 Carnassarie Castle in Kilmartin Glen
After our morning ramble around the Nether Largie stones and Temple Wood, we pulled off into a car park a little further north and got out to walk up the path to Carnassarie Castle.
I must have first seen Carnassarie Castle in 1984, so long ago that you'd think it was still occupied by its original inhabitants, and since then I've been glimpsing it sporadically on successive visits to Kilmartin Glen, without ever bothering to go and take a proper look. I was therefore very interested to see what it was like close up.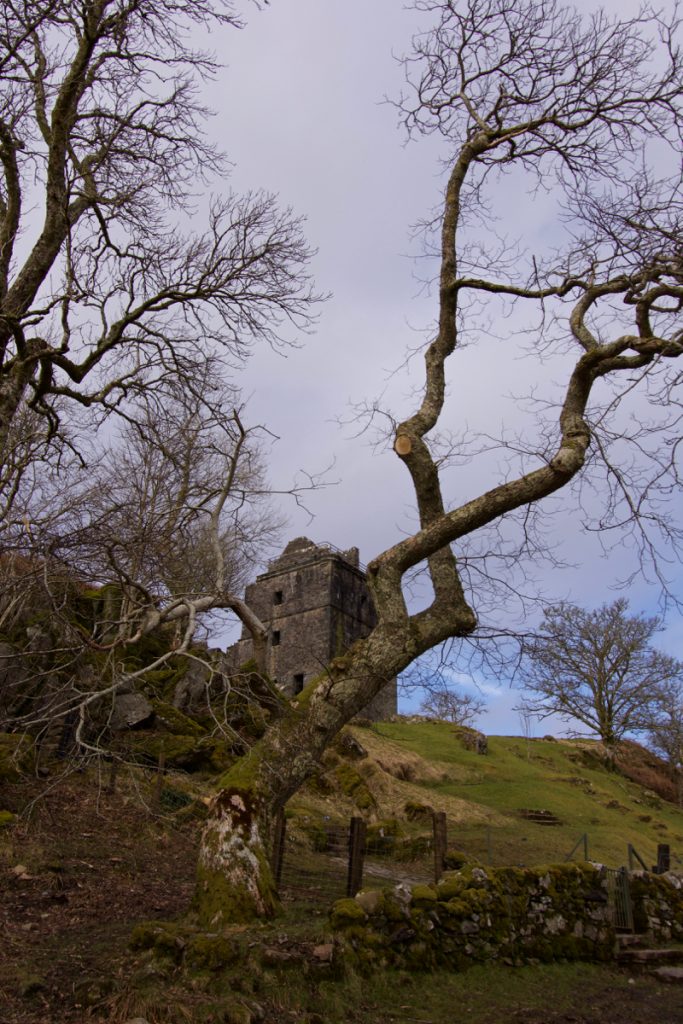 A gaunt and imposing ruin, it sits atop a low hill and glowers down at you as you walk up the footpath.
"It has been suggested that the name Carnassarie is a combination of carn, possibly after the large prominent cairn, Carn Ban, that lies within the farm… and airigh, Gaelic for a shieling or settlement. Another suggestion is that it is a combination of Carn Asairaidh meaning Cairn at the path or route."

Historic Environment Scotland, 'Carnassarie Castle, Argyll' – Assessment by Roderick Regan, November 2016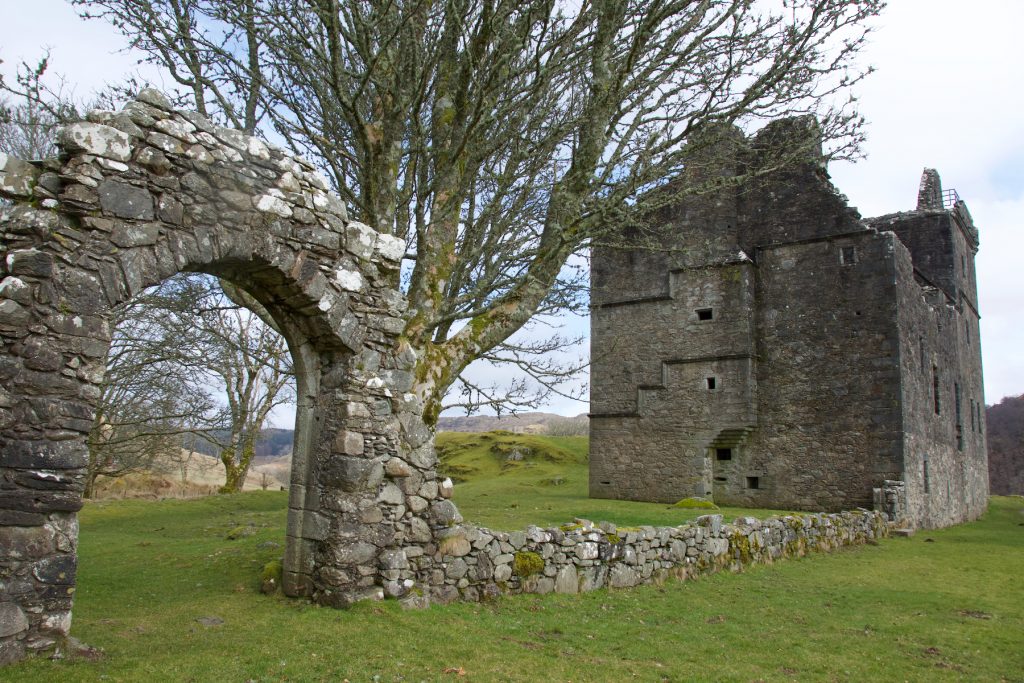 Failing to find an door on the east-facing side, we circled it in a clockwise direction, passing through a picturesque archway with the date '1681' carved above it, but still we found no way in. The front (and only) door revealed itself eventually, tucked away into the tower on the north-west corner.
The stonework above the doorway is badly weather-worn, but bears the Gaelic inscription DIA LE UA NDUIBHNE which means 'God be with O Duibhne'. Historic Environment Scotland explains: "Duibhne was the progenitor of the Campbells, and O Duibhne was how their clan chief was designated."  This was therefore a Campbell stronghold;  according to the visitor information board, the panel would once have been brightly painted in heraldic colours.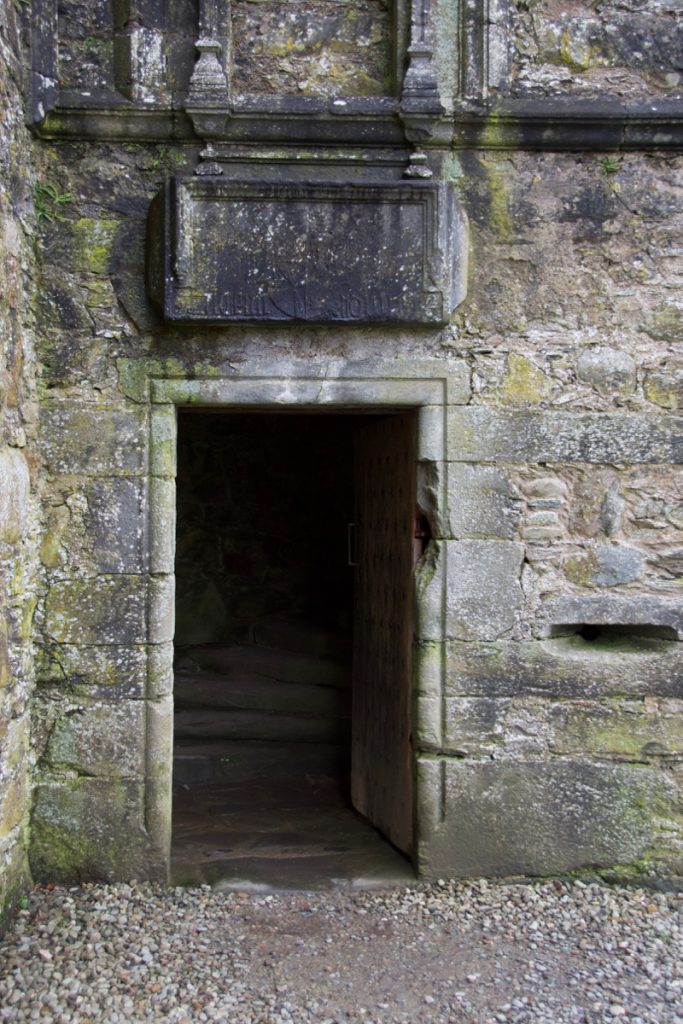 Having found the door, I was slightly reluctant to go in, because it didn't look all that welcoming. I turned into the larger part, the now-roofless keep, which still rises to a height of five storeys. Despite the bright morning outside, the stone walls were dark, cold and damp, silent witnesses to unspoken things.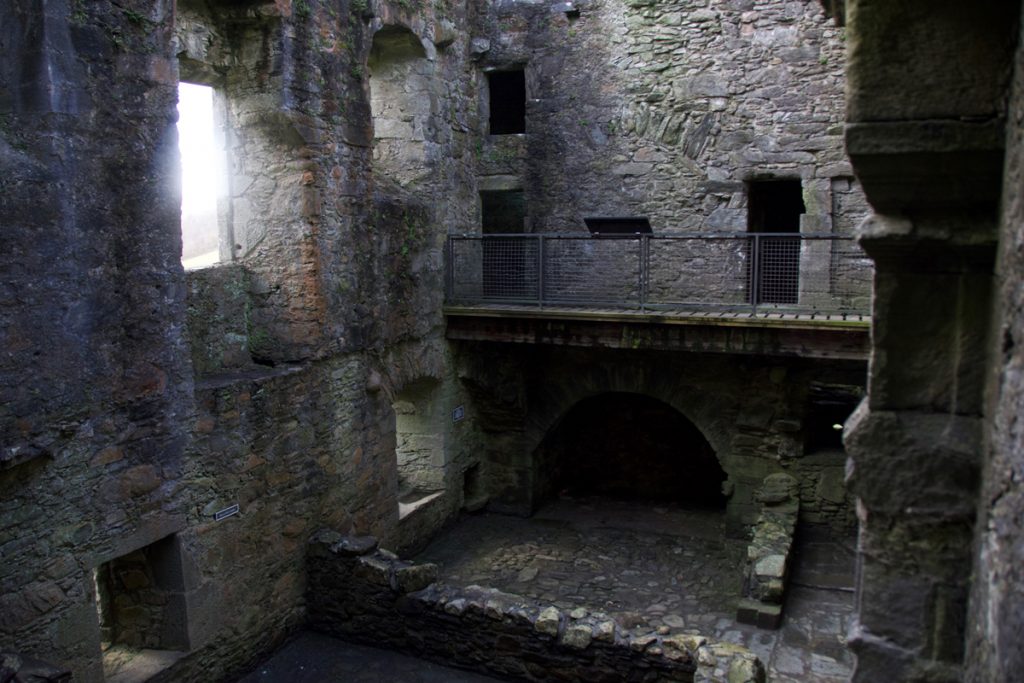 I felt as if I had to keep moving, so I headed up the narrow spiral staircase with the aim of getting some fresh air at the top. These features always have a slightly dizzying effect on me, because of the twirling physical motion in a confined space. You have to look constantly at your feet, because the steps are barely wide enough to tread on and you have to place your feet at a slant, which is awkward. After a couple of 'landings' – in reality, openings that offered increasingly vertiginous views of the interior – I emerged at the top, to breathe in the soft air and gaze out over the landscape of Kilmartin Glen.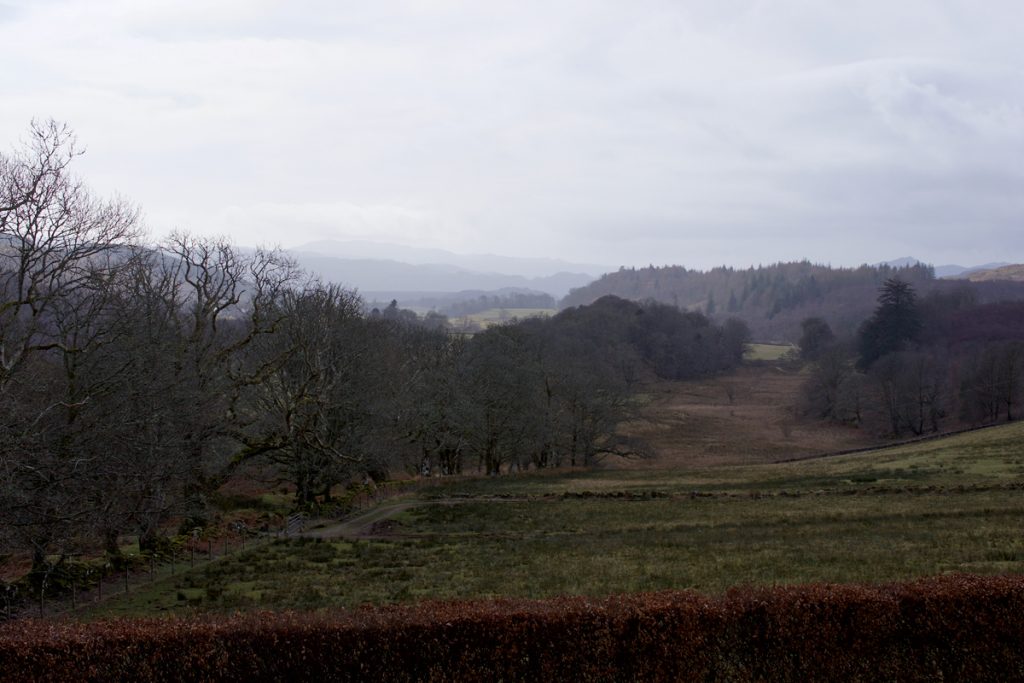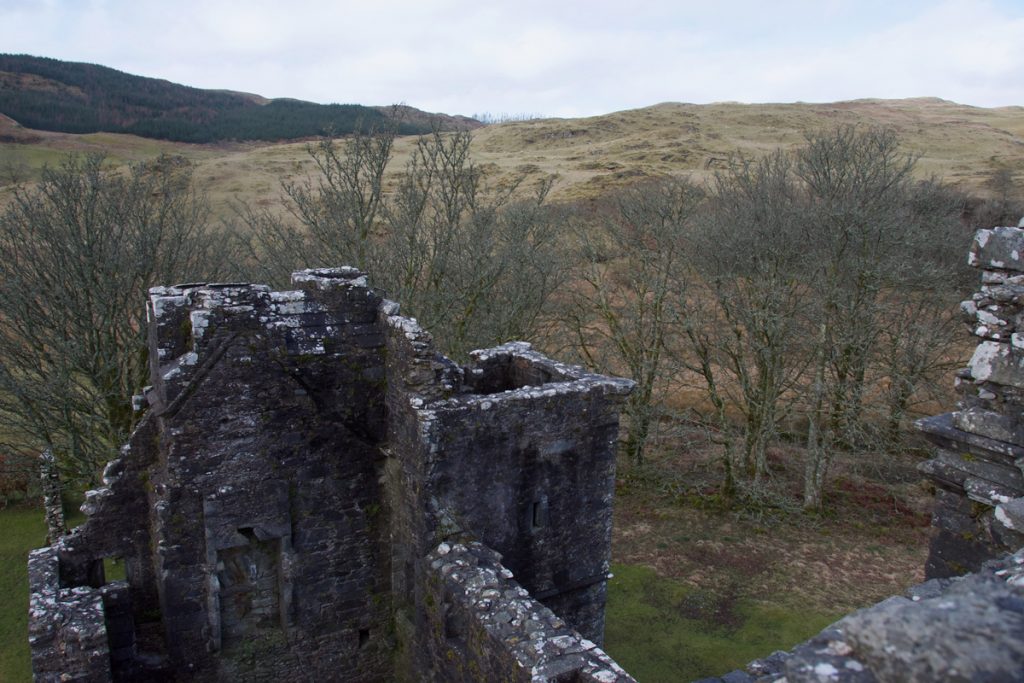 The wall-walk consisted of a railed path around the ramparts, with a steep drop on both sides. It was surprisingly high and I might have found this more testing than I did, but I was glad to be out in the open. I avoided looking vertically down, but instead pointed my camera at arm's length into gloomy cavern and hoped for the best. Then I realised I had to get down again.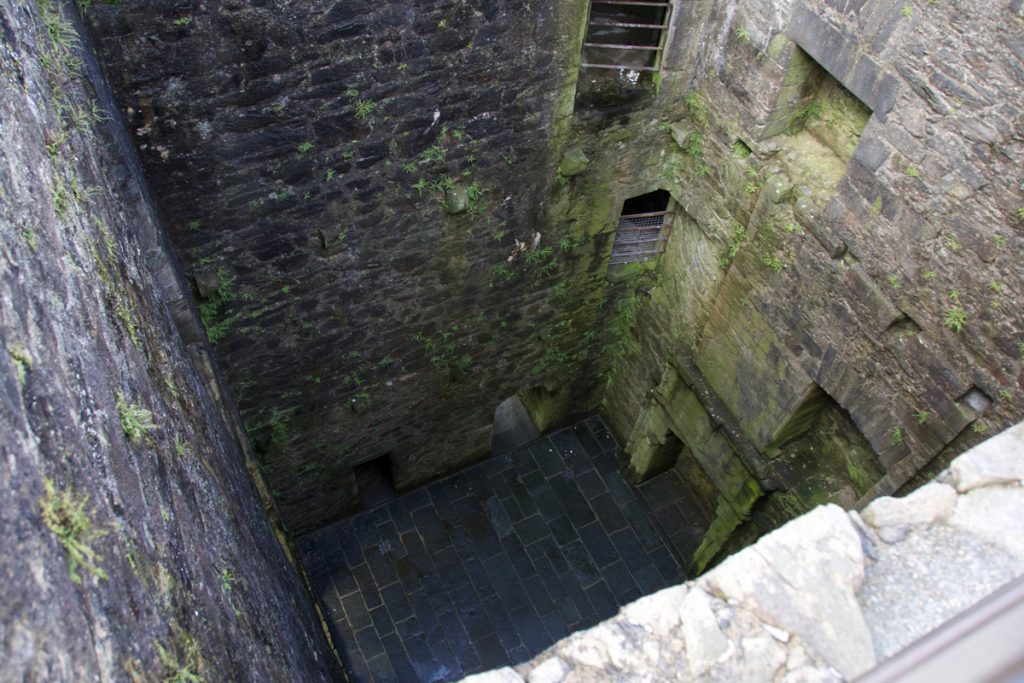 Undiscovered Scotland says: "If you've ever wondered if you might be a closet vertigo sufferer, this is the place to find out for sure."
In the late 16th century, Carnassarie held a warmer welcome. This was the purpose-built home of John Carswell, the first Protestant Bishop of Argyll and the Isles. Born in Kilmartin and educated at St Andrews University, Carswell was the personal chaplain of the 5th Earl of Argyll, Chief of Clan Campbell, and was 'arguably the outstanding Gaelic scholar of his day.'*  His translation of John Knox's Book of Common Order, published in 1567, was the first book printed in Scots Gaelic.
*Historic Environment Scotland, 'Carnassarie Castle, Argyll' – Assessment by Roderick Regan, November 2016)
Described as one of the first Renaissance residences in Argyll, Carnassarie Castle was built to look like a medieval tower house which had been added to and embellished – because, of course, that's what had happened to most of the other, genuine tower houses in Scotland at that time! The Earl of Argyll had the wealth and resources to ensure that the result was both impressive and opulent. His masterpiece boasted spacious and lavishly decorated rooms, exquisite carvings by masons who had travelled from Stirling or Edinburgh, and a 'belvedere' or viewing platform on the top floor. I hope that the privileged guests who were shown up there had a better head for heights than I do.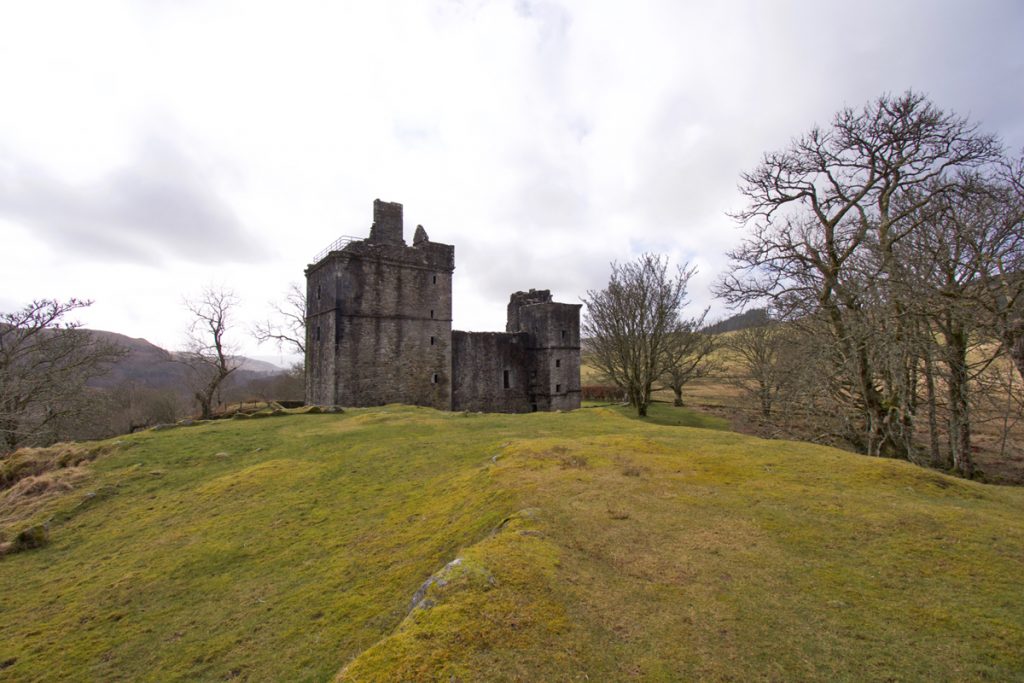 An older castle is believed to have stood nearby, sited on a low mound, of which nothing now remains. The above photo was taken from that location.
Carswell died in 1572 and was buried in Ardchattan Priory on Loch Etive.  Carnassarie remained in the hands of the Dukes of Argyll and endured in relative peace for nearly a century. In 1685, in protest against the accession of Charles II's brother, James II of England and VII of Scotland, the 9th Earl of Argyll led a rebellion in Scotland which resulted in his capture and execution in Edinburgh. The castle was sacked by Royalist forces in retaliation, and was never restored to its former glory. A shame, but – as many sources point out – this means that the remaining architecture was left intact and unaltered for successive generations to study.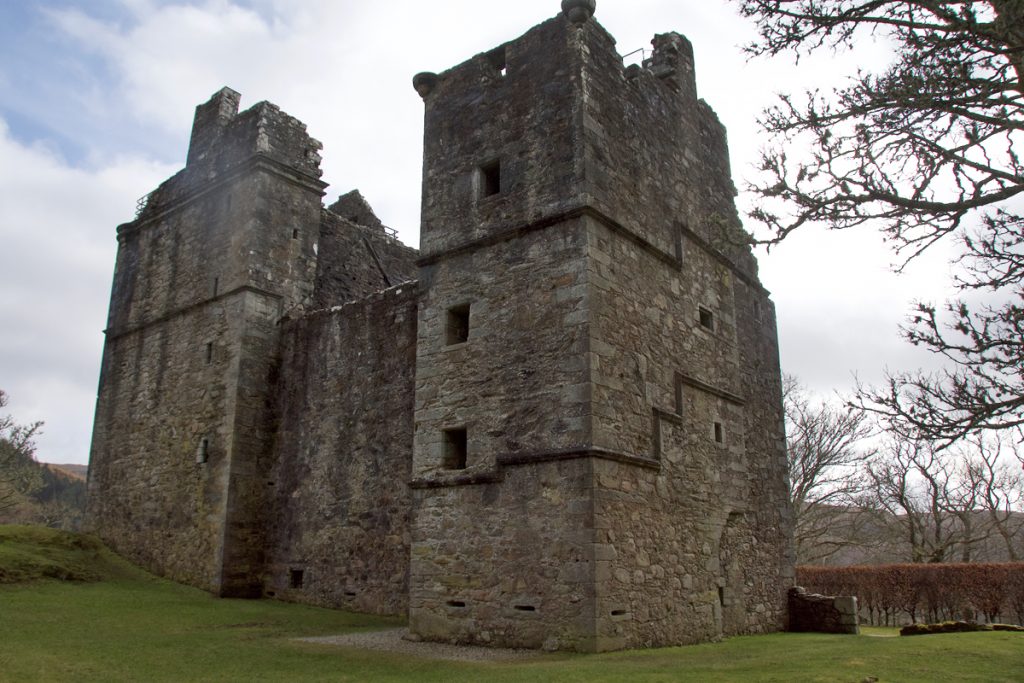 I wonder what Carswell made of the all the standing stones and burial cairns which were practically on his doorstep. Impossibly old as they are in comparison, with no names to link with them, no bond of clan or kin, on a moonlit night I would much prefer to walk around Ballymeanoch or Temple Wood than the echoing chambers of Carnassarie Castle.
–
Footnote:   There are several alternative spellings of the place-name, including 'Carnasserie' which is used by some sources.   I have chosen to use 'Carnassarie' which appears on many old documents and OS maps.
Reference and further reading:
Historic Environment Scotland, 'Carnassarie Castle, Argyll' – Assessment by Roderick Regan, November 2016
Images copyright © Jo & Colin Woolf