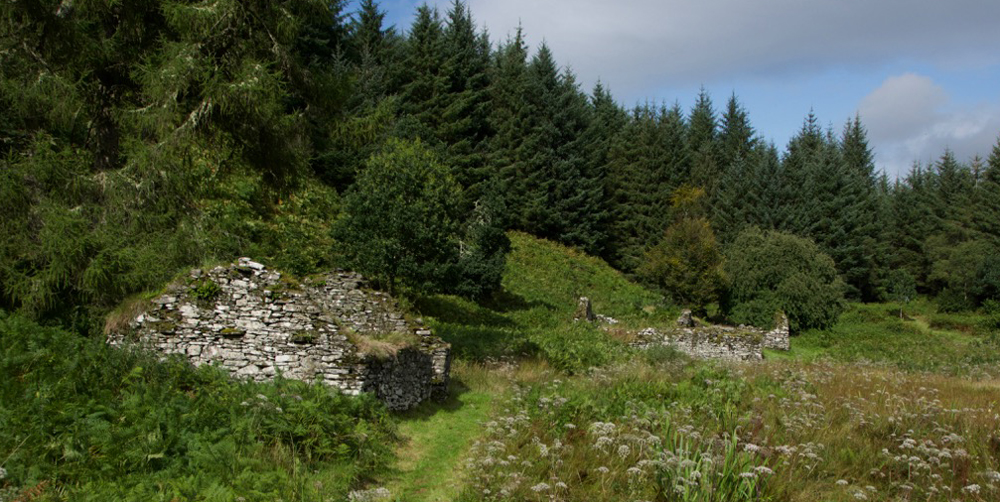 From Arichonan to Kilmory Oib
Last month, when I was wandering around the enigmatic ruins of Arichonan in the rain, I heard about a nearby settlement called Kilmory Oib which shares a similar history.
I couldn't help but feel that an important piece of the story was left untold, so yesterday we sallied forth, in much sunnier weather, to look for it.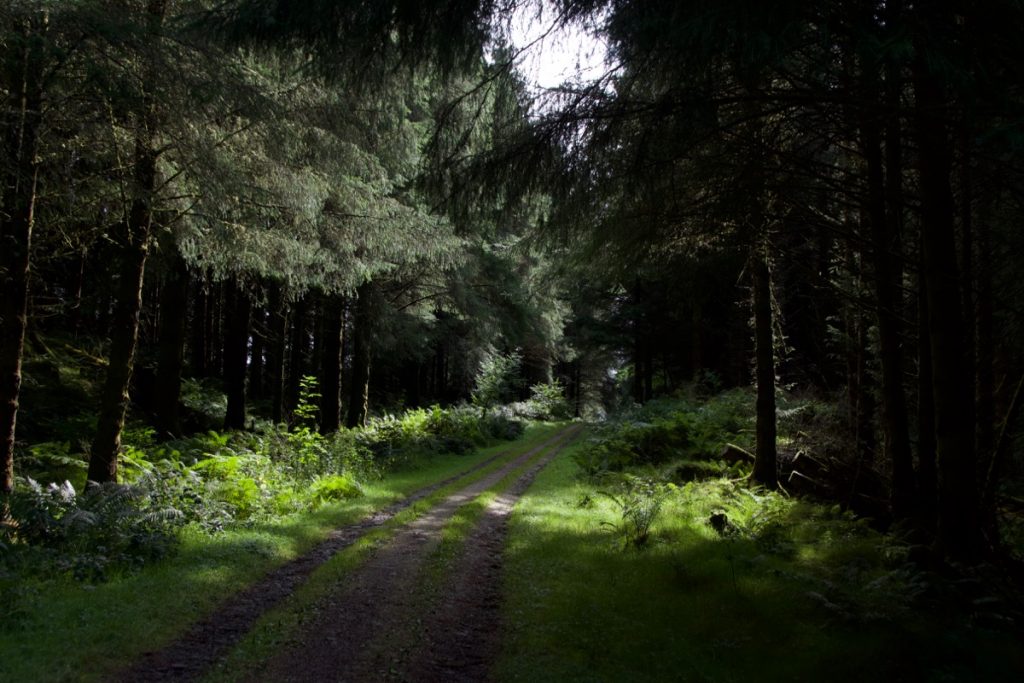 Kilmory Oib lies a short distance down a forest track, and was easier to find than I imagined.  Seeing the roofless gables protruding above a sea of bracken, we paused to look at an information board which gave a layout of the site and described the agricultural activities of its former inhabitants, from the late 16th century until the mid-1800s.  They grew corn which they dried in circular kilns, and took it to a nearby mill for grinding.   The field in front of the houses, now overgrown with bracken and wild angelica, would once have been sown with a crop such as potatoes, and cattle would have grazed in the pasture.  The residents also fished – the sea, after all, is little more than a stone's throw away – and there would have been trout in the inland loch of Coille Bharr.
Alongside the dwelling houses were cow byres and barns.  The Kilmartin Museum survey has revealed 17 structures in all.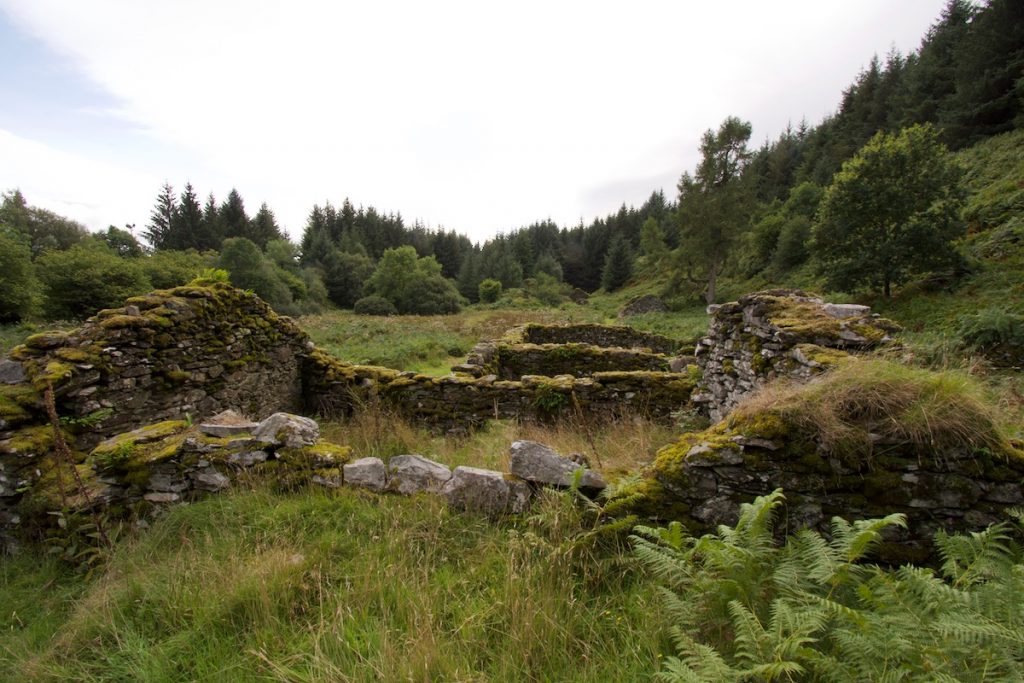 I was curious to know the origin of 'Oib' as a place-name, and found this explanation on the Kilmartin Museum website:
"The settlement of Kilmory Oib lay within the land or estate known as Oib (also Oab or Ob meaning in Gaelic bay or inlet) which covered two peninsulas at the head of Loch Sween…"
Other local names with the 'oib' element are Oibmore, Oib Greim and Gariob.
According to the Kilmartin Museum website, the earliest record of named tenants at Kilmory Oib comes from the 1694 Hearth Tax, when the inhabitants of Kilmory were listed as being Alexander and Malcolm McIlvernock, Robert Campbell and Donald McMillan.  By the time of the 1841 census, there were 34 people among seven households, one of which was kept by Niel MacCallum, a 'millar at Loch Choilliebar'.   In 1843, Angus and Archibald McDugall, John Gillies and Neil McCalum (possibly a different spelling of the 1841 census entry) were liable for Road Tax.  (The old road which leads past Kilmory Oib is grassy but well-built, with stones carefully placed, and domed with a 'crown' in the middle – likely to be from that time).
It all sounds like a thriving and prosperous community, but from the mid-1800s things went badly wrong.  The Highland Clearances saw many thousands of people removed from their homes, some voluntarily but most against their will, to make way for a new and 'improved' method of agriculture – large-scale sheep farming.  At Arichonan, an eviction notice served in May 1848 resulted in a riot, supported by many tenants of Kilmory Oib who no doubt sensed their own fate in the offing.  But it was no use.  Some of the people who were moved out of Arichonan came to Kilmory temporarily, before moving on elsewhere.  The 1851 census records 91 people in 16 households;  10 years later, in 1861, no residents are recorded at all.   Meanwhile, some of the abandoned houses were re-designed as sheep shelters – doors and windows were blocked up, and low entrances or 'sheep crawls' were inserted, just big enough to allow a human to get inside as well.  I didn't try it myself!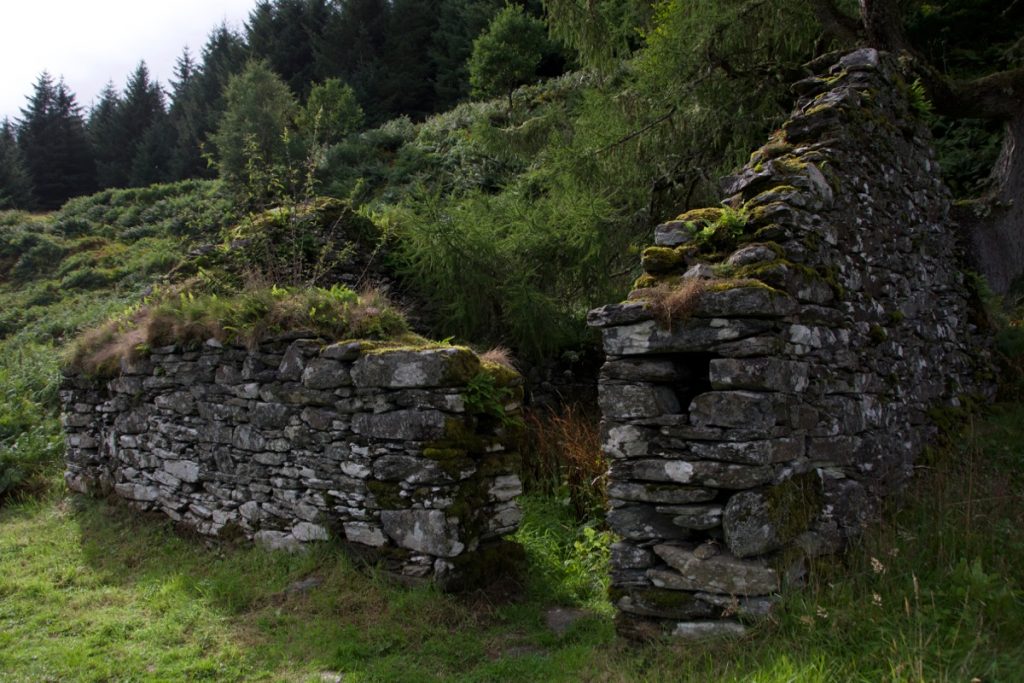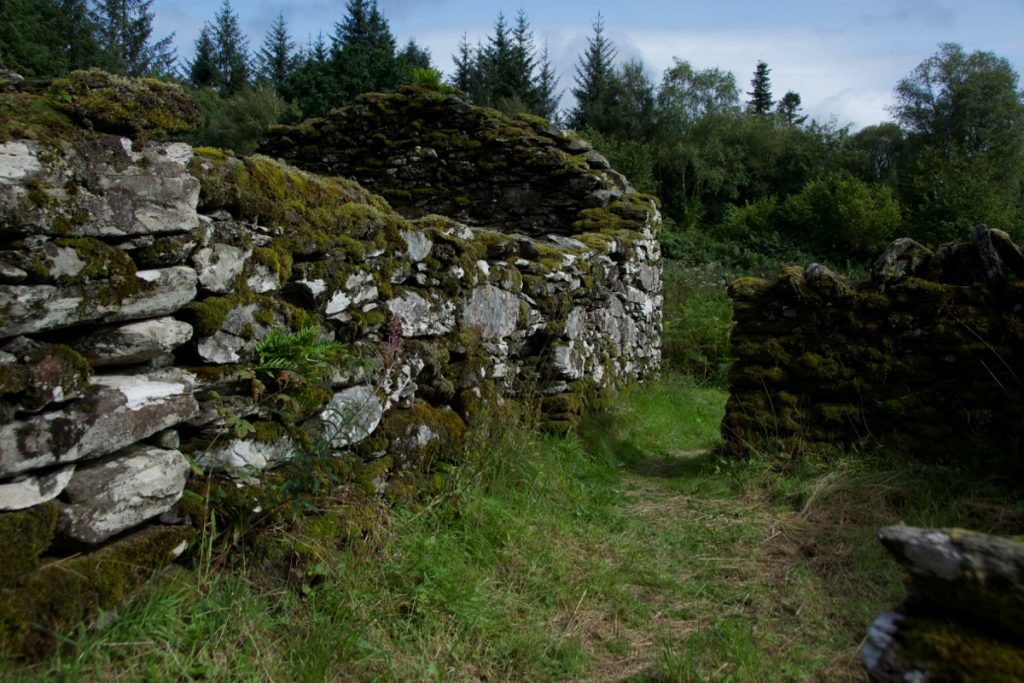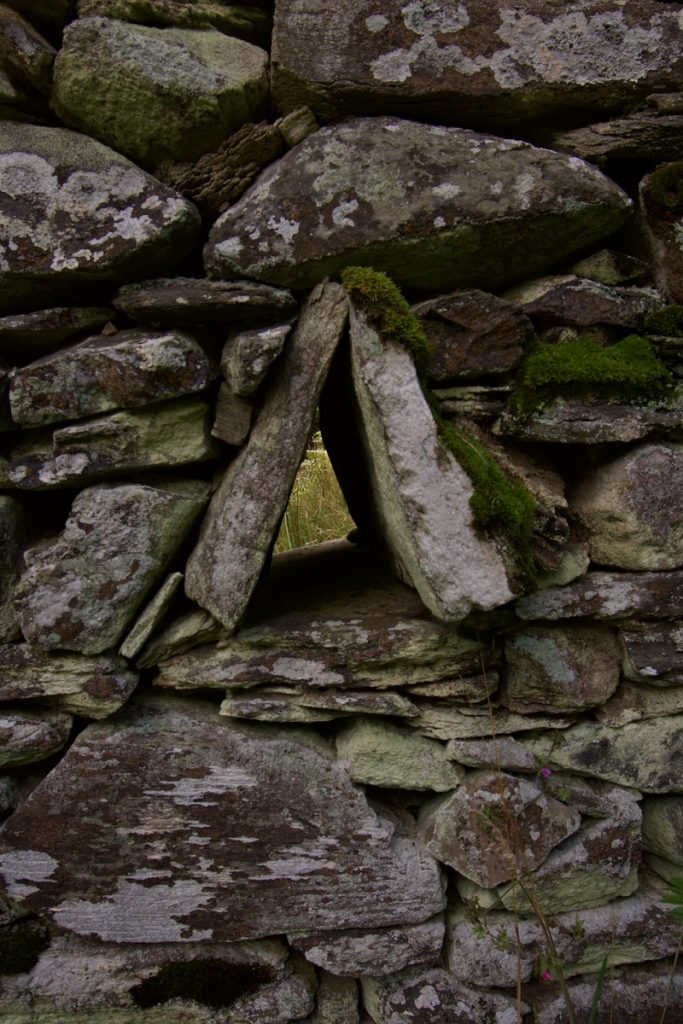 Triangular window, presumably for ventilation in a barn.   Similar windows were seen at Arichonan.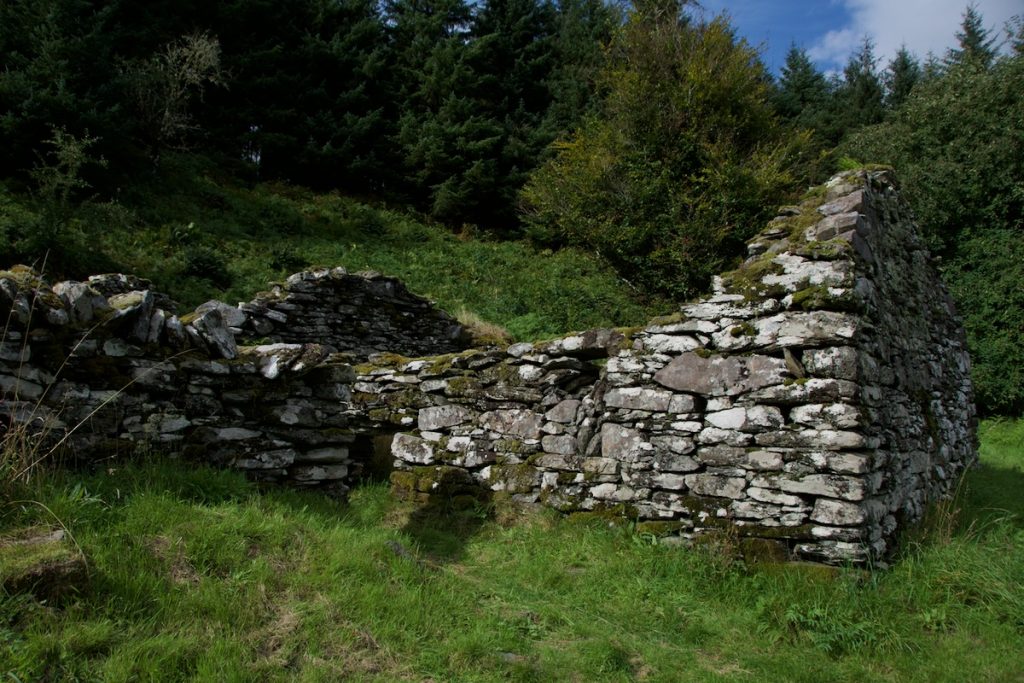 Gable end, showing thatch pegs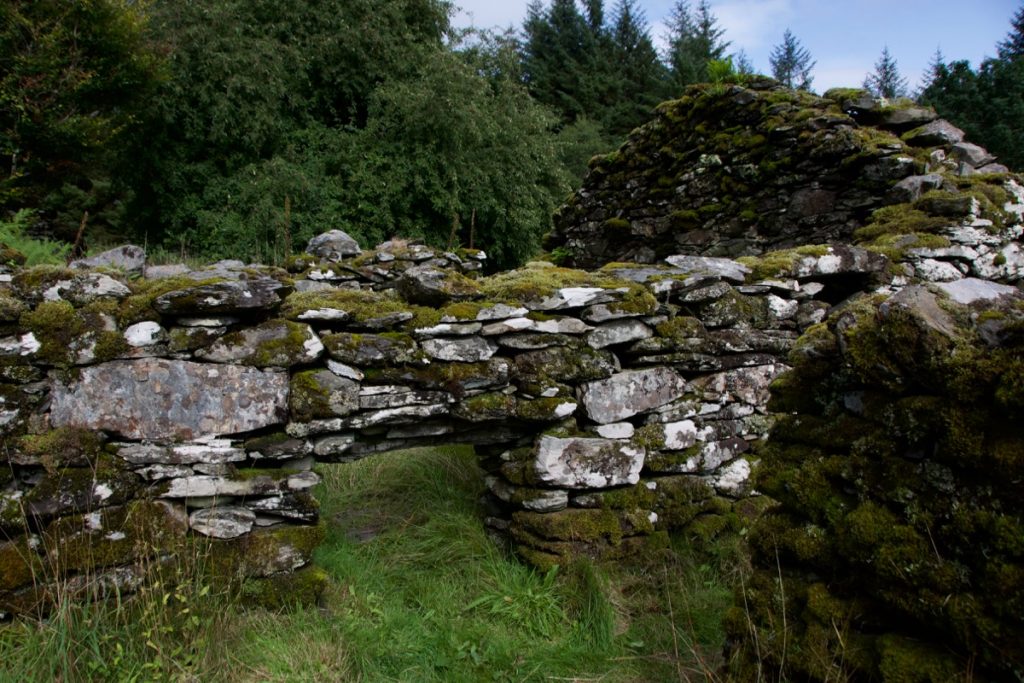 A 'sheep crawl'
Above & below:   Next to one of the barns was a magnificent wild cherry* tree – it must be the biggest I've ever seen.  It will be lovely to come back here in autumn when the leaves are turning, and in spring to see it decked in blossom.  I wonder also who planted it, and how long ago?  What does it remember?
(* Thanks to a kind commenter (below) who has pointed out that it's most likely a crab apple – of course!  And what a bumper crop!)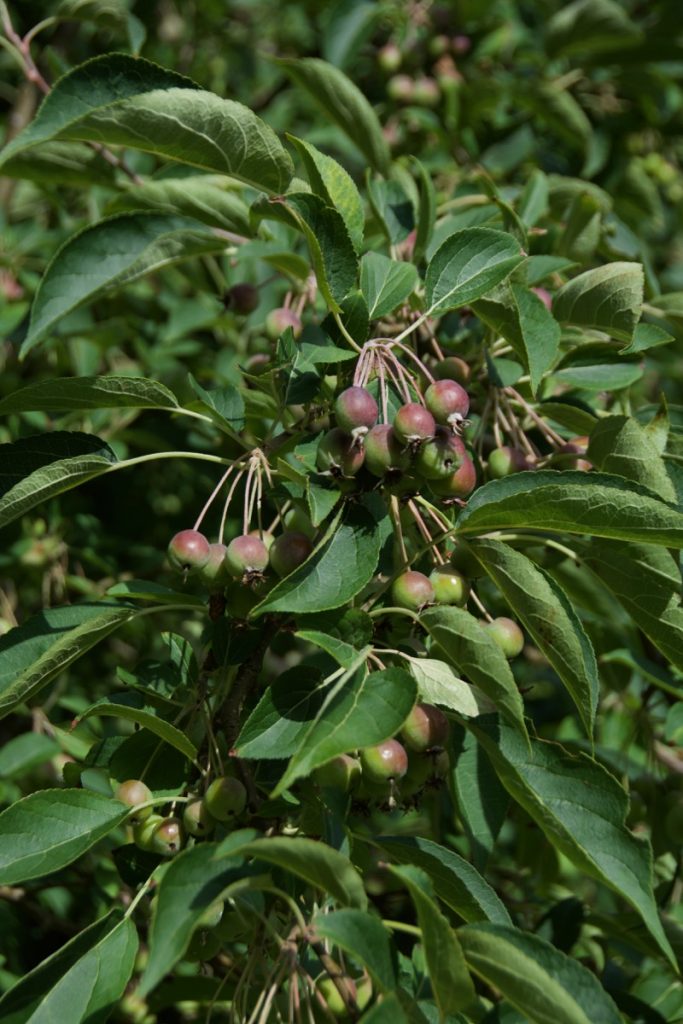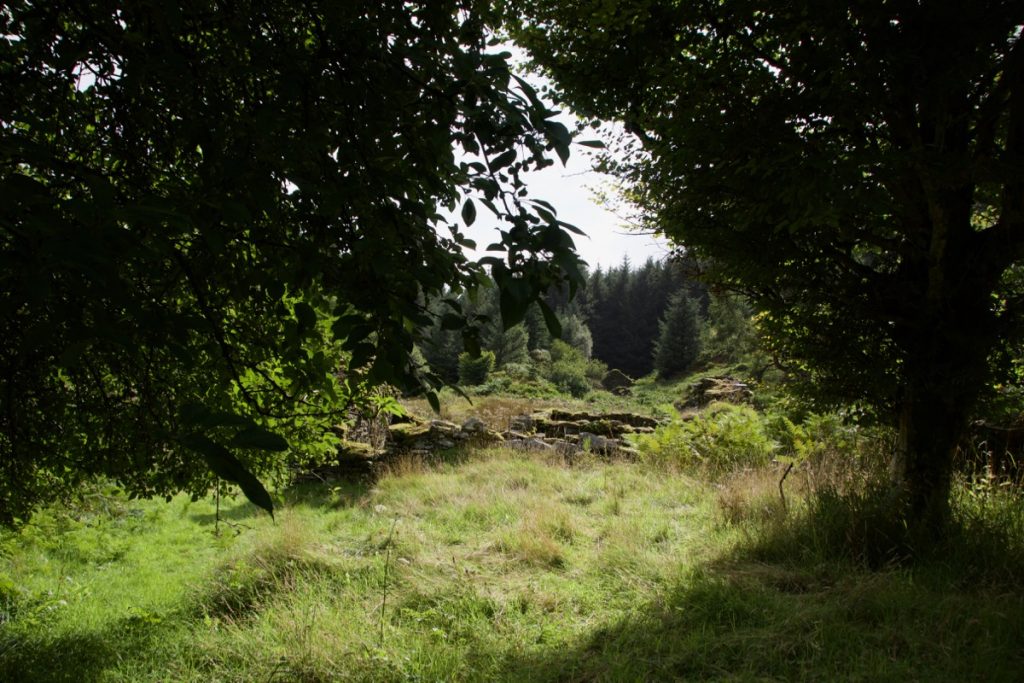 The last residents of Kilmory Oib are thought to have been two women – Euphemia and Catherine Blue.  Catherine, quite likely an old lady, was listed as living at 'Kilmory Cottage' in 1901.  According to Kilmartin Museum, in 1908 the building was photographed without a roof.   I wonder what became of her, and her family, if she had any.
And the first residents?   There may well have been a settlement at Kilmory Oib long before the 1600s – it's just that no real evidence has yet been found.
On Blaeu's map of Knapdale in 1663 (based on Pont's survey of c.1590), a place named as 'Oib' is marked by a cross, which usually signifies a chapel or church.   So far, no trace of a chapel has been found at Kilmory Oib, but towards the southern end of the village is a beautiful cross-carved stone standing next to a well.   Thought to be 8th or 9th century, the stone has a cross carved on the west face, together with a pair of birds (almost impossible to make out) and circular designs like bosses, which I've seen on much bigger, better preserved crosses elsewhere.  You can see a clearer photo of the carvings on the Canmore database, taken before lichen obscured the details.   On the east face is the outline of a simple cross.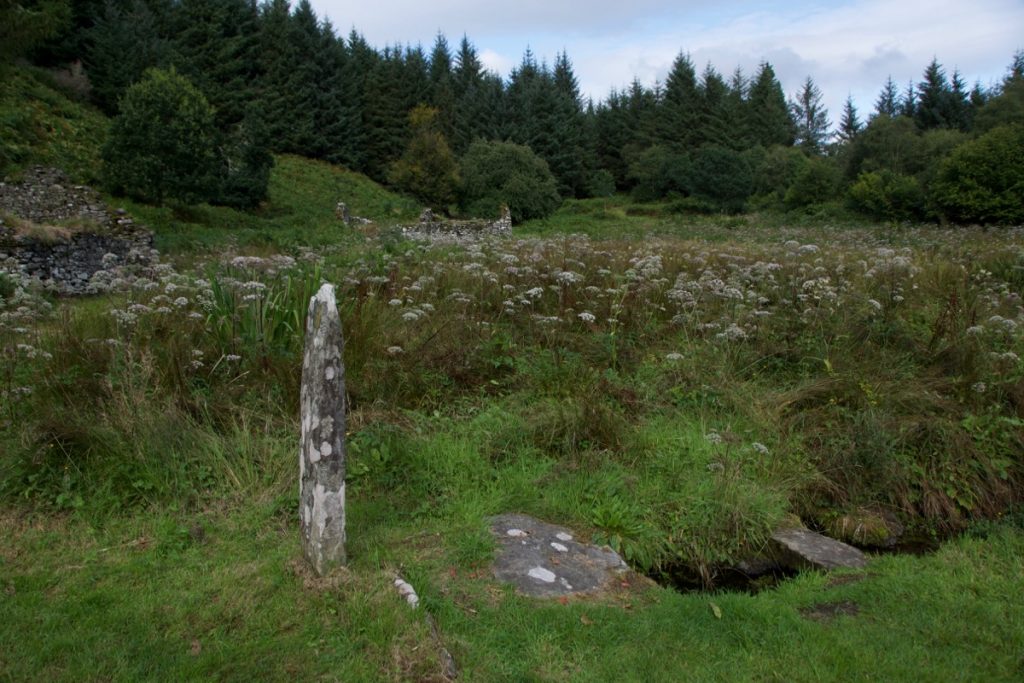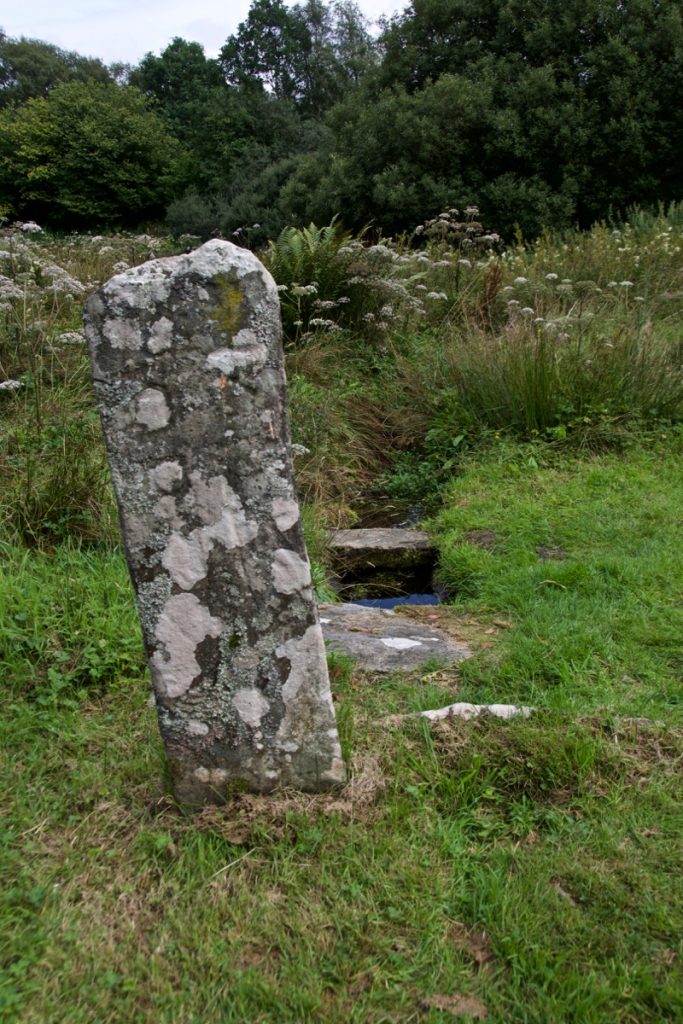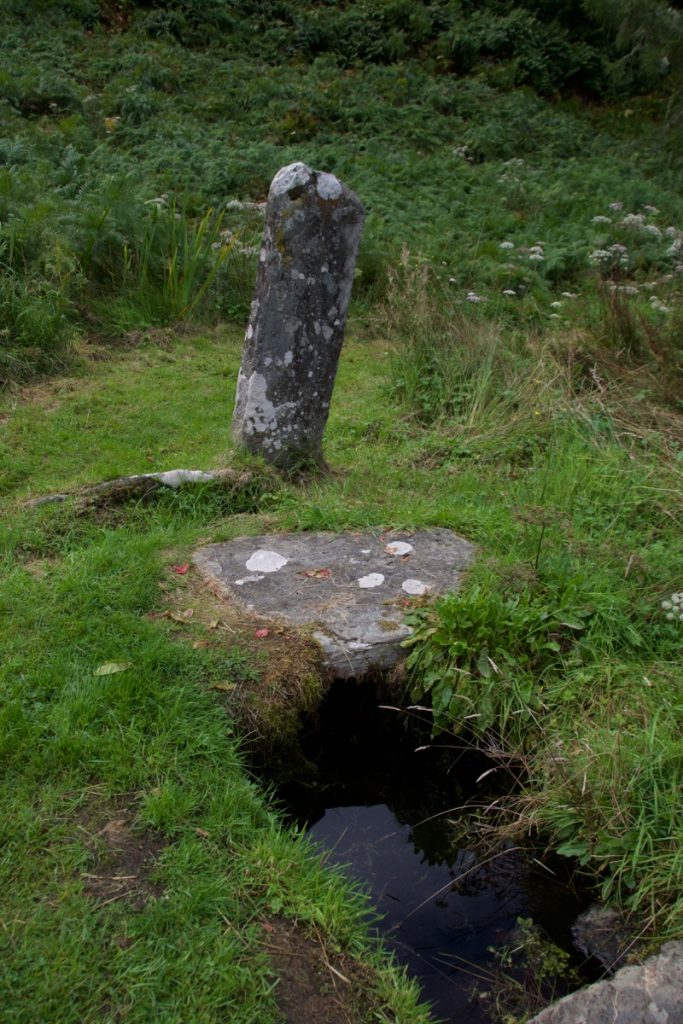 At the foot of the stone, horizontal slabs partly cover a spring which contains crystal clear water.  Surely a healing well, and possibly linked to a saint who was here… but who?   Is the clue in the name, Kilmory?   The 'kil' or 'cille' element denotes a hermit's cell, and suggests the presence of an Irish missionary-saint, one of many who came to western Scotland in the wake of St Columba.   The website Saints in Scottish Place-names lists possible connections with St Mael Ruba or St Mary, but there's no conclusive answer.   All I can tell you is that it's a truly beautiful little spot – comfortable and welcoming, rather than austere and overpowering.  It needs no great leap to imagine a healer or a hermit living here in simple happiness.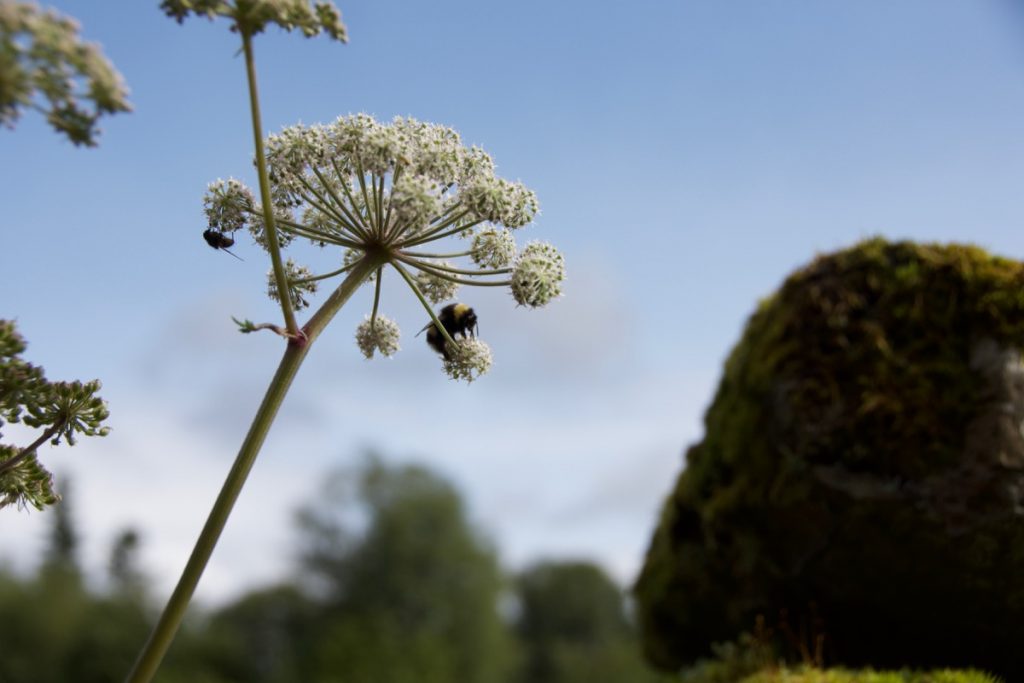 A little further along the path is the ruined mill house… I'll tell you more in the next post.
Reference and further reading:
Photos copyright © Jo & Colin Woolf