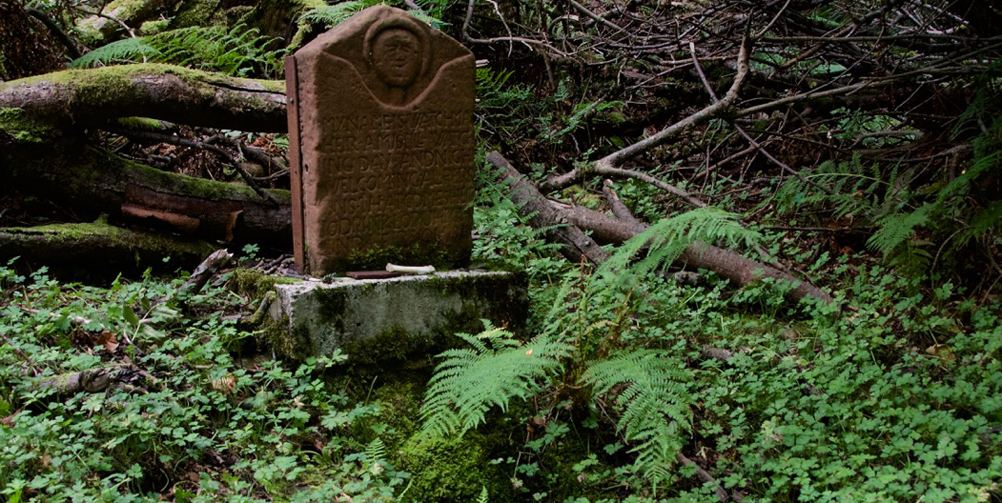 I've come across several inscribed stones marking natural springs or 'holy wells', but this example, at Barbreck near the head of Loch Craignish, is particularly enigmatic – not least because at one time it was said to have the power of speech!
The Watchman Stone lies hidden in woodland to the east of the A816 near Kintraw. It sits above a man-made trough which catches the water from a small burn.  The trough itself is so overgrown as to be almost invisible – it looks like a mossy hole in the woodland floor.   From here, the water overflows and tumbles down a few feet to the larger burn below.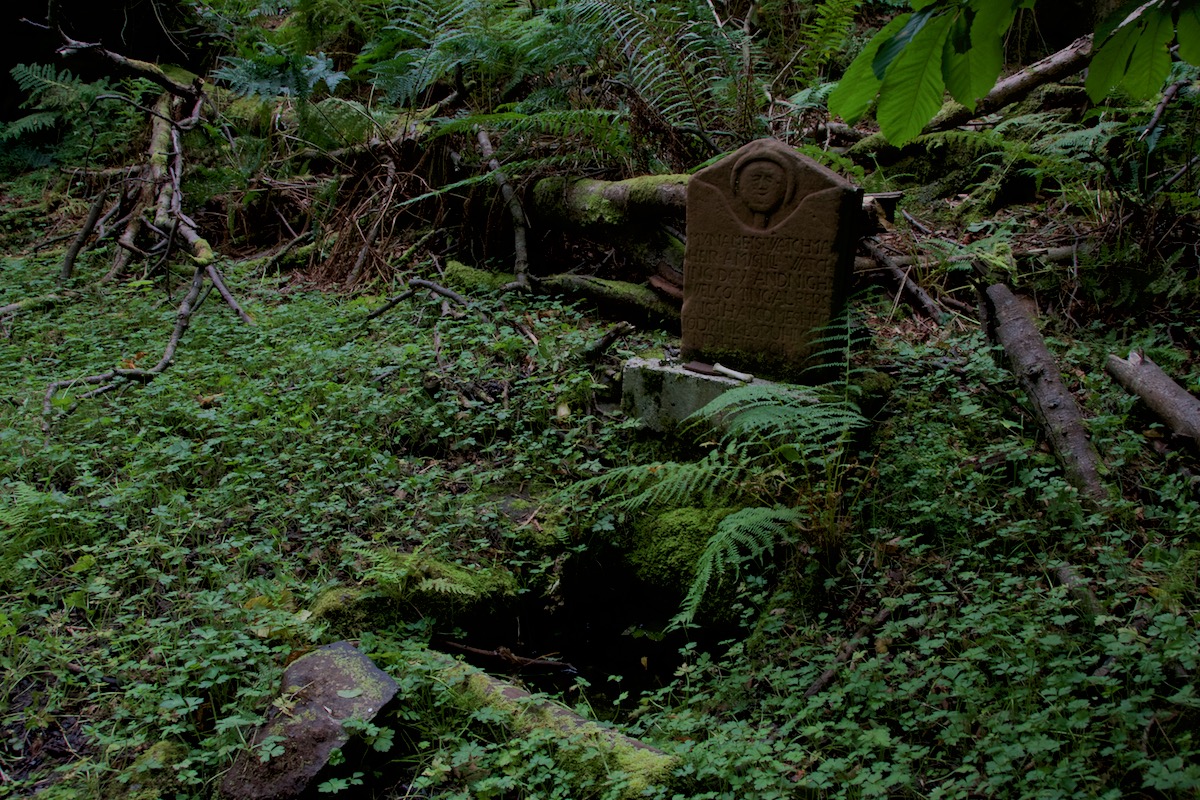 Carved on the front of the stone is a round face on a strikingly narrow neck.  Beneath a sausage-shaped head of hair (or a wig, perhaps?) the 'Watchman' appears to be smiling, but whether this is with mischief or benevolence it's hard to tell.  The way it's designed, it almost appears that the head has popped up from behind a curving screen!   Below it are several lines of text in Roman-style capitals; the lettering extends onto the back, which is now partly obscured by a fallen tree.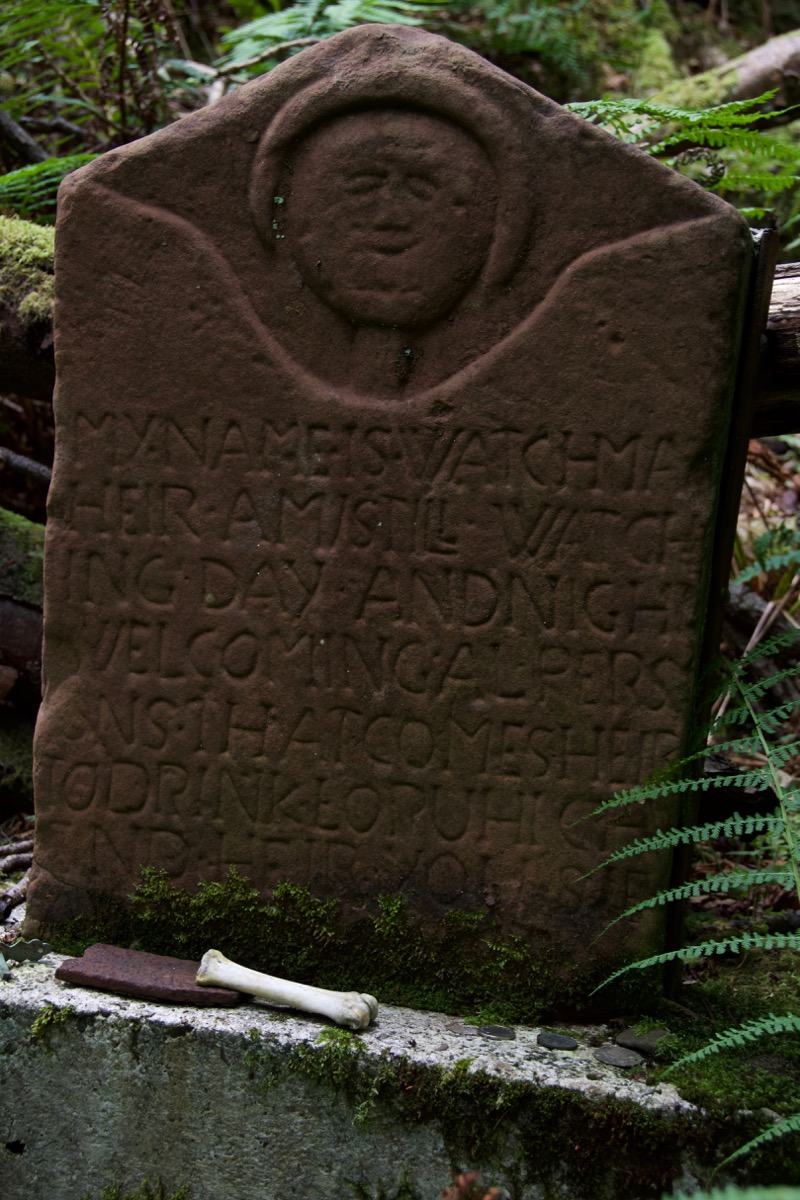 On the front is written:
MY NAME IS WATCHMAN
HEIR AM I STILL WATCH
ING DAY AND NIGHT
WELCOMING AL PERS
ONS THAT COMES HEIR
TO DRINK FOR WHICH
END HEIR YOU SIE
A DRINKING CUPE
An article by F S McKenna in 'The Kist' (the Magazine of the Natural History & Antiquarian Society of Mid Argyll, 1980) offers a transcription from the back:
THIS
EFFIGIES WHICH
YOU SIE HEIR ITS BE
HOLDING AL THAT CO
MES ITS NEIR TO THIS
NEU FOUND SPRING
WHICH HEIR RUNS O
UT OF A ROCK AND A
RE WELCOME TO DR
TO DRINK OF IT FOR
NOUGHT AT F(O)UNT
AIN I III OF MARC
H 1714 THIS AL BY
[BARBREC]
There is debate about the accuracy of some of the words, but what appears certain is the date of March 1714.  The final line of 'Barbrec' has apparently been lost, and there were also some words carved on the top edge, which are now illegible.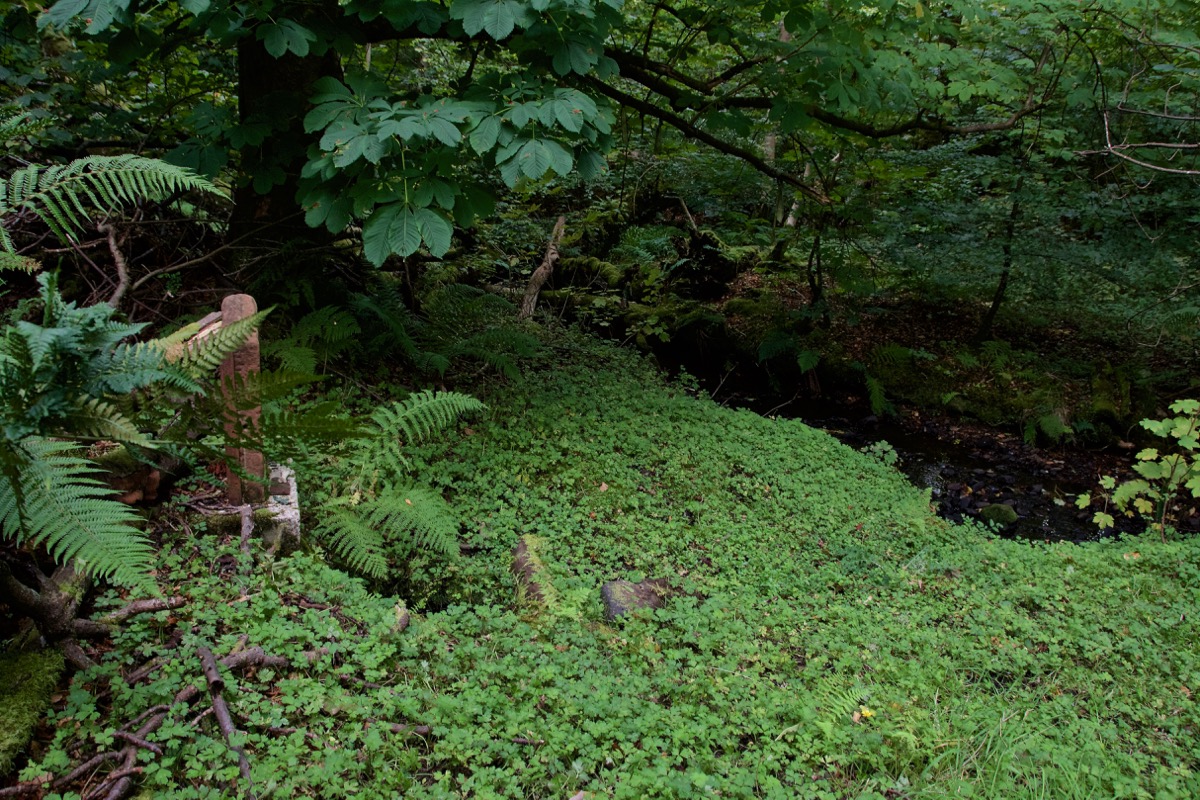 The Watchman Stone is thought to owe its existence to Archibald Campbell, who inherited the Barbreck Estate from his father in 1691.   The burn would have supplied wayfarers with drinking water, but it seems that the Watchman himself had more mysterious talents:  it was said that if you asked him a question he would invariably answer back.  According to local tradition, when the Campbells sold Barbreck and moved to Kintyre, they took the stone with them and set it up near a well on their new property, where it was recorded in 1833.  However, the stone then "began to raise such a clamour of objections that finally the worried family arranged for its restoration to the original site."   (F S McKenna, The Kist).   Sadly, this only solved the problem in part, because the Watchman then stopped speaking altogether!
Local people say that a track once led past the stone, but the wood has since become so overgrown that you have to push your way through and wade across a larger burn in order to find it. The drinking cup mentioned in the inscription is now missing.  Some tattered 'clooties' hang from nearby trees – testament, perhaps, to a belief that the place was believed to have healing properties.   A few cow bones are scattered close by.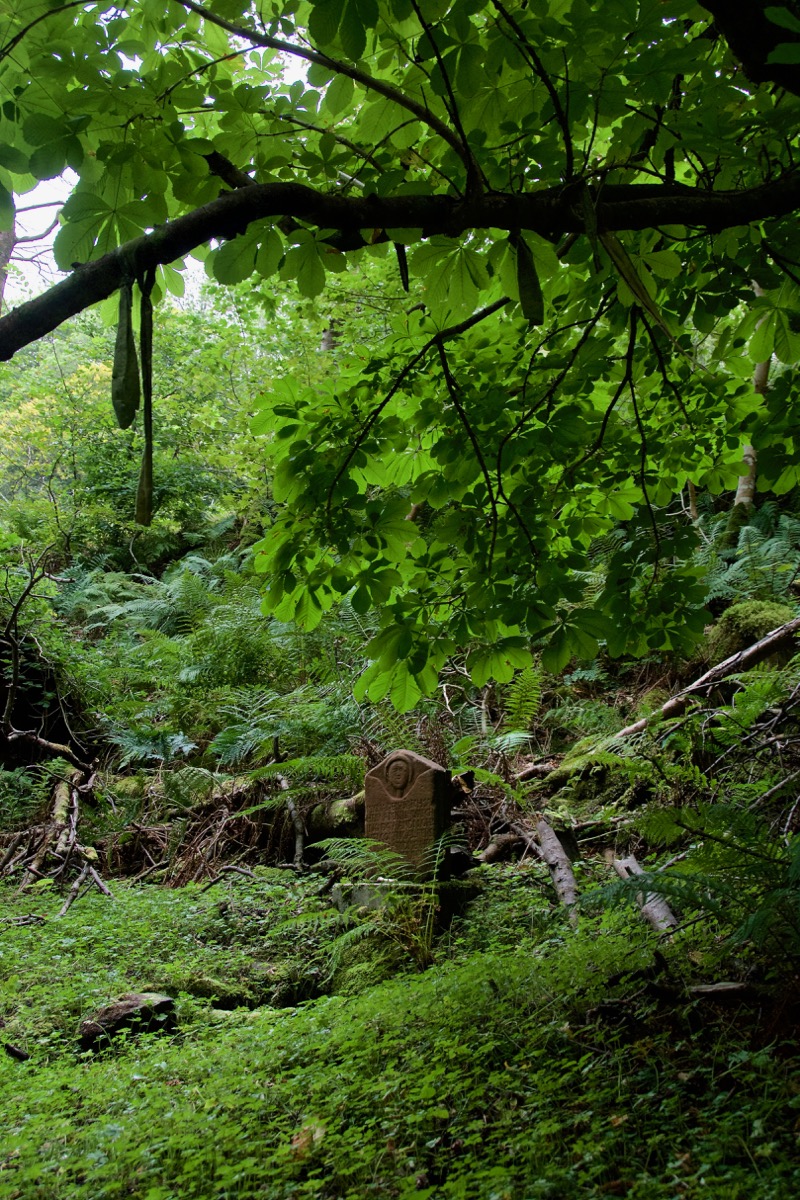 I wonder how long the tradition of the Watchman has been in existence. In ancient times it was common for natural springs to be revered, and many of them became associated with missionary-saints such as St Columba. What is interesting about the Watchman Stone is that it doesn't seem to have this kind of story attached to it, and the date of 1714 seems comparatively recent. Maybe its origin has been forgotten, or maybe it was the whim of an 18th century landowner.  Meanwhile the Watchman continues to smile his enigmatic smile and keeps his own counsel!
Reference:
Photos © Colin & Jo Woolf