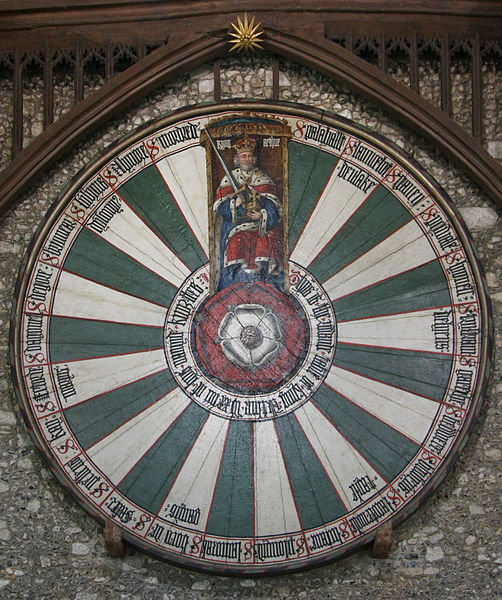 Winchester's Round Table: inspired by a legend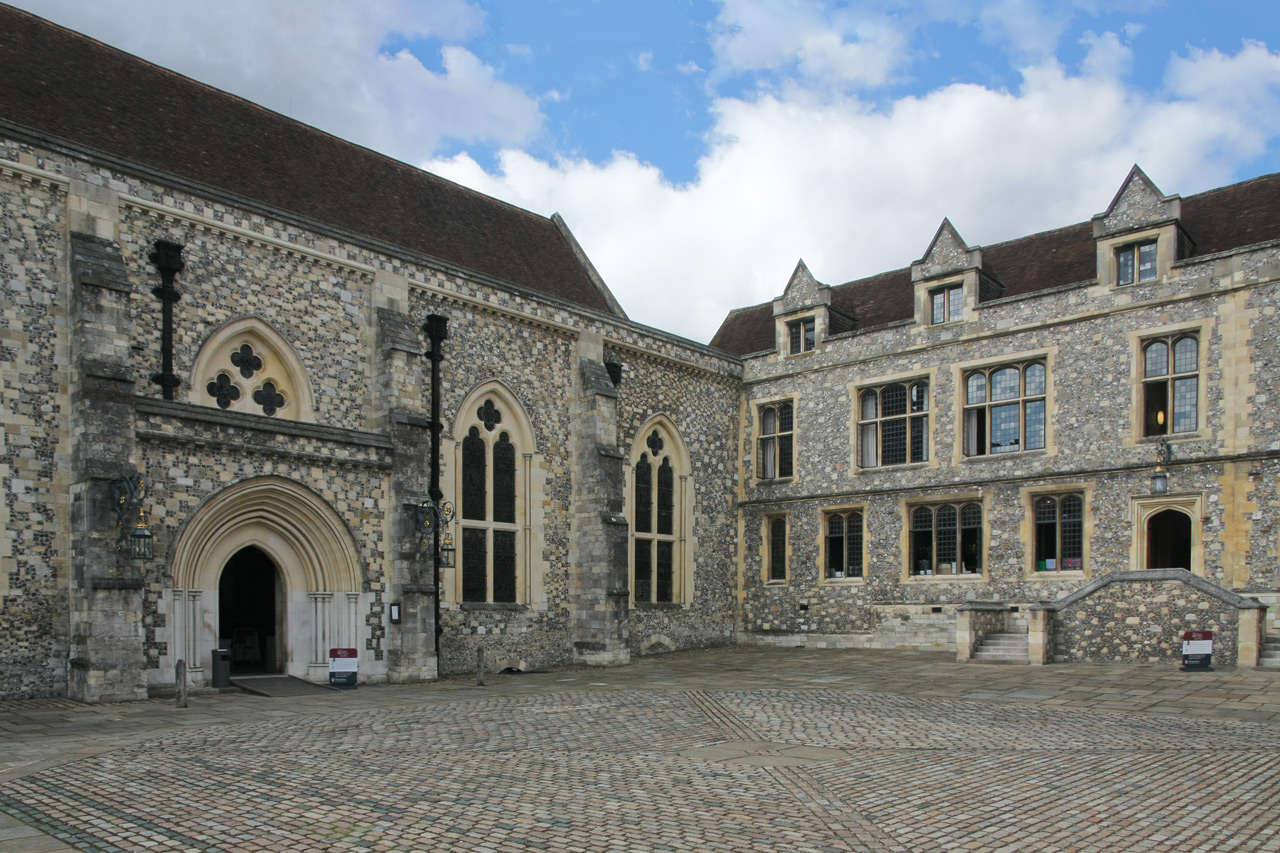 When I was 18, my first job was at an architect's office in Winchester.  I used to wander around this amazing city in my lunch break, and one day I ventured into the Great Hall of Winchester Castle (possibly because it was raining, and I was bored).
My attitude towards history was pretty casual at this time:  I was more interested in what I was going to do with my own life than what other people had done with theirs.  The cavernous interior of the Great Hall was dark and empty of people, and I seem to remember there were some faded heraldic banners which looked as if they needed a good wash.
Then I turned round to face the other way.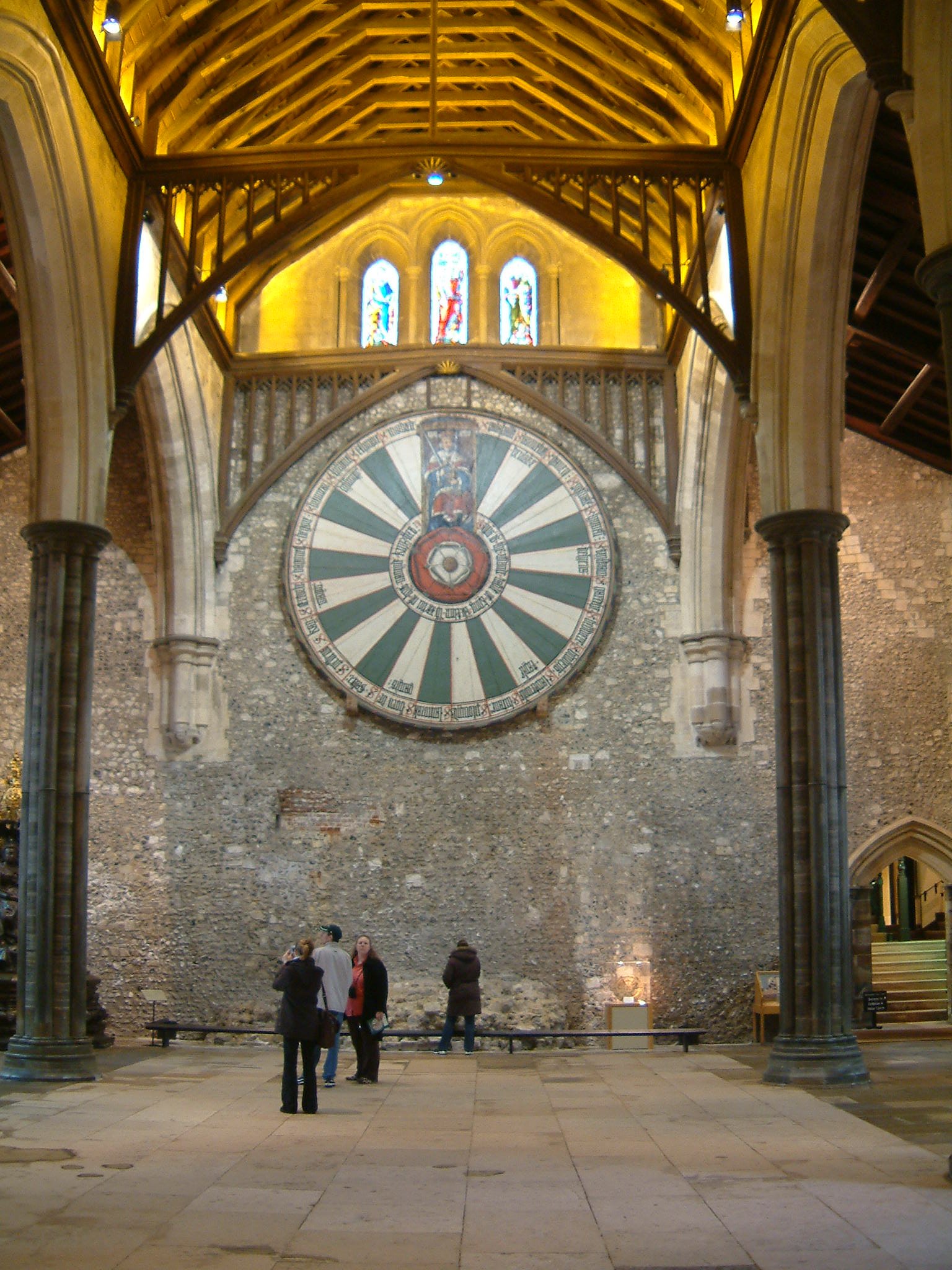 Hanging on the wall at the far end was a vast circular table, brightly painted and jaw-dropping in its sheer presence.  Radiating outwards from a central red and white rose were alternating stripes of white and green.  A portrait of an enthroned king in ceremonial robes occupied the 'twelve o'clock' position, and there was some kind of archaic lettering all around the outside.
I was rooted to the spot.
Was I the only person who had seen this?   Didn't anyone else know about it?
Once I'd forced my feet to move, I went to have a closer look.  This, it seemed, was the Round Table of King Arthur – or, at least, it was the brainchild of Edward I who wanted it to appear that way.
I wanted to go back out into the high street and ask all the other people who were rushing around in their lunch hour:  "Have you seen what's in there?"
"The Rounde Table at Wynchestere beganne, and ther it ende, and ther it hangeth yet"

John Hardyng, Chronicle of England (1463)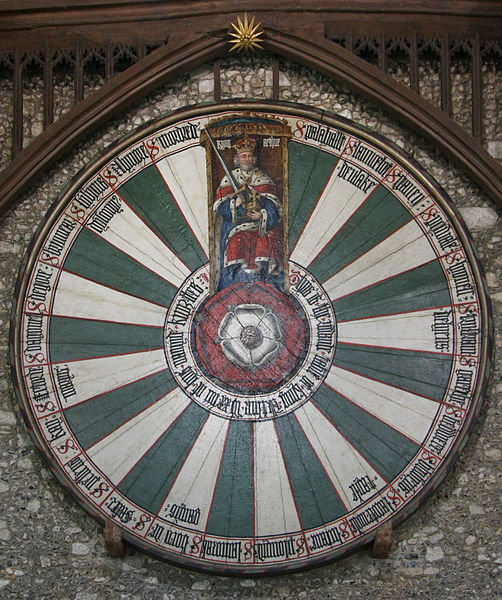 There are quite a few conflicting legends about the original Round Table.  One says that it was built by Uther Pendragon, King Arthur's father, and given to Arthur on his marriage to Guinevere;  designed to reflect the spirit of equality and chivalry in the court of Camelot, its circular shape made sure that the King was visible to all, and no knight had precedence over another.  A second story links it with the table created by Joseph of Arimathea to house the Holy Grail.
Sadly, radiocarbon dating and studies of carpentry methods have proved that the table in Winchester's Great Hall was a good 600 years too late for the 'once and future king'.  Instead, it has been attributed to Edward I, who took a great interest in Arthurian legends.  Historians suggest that the table may have been built in 1290 and used as a centrepiece at a nearby tournament to mark the betrothal of one of Edward's daughters.
Around 1522, Henry VIII had the table restored and re-painted with a Tudor rose and a royal figure that was said to resemble himself.  Running around the perimeter are the names of 24 Arthurian knights.  Was this Henry's idea as well?  A report from that time states that the names were 'badly eaten away by decay', which suggests that Henry merely restored names that were already there.
I am no expert on medieval English, but by squinting a bit and twisting my head sideways I can just about make out the words "This is the round table of King Arthur… and his many knights" around the central rose.  Sir Galahad's name is to the immediate right of the King, and Sir Mordred to the left.  Next to Sir Galahad I think is Sir Lancelot de Lake (or du Lac).
Originally the table would have had 12 outer legs and a central support.  It measures 5.5 metres (18 feet) in diameter, weighs 1.32 tons and was constructed from English oak.  Standing and gazing upwards in awe, you wonder just how it looked when Edward I used it: who was there, what did they say, how did they feel?  Looking back, I think part of me fell under the spell of history that day, although I would have denied it at the time.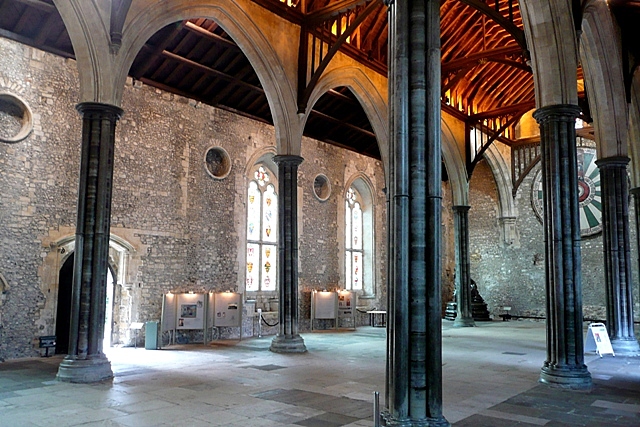 Winchester Castle was built in 1067 by William the Conqueror.  Henry III was born here in 1207, and between 1222 and 1235 he constructed the Great Hall, to replace the original building that was in disrepair.  The Great Hall is the only part that survived the ravages of Oliver Cromwell in 1646, who demolished the rest.  It is described as "one of the finest surviving aisled halls of the 13th century".

The Round Table has been in here since at least 1540, and maybe as long ago as 1348.  It is way too big for the entrance – if it ever needed to be moved, I have no idea how they would go about it!
Thanks to the following websites:
I didn't carry a camera around with me in those days, so the photos here are drawn from publicly available sources.