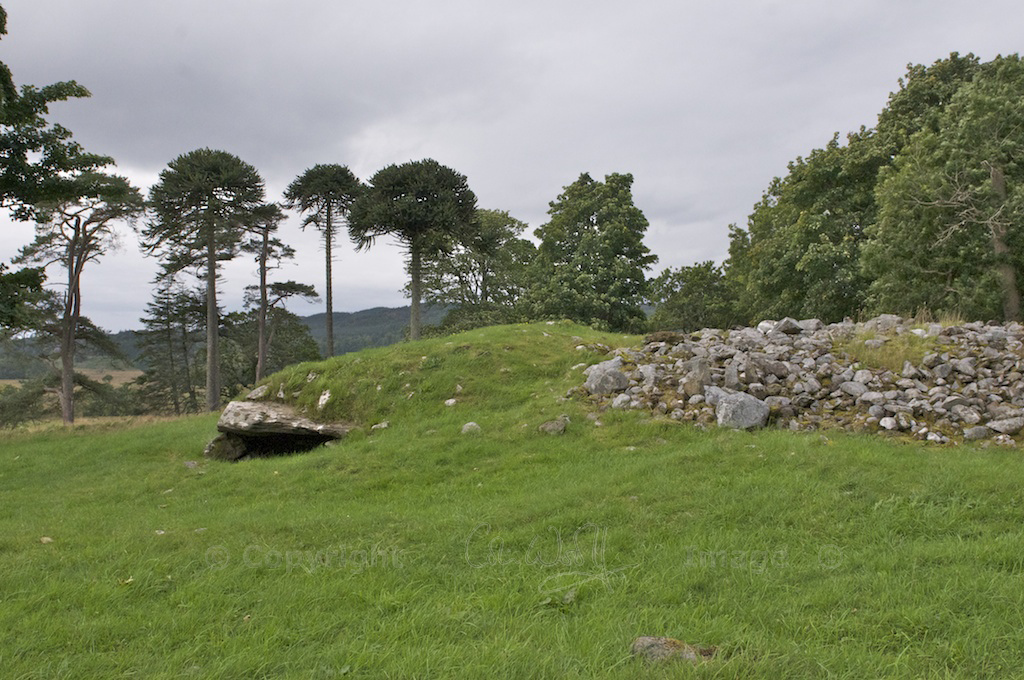 Dunchraigaig: the darkness of time
Earlier this month I told you about the standing stones at Nether Largie, one of the many prehistoric sites that are dotted around Kilmartin Glen in Argyll.
Just a few hundred yards to the south, on the side of the busy road between Oban and Lochgilphead, is another enigmatic reminder of our ancient past.  It's called Dunchraigaig, and it is a cairn or burial chamber.
The meaning of 'Dunchraigaig' is still puzzling me a little:  'dun' often refers to a hill fort (in the same way as Dun Beag on Skye), and the 'craig' element derives from the Gaelic for 'rock'.   The suffix 'aig' I always thought meant 'bay' in Norse, but the sea is at least a mile away, and it can't have risen much higher in the Bronze Age or else this area wouldn't have been habitable at all.
Kilmartin Glen is bristling with standing stones, burial chambers and cup-and-ring-marked rocks;   most are thought to date from around 4,000 years ago.  There are at least six burial chambers, five of which are aligned along the valley floor, with Dunchraigaig, the sixth, just to the south-east.   Exactly why they were arranged in this way is a mystery that the Bronze Age people have taken with them to their graves.
Dunchraigaig is one of those sites that demand a certain degree of imagination, because what you can see today is nothing like its original appearance.  In fact, if you have someone with you who is inclined to dismiss historical sites as 'heaps of stones', do not show them Dunchraigaig!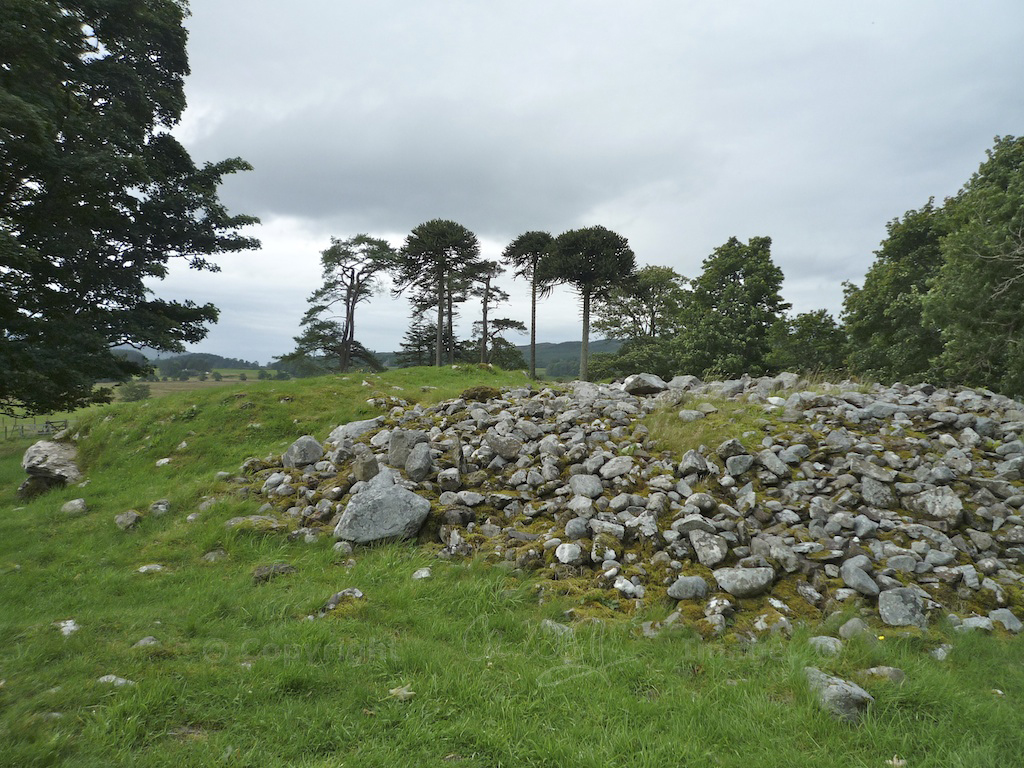 The setting of the grave is secluded rather than spectacular.  Tall trees stand around it like silent guardians, and beyond them lies farmland dotted with low wooded hills.  Just out of sight, to the west, are Loch Craignish and the Sound of Jura;  a little further south, the River Add meanders through the ancient peaty marshes of Moine Mhor, 'the great bog', before flowing into the sea at Loch Crinan.  This wild area is a haven for butterflies, dragonflies, hen harriers and curlews, and orchids thrive in the waterlogged soils.
What you see on approaching Dunchraigaig is a low hummock roughly littered with stones, which makes it look as if an excavation is already in progress.  To the left, and jutting out of the side of the mound, is its most impressive feature, a large capstone resting on two smaller boulders and grassed over with turf.  Beneath it is a hollow chamber which, at first glance, appears to lead right back into the heart of the cairn, but on close inspection you can see it is small and shallow.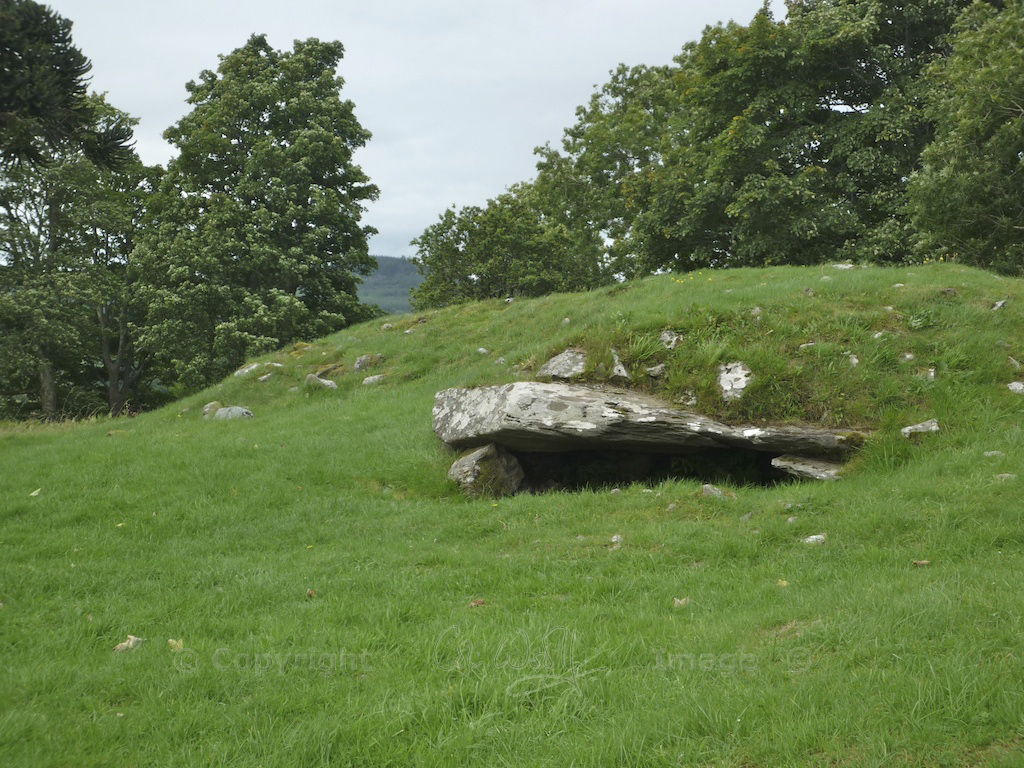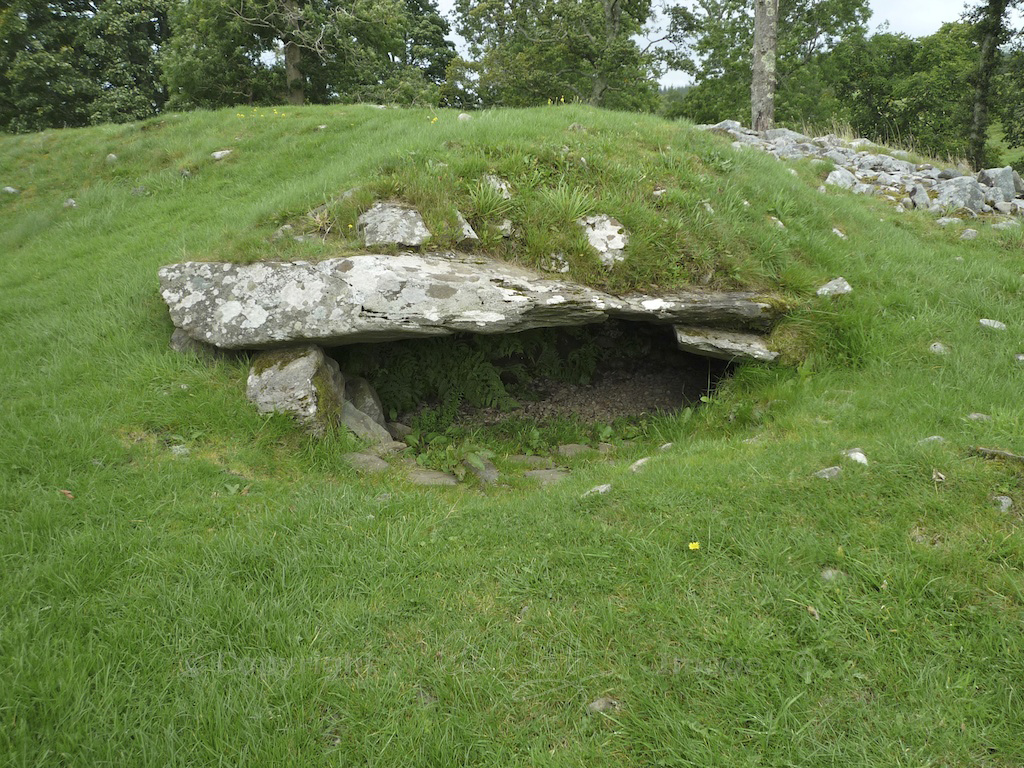 On top of the mound, roughly in the centre, is what looks like a second capstone, partly embedded in the ground.   A small cavity hints at hidden depths, and around it is scattered a random collection of moss-covered rocks.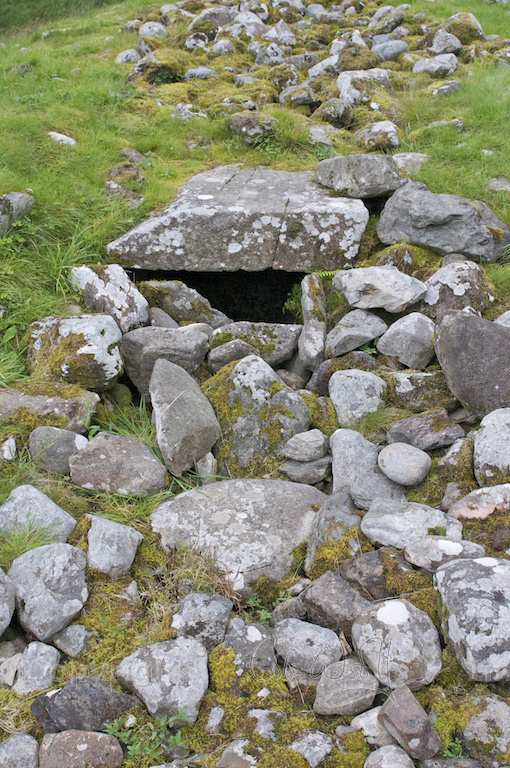 So what has happened at Dunchraigaig, and how can we make sense of it?
Historic Scotland suggests that the larger capstone was originally the 'lid' of the first burial on the site.  Human remains were placed in a stone-lined grave which was then sealed with this slab, and a heap of smaller stones were placed on top.  Access would have been gained from above, rather than the side as suggested by the stone's present situation.  Later, more graves were dug close by, perhaps over a period of centuries, and the mound was enlarged to accommodate its growing number of occupants.   It is tempting to speculate on the common thread that tied them together:  were they all from the same family, or perhaps generations of spiritual leaders?
Unfortunately for Dunchraigaig, in 1864 it attracted the well-meaning interest of two gentlemen:  one was a local minister, and the other was Canon William Greenwell of Durham Cathedral.  Greenwell had a lifelong passion for ancient history.  He had also excavated Grimes Graves in Norfolk, and some of his contemporaries feared that his enthusiasm exceeded his archaeological skill.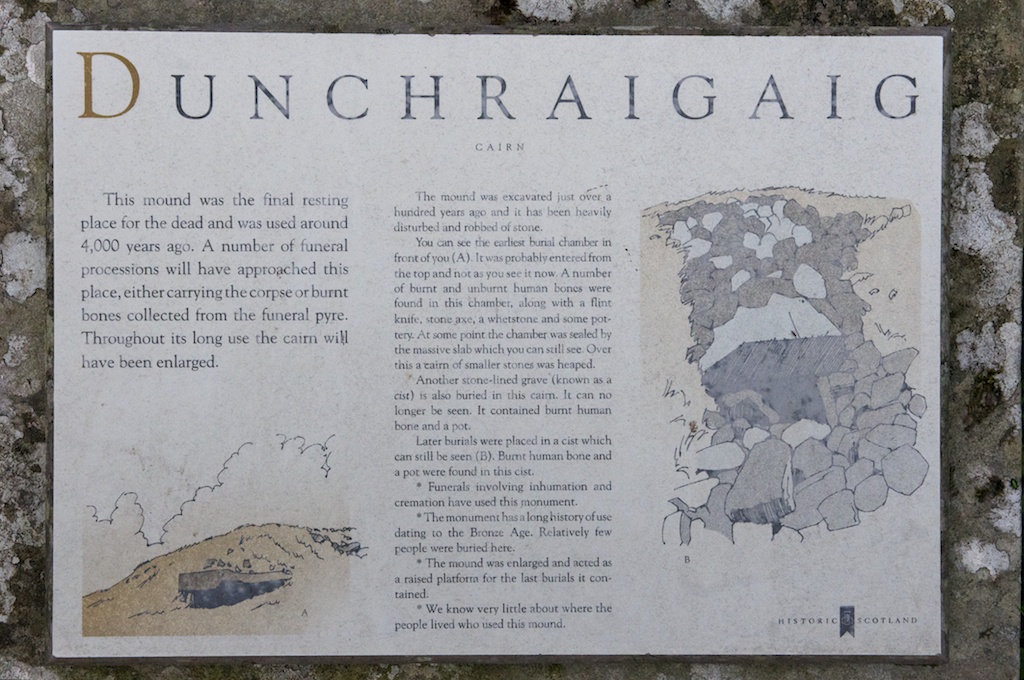 Three burial cists or chambers were discovered, all of which revealed traces of cremated human bones.  The one closest to the centre also contained a skeleton in a crouching position, and some reports claim that a body had been laid on top of the covering slab.  Under the larger capstone, however, were the remains of up to ten individual burials, and the stones of the cairn yielded artefacts such as a whetstone, an axe and a flint knife.
The two Victorian archaeologists must have been delighted with these treasures, and it is likely that they took great care to preserve and record them.  However, in the intervening period of 150 years, the large majority of their finds have somehow been lost.   The only relics that remain are two food bowls, preserved in the National Museum of Scotland.  I am sad for the people who were buried here:   to lie in undisturbed peace for 4,000 years and then suffer such a rude awakening is not the fate I would have chosen for them.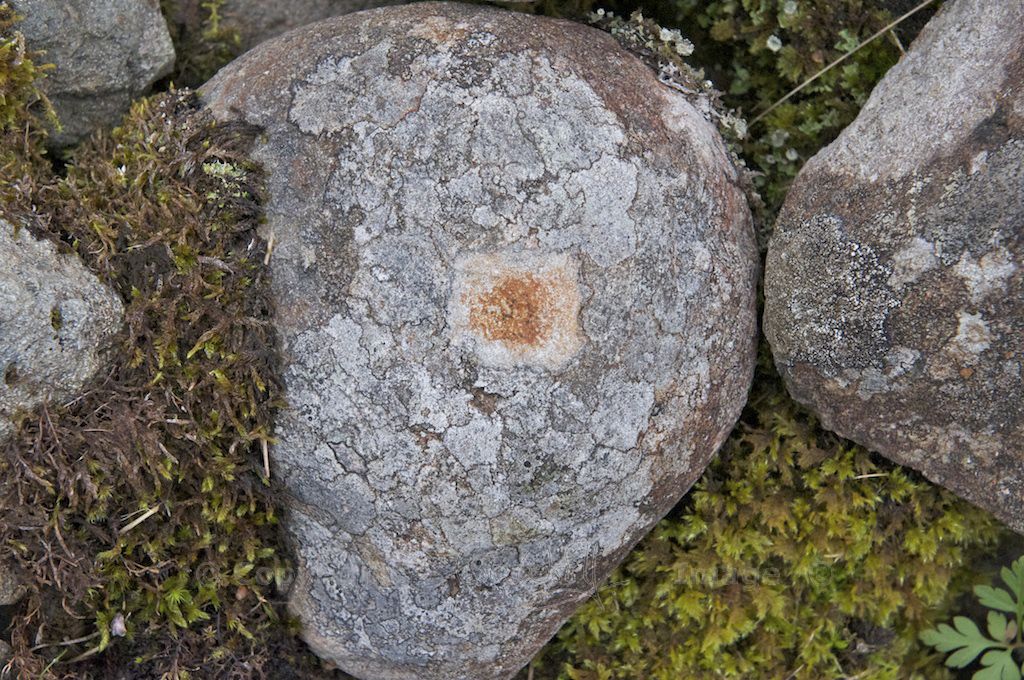 The story of Dunchraigaig remains largely obscured by time;  but there is an intriguing suggestion that its roots may reach back even further than the Bronze Age.  Historic Scotland explains:
"It is rare to find so many individuals together in one cist, and this type of burial has a closer affinity with Neolithic burial practice."
What made this beautiful glen so attractive to our ancestors?   I think we'll only ever glimpse the truth by looking at the pattern and arrangement of all the sites as a whole, rather than their individual features.  The answer lies in the landscape, and it is probably something that we can only sense, with the remnants of a long-lost wisdom.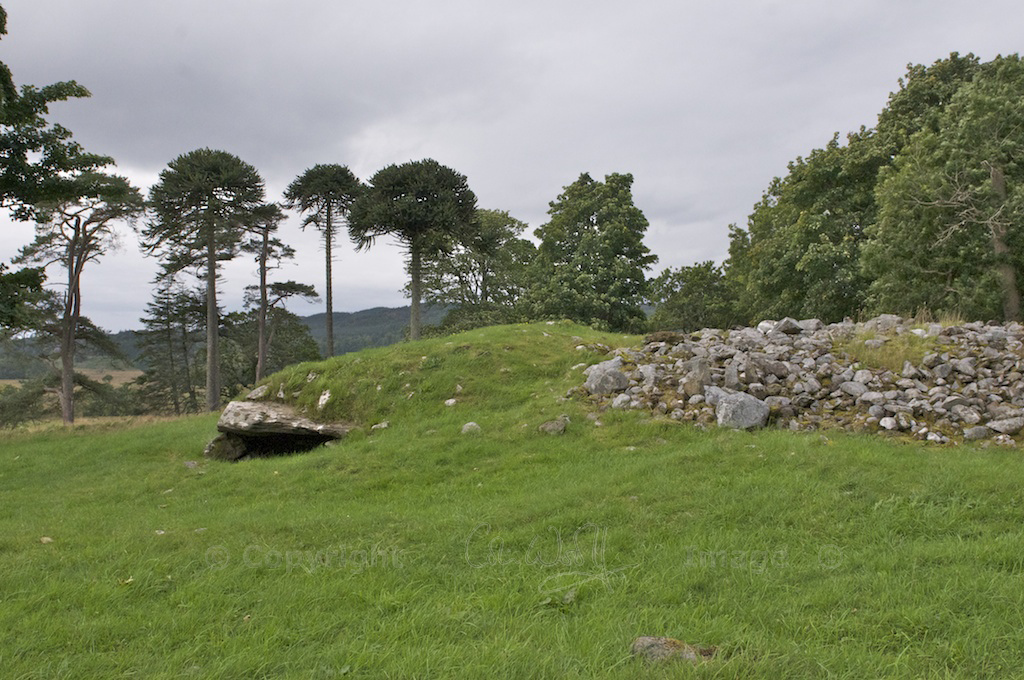 Footnote:   I have been asked by a reader in the US to suggest a pronunciation for 'Dunchraigaig'.   I'm not a Gaelic speaker but I would suggest 'Dun-CHRAIG-aig' with the stress on the second syllable and both 'craig' and 'aig' rhyming with 'vague'.   The 'ch' is soft, as in 'loch'.   If you are a Gaelic speaker and you are reading this, I'd appreciate your help!
Sources:
---
Explore further…

Nether Largie

Kilmartin Glen is one of Scotland's richest prehistoric landscapes.   Read about the standing stones at Nether Largie, just up the road from Dunchraigaig, in this feature on The Hazel Tree.