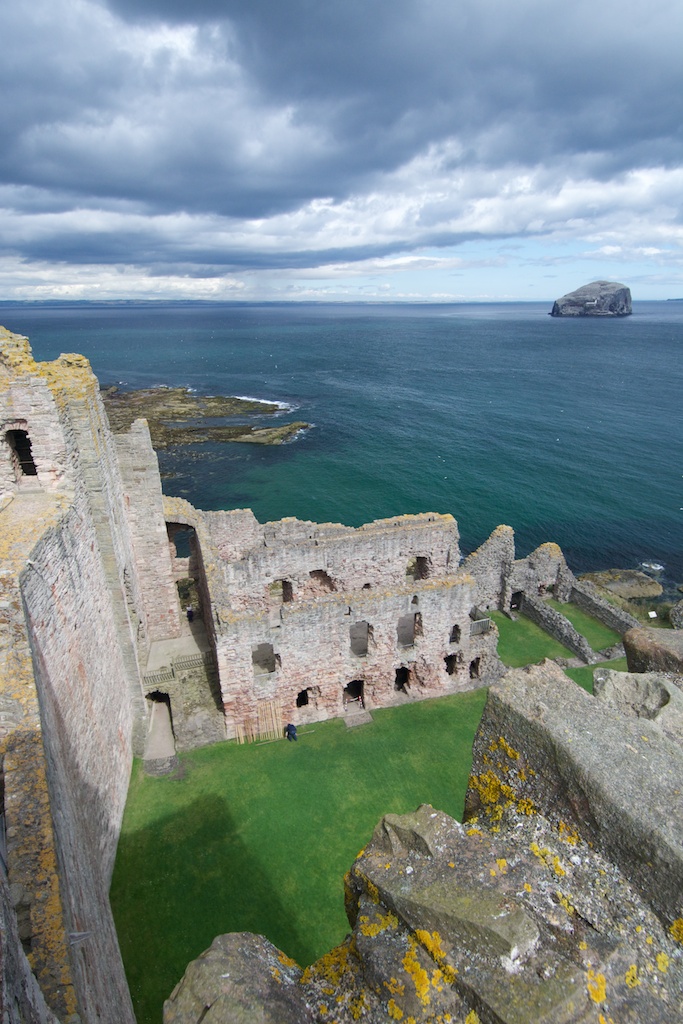 Tantallon Castle: symbol of strength
Gaunt, forceful, forbidding… Tantallon Castle sits like an injured eagle on its clifftop eyrie, and for some reason you just can't take your eyes off it.  Built to withstand a siege, it saw not one but three… and the last one was its downfall.  Incidentally, it's pronounced 'Tan-TALL-on', with the accent on the second syllable, as I found out only recently.
IN THE BEGINNING…
When David II, son of Robert the Bruce, conferred an earldom upon William Douglas in 1358, the newly-created Earl of Douglas decided to make his mark on the landscape by building a magnificent castle on his estate of North Berwick, on the east coast of Scotland.
He had acquired the estate from his uncle, 'the good Sir James of Douglas', but William, it appears, didn't have quite the same spotless reputation.  He was married to a sister of the Earl of Mar, and together they had a son, James;  but William fathered another son, George, by his brother-in-law's widow.  Both ladies were called Margaret.
William died in 1384 and James was killed at the Battle of Otterburn four years later, so William's mistress, who was the Countess of Angus by marriage, decided to go after the prize of the Douglas inheritance.   This split the family into two branches:  the Black Douglases, a senior line whose title passed to an illegitimate son of 'good Sir James';  and the Red Douglases, a junior line founded by George, who was also the Earl of Angus.  Tantallon became his stronghold.


HIGH AND MIGHTY
The fortress of Tantallon made a daunting feature on the high cliffs overlooking the Firth of Forth.  It comprised three massive towers linked by a curtain wall 13 feet thick.  The curtain wall is well preserved, and Historic Scotland describes it as "absolutely the best castle architecture of the 1300s anywhere in Scotland."  The Douglas Tower, seen on the left from the landward side, was the private lodging of the Earl and his lady, and was originally seven storeys high. The East Tower, at the opposite end, may have held guest accommodation, while the Mid Tower was defended by a portcullis and drawbridge.  Each tower was topped with crenellations and a conical roof – the epitome of a fairytale castle.  The great hall, originally free-standing, had a minstrels' gallery and was heated by a massive fireplace.  The banquets here must have been a sight to behold.
For the next 300 years, wherever there was a coronation, a battle, or a royal death, it seemed that a Douglas wasn't too far away.  Archibald, the 5th Earl, was born at Tantallon around 1449, and he became known as 'Bell the Cat', leading a rebellion against James III and ordering the hanging of some of the king's favourites from Lauder Old Bridge.  Among them was Robert Cochrane, unpopular for his strong influence with the king, and Archibald earned his nickname by pulling a decorative gold chain from around Cochrane's neck.  This was described as 'belling the cat' – in other words removing its bell.
Having marched against James III at Sauchieburn and seen him die in battle, in 1491 Archibald betrayed his successor, James IV, by entering into a pact with Henry VII of England.  The Stewart kings had always liked their guns, and those belonging to James IV were soon pointing towards Tantallon, while the royal ship, The Flower, kept watch from the sea.  History is silent as to the outcome of the siege, but by Christmas of that year Archibald received a "black velvet gown" from the king, showing that he was once again in favour.  This made me smile, because a woman in that situation would quite likely have seen it as a 'cloak of death' and sent it back, whereas Archibald, being a man, probably thought, "That will be warm!" and put it on straight away.  I can almost imagine him and James going on FaceTime on Christmas morning.
In 1513 Archibald's two sons perished alongside James IV at Flodden Field, in combat with the English;  so when he died later that year, his grandson, also (predictably) called Archibald, inherited Tantallon and the title as the 6th Earl.  This Archibald married the young widow of James IV, Margaret Tudor, and in effect he became the stepfather of her son, James V.  Thereafter he seemed to get a little above himself.
TIME FOR ANOTHER SIEGE!
While James V was a child, his upbringing was tempestuous to say the least.  His mother was disliked by the Scottish nobles, and a number of regents were appointed in her place.  And as a guardian, Archibald's sense of duty was sadly lacking.   He imprisoned James in Edinburgh Castle for two and a half years, probably hoping for fate to step in and remove his last bar to the throne.  Not surprisingly, Archibald's marriage had already collapsed.  He retreated to Tantallon and kept his head down.
But karma, in the shape of a royal army, caught up with the scheming Archibald, and soon a new battery of guns were trained on Tantallon.  James V, newly escaped from captivity and thirsting for vengeance, bombarded the walls for 20 days – but he failed to breach them.  He would have been about 16 at the time.  Monarchs had to grow up quickly in those days.
Negotiation proved more effective than brute force, and in 1529, with Archibald Douglas exiled to England, James seized Tantallon for himself.  Even though its defences seemed pretty good, he felt they needed strengthening still further and made several improvements.  He used green basalt for his additions – an unusual choice, as it stands out against the rest – but one advantage is that it's easy to see his work!   It is most noticeable in the Mid Tower, where wide bands of basalt are alternated with thin rows of red sandstone.
Archibald wasn't done yet, however, and when he returned to Tantallon in 1543 he had made a pact with the English king, Henry VIII.  Shades of his grandfather!  Henry's ambassador, Ralph Sadler, based himself at Tantallon, choosing it as a stronghold for his 'treasour', the money with which he hoped to buy the loyalty of more Scottish nobles.  It was a desolate place and offered very little comfort, but Sadler didn't seem bothered by the atmosphere.  He described it as being "of such strength as I nede not to feare the malice of myne enymeys."
DEFIANT UNTIL THE END
After a life that was as full as it could possibly have been, Archibald, the 6th Earl of Angus, ended his days at Tantallon in 1556, having switched his allegiance back to the Scottish throne about ten years before.  The only surprise was that he appears to have died peacefully.
In a twist of fate that seems to have befallen many powerful men of history, Archibald's heir died swiftly afterwards, leaving a two-year-old boy to inherit Tantallon and the earldom.  By this time the Scottish throne was occupied by Mary, Queen of Scots, and the castle was now bristling with guns.  There was apparently one on each tower and another over the drawbridge, with pikes and halberds at the gate.  Mary must have been impressed when she visited Tantallon in 1566.
Now we come to Cromwell, whose whole approach to history was to take an axe to it.  Having withstood two sieges, Tantallon didn't survive a third, and in 1651 the towers were battered and broken by English cannon placed on the adjacent promontories.  It is good to read that the Scottish garrison were spared, on account of their courage.
And since then, pretty much the only residents of Tantallon have been house martins, which nest under the arches and in ready-made holes which the wind has scoured out of the sandstone.  Apart, that is, from the castle's ghost, who has a better grasp of publicity and marketing than any spectre I have yet come across…
Walking around Tantallon
When we visited Tantallon Castle last summer, it was a fine clear day and the views out to the Bass Rock were absolutely stunning.  We climbed up the spiral staircases within the towers and gazed down into the courtyard, and I tried to create a mental picture of the chambers.  This is hard because they are now lacking both floors and ceilings, with only the remnants of fireplaces giving a clue as to the layout of rooms.  Imagine what it would have looked like in the 14th century, when the Douglas Tower rose to 100 feet!
SPECTRE INSPECTION
Mindful of the apparition which has graced the pages of the tabloid press on more than one occasion, I wandered down lots of dark passageways in the bowels of the castle, of which there are many!  However, it seems to me that the more you go in quest of a spiritual presence, the less likely it is to cooperate.  I can report, though, that Colin's camera inexplicably failed to operate as we walked under the Mid Tower, but was fine again on the other side.
For anyone who is unfamiliar with the Tantallon haunting, a photograph was taken by a visitor in May 2008 which appears to show a face, possibly of someone wearing a ruffed collar, looking out of a window high in the middle tower.  The publication of this photo prompted another person, who had visited the castle some 32 years previously, to dig into her album and find a photo which she had taken in the same location, which shows her husband and children standing in front of the same window with a strange shape visible in the background.
Knowing that too much exposure is never a good thing, the ghost has not reappeared, despite the persuasions of paranormal societies.  What I would suggest is that Tantallon Castle on a Sunday in summer, full of families with children playing on the grass in the sunshine, is a totally different phenomenon from Tantallon Castle on a dark, dank Tuesday afternoon in winter, when the sea mist is rolling in and the walkways along the upper storeys appear to lead into nothingness.  It is very tempting to go back when it is deserted, just to see.
NATURAL SCULPTURES

The North Sea gales, laden with sea spray and sand, are creating works of art from the stonework, eroding them into beautiful curving shapes which are probably a nightmare for the conservation department at Historic Scotland.
Tantallon's clifftop seat is gradually being eroded by the waves, but the majesty is still there.  Few settings can rival this one for romance and drama – Dunnottar is the only one that springs to mind.  No wonder it has been linked with the legend of King Arthur, as a candidate for the lost castle of Camelot.  Tantallon has an imperious presence, and it feels as if the power of its owners is still preserved in its walls.
Visiting Tantallon

Tantallon Castle lies a few miles to the east of North Berwick in East Lothian;   follow the A198 and watch for the signposts.  A lane leads to a car park, and from there a path takes you across a field to the castle.  Remember to take a look inside the old 'doocot' or dovecot, which you will come to first!

The site is in the care of Historic Scotland, and it is open all year (sometimes high winds force it to close).  There is a good Visitor Centre selling guide books and other publications of interest.   Full details and admission prices are on the Historic Scotland website.
Sources:
Tantallon Castle guidebook
Photos copyright © Colin & Jo Woolf
---

Seacliff beach…
The beach below Tantallon Castle is fantastic, with beautiful sands and loads of interesting pebbles, to which I can testify!  There are superb views out to Bass Rock and at the end nearest Tantallon Castle is a hidden gem – Britain's smallest harbour.    Click on the image to find out more.