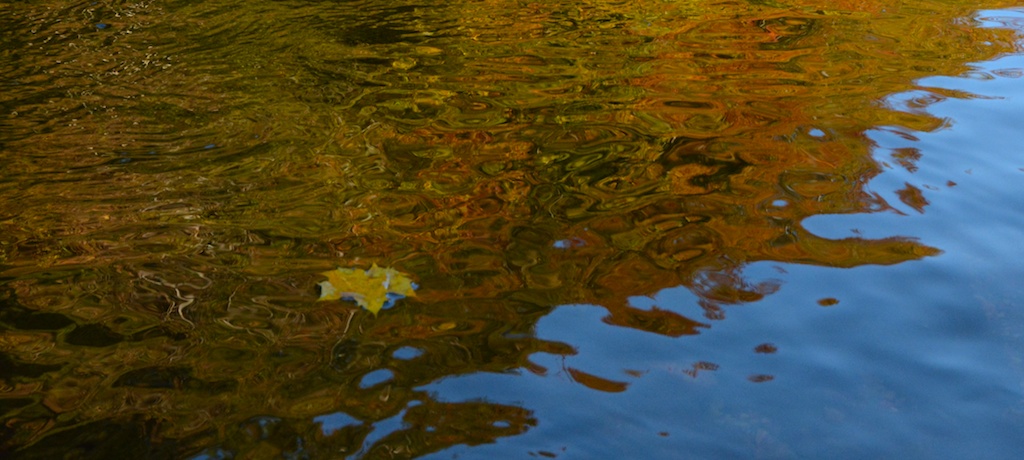 Three favourite woodlands for autumn colour
There's something very special about wandering through a woodland in autumn, with the sound of a stream tumbling in a gorge below your feet and leaves floating down all around you.
As a wet, windy and (in Scotland) rather chilly summer draws to a close, I'm sure I'm not the only one hoping for some crisp, clear weather in which to enjoy the colours.  With this in mind, I've chosen three of our favourite places for a walk – beautiful in any season, but especially so during the transient magic of autumn.
Sutherland's Grove
In the Barcaldine Forest of North Argyll, a lively burn cascades down the hillside before flowing out into Loch Creran. The name Barcaldine is from the Gaelic 'Am Barra Calltain' meaning 'hazel summit', but hazel is not the only species present: the woods are a lovely mix of conifer and broadleaf, including some magnificent Douglas firs of enormous girth, and graceful old beech trees that seem to drip with caramel and bronze.  From the car park you can choose from a number of waymarked trails, following a stream uphill, over bridges and alongside a steep-sided, shadowy gorge until you come out into a wide clearing around the Glen Dubh reservoir, with wonderful views over Loch Creran and beyond.
You might glimpse a red squirrel if you're lucky, but in any case you can marvel at the luxuriant growths of lichen and moss, a testament to the mild, moist climate.

More information at Forestry Commission Scotland. 
Killiecrankie
On a grander and more majestic scale, the Pass of Killiecrankie in Highland Perthshire must be one of Scotland's most photographed autumn woodlands – and it's easy to see why. Vibrant colours of oak, beech, sycamore and rowan are reflected in the River Garry as it meanders through a deep gorge. The lighting conditions of half-shadow, half-sunshine can be a challenge for photographers, but luckily there's a bridge where you can stand and gaze up and down the river, giving a better viewpoint.
It's impossible to visit Killiecrankie without reflecting on the battle that took place here on 27th July 1689. At sunset, two thousand Jacobite soldiers led by John Graham of Claverhouse (1st Viscount Dundee) poured down the steep hillside to attack British government forces commanded by Hugh Mackay of Scourie. The rout turned into a massacre, and there is a sense of sadness here still.  A recumbent stone lying at right angles to the path is said to mark the grave of Brigadier Barthold Balfour, killed while his infantrymen fled towards the river. Another point, where the river narrows, is called 'Soldier's Leap', commemorating a soldier who leapt across the falls to safety.

More information at the National Trust for Scotland 
Read more about the Battle of Killiecrankie here on The Hazel Tree
The Hermitage, Dunkeld
Some of the tallest trees in Britain can be found in the woods of the Hermitage near Dunkeld. These are Douglas firs, and they stand next to the bridge across the River Braan where it froths and foams over the Black Linn Falls. On a rocky promontory overlooking the falls is a curious little building known as Ossian's Hall, created in the 1700s and named after the bard of Fenian legend. The room was originally lined with mirrors so that visitors could enjoy the illusion of having water cascade all around them.

It's invigorating to stand on the platform right above the falls and gaze down at the powerful white water. You can get soaked by the spray, however!   The woodlands here are particularly rich in fungi – whole colonies of them, spreading out from the base of trees or sprouting from their mossy trunks.

More information at the
National Trust for Scotland
Do you have your own favourite woodland for autumn walks?  If so, I'd love to hear from you.
Photos copyright © Colin & Jo Woolf
---
The Woodland Trust's Charter for Trees, Woods and People is due for launch on 6th November 2017 – the 800th anniversary of the 1217 Charter of the Forest.  It aims to celebrate and protect our natural assets of trees and woodlands.  To find out how you can get involved, click on the logo and visit their website.