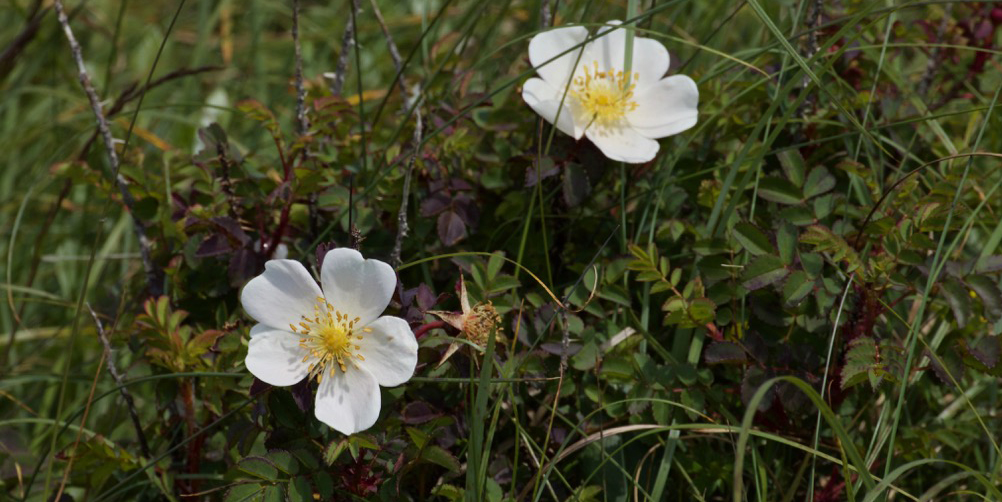 While we were on the Treshnish Isles in June, we noticed some beautiful wild roses blooming on the higher slopes of Lunga. Their luxuriant creamy-white flowers mingled with the other low-growing vegetation of willows and grasses. When we bent to sniff them we were struck by their scent, which was almost honey-like in its sweetness.
Later we identified them as burnet rose (Rosa pimpinellifolia, also known as R. spinosissima). This is the charismatic Scots or Scotch Rose, in Gaelic Ròs Beag Bàn na h-Alba ('little white rose of Scotland'). It is not restricted to Scotland, however: it has a wide geographical range, extending from north-west China to northern and western Europe and even the Atlas Mountains of Africa.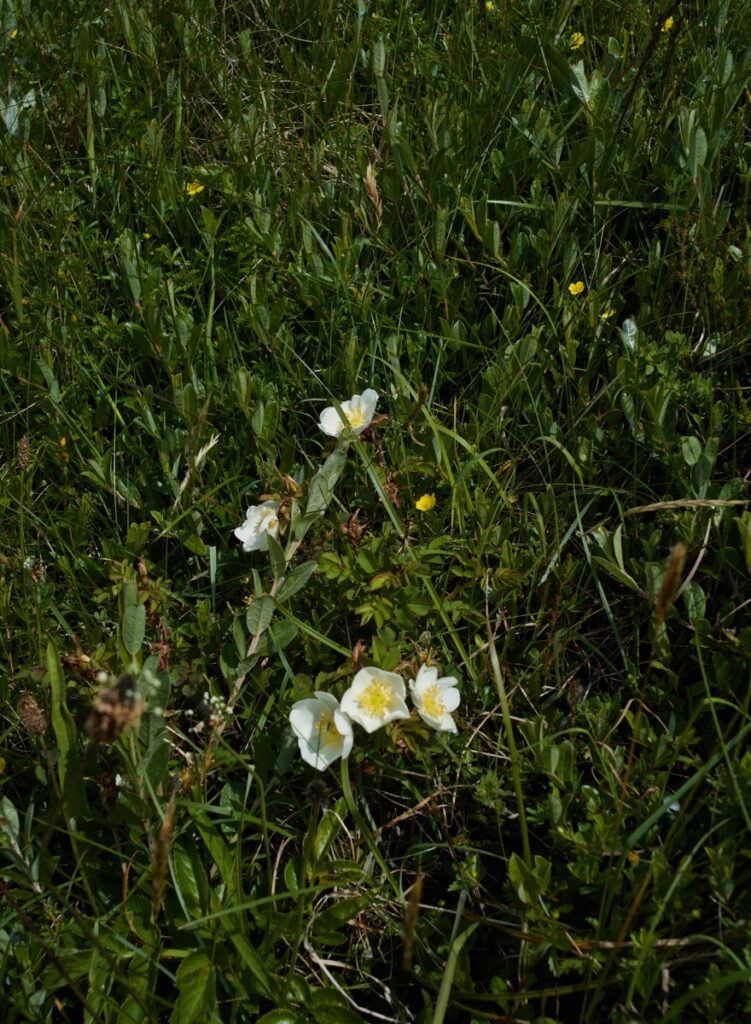 The pink-tinged stem, bristling with tiny but fierce thorns
Burnet rose flourishes on sandy coastal heaths and dunes, putting up stems up to 40 cm (15 in) tall that are densely covered in tiny thorns (its Latin name, spinosissima, means 'having many spines'). Its small, toothed leaves were thought to resemble those of a herb known as salad burnet (Sanguisorba minor), hence its common name.
The flowers can measure an inch and a half across, with a starburst of golden stamens radiating from their heart. Once pollinated, they form distinctive purplish-black hips whose juice was once used to make dyes for tartan cloth: it produced a peach colour if used alone, or purple when mixed with alum.
The website of the National Records of Scotland explains that, next to the thistle, the burnet rose is probably Scotland's most emblematic native plant. According to tradition, when Bonnie Prince Charlie arrived in Glenfinnan in 1745 to rally the clans at the start of the second Jacobite uprising, he stayed overnight at Fassfern House on the shore of Loch Eil. In the morning he picked a white rose from the garden and put it in his cap; this is said to be the origin of the Jacobites' white cockade, traditionally worn to denote support for the Prince's cause.
There is some debate about whether the rose that the Prince picked was actually a burnet rose or a white hybrid, Rosa x alba; but the fact remains that for many of his supporters, the most easily accessible white rose would have been the little native plant that was growing in abundance around the coast. An additional story claims that the Prince wore a double form of R. spinosissima at a reception in Holyrood Palace following his victory at the Battle of Prestonpans in September 1745.
Yorkshire folklore tells how a form of burnet rose called the 'Towton Rose' or 'Battle Rose' grew in abundance on the site of the Battle of Towton, a clash between Yorkist and Lancastrian forces which took place in March 1461. It was said that the snow lying on the battlefield was stained red with blood, and the white roses that were planted on the graves of the fallen were forever after splashed with red. Rose historian Peter Boyd notes that the roses were probably growing there long before the battle, and that a red-flecked form of R. spinosissima can also be found elsewhere in Britain – but these old beliefs persist, and it is a lovely story.
"On the small islands of the Steep and Flat Holms, Sully and Barry, in the Bristol Channel, the blossoming of the burnet rose out of its proper season was regarded as an omen of shipwreck and disaster."

(Marie Trevelyan, Folk-lore and Folk-stories of Wales, 1909)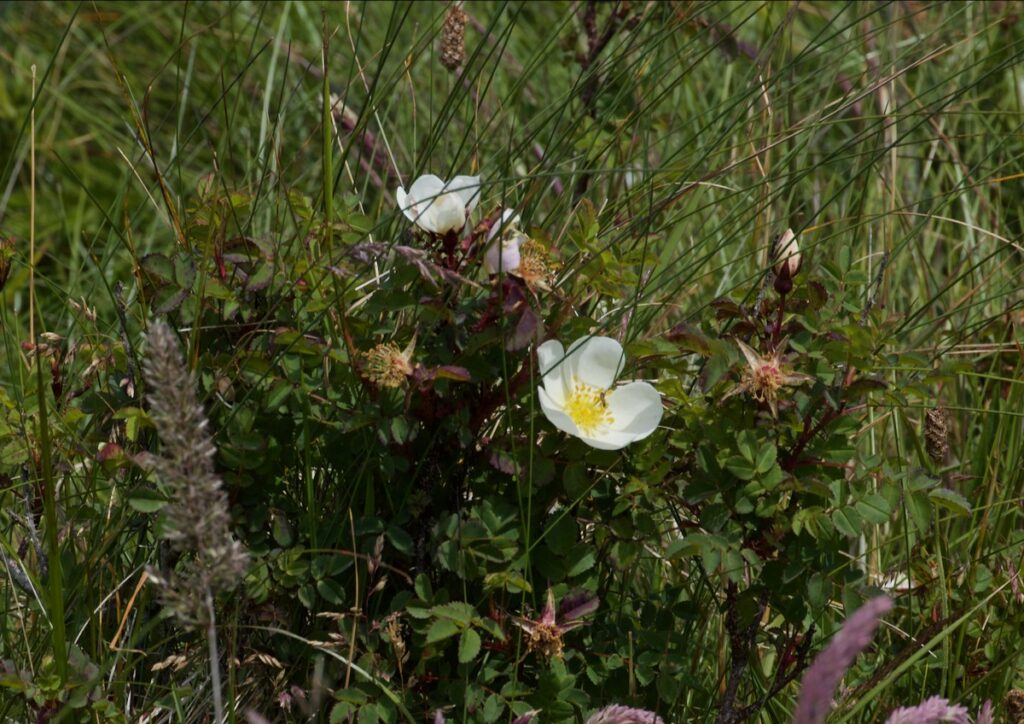 The wild burnet rose has given rise to many cultivated varieties that are now growing all over the world. A cultivar in the Edinburgh Physic Garden (precursor to the Edinburgh Botanic Gardens) was recorded in 1683 as 'the lesser Scottish burnet, or pimpinel-Rose with fine-stript flowers.' In 1793, horticulturalist Robert Brown and his brother collected some burnet roses from Kinnoull Hill above Perth and transplanted them into their nursery garden;  by that time, many other gardeners had had similar thoughts, creating a wealth of single and double cultivars in colours that ranged from pure white through to sulphur yellow, blush pink, carmine and vivid crimson. The results delighted gardeners of the Regency era, who found themselves with up to 200 different varieties to choose from.
Perfect habitat:  you can just see the white splashes of some roses on the rocky cliff, lower centre
Being easy to propagate, wild and cultivated varieties of the Scots rose were carried by emigrants to America, Canada, Australia and New Zealand, to remind them of home. For this reason, they were often planted on the graves of those who died far from their Scottish homeland. In an article for The Field (May 2020), Willy Newlands writes: 'A particularly famous Scotch-based hybrid is the 'Yellow Rose of Texas', which accompanied the pioneers in the West and is said to persist beside long-abandoned cabins across some of the harshest landscapes of North America.'
Reference:
Willy Newlands, 'How to grow Scotch roses: hardy, scented and reliable', The Field, 23 May 2020
Joseph Sabine, Description and Account of the Varieties of Double Scotch Roses, cultivated in the Gardens of England, Transactions of the Horticultural Society, 1822
Richard Mabey, Flora Britannica (1996)
Collins' Scottish Wild Flowers (1995)
Marie Trevelyan, Folk-lore and Folk-stories of Wales (1909)
Images © Colin Woolf