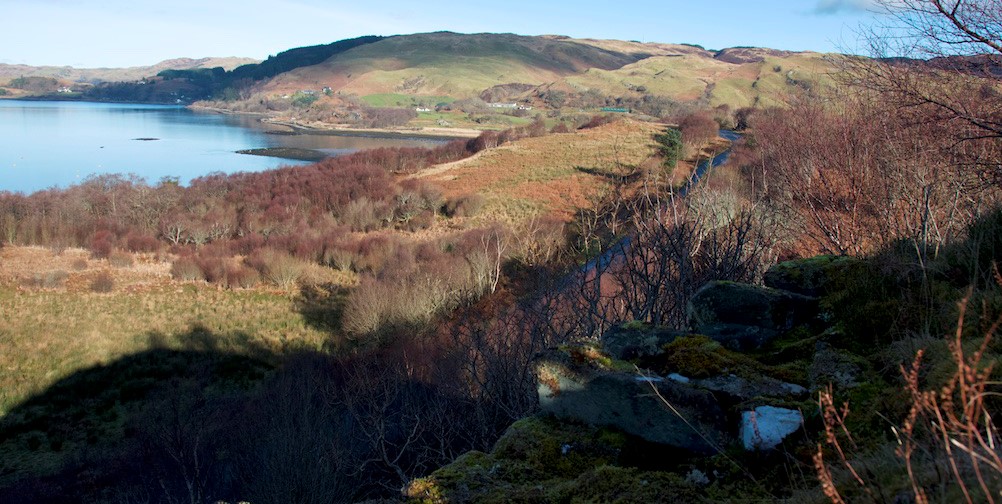 Caisteal nan Coin Duibh – 'the Castle of the Black Dogs'
Ten minutes' walk from the hazel grove (described in my previous post) brought us alongside a field of rough grass and bracken that rises quite steeply to a natural rocky outcrop. Built into the top of this outcrop is a ruined hillfort known, according to a signpost, as 'Caisteal nan Coin Duibh'.  I was delighted to discover that this means 'the fort or castle of the black dogs'. (Those old people knew how to name places, that's for sure! How can you see that and pass it by?)
The drop on the north-west facing side is pretty sheer, so we crossed into the field with the intention of going round the back and finding a more welcoming route. It was only a short climb but still not the easiest, as the ground is littered with massive boulders half-smothered by grass, bracken and thick ropes of bramble: you can easily plunge your foot into an unseen hole and twist your ankle.
I stopped half-way up to admire a miniature rock-garden of emerald moss, and reflected on the story I'd read about this place. According to Fingalian legend, two mighty dogs once fought near here, on a natural platform called Lergychoniemor (from Learg-a-choinnimh, or plateau of the meeting).  One of the dogs was Bran, beloved hound of Fionn mac Cumhaill; the other, named Foir, belonged to the Prince of Innse Orc (Orkney). Foir was killed in the fight, and was given an honourable burial under a nearby standing stone.*
Approaching from the south-west brought us in line with what I guessed must have been an entrance – now just a gap in the few courses of stone that remain. Standing rather precariously on the low wall, you can just about make out that the structure was once circular. A few small mountain ash trees are making the best of it, their roots holding fast to the walls while their stunted branches stand in defiance of the wind.
I picked my way around to the side with the sheer drop and perched on a lichen-covered boulder to admire the view. It was spectacular – a perfect blue sea melting away into the distance, with boats lazily making their way to and fro. The hills of Morvern were lurking to the far north-west, with the snowy peaks of Mull more directly west; moving round, you could see the lumpy shape of Scarba and the distant Paps of Jura with the Corryvreckan whirlpool – or at least the stretch of water that holds it – visible in between. Robins were singing, and from far beneath the walls I could hear the barking of dogs. Dogs? Yes, really. Nothing supernatural: I could actually see them, tiny specks but dogs nonetheless, running around on the shore a couple of hundred feet below.
"In the interior there are the remains of at least two animal-pens and a modern rectilinear cairn."  Canmore, from a survey in 1978
Looking roughly north-east, across the interior to the hills beyond
Surveyors reckon that the walls were once between 10 and 12 feet thick, and at least one visitor detected traces of a gallery in the north-west face.  I'm guessing that, at the time of these visits, the site was a little less overgrown than it is now. A deep layer of dead bracken masks the randomly fallen stones. It's difficult to walk across it, and impossible to identify any features. A faint path – possibly a deer track – has been worn through the bracken. Whatever it was once used for, this place is now thrown open to the winds, and they tear across the Firth of Lorn with some force. It's not a place you'd go to for shelter; you'd take yourself down into the woods, because the wind in the trees is not quite as unsettling as the wind howling through the crevices of a stone wall, dogs or no dogs.
*The stone that is said to mark the dog's grave is no longer standing, and surveyors are now doubtful of its identity.
Half a mussel shell, on a hilltop?   Seagulls are the likely culprit, dropping them onto the stones to smash them open.
Brochs and duns

Both words signify a stone-built, roughly circular structure, probably dating from the Iron Age. Brochs tend to be scattered up in the north of Scotland and its islands – Mousa Broch on Shetland is the best-preserved example. By contrast, if you open a map of western Scotland anywhere from Argyll upwards, you'll come across the word 'dun' in several places, usually on a low hill or vantage point. In most cases there's probably little left of it, other than a pile of stones.

It can be confusing to try and understand the difference between brochs and duns, especially since a lot of brochs have a proper name that includes 'dun' – for example Dun Carloway on the Isle of Lewis (above) and Dun Telve and Dun Troddan at Glenelg.

Dun Beag, Isle of Skye

Is there any difference at all? Some sources state simply that brochs were known as duns in the west of Scotland. Others clarify by explaining that brochs were designed to be an expression of power, and were wider and taller than duns, double-walled with a stone staircase inside the cavity, and containing several floors. But then there are such things as galleried duns, and duns with enclosures, and the definitions become a bit blurry.

The truth is that we really don't know enough about why they were built, and who actually used them. One theory, which interests me, is that duns could have been signalling places, to warn people up and down the coast of invaders coming across the sea.
More on The Hazel Tree:
Check out my article Looking at Brochs, or take a wander around Dun Carloway (Isle of Lewis) and Dun Beag (Isle of Skye).
Photos copyright © Colin & Jo Woolf
References and further reading: