Sunday was such a beautiful day that it would have been a crime not to go for a walk.  But where?  I fancied walking to Achnabreck, where there are some amazing cup-and-ring marked rocks, but Colin remembered reading about some other ones, equally as interesting, and we decided to visit those instead.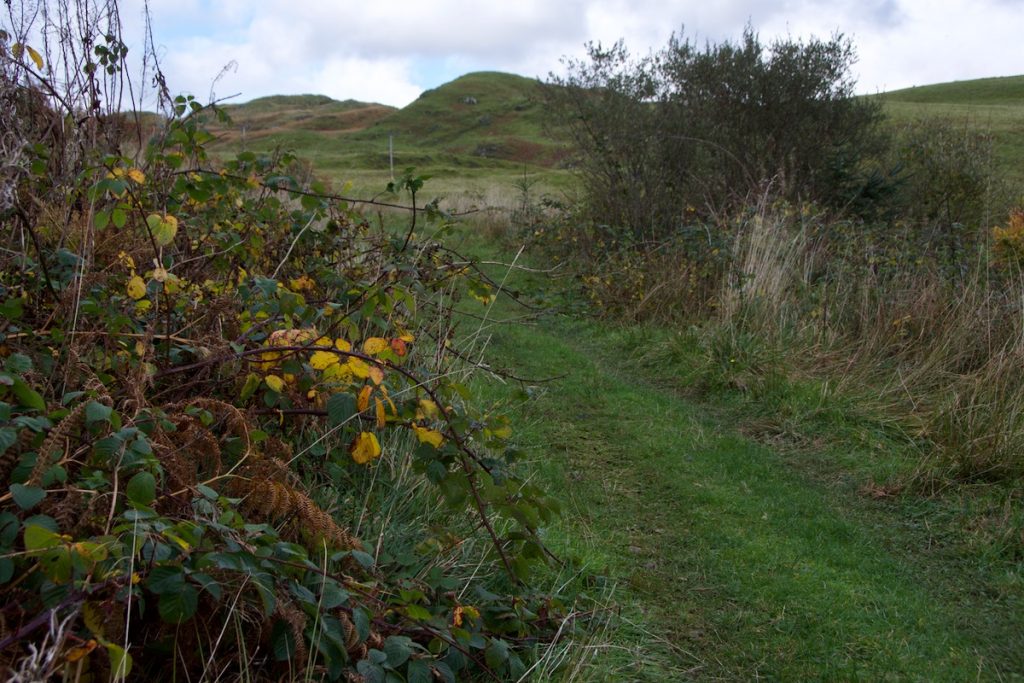 We found them on the Canmore website:  they are at Ormaig, on the south side of Loch Craignish.  To get to them, you have to park below Carnassarie Castle in Kilmartin Glen, and then follow a forestry track up the hill and down the other side.    It's a fair walk – about five miles there and back – but the views are fabulous, especially when you reach the top of the hill and look down over the glen.
About ten minutes after starting out, we spotted a couple of standing stones among a field of cows on the left.   A detour had to be made, to inspect them.   Two quite similar stones in terms of size and proportion, standing side by side, and much bigger than they looked from a distance.   Judging by the hoof marks all around them, the cows must find them useful for something – shelter, maybe, or possibly for pagan practices – although if they did, none of them were going to let on.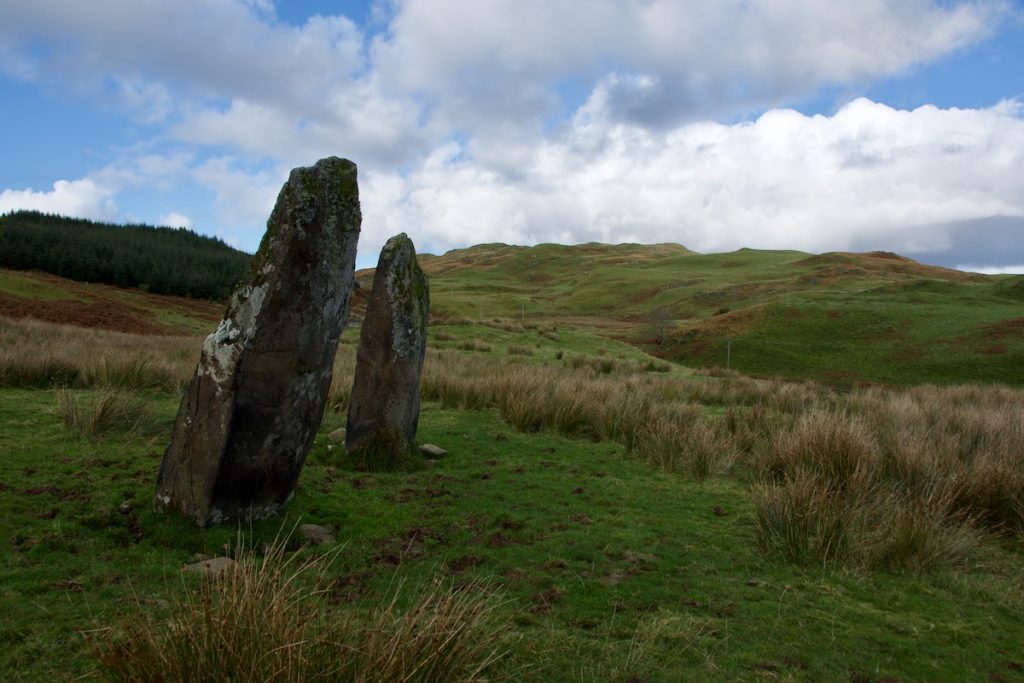 The walk wasn't difficult, but I was glad I wore wellies.  After all the rain, the track was flowing with water in places – lovely clear water, with waterweeds in it (and quite possibly baby fish, although I didn't spot any!)   We passed some stands of magnificent old firs, and carried on through some conifer woodland that has recently been cleared, while red deer stags roared from a distant glen.   Down towards Loch Craignish, which was glinting blue in the distance and dotted with the white specks of boats at anchor in Ardfern;  and then, doubling back on ourselves, we followed a footpath alongside a tumbling burn, turning to climb up the hillside for a few minutes as the panorama of the loch became even more magnificent.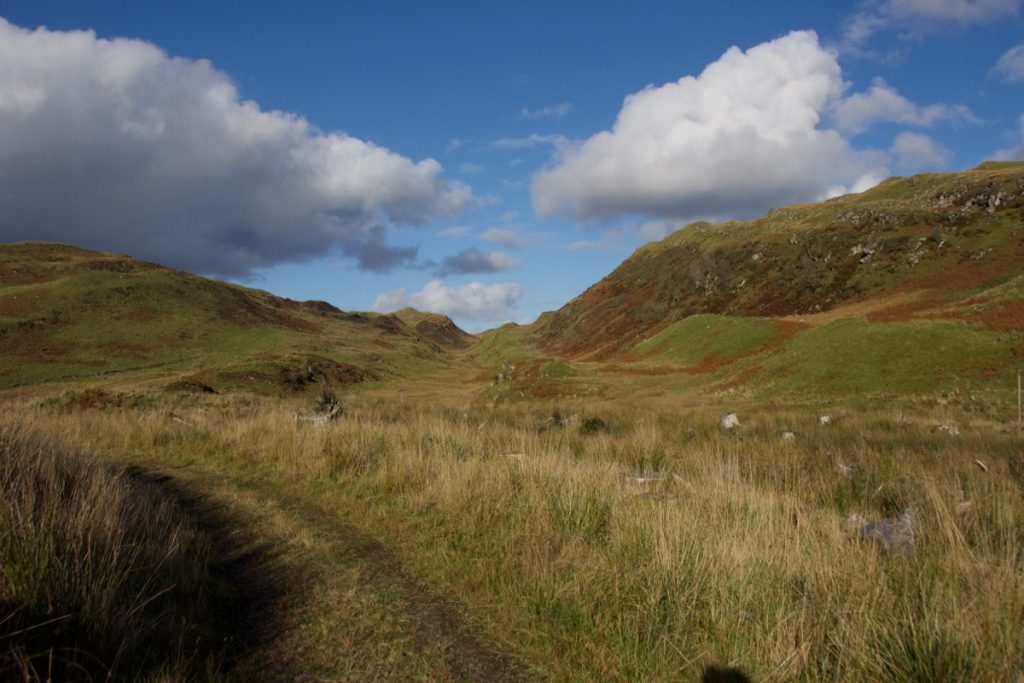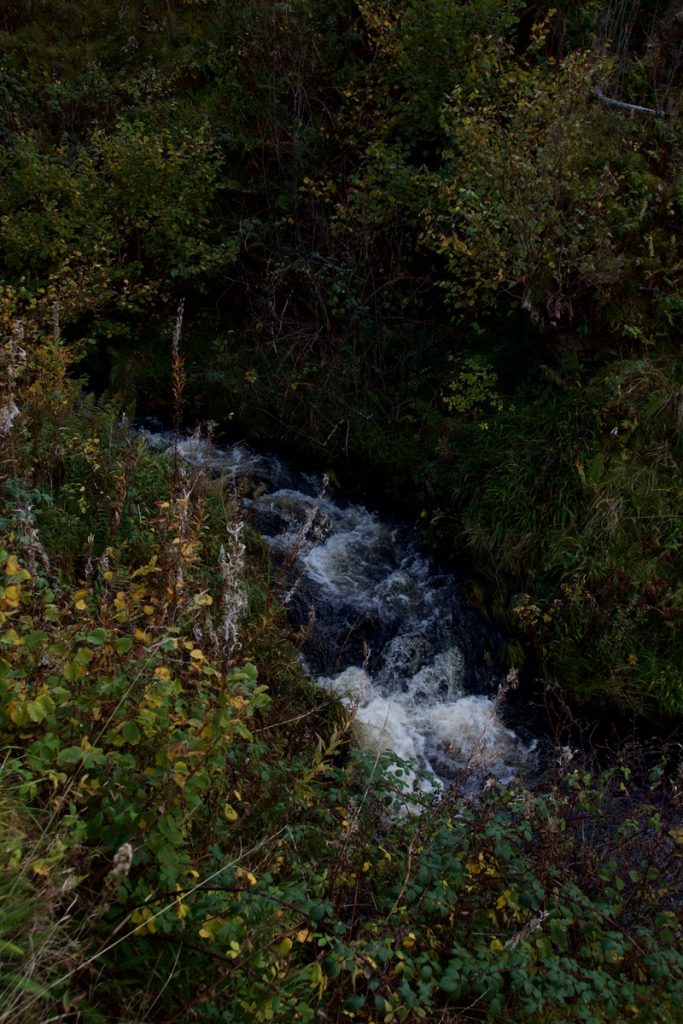 Here, on a sunny south-facing hillside, the Ormaig rocks were spread out beneath our feet;   we were astonished to see them, even though we knew roughly what to expect.
On flat beds of rock, clusters of circular shapes had been carved… small cup-marks arranged in neat circles, often with a larger, central hollow, giving the curious appearance of cogs in some kind of ancient machine.  I haven't seen these kind of 'rosettes' before – the ones at Achnabreck are more inclined to be concentric circles with a straight line cutting across them to the centre.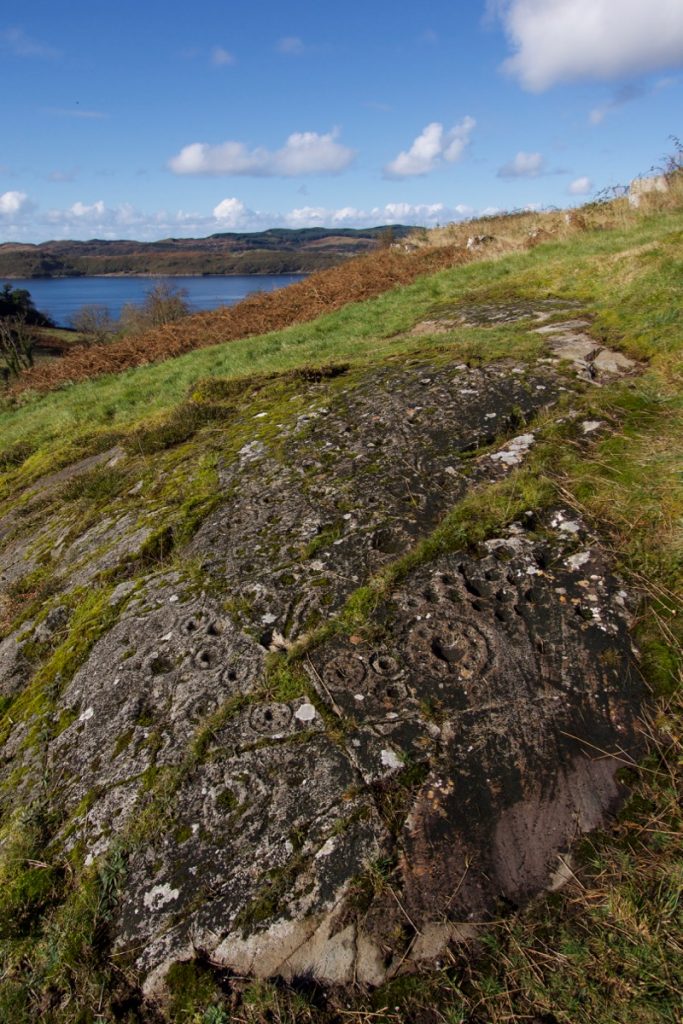 How old are they?  Who made them?  What do they represent?   So many questions, and so few answers.   It's reckoned that the carvings may be over 5,000 years old;   but as to their creators and their purpose, we know absolutely nothing – if, of course, they had a purpose at all.   The closest you can get is by gently running your finger along the well-worn grooves, and trying to imagine the person who made them.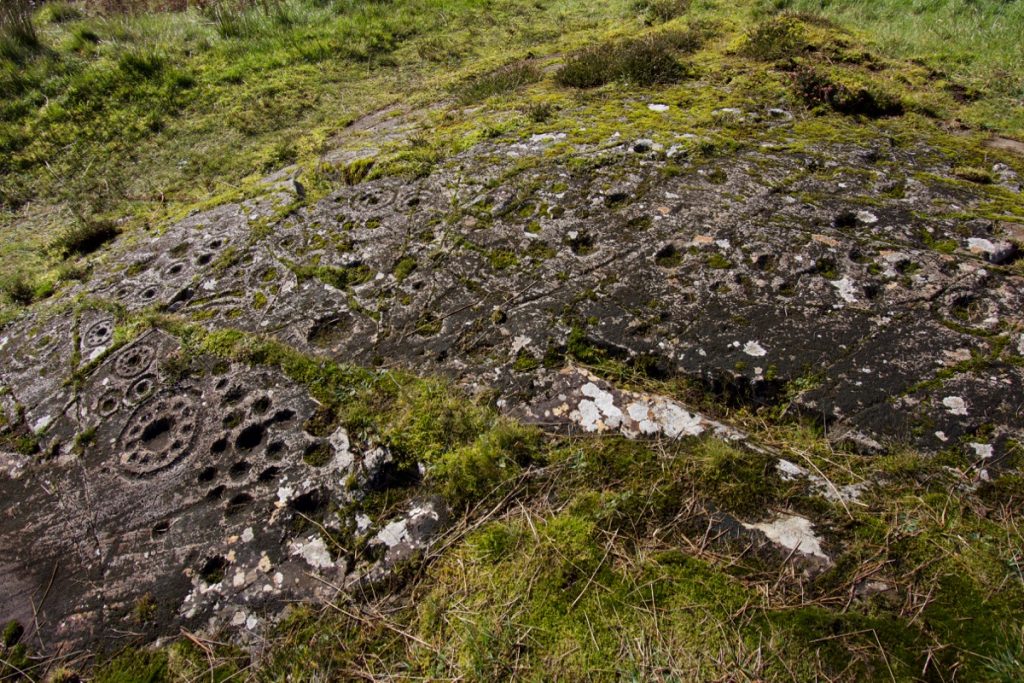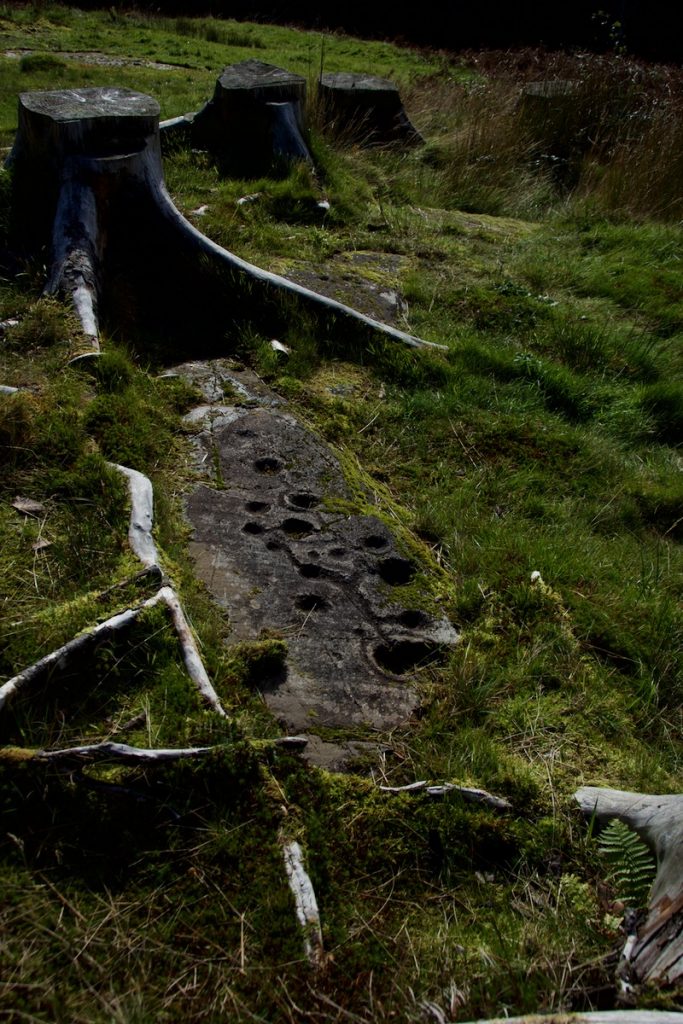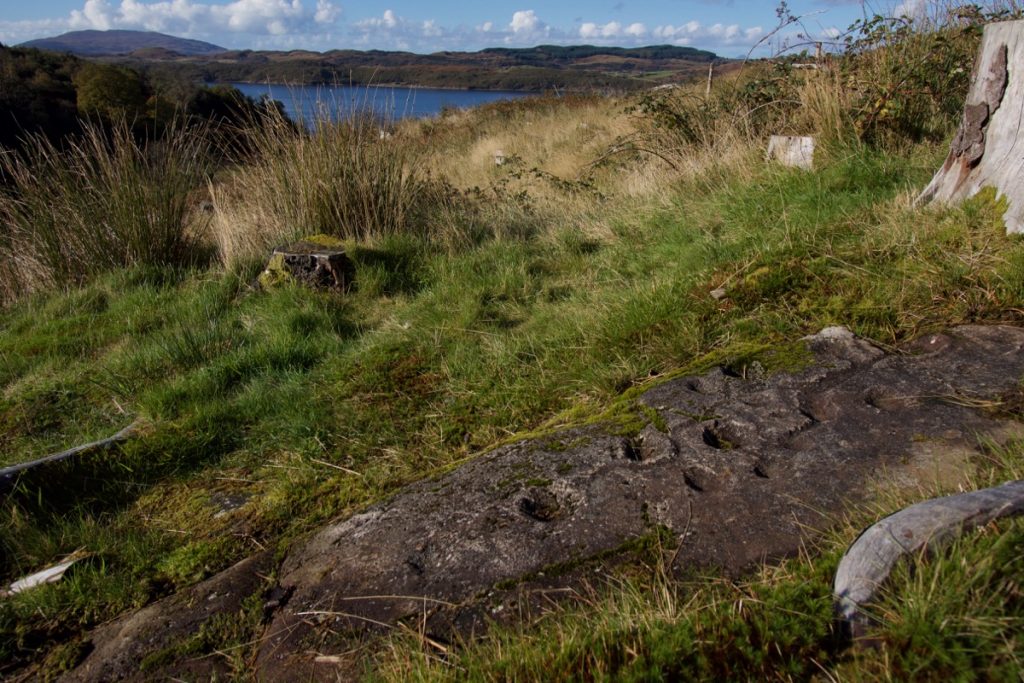 Some of the carvings have been exposed for a long time, while others were discovered relatively recently, in the 1970s.  These must have lain for many years under a forestry plantation, and the stumps of some of the felled trees are dotted around the rock faces, their roots grasping the carvings like long-dead fingers.  Nineteenth-century 'graffiti' has been carved on one of the surfaces – the names of the perpetrators, bold and clear, inscribed as "John Campbell" and "Archie Campbell" with the dates 1874 and 1877 respectively.   We saw John's name but not Archie's, the letters now filled in by moss.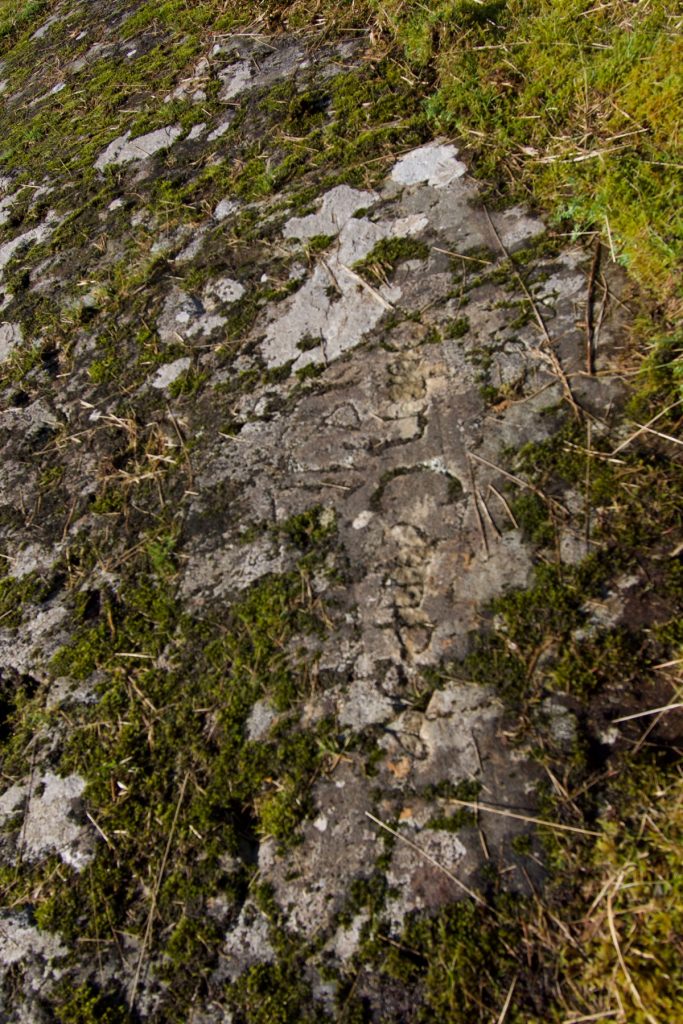 We clambered up the hillside to inspect all the visible sections of rock, and wondered how many more might lie undiscovered beneath our feet.    Of all the ancient sites, I think rock carvings are the most enigmatic:  there's nothing really substantial, like a standing stone or a burial cairn, for your understanding to get a grip on.   But there's a freedom in that, because your reaction must be completely personal.   For myself, I was reminded of a video I saw fairly recently, of a dowser who was finding pictograms in the energy of an ancient site (I think it was a castle).   Following that line of thought, I wondered if these carvings were interpretations of some kind of earth energy, patterns that could be detected by people visiting the place, maybe even representing something that had happened there.  But there are so many other possibilities… they could be symbols representing members of the same family… or interpretations of the night sky… or maybe they were intended purely as art, with no deeper meaning at all.   What do you make of them?  I'd be interested to know.
Anyway, it was a lovely thing to ponder on a Sunday afternoon.  After an hour or so we wended our way back, as the sun started to sink behind the talls trees and the shadows grew longer.   On the final descent we took a short cut through a reedy field with Carnassarie Castle looming darkly on our left, its shattered walls gaping.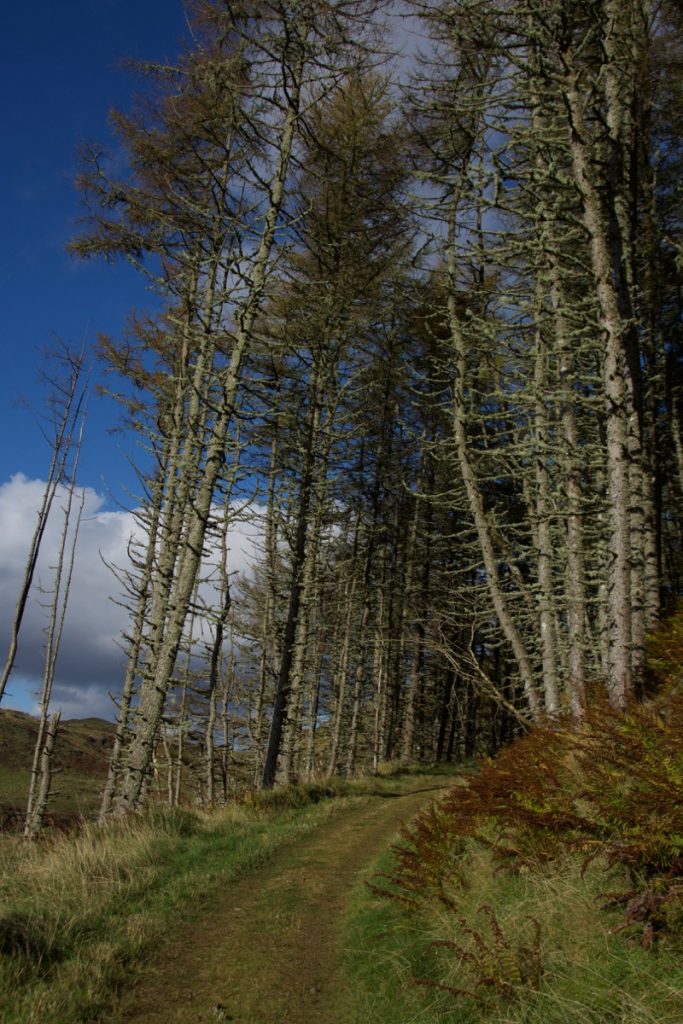 I wondered if any relics had ever been found at Ormaig.    A survey by Kilmartin Museum says:  "The artefacts recovered from the site comprise a substantial assemblage of fragmented quartz, the majority of which appears to be unworked, rounded pebbles of various lithologies and sizes, some of which may have functioned as hammerstones and the odd fragment of slate."   So… we might have found some of the tools, but their owners are still distant ghosts, about as tangible as the shape-shifting colours in the Kilmartin Burn which flows beneath the castle and down into the glen.
If you'd like to visit the Ormaig carvings, take a look at the Canmore website and click on the link that says 'view on large map'.  You can then zoom out and see the path for yourself.  Be prepared for a long and occasionally muddy walk, especially if you want to look at the standing stones on the way.

More information:
Images © Colin & Jo Woolf